Welcome to the Prudential Center in Newark, N.J. -- home of Super Bowl XLVIII Media Day. Keep it tuned here for all your media day updates, from news and quotes to the bizarre things that only seem to happen here. You can also follow the entire NBC Sports crew covering today on Twitter: @NBCSports, @SNFonNBC and @cgriffin415 --for extra bits that don't end up here. Stay tuned. It promises to get interesting.
-- Corey Griffin
2:05 p.m. ET: Wilson on being a role model
"If I can inspire just one kid, one person, that can make a huge difference"-@DangeRussWilson #MediaDay pic.twitter.com/vowVQdP0FF

— SNF on NBC (@SNFonNBC) January 28, 2014
1:55 p.m. ET: Sherman on Ali comps
At his Media Day press conference, Seahawks cornerback Richard Sherman was asked about being compared to legendary heavyweight champion Muhammad Ali. Sherman's answer reflected a knowledge of Ali's place in sports and society. More >>
-- Mike Wilkening
1:49 p.m. ET: Hank Azaria in the house
The man who brought you the voices of Moe Szyslak and Snake in "The Simpsons" has a new gig: Hank Azaria is serving as a correspondent for the Rich Eisen Podcast. Here's him interviewing Seahawks long-snapper Clint Gresham:
1:39 p.m. ET: Harvin plans to play
Percy Harvin plans to play in the Super Bowl.
The Seahawks' major offseason acquisition suited up for one regular-season game because of a hip injury, then suffered a concussion in Seattle's first playoff game. Harvin, who was traded from the Vikings for a first-round pick in the offseason, has touched the ball four times so far during competition with the Seahawks.
"It's been frustrating. It's been trying," Harvin said. "But, for whatever reason, it happened. ... I'm not worrying about things that happened in the past"
Harvin said he hasn't hit a low point this season, but his concussion left him saying, "What else?"
The answer: He'll suit up for the Super Bowl.
"I'm cleared to go," he said. "I'm playing in this game. I'm not leaving anything in the tank."
Moreover, Harvin said the injury may have added something to his game.
"I'm a little more explosive than before the injury," he said.
-- Corey Griffin
1:31 p.m. ET: #Sprots (SIC)
Someone asked Richard Sherman if he had anything to say to/about Justin Bieber. After cracking up Sherman just replied "I don't" #MediaDay

— SNF on NBC (@SNFonNBC) January 28, 2014
1:22 p.m. ET: Baldwin bothers
Seahawks wide receiver Doug Baldwin says he reads the papers (or websites) and takes note of the headlines.
"I've definitively been adding to my motivation," he said.
So what are they saying, Doug?
"That we're average," he said. "That we're pedestrian. ... Everyone has an opinion. Just because you have one doesn't mean it's an intelligent one."-- Corey Griffin
1:20 p.m. ET: Beast, grosso modo
After rumors circulated that Marshawn Lynch wouldn't speak to the media on Media Day -- he was fined $50,000 earlier this season for not having spoken to the press all year -- Lynch showed and "held court" for a few minutes.
"I don't think he's comfortable in settings like this and he doesn't like doing things he's told," Seahawks coach Pete Carroll said. "He has strong feelings about (the media) ... We try to help him with it. ... He feels better not being involved with the media."
-- Corey Griffin
1:12 p.m. ET: Father knows best?
Not even Archie Manning knows what his son Peyton means when his son says "Omaha" during games. WATCH >>
1:04 p.m. ET: Age of the Geek, confirmed
Seahawks receiver Golden Tate showed up to Media Day with a GoPro camera on his hat and Google Glass over his eye.
1:00 p.m. ET: Finally someone says something controversial
Warren Sapp was voted into the Pro Football Hall of Fame last year. He doesn't think Michael Strahan deserves to join him this year. Sapp said at Super Bowl Media Day that Strahan simply wasn't good enough to make it. More >>
-- Michael David Smith
12:48 p.m. ET: That's Richard Sherman's music
Seahawks cornerback Richard Sherman is in his natural habitat: the spotlight. He entered the main floor of the Prudential Center with camera in hand, making his own record of the scene -- just like a Communications major should. Say what you want about Sherman, he seems to have an appreciation of the moment.
12:41 p.m. ET: Where's Peyton?
12:27 p.m. ET: Thomas respects Legion of Boom
Demaryius Thomas, the Pro Bowl receiver from the Broncos, said the Seahawks had the best secondary Denver faced this year. He had high praise for Richard Sherman, calling him "probably the best in the game right now." More >>
-- Mike Wilkening
12:14 p.m. ET: Football players of the world, unite!
Northwestern's football program has commenced efforts to unionize, according to ESPN.com. It's a bold move, which surely will spawn litigation over whether the players represent a legally-recognizable labor unit. Whatever transpires, the NFL Players Association supports the effort, via resolution passed by its Board of Player Representatives. More >>
-- Mike Florio
12:07 p.m. ET: Disposable income is a beautiful thing
A few thousand fans paid $28.50 apiece to sit in the stands and watch while a few thousand members of the media pepper the players and coaches of the Broncos and Seahawks with questions. More >>
-- Michael David Smith
11:39 a.m. ET: Pay the man, InBev
"My father taught me a number of things, one of which being that Bud Light is the preferred beer of the Manning household"- Peyton Manning

— SNF on NBC (@SNFonNBC) January 28, 2014
11:20 a.m. ET: That's why he's the Champ
Champ Bailey: "I wish it was warmer."

— Corey Griffin (@cgriffin415) January 28, 2014
11:11 a.m. ET: Where's Waldo?
Here:
11 a.m. ET: Peyton not ready to talk legacy
"I'm still in the middle of my career. Let me rephrase that: I'm down the home stretch of my career, but I'm still in it. It's not over yet. It's still playing out," Peyton Manning said Tuesday when asked about his legacy. More >>
-- Mike Wilkening
10:53 a.m. ET: Pot Roast on "Pot Roast"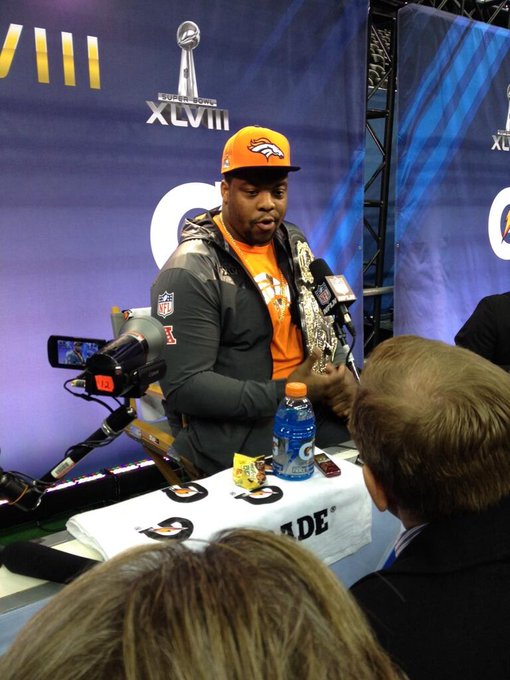 Broncos defensive lineman Terrence Knighton on where Pot Roast nickname came from:
"I was on a plane my rookie year, and the stewardess kept yelling out, 'Pot roast. Pot roast,' and my teammate said, 'I'm gonna call you pot roast.' ... It was either that or Shrimp Alfredo."
Was it good?
"You know, it was airplane food."
So maybe it should've been Shrimp Alfredo.
"Nah I'm not a seafood guy."
-- Corey Griffin
10:44 a.m. ET: They're Gore-Tex!
Everybody has an eye on the weather report for Sunday, but Broncos coach John Fox says his team will adapt no matter the elements. "We're weatherproof," he said.
10:26 a.m. ET: First-class ticket to OMAHA
The Denver International airport is ready for the Super Bowl Sunday! (via @DENAirport) pic.twitter.com/LCBnLHra1E

— NBC Sports (@NBCSports) January 28, 2014
9:58 a.m. ET: Godfather of Broncos fans
Kay Adams heads to Mustang Harry's in NYC where over 300 Broncos congregate on Sundays. Mark Moran discusses his decision to create a Broncos bar. WATCH >>
9:29 a.m. ET: Weird guy alert Version 1.0
The crowd's starting to fill up with costumed wonders and tons of cameras and, oddly enough, two separate marching bands. I can only hope for an impromptu drum line battle featuring a spry Nick Cannon.
-- Corey Griffin
First "strange guy in a costume getting attention" sighting. pic.twitter.com/6rPInseRRG

— NBC Sports (@NBCSports) January 28, 2014
9:19 a.m. ET: Brief musical interlude
The Elizabeth High School marching band was out in full force for #mediaday https://t.co/PUwbaeFb6M

— SNF on NBC (@SNFonNBC) January 28, 2014
9:15 a.m. ET: Sherman credits parents for work ethic
Seattle cornerback Richard Sherman's father drives a trash truck and his mother works with disabled children, and Sherman said the example they set through their own hard work is a big part of who he is. More >>
-- Michael David Smith
9:10 a.m. ET: From the biggest loser to the biggest winner
Three members of the 2008 Lions, who went 0-16 are playing this week — Broncos linebacker Paris Lenon and center Manny Ramirez and Seahawks defensive end Cliff Avril were all part of that special team which won none. More >>
-- Darin Gantt
9:07 a.m. ET: Staking out Peyton's Place
An hour before he goes on and the line for Peyton is already growing. #MediaDay pic.twitter.com/qJReZZ1ke5

— NBC Sports (@NBCSports) January 28, 2014