The Tokyo Olympics may be nearing their end but it is still a big race to the gold medal finish.
From basketball to baseball to track to golf and more, Team USA went big in some of the final events of the Tokyo Games.
Here are five things you might have missed Friday night and Saturday morning.
Team USA men's basketball defeats France to with 4th straight gold medal
The U.S. men's basketball team got its revenge on France, winning the gold medal game at the Tokyo Olympics, 87-82.
The Americans held only a seven-point lead with three minutes to go, just as they did in the preliminary game against France, where France went on a run and got the win.
The French cut it to three with 10 seconds left on two free throws by Nando De Colo.
Kevin Durant made both of his free throws with 8.8 seconds left to seal the win.
Allyson Felix Wins Gold, Makes Track History
The 4x400m team of Sydney McLaughlin, Allyson Felix, Dalilah Muhammad and Athing Mu came in first, and Felix made history with her 11th Olympic medal.
Olympian Allyson Felix is Officially the GOAT in Track and Field
After five Olympics, this gold makes Felix the most decorated Olympian in track and field history. She ran the second leg of the relay.
Poland finished in second and Jamaica in third.
Nelly Korda Wins US Gold in Women's Olympic Golf Tournament
American golfer Nelly Korda won the women's Olympic golf tournament on Saturday morning.
Korda held off Japan's Mone Inami and New Zealand's Lydia Ko to win gold at the Tokyo Olympics.
The win completed Team USA's sweep of gold medals in golf since Xander Schauffele won the men's tournament. Korda is the first American female golfer to win gold since 1900.
Korda shot a -2 (69) in her final round, which put her at -17 for the tournament.
She had a three-shot lead entering the final round but saw disappear as Ko and Inami came charging late.
With Korda in the lead by one stroke on the 17th hole, the play was suspended for 49 minutes due to a tropical storm Korda pared 18 to win gold. Inami and Ko went to a playoff to decide silver and bronze, with Inami winning silver and Ko bronze.
It was Japan's medal in golf at the Olympics.
Japan Shuts Out Team USA in Baseball Gold Medal Game
Baseball's return at the 2020 Tokyo Olympics was a triumphant one for the host nation.
Japan took home gold with a 2-0 win over Team USA at the Yokohama Stadium on Saturday. The victory capped off an undefeated tournament run and gave the country its first Olympic gold medal in the sport.
The U.S., meanwhile, picked up its second straight Olympic baseball medal. Team USA won bronze at the 2008 Beijing Olympics, the last Games to hold a baseball tournament. The U.S. now has one gold, one silver and two bronzes all time.
Kenya's Jepchirchir, Kosgei win gold, silver in women's marathon
Kenya continued its dominance in the Olympic women's marathon on Saturday in Tokyo, as it has now won gold in back-to-back Olympic Games. This time, Kenya was led by 27-year-old Peres Jepchirchir, who finished in 2:27:20, good for a gold medal.
'Drink a Beer for Me': Molly Seidel Connects With Family in US After Winning Bronze
Jepchirchir wasn't the only Kenyan to medal in the women's marathon, as her teammate Brigid Kosgei, a two-time Bank of America Chicago Marathon winner, finished less than a half-minute behind. Kosgei earned a silver medal for her time, finishing in 2:27:36.
With Jepchirchir and Kosgei's performance, Kenya has now taken home at least one women's marathon medal in six consecutive Olympic Games, dating back to the 2000 Sydney Games.
Team USA was well-represented in the race, too. 27-year-old Molly Seidel accomplished a rather historic feat in the race. She finished in 2:27:46, good for a bronze medal, the United States' first medal in the women's marathon since the 2004 Athens Olympic Games.
U.S. rhythmic gymnastics group finishes 11th, misses final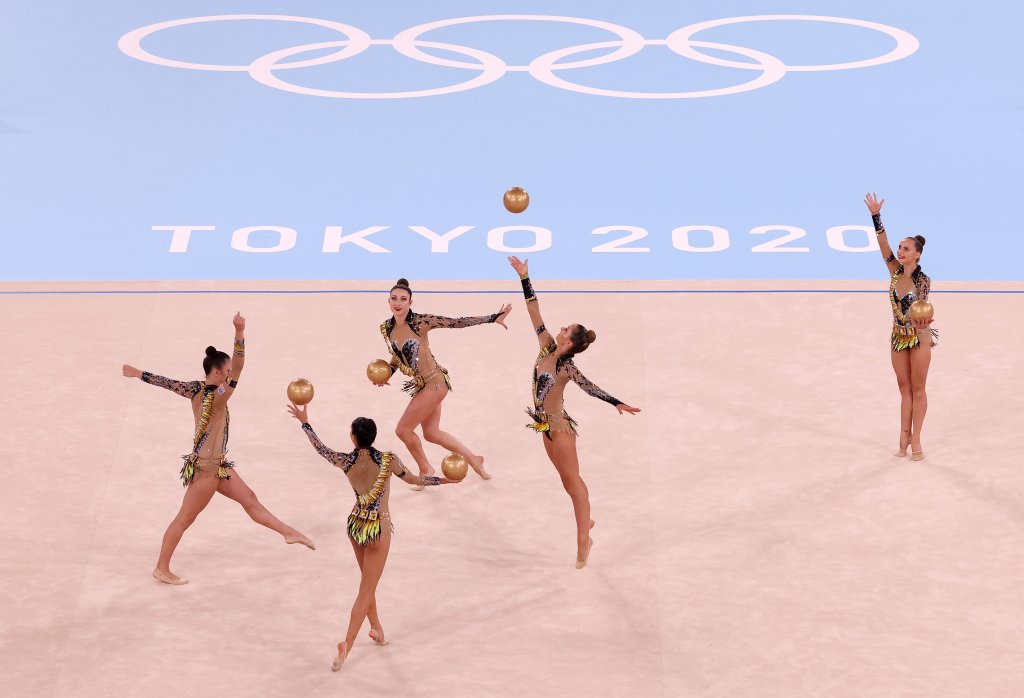 Team United States competes during the Group All-Around Qualification on day 15 of the Tokyo 2020 Olympic Games at Ariake Gymnastics Centre on Aug. 7, 2021, in Tokyo, Japan.
The American rhythmic gymnastics group of Lili Mizuno, Camilla Feeley, Nicole Sladkov, Isabella Connor, Yelyzaveta Merenzon and Elizaveta Pletneva finished 11th in the Olympic group all-around qualification session on Saturday in Tokyo and will not advance to the final. 
The group finished 11th with a total score of 73.675. The top eight groups advance to the final, set for Sunday, and the No. 9 and 10 teams are named reserves. 
The team, which has already made history as part of the first-ever full rhythmic gymnastics team the United States has ever sent to an Olympics, comes from the suburban training facility North Shore Rhythmic Gymnastics Center.
The Americans were ninth after the first rotation, which featured the routine performed with five balls, scoring a 37.850 to the soundtrack of Bon Jovi's "It's My Life." They were 12th in the second rotation, which included the routine performed with three hoops and two sets of clubs, scoring a 35.825. 
Bulgaria led the all-around qualification with a 91.800, closely followed by the Russian Olympic Committee with an 89.050. Russian rhythmic gymnasts have won the individual and group golds for the last five straight Olympics.
The U.S. was also shut out of the individual final. Americans Evita Griskenas and Laura Zeng finished 12th and 13th in qualification, where the top 10 advance.