The Point God may have a few more devout believers after Saturday. Chris Paul's heroic performance to help the Clippers top the Spurs 111-109 in Game 7 on Saturday is going to go down as one of the most memorable moments in NBA history. Paul hit a contested nine-foot shot with one second left to seal the deal, finishing with  27 points, two rebounds, six assists, two steals, one block, five 3-pointers and one turnover. Oh and he also hit a buzzer-beating 3-pointer to end the third quarter. Un. Freakin'. Real. 
Paul suffered a bad-looking hamstring strain in the first half. He went to the locker room and was able to return in the second quarter. CP3 was grabbing his hamstring and limping after he returned to action, and he was also a little slow on the defensive side. 
You probably have heard all about it by now, but what's even worse is that Paul has a bit of a history with hamstring injuries. He has suffered a hamstring injury in every calendar year since 2012 and his left hamstring, the one from Saturday, has been the worse one. I'd expect him to miss Game 1 against the Rockets and coach Doc Rivers said CP3 will probably sit in Game 1.
As much credit as CP3 gets, Blake Griffin shouldn't go unnoticed. He triple-doubled with 24 points, 13 boards, 10 assists and four turnovers in 40 minutes. He had two trip-dubs in this series, averaging 24.1 points, 13.1 boards, 7.4 dimes, 1.4 steals, 1.4 blocks and 2.7 turnovers. So, so good. He'll have another big set of stats against the Rockets.
Besides Blake and CP3, J.J. Redick (14 points, three rebounds, three assists, one steal, one block and four 3-pointers), Jamal Crawford (16 points and two 3-pointers) and Matt Barnes (17 points, five boards, two steals, two blocks and three 3-pointers) were all big. Barnes was actually really, really good. It should be a fun series against the Rockets, which starts on Monday in Houston. 
As for the Spurs, it's not fair that they're out. That was the best first-round series ever. Well, that's what you get when the No. 2 and 3 teams for net rating play each other, I guess. The Spurs will look to make a few changes, but expect them to have a similar approach to their game. Danny Green earned some money, though. He should be back.
Tim Duncan wouldn't say if he's coming back next season following the loss, but he wasn't in a great mood. I'd be shocked if he's out. The Spurs will be Kawhi's team and you can bet there will be multiple columns about him this summer.
This game was seriously one of the best games ever. There were 47 scores resulting in a tie or lead change! Forty! SEVEN! If you missed it, watch it.
 
With Spurs vs. Clippers ending on Saturday, we now have our second round matchups set. On Sunday, the Warriors will host the Grizzlies and the Wizards will travel to Atlanta. Let's take a look at some trends for these two series with some stats these guys had against each other along with some minutes and usage rates from the first round.
 
Wizards at Hawks
 
The Hawks took the season series 3-1 and they weren't cheapies either. The Wizards were pretty much at full strength for those four games with the exception of Nene missing a game. Here's a look at their stats from those four games followed by the usage rates and minutes from the first round against the Raptors.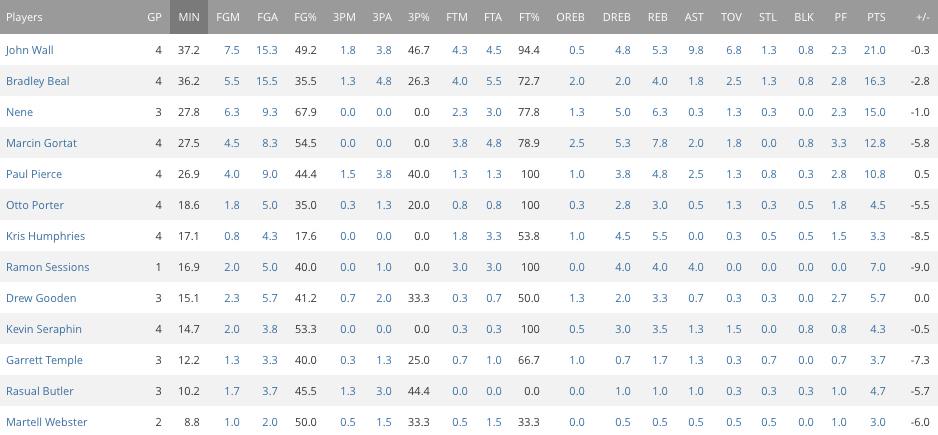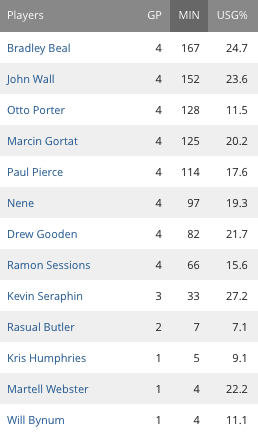 John Wall - He's playing through a shoulder strain, which hasn't been a problem for him. As terrific as those shooting percentages are for Wall against the Hawks, the big thing here is turnovers. At 6.8 per game in his four games, that just isn't going to cut it. A big reason why Wall shot the ball well against the Hawks is he made 12-of-17 (70.6 percent) of his shots at the rim. Those accounted for 27.9 percent of all of his shots. What's more, 31.5 percent of his shots against the Raptors in the first round were at the rim. If he keeps his turnovers down, the NBA's postseason leader in dimes per game should be a monster.
 
Bradley Beal - Of all the stats from the first round for the Wiz, Beal's numbers look the most promising. The Wizards were always going to unleash him for minutes, but the usage was higher than expected too. On top of the scoring numbers, Beal had 4.0 assists and 5.3 boards. Basically, this is the player we all wanted to see. I'd expect him to also have a big series.
 
One quick thing to point out on these two is how much they're playing off each other. Of all the passes Beal has received in the first round, 44.9 percent were from Wall. Conversely, Beal has passed to Wall for 38.5 percent of his passes. These two will be involved a ton.
 
Paul Pierce - After a big 20-point Game 1, Pierce cooled off in the last three games against the Raptors. Still The Truth had "It" with a 78.8 effective field goal percentage. That is ridiculous. Plus, Pierce was able to get to the line, keep his turnovers down and added 3.3 boards. He'll be out there to space the floor and his usage rate should be in the mid-teens like it was against the Raptors. Expect less efficiency, which means he'll be looking at around 12 points with 2.5 treys.
 
Otto Porter - Perhaps no NBA player had a more surprising increase in playing time than Otto Porter in the first round. Porter played just 19 minutes per game against the Hawks during the season, but he logged 31.9 per game against the Raptors last month. The Wizards went small with the Pierce-Porter forward combo and it worked exceptionally well. Against the Hawks, I'm not too sure the Wizards can go that small against Paul Millsap. In fact, the Wizards didn't go Porter-Pierce at the forwards at all vs. ATL. Although, they did use a Rasual Butler and Pierce combo. I'd peg Porter at like 23 minutes per game because I'd guess Otto guards Korver a lot. I'm not confident at all, though.
 
Nene - As mentioned in the Porter section, Nene lost some playing time as the Wizards went small. That might not be the case against the Hawks, so I'd expect him to play more than he did in the last round. Still, the risk of an injury makes him someone I'd have a hard time trusting unless the price fits your Daily Fantasy Sports (DFS) lineup.
 
Marcin Gortat - He put up some solid numbers against them earlier this season and had a terrific round against the Raptors, too. Gortat is probably a fairly safe bet for flirting with a dub-dub in 30 minutes.
 
 
Here's the Hawks side of things: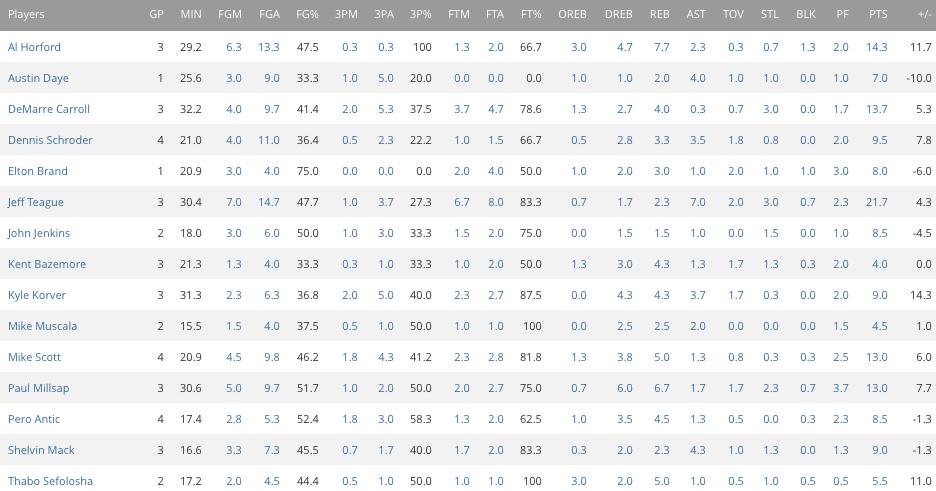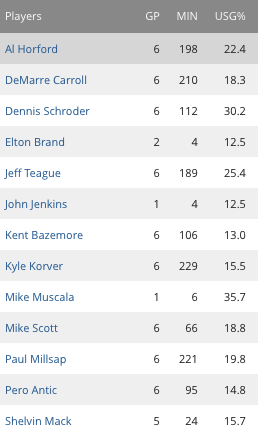 The Hawks had themselves a really weird series against the Nets. You could argue DeMarre Carroll was their top player in the 4-2 win. The Hawks rested their guys for some action against the Wizards this season, so keep that in mind on those averages.
 
DeMarre Carroll - Let's start with him. Even with the improved efficiency vs. BK (67.4 true shooting percentage), Carroll's usage rate was exactly the same in the first round and against the Wizards (18.3). So what's up with DeMarre's efficiency? Well, as you could imagine, it's his shot chart: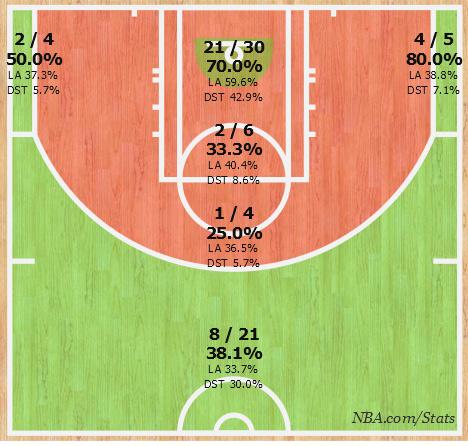 If he has that type of output at the rim, he'll be a monster. I'd lower expectations, though.
 
Al Horford - He wasn't great against the Nets, averaging 14.3 points, 10.0 boards, 3.8 assists and 1.2 blocks on 48.2 percent from the field. Plus, Brook Lopez had a lot of success. Horford's ability to play further from the basket should bode well for him against the Wizards. For DFS, I'd peg him as the highest scoring Hawk in this round.
 
Paul Millsap - The Wizards were first in the NBA for power forward player efficiency against. Considering Millsap's usage is going to be much, much higher than anything the Raptors had at their power forward spot, that's another reason why Porter is less likely to play big minutes. Still, Millsap has great numbers vs. the Wizards and his shot selection was great, too. Don't let that EFF against stat that started this paragraph worry you too much.
 
Jeff Teague - John Wall is playing some awesome defense. Even though Teague had a nice year vs. Washington, I'd be very apprehensive on using him in fantasy. Additionally, Teague made an unsustainable 56 percent on his two-pointers beyond three feet. I'd guess he's going to shoot below 42 percent from the field.
 
Kyle Korver - If the Wizards watched the Nets and have a similar plan, Korver should have a quiet series. The Nets didn't use help defense off Korver, which is a big reason he couldn't get open looks. As the series went on, the Hawks used more off-ball screens to get him looks. Korver is usually a low usage guy, so I'd still look elsewhere for DFS.
 
As for the Western Conference, the Warriors won the season series 2-1. The Grizzlies were able to get a win back on Dec. 16 in Memphis, but it's worth noting the Warriors were healthy. Let's hit the Warriors' side: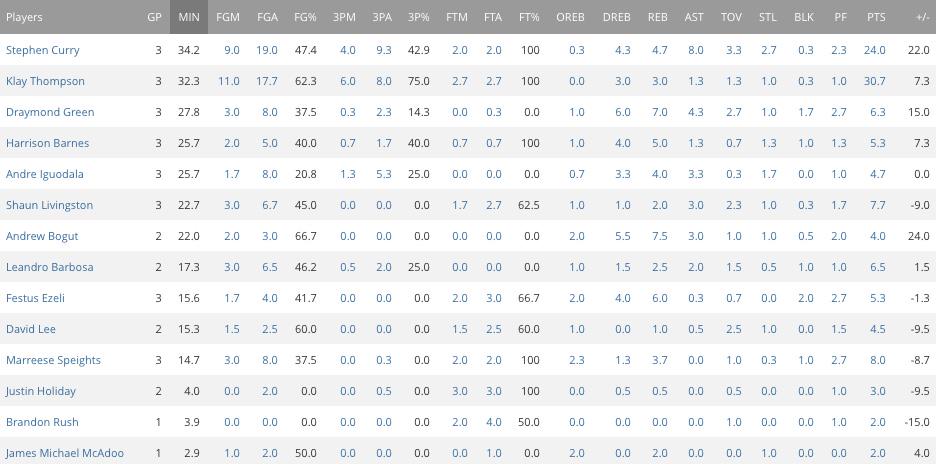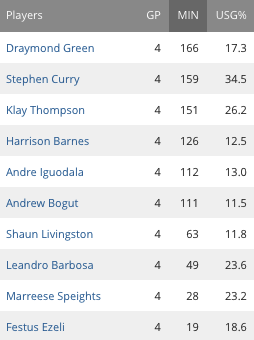 Klay Thompson - Holy cow Klay went off against the Grizzlies. He was on fire from deep, so it's a little fluky to see him be that great. Obviously, he is not going to hit six treys per game, but I'd guess he has a big game coming.
 
Stephen Curry - Mike Conley probably won't play in Game 1, so the Grizzlies will likely have to roll with Beno Udrih and Nick Calathes off the bat. Although, the Grizzlies will probably use Courtney Lee at the point to put on Curry on occasion to help out on defense. Coach Dave Joerger said he wants to limit the number of possessions the Splash Bros have, but really what can he do? Curry is going to get massive minutes, so expect monster numbers.
 
Draymond Green - What happens when you play Dray 41 minutes in a series? He averages 15.8 points, 12.8 boards, 6.3 assists, 1.3 blocks, 2.5 steals and 1.5 treys on 47.9 percent from the field. He didn't look tired at all and he ran the offense A LOT, especially in transition. Yes, the Grizzlies are very good against power forwards and they even held LaMarcus Aldridge in check. Still, I'd expect Dray to have a very good series despite not playing well against them this season.
 
Andrew Bogut - You'll notice he had a tiny usage rate against the Grizzlies with just three shots from the field and no shots from the line per game. Bogut's usage was small against the Pelicans (11.5) as well, so it's obvious that's not why he's there. With the minutes he'll receive being close to 28, he should be an 8-8-4 with 1.8 blocks kind of guy. He'll be a huge player to watch on defense to limit Marc Gasol, too.
 
Harrison Barnes and Andre Iguodala - Both of these guys had their usage rate at around 13 in the first round, which is a little low for Iguodala considering he's with the second unit. The problem is that coach Steve Kerr is giving his starters so many minutes. You can't trust these two for fantasy.
 
The Grizzlies are coming into this series a little banged up. Mike Conley (face) is unlikely to play, but the Grizzlies are keeping his status from practice under wraps. That is probably a good sign, but I wouldn't expect him to play in Game 1. Game 2 is Tuesday, but Game 3 isn't until Saturday, so you'd think Conley will be ready for that one. Here are their stats against the league's best defense: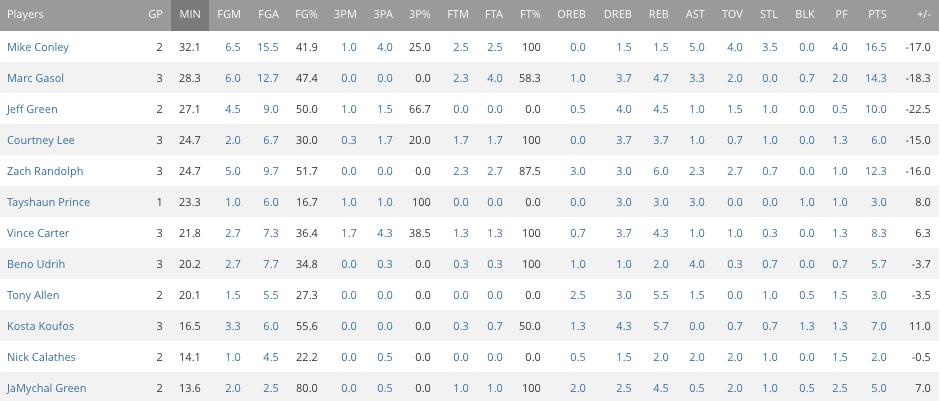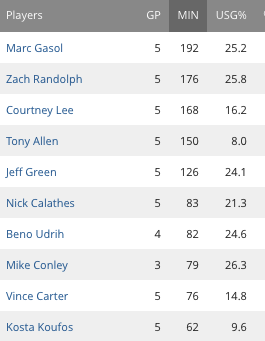 Marc Gasol - He is going to have to deal with Andrew Bogut, so it's hard to like Gasol from a fantasy perspective. Bogut held his man 14.8 percent below his season average of percent on FGAs from within six feet. That's crazy. Marc is really going to have to shoot the ball well from the outside in order to have a productive series by his standards.
 
Zach Randolph - Z-Bo had a good run against the Warriors. He is very crafty and his strength is not underneath the basket, which is where Draymond thrives on defense. He is likely going to have the highest usage rate among the starters and I'd expect him to be an 18-11 guy.
 
Jeff Green - He is going to come off the bench, but as you can tell by his 24.1 usage rate in the first round, he was busy out there. Based on how he'll likely be guarding Harrison and Andre, there should be big usage rating going his way again on the other end. Relative to his usual stats, I'd have higher hopes for him.
 
Tony Allen - If you missed the Klay stats, you can tell how good he was here. The following is SportVU data on Allen's defense against the Warriors this season:
 

 
Holy 3s. Allen is Mr. DeSportVU anywhere on the court, so that's a fluke. He'll be exerting a ton of effort on D, so don't expect him to do much on offense. I'd guess about 50 percent of his scoring will be in transition. Still, he should get enough minutes to put up noteworthy steals and boards.
 
Courtney Lee - He was a super star in the first round. In those five, he posted a tidy 77.7 true shooting percentage for averages of 17.2 points, 2.6 boards, 1.4 assists, 1.2 steals and 1.2 treys. There's really no way he'll be that good. I'd guess he scores around 13 points or so with TS% around 60, which is still pretty good.
 
The point guards - One of the most noteworthy stats from the first round usage is Beno Udrih getting a 24.6 usage rate. He did a lot of work around the perimeter because toe Grizzlies operated in the post and kicked out. If Joerger is comfortable with his defense, Udrih should have some decent stats until Conley gets back. Nick Calathes is just not reliable on offense even though he had a nice first round. In 16.6 minutes per game, he averaged 6.6 points, 2.0 boards, 2.0 assists, 0.8 steals and 1.2 treys. Damian Lillard still has a lot of work to do on stopping guys, of course. Expect less numbers from him.
 
As for Mike Conley, we'll cross that bridge when we get to it. I'll be back for a Tuesday afternoon column and on Thursday night for Dose. Until then, enjoy the games!