We're in full preseason mode! It's easy to get caught up in overall production because a player could be hot against lazy preseason defense, so it's important to not overreact to the preseason. Still, there is a lot to talk about.
 
One of the biggest questions this time of year is: Does preseason matter? Well, how about we look at what happened last October. Here is a list of players last preseason with more than 23 minutes per game in the preseason, a usage rate of at least 23, and a true shooting percentage of at least 60 (sorted by usage rate):
 

 
Some pretty good names on there, right? Klay Thompson broke out and there are MVP candidates galore in there, too. Plus, the Kyrie efficiency in the preseason was a little overlooked, I guess. 
 
For fun, here's a look of that same group so far in this preseason (this doesn't include the Clippers-Hornets game and is sorted by usage rate):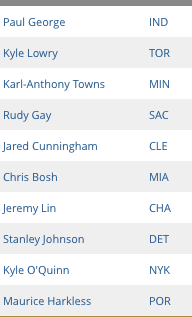 To be clear, I'm not saying this is the end-all-be-all stat here and the sample size is small right now. I just wanted to point out that fairly high usage with very good efficiency is rare air. Clearly, Karl-Anthony Towns and Stanley Johnson are really impressing and their price tags are going to go up in fantasy drafts — I'm completely on board with that and am targeting both.
 
Let's go over the preseason action from Friday and Saturday. We'll focus on one storyline about the lineups, usage rates, pace, new wrinkles or tweaks in the rotation:
 
Follow me on Twitter @MikeSGallagher for stats, analysis, info and Vines.
 
Hawks
 
The big thing from Friday is that it looks like Al Horford could take more 3-pointers. He's going to play more power forward and he's already taken 3.0 per game in his two outings — it was just 0.5 last year.
 
Horford was arguably the best mid-range big man in the NBA last year, making 48.4 percent from that range —before you ask, LaMarcus Aldridge was just 41.5 percent. It's probably not farfetched for him to add a little range to his game. As long as Horford continues to dominate around the rim, he should still be near 52 percent from the field with 1.5 attempts from deep. He's a fine pick in the second round for standards.
 
Pelicans
 
Like Horford, Anthony Davis made two 3-pointers. Davis is on the brink of being unleashed like we've never seen from a power forward. He's sitting on a 34.5 usage rate, an 11.9 offensive rebounding rate and a pace of 109.5. What did those numbers look like last year? Well, Brow had a 27.6 usage rate, an 8.0 O-board rate and a pace of 94.3.
 
Obviously, the usage rate and pace are ridiculous. Because math, if you sub in Anthony Davis' pace and usage rate from this preseason and keep his true shooting percent and minutes per game the same from last year, he'd score an estimated 26.9 points per game. I actually did an algebra problem on this, so the 13-year-old version of myself kind of hates me right now.
 
This could be a truly historic season.
 
Just to quickly hit on some other stuff, Jrue Holiday has looked fantastic. Even if he is going to be on a pitch count, he's still someone I don't mind stashing for a month. Of course, he'd have to slide past some of my other favorite targets. Tyreke Evans also looks really good and the Pelicans look like they really want to keep Ryan Anderson off the bench.
 
Knicks
 
Carmelo Anthony has been GOOD. In his 22.6 minutes per game during the preseason, he's averaged 19.0 points, 3.5 boards, 2.5 dimes, 0.5 blocks and 1.0 treys on 72.0 percent from the field. Here is his shot chart in those two games: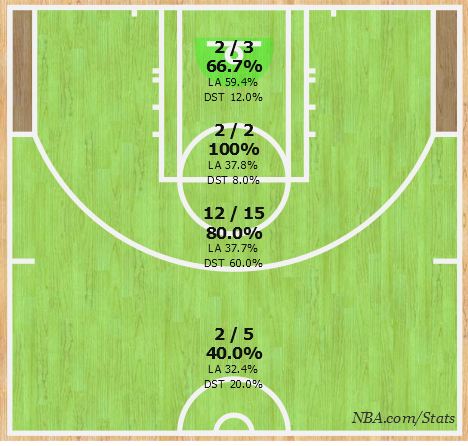 OK, obviously he's not going to be this good and there really isn't anything different outside of taking a ton of mid-range shots — that's kind of his calling card. His usage rate is actually down a bit and his pace is similar considering the Wizards, NYK's opponent on Friday, are wanting to run more. 
 
We've never really questioned Melo's output. It's all about his knee, so he's only moved up a couple spots in the rankings.
 
We have to talk about the NYK bigs for a second. On that list near the top, you might notice Kyle O'Quinn is on there. O'Quinn is a really good fit for his defense and being able to cover both big spots. I could see him getting minutes in the mid-20s, which might put him on the radar in standard leagues for his blocks.
 
Kristaps Porzingis can make some plays and the Knicks are playing really well while he's on the floor. Considering how well KOQ has played, the Knicks probably won't be rushing KP quite as much, but he's still worth a pick late in drafts.
 
Wizards
 
The big thing is their pace. The Wizards have an NBA-high 106.9 pace in the preseason. They're keeping their word about going small, so that should mean fantasy goodness all around. Bradley Beal has also looked terrific with his 29.8 usage rate and 55.6 effective field goal percentage. I wouldn't be surprised at all if he becomes a top-25 player, but the risk of his leg injury still makes him someone you can't reach for too much.
 
It's also been so far, so good for Otto Porter. Here's his shot chart: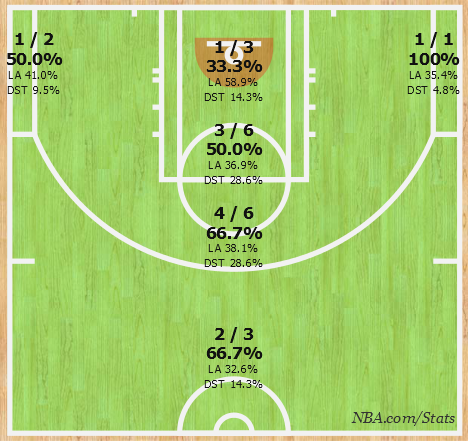 Porter will have to take more shots at the rim for a breakout. Still, he's a fine pick late in drafts. I am also probably higher on Marcin Gortat than anyone.
 
Thunder
 
Kevin Durant is BACK. He's getting plenty of shots and doesn't look like he lost a step. There is no way he should fall past four in drafts. Russell Westbrook also looks great and Serge Ibaka is taking (and making) threes a lot.
 
Utah
 
The Jazz are playing a lineup with Alec Burks, Rodney Hood and Gordon Hayward. That lineup had some success against the Suns, posting a nice little 11-4 run at the end of the first half. As much fun as Raul Neto is, he really isn't a great fit on offense with his horrible shooting. Trey Burke has also been better in the second unit, too. If that Burks-Hood-Hayward lineup continues, that means more fantasy upside to go to Burks and Hood -- two of my targets. Hayward has looked great and the Suns really left him open on the wing for his 24-point game. Derrick Favors also looks like an improved offensive presence, too.
 
Suns
 
Man, Alex Len looks awesome. On Friday, he scored 21 points with six rebounds, one assist, two steals and three blocks in 23 minutes. It's easy to get caught up in the fact that Tyson Chandler is back, but Chandler is 33 years old and he played 30.5 minutes per game last year, so you'd think the Suns will want to get him to 27-28 or so. If that happens, we certainly could see Len put up fantasy value in 20-21 minutes. Plus, he has been working with Tim Duncan on his post moves to help his offense a little further from the basket, which would help him more as a PF. 
 
76ers


Jahlil Okafor wasn't very impressive at Summer League and he hasn't done much in the preseason. He has a 30.3 usage rate, but he's only shooting 39.3 percent from the field. His defensive rebounding rate is awful, but at least he has 1.0 blocks in his three games — had foul trouble on Saturday. Here is his shot chart: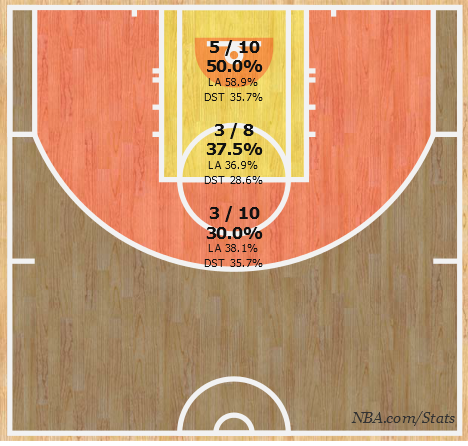 So many things are wrong with that. His distribution is way different than it was with Duke due to lower shot totals at the rim and more mid-range. I won't be targeting.
 
Nets
 
Jarrett Jack's minutes are safe and he is highly involved in the offense right now. He has a 30.0 usage rate in his 22.9 minutes per game. The Nets have some depth issues in the backcourt, so Jack should have some big games. He's certainly more cut out for DFS more than season-long leagues, though.
 
The Nets are going to be bad. That means we might see Jack get traded, so keep that in mind. Brook Lopez looks really good, though. 
 
Bulls 
 
Doug McDermott has been stealing the show. In his three games, he's averaged 18.0 points, 3.7 boards, 2.0 assists, 0.7 steals and 3.7 treys. The Bulls are using him almost exclusively at small forward even though they're really thin at power forward right now. He has been coming off the bench, but it would be a surprise to see him out of the starting lineup on opening night. 
 
As great as this is, Jimmy Butler hasn't been highly involved in the offense yet, Derrick Rose (face) is out, and just about all of their other guys aren't getting heavy looks. Still, he could be worth a late pick.
 
The other big thing is that the Bulls have a 102.1 pace, which is way up from their 95.4. With more 3-pointers, the Bulls should have some serious fantasy value to go around. Nikola Mirotic should ball out. I also love Bobby Portis, but he's buried.
 
Wolves
 
Remember when the Wolves had nothing up front? Well, they may have the two of the top-five rookie big men with Karl-Anthony Towns and Nemanja Bjelica.
 
KAT looks awesome. He has a 25.9 usage rate, a 64.4 true shooting percentage and a 27.0 defensive rebounding rate. His fouling issue is there a bit, but you can tell he's being smarter about it and not overly contesting to give the shooter extra contact. I'm targeting aggressively and am not worried about his playing time.
 
Bjelica has been ridiculously efficient. He has a ludicrous 94.5 true shooting percentage and a 20.9 usage rate in 37.8 total minutes. His total rebounding rate is 24.1 (INSANE) and he's even picked up 1.5 steals per game. He's a great shooter from deep and from the line, so he could be really good, really fast. He's already on the radar in all leagues. I'd like to see him get more minutes at small forward, though.
 
Pistons
 
Stanley Johnson is off the chain right now. In his three preseason games, he's averaged 17.7 points, 5.3 boards, 2.7 assists, 1.3 steals, 1.0 blocks and 2.3 treys.
 
He crushed it at Orlando Summer League and his coach just won't stop praising him. Johnson might not be freed off the bat, but it won't be long. He's getting awfully close to the double-digit numbers for where he should be drafted.
 
Ersan Ilyasova hasn't looked great. He's a great fit for the system, but I'd be a little concerned with Marcus Morris playing more power forward to open up some playing time for Stanley. Also, Reggie Jackson might lead the NBA in time of possession. He is the offense and is going to put up some mega lines in DFS this year.
 
Bucks
 
They have some problems right now. For some reason, Khris Middleton only has one 3-point attempt. Their offense isn't anywhere close to where it needs to be, so we'll hold off on the analysis for now. Greg Monroe is basically playing strictly center while John Henson is backing him up, which makes sense because those guys can't space an offense. The fantasy ADPs of the Bucks aren't looking good and I'm not targeting any of them right now.
 
Kings
 
DeMarcus Cousins is a man among boys, but dominating kids in the paint isn't the story. He's taken three 3-point attempts in three of his four preseason games. It hasn't gone well because he's just 1-of-10, though. Boogie definitely wants to play a little further from the basket, which might be a bad thing for a guy who is consistently at the top of the league for shots in the restricted area. However, Boogie can just bulldog bigs like them Georgetown Hoyas and get to the rim on face-ups (Outkast reference!).
 
Darren Collison and Willie Cauley-Stein have been more impressive than anticipated, too.
 
Blazers
 
Draft. C. J. Mc. Coll. Um.