Oh how quickly the story of the game changes. Until there were 55 seconds left in the fourth quarter of the Warriors at Pacers game, it was all about how the Warriors put on an offensive exhibition for some of the prettiest offense you've ever seen all season en route to going 23-0. Then, Klay Thompson suffered a bad right ankle sprain with 54 seconds left, he was in some serious pain, and couldn't return to finish the 131-123 victory.
 
Thompson landed on his ankle with a lot of weight on it after jumping high for a board, so that puts a lot of force on his joint. The good news is that he didn't break his ankle, but that thing is going to swell up on him. If I had to guess, he probably won't be playing on Friday against the Celtics. 
 
Before Klay's injury, he went berserk for a season-high 39 points with seven rebounds, six assists and 10 triples (!) on 13-of-21 from the field. He attempted a whopping 16 attempts from deep and the Warriors were just getting him open looks on the fly and on play design. He probably made a lot of people some money in DFS (hence the title of the column!). This is his fifth consecutive game with at least 20, so needless to say he is trending up right now. Some of that has a little to do with Harrison Barnes (ankle) missing time, but still the improved shooting bodes well for him once he's back. To take it a step further, here is his shot chart over his last seven: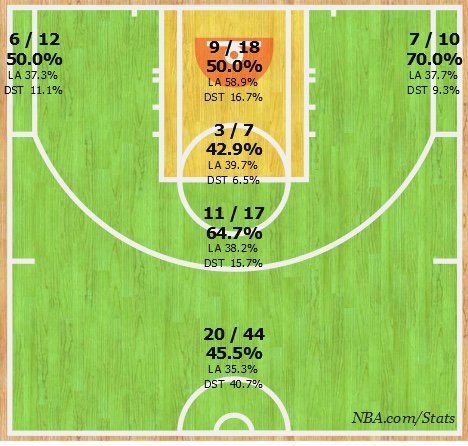 Money from outside of the paint with averages of 22.4 points, 3.4 boards, 2.0 assists, 1.0 blocks, 0.4 steals and 4.7 treys (!) on 51.9 percent from the field. That's also good for a 69.0 true shooting percentage (TS%), 25.7 usage rate, and first-round value in standard fantasy leagues. He was so hot.
 
Of course, he has to get on the court first. If he is out, we'll likely see more minutes going to Shaun Livingston, Leandro Barbosa (if he can make it back), Brandon Rush and Ian Clark. Andre Iguodala would probably be a nice DFS target with a few more minutes in the second unit with a higher usage rate. Iggy also had a good game with six points, three rebounds, five assists, five steals and one block on Monday.
 
Follow me on Twitter @MikeSGallagher.
 
Besides Klay, Stephen Curry had his dazzling style get him to 29 points, seven rebounds, 10 assists, three steals and three 3-pointers. Those 3-pointers actually dropped his average. He is still on pace for 424 3PMs this season. At his current rate this year, he would break his record in a season (286) on Feb. 24. That's crazy, you guys.
 
Andrew Bogut crushed guys on pick-and-roll and cuts with 14 points, 10 rebounds, one assist, one steal and two blocks in 23 minutes. Expect him to get more offense sans Klay, too. Draymond Green did not shoot the ball well, making 4-of-13 from the field for eight points with nine rebounds, four assists. He might be busier next time sans Klay.
 
Editor's Note: This is your chance to try FanDuel risk free! Sign up today and if you lose your first contest, you'll be refunded the entry fee up to $10. Play now.
 
As for the Pacers, they made it a very close game thanks for a 40-point fourth quarter. Paul George had a solid game with 33 points, eight rebounds, six assists, three steals, one block and five 3-pointers. George's 3-point percentage is regressing a bit, though. He's typically a worse shooter in the second half of the season, so it's probably safe to assume we've seen the best out of him so far this year. That is probably kind of obvious considering he's had one of the best shooting seasons from a forward so far in years.
 
C.J. Miles was pretty good with his 24 points, four boards, one assist and five treys. He's a must-own player in standard leagues and he's actually avoided the in-game injury. 
 
Monta Ellis forced the issue too much with his nine points, two rebounds, five assists, one steal, one block and six turnovers. He is doing the right things since about mid-November and is attacking more, so this recent three-game cold spell serves as a very nice buy-low chance. He probably won't be an early-round guy, but top 50-75 seems doable.
 
All You Can Eat Crabbes and Crab Dribbles (Blazers 100 at Cavs 105)
 
Yeah, LeBron was good with 33 points, 10 rebounds, three assists, two steals, three blocks and one 3-pointer in 40 minutes, but who cares? He got his rest and that'll continue.
 
The big story from the fantasy side was how much the Cavs went small. Timofey Mozgov is basically dead weight on their roster and played seven minutes. He also didn't start the second half and had ZERO stats. No shots, no fouls. Nothing. Tristan Thompson didn't pick up a big chunk of playing time either with 19 minutes and Anderson Varejao played just six minutes. So what gives?
 
Kevin Love (18 points, four rebounds, four assists, four steals and one turnover) actually played 15 minutes at center in the second half and it worked for him in the offense with his 30.9 usage rate. We can't say this will continue yet, but just keep an eye on it.
 
J.R. Smith also played just 10 minutes in the second half, but again let's not draw conclusions yet. Matthew Dellavedova was terrific and a big reason why all this small-ball went down, scoring 17 points with three rebounds, three assists, one steal and three 3-pointers in 37 minutes. He only has two more weeks of value in standards. Jared Cunningham started the second half for Mozzy, but he didn't do much with seven points and one trey. Mo Williams also had 13 points off the bench in 21 minutes. He'll be losing some value once Kyrie Irving (knee) comes back this month.
 
The Blazers looked like they had the game in the bag with a hot start, but lost it. Still, we saw some good outings from Damian Lillard with 33 points, six rebounds, six assists and four 3-pointers, and C.J. McCollum had 24 points, three rebounds, five dimes, two steals and four 3-pointers. Both players were over 50 percent from the field and are trending up after a slump from like two weeks ago. McCollum is putting up fourth-round value on the year while Lillard is back up to top 20. They're rock solid.
 
Don't look now, but Allen Crabbe has been really consistent. He played 34 minutes on Monday, scoring 14 points with three rebounds, one assist and one 3-pointer. He's played 28.4 minutes per game over his last five, averaging 14.6 points, 2.2 boards, 1.2 assists, 0.6 steals and 2.2 treys on 54.9 percent from the field and 85.4 percent from the line. That is absolutely his ceiling and it's good for sixth-round value. Crabbe was one of the best players at Summer League before he suffered an ankle injury, so his playing time is for real. He's still more of a 14-team guy until we see him add non-scoring stuff.
 
OK, so the Blazers are notorious for playing the matchups when there is some uncertainty in their rotation. As it turns out, Crabbe might be moving out of that uncertain state because the Blazers are having a lot of success while he's out there. Here are the most used lineup combos in the last five: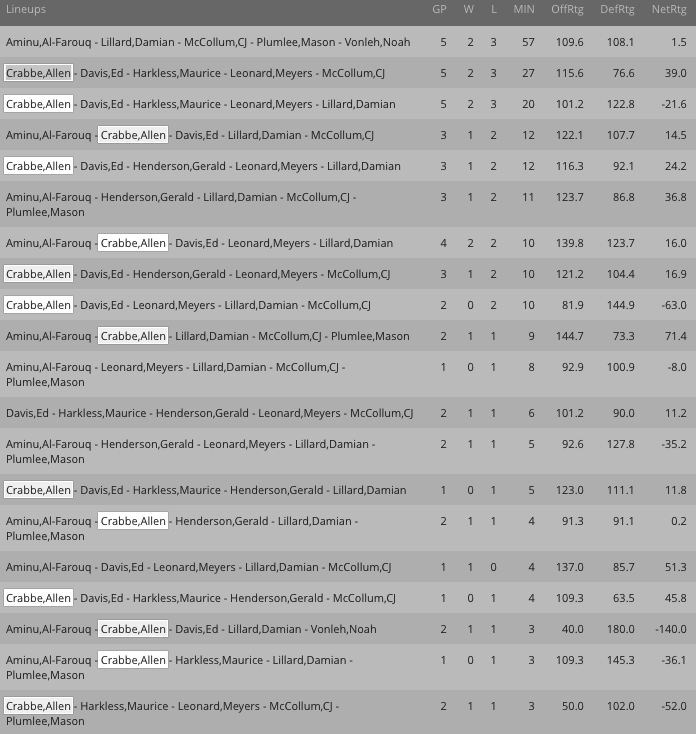 He's in a lot of positives and is not in many negatives for net rating. In fact, his on/off court differential is by far the highest on the team. He's actually moved to No. 3 in minutes in this five-game span, so we should probably start to trust him as a guy in DFS, too. He's also played 34 minutes in those five next to Lillard and C.J., so the minutes at three are pretty nice. Plus, Crabbe, Dame and C.J. are logging basically all of the guard minutes. Coach Terry Stotts is staggering Lillard and C.J. and basically putting Crabbe in for all of those minutes right now. So, if Dame is playing 36 minutes and C.J. is playing 35, that's 25 minutes right there (48 minutes x 2 positions = 96, then minus 36 + 35 — that's 1 + 2+ 2+ 1? Aaaannnndd annual Clue reference quota met). If he does get even a few minutes at SF, that's close to 30.
 
OK, so Meyers Leonard saw a big dip in minutes with 16 on Tuesday, scoring seven points with three rebounds, one assist and one 3-pointer. If you picked him up, I wouldn't press the panic button yet even though his minutes have dropped in each of his last four. We can probably rule out a breakout season, though. I wouldn't cut him unless it's for a hot free agent.
 
Another Blazer people seem to worry about is Al-Farouq Aminu and justifiably so. In his last five, he averaged just 8.4 points, 4.0 boards, 1.6 assists, 1.4 steals and 1.4 treys on 48.3 percent from the field. That's probably the expectation going forward, which is still 10th-round value. His usage rate is back down to 13.4 in that span, which is much more like the Aminu of previous years. He still can do the little things, but his usage rate and efficiency off dribbles will make him the fifth option while he's on the court. He's kind of a cut candidate for a hot free agent, and I wouldn't touch in DFS right now.
 
MT'd Clip (Rockets 105 at Nets 110)
 
Trevor Ariza suffered a lower back injury in the first quarter and did not return. He might miss time, but it sounds like a day-to-day issue. He probably won't play in the revenge game vs. Washington, though. With Ariza out, that led to … 
 
Marcus Thornton firing away and to get some serious revenge in a losing effort on Tuesday, scoring 32 points with six rebounds, three assists, three steals and five 3-pointers in 26 minutes. In the second half, he had a whopping 34.1 usage rate and an 80.3 true shooting percentage in 18 minutes. Thornton played just 11 minutes combined in his previous two, so we would obviously need to see it again. Although, he'll be in play tonight in DFS if Ariza is out.
 
Another player who would benefit would be Corey Brewer, who started the second half. Brewer played 34 minutes, scoring 22 points with three rebounds, two assists, three steals and four 3-pointers. If no Ariza, you kind of have to use him tonight in DFS, but I wouldn't add him in H2H season long. If you want a quick Roto boost, I'd give him a look for Wednesday.
 
Besides that, there wasn't much here. All that small ball led to Terrence Jones (five points, three boards and two assists) getting just 16 minutes and Clint Capela (six points and nine boards) getting 27 minutes. Dwight Howard also played just 29 minutes because he'll be playing on the second half of a back-to-back today. Howard scored 10 points, nine rebounds, two steals and two blocks. James Harden was also awful with 10 points, three rebounds, nine assists, three steals, one trey and seven turnovers. He only had a 19.8 usage rate in the first half. He's fine. Also, he's actually been pretty good one the road and on back-to-backs, so he's in play for DFS tonight.
 
Patrick Beverley needs to be owned in all standard leagues. He added 10 points, three assists, five steals and two 3-pointers in 28 minutes. Ty Lawson didn't score, so yeah.
 
The Nets got by far their best game out of Bojan Bogdanovic, who scored 19 points with five rebounds, one assist, two steals and three 3-pointers in 38 minutes. He took advantage of Harden and gets another good matchup on Thursday against the 76ers. He's still not someone I would add.
 
With Bojan stepping up, that meant less run for Shane Larkin, who played just 16 minutes with two points, three assists, two steals and four turnovers. That one hurts after he was hot in his last five, but expect him to pick it up. He should be a big winner from the Rondae Hollis-Jefferson injury. RHJ is out 10 weeks with ankle surgery.
 
Joe Johnson matched his season-high 22 points with five rebounds, eight assists, three steals and two 3-pointers in 43 minutes. He scored nine points in each of his last three. RHJ has a tiny usage rate, so Johnson shouldn't see an increase in production since his minutes probably won't increase.
 
Brook Lopez was terrific with 24 points, eight rebounds, one steal and five blocks. He has second-round value on the season and just needs to stay healthy. As for the other piece, Thaddeus Young scored 20 with 12 rebounds, five assists and three steals. He has fourth-round value.
 
Thomas Robinson didn't do much with three points, four boards and two blocks, but he did have THIS:
 
KD's KO (Thunder 125 at Grizzlies 88)
 
Kevin Durant ate in Memphis and I'm not talking about eating at B.B. King's. He made 11-of-14 from the field and all six free throw attempts for 32 points with 10 rebounds, six assists, three steals and four 3-pointers in just 31 minutes. KD is been spittin' hot fire like Dylan since returning seven games ago, averaging 27.6 points, 8.6 boards, 4.7 assists, 1.4 steals, 1.6 blocks and 3.0 treys on 56.4 percent from the field and 88.4 percent from the line. Here's what his shot chart looks like: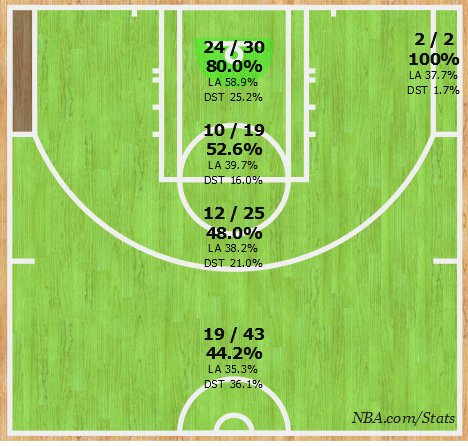 Ballin' with the 70.0 TS%. He's fantasy No. 2 player and it's not close. Another really cool thing about KD is he's upped his drives per game to 4.3 per game and is shooting 65.0 percent of those seven games since the injury. Before his hammy issue, he only had 2.9 drives per game and was making just 27.3 percent on those. He's full KD.
 
Russell Westbrook had a season-high 16 assists, adding 13 points, four rebounds, two steals and one 3-pointer. He only had a 20.4 usage rate, so who the heck was this guy? Anyway, he's obviously fine and 5-of-7 from the field was nice to see, too. That's pretty much it.
 
The Grizzlies had a couple injuries tonight. Marc Gasol said he sprained his ankle twice, but it doesn't sound serious. Just keep an eye on him for now. JaMychal Green also had a knee sprain, so that would be some missing depth should Gasol need to miss time. I think Marc plays, though.
 
Mike Conley did not score on his seven attempts from the field. He didn't have any rebounds and added six assists. Yikes. This game was done at half, so we can just move on.
 
 
Fool's Gold (Magic 85 at Nuggets 74)
 
The Nuggets offense was a disaster. Their total score was less than Golden State's first-half score from tonight (79). Kenneth Faried made 2-of-12 from the field for seven points with 11 rebounds, three assists, one steal and two blocks. Hey, his blocks we're really nice at least:
 
Danilo Gallinari also made just 5-of-14 from the field for 13 points with six rebounds, two assists, one steal, one block and one 3-pointer. He does have some left knee soreness, which is a bit of a red flag because he's had multiple issues with that knee. No evidence on this, but he just doesn't look right. I wouldn't totally panic, but I'd probably look to trade him for $1.25 on the dollar because he's crushing ADP to this point. Again, I really don't want to cause panic, but this could be the start of an ugly friendship for his owners. Hopefully, he bounces back.
 
Will Barton pretty much has his role locked up right now, scoring 23 points with four rebounds, one assist, four steals, one block and three 3-pointers. He attempted a whopping 23 shots from the field, so that light is bright green. He's sitting on fourth-round value and seems like a lock to be top 60. Plus, if something happens to Gallo, that'll help the Thrill.
 
J.J. Hickson played 29 minutes as the starting center, which is not cool. Joffrey Lauvergne was cleared to play with an illness, but he didn't play. Nikola Jokic played 17 minutes off the bench with four points, four rebounds and one assist. The Nuggets are really bad and are 2-9 in their last 11, so expect them to play their young guys soon. That means less Hickson.
 
Darrell Arthur had some right knee soreness, so that's not good. He's hurt a lot with leg injuries and is probably going to miss time with this. He had a right knee injury before this game and also back in October. He also had right knee problems in February of last season, so yeah. Not good. That means more Manimal and more small-ball lineups with Barton.
 
Emmanuel Mudiay could be good in a couple years, but he is really struggling right now. He has not scored more than 10 points in any of his previous five, but at least he's taking less shots. He still isn't close to sniffing value in standard leagues right now. Randy Foye played 17 minutes and it looked like coach Mike Malone wasn't happy with him, so he might be getting DNP-CDs when Gary Harris (concussion) returns.
 
As for the Magic, Aaron Gordon (ankle) was still in some pain after warmups, so he might be out for a bit. He was in uniform at least.
 
Tobias Harris was fantastic in the first half with 15 points, but he looked gassed like I've never seen him in an interview at half. Altitude? Maybe. He still finished with 17 points, nine boards, one assist, two steals and two blocks. He's trending up and that move to SF suits him nicely.
 
While Channing Frye gets the starts, it's been Andrew Nicholson making the news at power forward. He grabbed a career-high 14 boards with eight points in 21 minutes. His minutes have consistently been hanging around 24 in his last eight. His upside is still pretty bad, but he's worth a look in deep leagues. Channing Frye didn't score tonight.
 
Victor Oladipo brought the defense with four blocks, adding 11 points, three rebounds, three assists, one steal and four turnovers. Elfrid Payton was also pretty good with 18 points, five rebounds, four assists and one steal. Evan Fournier made 1-of-7 from the field and was in foul trouble, and he's actually been really bad since the rotation change. He is not going to be as good with him losing minutes at SF now. Here's his shot chart since the rotation change back on Nov. 25: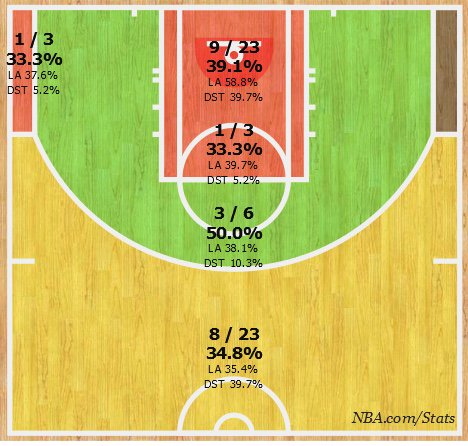 That gross image shouldn't be on Google. He made just 37.9 percent from the field, averaging 9.3 points, 2.7 boards, 1.3 assists, 0.7 steals and 1.3 treys. I wouldn't cut him, but there's no doubt he probably won't be putting up top-60 value going forward to me. Maybe not even top 100. If I could ship for like top 80, I'd be all about it. This also could help Aaron Gordon once he's back.
 
Festival of Green Lights (Jazz 106 at Kings 114)
 
Omri Casspi celebrated the Festivals of Lights with lighting up the Jazz, scoring 19 points with 10 rebounds, four assists, one steal and three 3-pointers in 41 minutes. He clearly has the green light for shots and minutes with Willie Cauley-Stein (finger) out for two months. The Kings love the small-ball lineups now and Casspi should flirt with top 50-75 value for the next two months. I'd cut pretty much anyone I hated for him. He won't be this good, though. Happy Hanukkah to those celebrating, by the way.
 
The other interesting thing here is coach George Karl ran an eight-man rotation. That's almost like seeing a unicorn in 2015 NBA unless a team is decimated. Kosta Koufos followed up just 15 minutes on Sunday with 18 on Tuesday, scoring six points with four rebounds and one block. He'll probably be over 20, but he's nowhere near the add Casspi is. Darren Collison (six points and one assist in 25 minutes) and Marco Belinelli (10 points in 20 minutes) should be a little better. Ben McLemore had a decent game in 26 minutes with 10 points, but he's too inconsistent.
 
The Kings got good outings from their studs with DeMarcus Cousins (23 points, 12 boards, six assists, one steal and one trey), Rudy Gay (23 points, four boards, one dime, one block and one trey on 10-of-13), and Rajon Rondo (17 points, seven boards, 13 dimes, two steals, six turnovers and one trey). Rondo also had a DOPE dime:
 
I would still try to sell high on Rondo and he's coming down a bit from when he went All-Galaxy two weeks ago.
 
The Jazz miss Rudy Gobert (knee) a lot. They gave up 58 points in the paint tonight. As far as their rotation, they played it pretty much straight up tonight. Trevor Booker played 27 minutes with 12 points, 10 boards, one assist and one steal. He should be around these types of stats most nights, but there will be some bad matchups for him. He should still be a 14-team guy with a few big games.
 
Rodney Hood is probably the worst player you know in the first half. He's also probably the best player you know in the second half. He did it again on Tuesday with no points in the first half, but then lit it up in the second half, finishing with 17 points, two rebounds, three assists, one steal and five 3-pointers. Here are his shot charts over his last 14 games in the first half (top) and second half (bottom).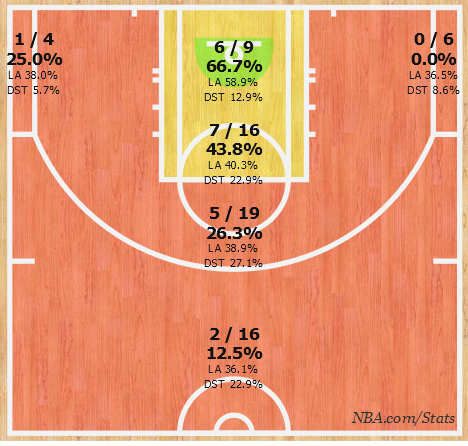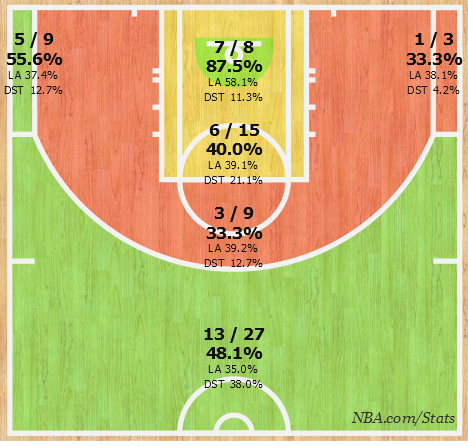 This does not compute. In the first half, he has a 30.0 field goal percentage and a 37 TS%, but in the second half he increases it all the way 49.3 percent from the field and a 68 TS%. So, bench Hood the whole first half? Whatever the case, Hood should be fine as a mid-round guy going forward. The Gobert injury should help his playing time slightly, too.
 
Alec Burks was pretty good with 18 points, four rebounds, three dimes and two treys. Gordon Hayward continues to improve from that bad start, scoring 18 points with eight boards, six dimes, three steals and three 3-pointers. He'll play more power forward now, which looks like it'll help, too. Trey Burke's minutes are on the rise, but he still just doesn't translate to standard leagues. He scored 12 with two rebounds, three assists, one steal and two 3-pointers.
 
 Notes for Wednesday
 
Shabazz Muhammad is reportedly on the trade block, but those reports were shot down. The Wolves gave Bazz a lot of Martin's minutes on Monday, so Muhammad could get more minutes going forward. Still, he's not someone to stash in fantasy leagues with a lower upside in standard leagues.
 
Carmelo Anthony's knee is bothering him a little bit. He should be OK, but his owners will want to check for back-to-back rest.
 
Kawhi Leonard (illness) is questionable to play on Wednesday with his illness from Monday. You'd think he'd play in a tough matchup against the Raptors. If not, there should be more Slo-Mo Kyle Anderson. 
 
Tiago Splitter should be back, so that might slightly affect Thabo Sefolosha and Kent Bazemore. Obviously it hurts Mike Muscala.
 
The Pelicans are interested in Markieff Morris. I covered the Suns a ton in the column yesterday. Tons of stuff on the Suns, so check that out for today's game.