Warriors come out and play! Well, that won't be the case for the next week or so as they rest up for their next opponent. They were the first team to punch their ticket into the second round with a 109-98 win over the Pelicans on Saturday to earn a sweep. As per usual, Stephen Curry was a monster with 39 points, eight boards, nine assists, one steal and six 3-pointers. He made 20 treys in this series, which set a record for the most ever in a four-game series (Damon Jones and Ray Allen had the record of 17 before Curry; yes, that Damon Jones). Here's his shot chart from the series: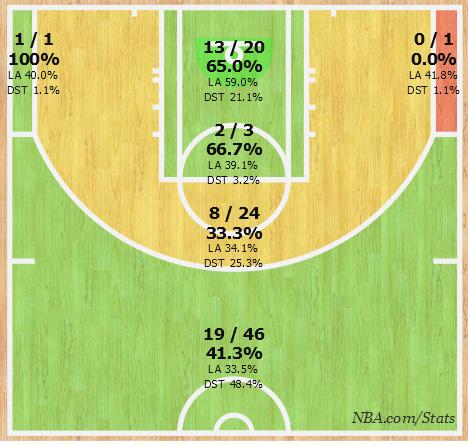 Yep, he only made one corner 3-pointer and you've probably seen it 100 times. His shot distribution is basically the same as it was in the regular season except for being more above the break on 3s. Now that he's playing 40 minutes per night, his stats are just awesome. In four games, he averaged 33.8 points, 5.3 boards, 7.3 dimes, 1.3 steals and 5.0 treys. MVP.
 
It's not just Steph who's ballin' with the extra run. Draymond Green has logged at least 40 minutes in all four games, averaging 15.8 points, 12.8 boards, 6.3 dimes, 1.3 blocks, 2.5 steals and 1.5 treys. The best part of all this is that his usage rate, rebound rate, assist rate and steal rate are all going up with the playing time. This guy is a stat factory and he'll cost you a top-20 pick next season. As for the rest of this season, he'll get a bad matchup against the Grizzlies on paper. Dray was shut down against them in three games this season, averaging 6.3 points, 7.0 boards, 4.3 assists, 1.7 blocks and 1.0 steals. Although, it's worth mentioning two of those games were in the last month of the season when the Warriors were taking it easy on him.
 
Besides Dray and Steph, there wasn't much else. Klay Thompson hit a dagger 3 to cap his 25-point night. Klay has yet to blow up, but he's scored 21 points in every game with 4.0 treys per game. The big 40-point game is coming. Of course, that'll be tougher with Tony Allen likely on him in the next round. He won't be worth using for DFS (Daily Fantasy Sports) in that scenario.
 
Even though he was swept, Anthony Davis didn't disappoint, finishing his playoff debut with 36 points, 11 rebounds, one assist and three blocks. In the four games, he averaged 31.5 points, 11.0 boards, 2.0 assists, 1.3 steals and 3.0 blocks on 54.0 percent from the field and 88.9 percent from the line. He had a usage rate of 30.7 and a true shooting percentage of 61.3 in his 42.9 minutes per game during this series. This came against the league's best defense. He has no ceiling.
 
Eric Gordon turned in a really impressive game, making 12-of-21 from the field for 29 points with five dimes and three 3-pointers. He has played in every game since Jan. 5 and may have shed his "injury prone" tag slightly. Still, I won't be eager to grab him in drafts next season. Jrue Holiday really needs an offseason and his leg injury will be a concern for the next two seasons. He was a game-time decision for Saturday after the Pelicans didn't put him on the injury report heading into the day.
 
As for the bad side of things, Omer Asik played just 14 minutes. He's a massive liability on offense and Davis is not as effective while he's on the floor. Asik won't be worth drafting in almost any league next season, obviously. Tyreke Evans also struggled with four points, five boards, five assists, two steals and two turnovers. He's not as productive on the wing, so he's not someone I'll be targeting in fantasy drafts next season.
 
The Grizzlies pushed their lead to 3-0 with a 115-109 win at Portland on Saturday. Marc Gasol was just too much to handle, making 6-of-17 from the field and 13-of-14 from the line for 25 points, seven boards, four assists, three blocks and no turnovers in 39 minutes. Gasol is playing close to 40 minutes in the postseason and he has three blocks in all three games. It's going to be a lot of fun watching him play against Andrew Bogut.
 
Courtney Lee was fantastic, scoring 20 points with five rebounds, one assist, one steal and one 3-pointer. He made all nine attempts from the line, which was a huge commonality for the Grizzlies. In fact, they were 39-of-43 as a team Thirty nine makes!  Lee scored six points from the line in the last 33 seconds of the game and he only had three field goal attempts in the second half. In other words, this big game was a fluke. 
 
It wasn't all good for the Grizzlies. Mike Conley took an elbow to the side of his head and there is some swelling to his eye. He was on the floor for over a minute before he went to the locker room, so maybe he'll need to be checked out for a concussion. Conley was taken to a medical facility, so it certainly doesn't sound minor. Also, he got hit near his orbital bone, which is a fairly common injury on those types of plays. If he's going to be out for a while, it'll likely be due to that or a concussion. Stay tuned.
 
As for his replacement, Nick Calathes was the last point guard standing. Beno Udrih (ankle) did not play, but the sense around the team is that he'll be ready for Monday. Calathes finished with 13 points, four rebounds, three assists, one block and two 3-pointers in 27 minutes. If Conley is out, the Grizzlies will likely split the minutes down the middle considering Beno might not be 100 percent. Beno would be the fantasy play for now.
 
The Blazers really miss Wes Matthews and Arron Afflalo may have been one of the biggest letdowns from the trade deadline, especially considering how much they needed him. Afflalo scored just five points with six rebounds and one assist in 27 minutes. He only had five attempts from the field and is being phased out of the offense.
 
On the other hand, C.J. McCollum remains as the silver lining for Portland. He's just what the Blazers have been looking for as a sixth man and is becoming a Jamal Crawford-type addition. In 27 minutes on Saturday, he scored 26 points with four rebounds, two steals and two 3-pointers. He is terrific off the dribble and things are really starting to click in the past two months. McCollum has earned a role of minutes in the upper 20s next season and maybe even more if Wes Matthews (Achilles) isn't back. He has a nice upside for fantasy, too.
 
Nicolas Batum was also great with a playoff career-high 27 points in 42 minutes, adding six rebounds, four assists and six 3-pointers. This was the Batum we all wanted during the season. His slump for the first three months still seems like a giant fluke, so he's going to be a very nice bargain in drafts next season.
 
Damian Lillard continues to get torched on D, but he had his best offensive game of these playoff with 22 points, nine dimes, one block and two 3-pointers. He'll be off the board in the first round of fantasy drafts next season. LaMarcus Aldridge might be less likely to come back to Portland now with the Blazers one game away from being swept. He finished with 21 points, seven boards, five assists and two blocks in 45 minutes.
 
 
Well, so much for Derrick Rose being "back" in the playoffs. He was on the other end of the spectrum on Saturday during a 92-90 loss to the Bucks, turning the ball over eight times with 14 points, five rebounds, six assists, one steal and two 3-pointers. He also fell asleep when Jared Dudley hit Jerryd Bayless for a layup to beat the Bulls for a layup at the buzzer. Bayless even took a bit of a shot at Rose. "We were hoping [Rose] was going to bite. He bit on it and Duds made a spectacular pass," Bayless said. Rose went off for 34 points on Thursday and I'd expect him to rebound on Monday.
 
Besides Rose stinking it up, Jimmy Butler was amazing… again. I mean, we can't even be surprised when Jimmy goes nuts. In his four playoff games this season, he's set a career high for a playoff game three times. Three out of four! On Saturday, he finished with 33 points, seven rebounds, two assists, one block, three steals and five 3-pointers. Here's a look at his shot chart in the postseason: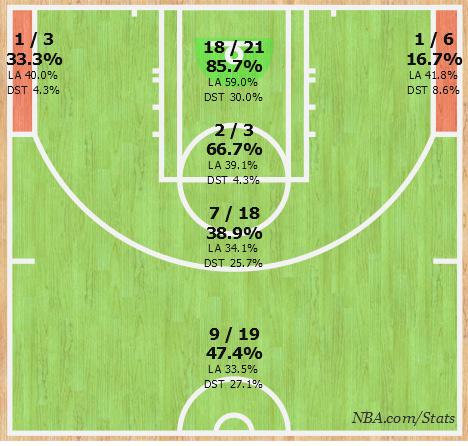 That is an amazing chart. To go 86 percent at the rim on 21 attempts is dominating. He's a superstar and is the best offensive player on the Bulls. You're going to have to take him in the early second round next season. Butler's usage rate was way down while he was with Rose earlier in the year, but now it's back up. Clearly, Rose and coach Tom Thibodeau trust the All-Star.
 
The Bulls frontcourt rotation was a little messy. Here's a look at their lineups from Game 4: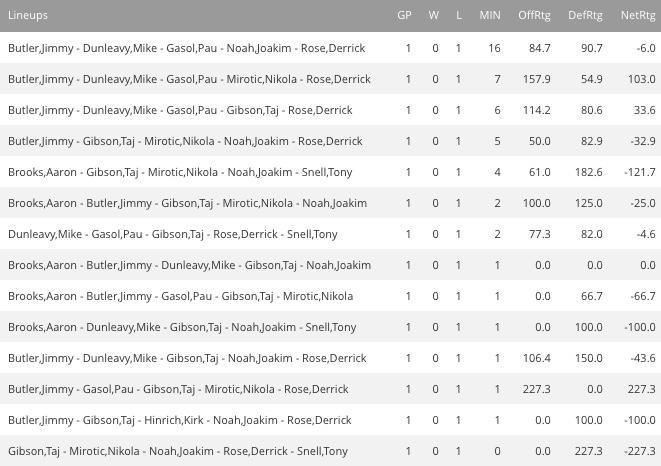 The big thing to note is Nikola Mirotic logging 13 of his 20 minutes at small forward. That's been a problem area for him since the break, so it's really hard to count on him in fantasy. He finished with just five points, one rebound, two assists and one 3-pointer. Taj Gibson was still able to get 25 minutes because of Miro playing at the three so much. Taj had eight points, four boards, two assists, one steal and one block. He'll have a better line in more minutes next time out.
 
The Bucks bench was huge. They actually outscored the starters 47-45, led by O.J. Mayo scoring 18 points and Jared Dudley putting up 13 points. The problem all season with the Bucks is coach Jason Kidd's inconsistent rotation. Earlier this season, it was really just Brandon Knight getting consistent minutes and he would go on feel. Kidd didn't bring Michael Carter-Williams back in on Saturday, leaving his starting point guard on the bench for the final 18 minutes. MCW played just 25 minutes for eight points with two rebounds, five assists, one steal and two turnovers. Giannis Antetokounmpo was also absent for the entire fourth quarter, finishing with 10 points, eight boards, two assists, one steal and one turnover. The Greek Freak should be better in Game 5.
 
Kidd stuck with John Henson for the final 27 minutes on Thursday, but Henson only played 26 minutes in the entire game on Saturday. Again, this situation will be a bit unpredictable because Kidd will be tweaking his rotation on the fly. If you're going to roll with a Buck, be careful. I wouldn't use them in DFS cash games, but would consider in GPP. Also, Khris Middleton (10 points and four boards) played 46 minutes, so he looks to be safe. The Bucks need him for spacing badly.
 
The Nets were able to get a 93-81 win in Game 3 thanks to some great work from their frontcourt. Brook Lopez scored 22 points with 13 boards, two blocks and two turnovers on 7-of-18 from the field and 8-of-12 from the line. The Nets have gone to him more than they did in Game 1 and it's worked out. He's basically doubled his usage now and he could be a 30-10 guy in Game 4. Thaddeus Young really turned it around after a 1-of-7 stinker in Game 2. In Game 3, he scored 18 points with 11 rebounds, three assists, one steal and four turnovers in 41 minutes. He played a lot in the low post as more of a natural power forward. Expect him to play massive minutes again the rest of the way.
 
The backcourt wasn't as productive. Deron Williams had a lower back injury due to a fall and he also looked to hurt his right leg. He didn't play in the final 16 minutes, finishing with just three points against the Hawks on Saturday with seven rebounds, six assists, two steals and three turnovers in 26 minutes. The Nets really need to abandon the Deron-Jarrett Jack lineup, especially with how well Bojan Bogdanovic played. Jack closed the game out with five points, five boards, eight assists and one 3-pointer in 27 minutes. He's not very reliable as a fantasy asset, so I still wouldn't trust him unless Deron is out, which seems unlikely.
 
As mentioned, Bojan Bogdanovic was great, scoring 19 points with three rebounds, one assist, three steals, three 3-pointers and no turnovers. The Nets finally found their fifth piece in the starting lineup and he's a very nice option to their offense. Bojan is a solid player in the post a la Shaun Livingston and he's spacing the floor nicely with his range.  Expect him to be a guy scoring in the teens with minutes in the mid-30s and a usage rate close to 20.
 
So what's up with the Hawks on offense? They've made just 39.0 percent from the field in their three games and have an offensive efficiency rating of just 94.1. By comparison, they had a 106.2 offensive rating in the regular season and made 46.6 percent from the field. Here's a look at their shot chart in this series: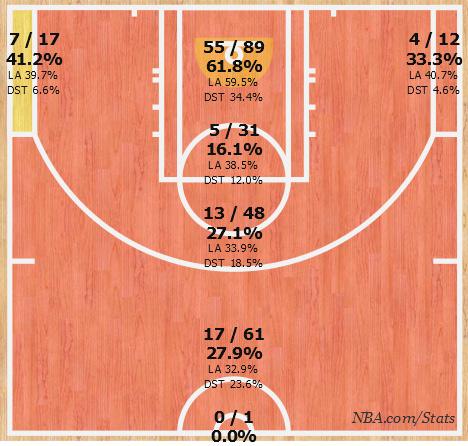 Yikes. Outside of the restricted area, that is an awful shot chart. They're making just 22.9 percent from the field on their two-pointers longer than three feet. They're also taking 4.1 more attempts per game from behind the long line, but they're making just 30.8 percent from there. It's pretty easy to tell the Nets are making an effort of limiting the 3-pointers.
 
Which brings us to Kyle Korver. Usually, Korver kills teams with his ability to move without the ball. He's often sprinting around the 3-point line, but the Nets had his man keep his eye on him for almost every second. They also closed out quickly, which explains why he he had more two-point makes and five assists. The Hawks don't usually give him off-ball screens to get him free, but they might have to do that if they want him to contribute. Until we see him turn it around, it's hard to use him in DFS because of his lower usage rate.
 
Jeff Teague was just out of it. He just didn't seem like his head was in the game and maybe not getting a couple calls messed with him. He finished with 12 points, three rebounds, six assists, three steals and four turnovers. He should be better in Game 4. Additionally, Dennis Schroder was awful with three points and two assists on 1-of-9 shooting.
 
Al Horford didn't play down the stretch in this game, finishing with seven points, eight rebounds, five assists, one steal and two blocks. It probably had to do with the Hawks needing threes and not twos to close the gap. There's no reason to worry despite his awful shooting against the Nets, making 35.9 percent. Paul Millsap (18 points, 17 boards, three assists, one block, five steals and two 3-pointers) and DeMarre Carroll (22 points, six rebounds, one steal and three 3-pointers) had nice stat lines.
 
Another really huge credit for the Hawks struggling is Brook Lopez. The Hawks went 1-of-17 on shots Brook Lopez defended. They really couldn't get many clean looks in halfcourt sets and they probably wouldn't have scored in the 80s without their 25 fast-break points.
 
Moving forward, there's a reason Mike Budenholzer won Coach of the Year. He'll make his adjustments soon enough, especially now that the Nets have their gameplan set.
 
Items to track for Sunday
 
Cavs at Celtics
 
The Celtics starting lineup - It looks like it'll be Evan Turner, Avery Bradley, Jae Crowder, Jonas Jerebko and Tyler Zeller as the starters. That lineup was actually good for the Celtics and started the second half. They were plus-10 in plus/minus in their 15 minutes in Game 3. Crowder is likely looking at 32-36 minutes, so give him a look in DFS. Isaiah Thomas is still the heavy favorite to put up the best fantasy line.
 
Clippers at Spurs
 
Just sit back and enjoy Kawhi Leonard.
 
Raptors at Wizards
 
Bradley Beal (will play, minor knee bruise) - He is fine. Beal's minutes are way up in the postseason, the Wizards are loving the PNRs and are going to Marcin Gortat off them with Wall, too. Beal has a big game coming and I think it might be Sunday.
 
Rockets at Mavs
 
Raymond Felton (hamstring, expected to play) - Felton is questionable, but he should be out there. Still, J.J. Barea is outplayed him badly, so he's likely the play in DFS even if he doesn't start. JJB had a usage rate of 16.3 and an assist percentage of 42.9 on Friday, so his ceiling isn't too high, though. Devin Harris will get more minutes if Felton is out, too.
 
Richard Jefferson (calf, questionable) - The Mavs did not look right while Jefferson was on the court. Even if he's a go, Al-Farouq Aminu is shaping up as a must-play option in DFS.