The NBA had a case of the Mondays so bad that not even smashing a fax machine or a trip to Chotchkie's could make us feel better (if you somehow haven't seen Office Space, see it). Besides Klay Thompson saying he'd be "shocked" to not be cleared on Tuesday and Kyrie Irving admitting he won't be 100 percent, it was very quiet.
Follow me on Twitter @MikeSGallagher. You can also find all of these stats on NBA.com
In case you missed it on Sunday, here was the first part of The Finals preview. That was mostly Cavs stats and some trends, so check that out. As for the Warriors, here we go: 
Stephen Curry - He's the personification of the 🔥. Curry is getting more minutes in the postseason, averaging 29.2 points, 4.9 boards, 6.4 assists, 1.9 steals and 4.9 treys. Four. Point. Nine. Treys! He's already broken the record for most 3-pointers in a postseason, but he's been gold (or 🔥) from everywhere on the court. Here's his shot chart in the postseason: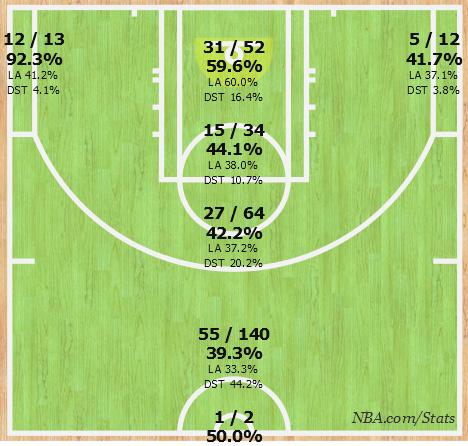 That left corner, though. He'd also be in the green for backcourt shots with his 67-foot shot against the Grizzlies. On top of the 3-point shooting, he's even been very good outside of the restricted area on twos. Of course, the Cavs are really going to have to limit his treys. Nobody needs stats to prove that point, but here's a more advanced look at Curry's shooting off the dribble in the postseason (top) vs. the regular season (bottom):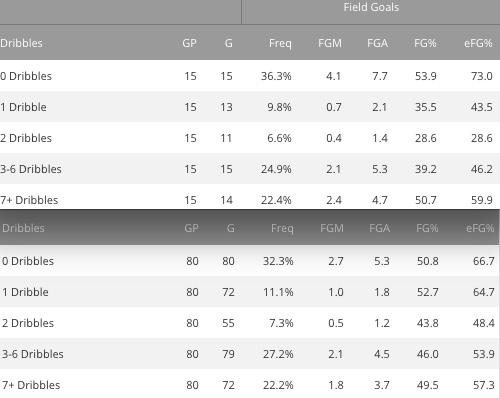 He's deadly without a dribble and that will be key for the Cavs. They have to track him at all times no matter how bad their interior defense needs help. The Cavs were successful at covering Kyle Korver without the ball before he went down, but Curry has some of the best off-ball moves to get free ever. Unlike guys like John Wall and Derrick Rose, he doesn't even have the ball. In fact, Curry ranks just 10th in time of possession per game in the playoffs, but he's third in frontcourt touches.
As LeBron James said, you can't stop Curry. The Cavs are likely going to use Kyrie Irving, Matthew Dellavedova and Iman Shumpert on Curry. It'll be interesting to see how much a less-than-100-percent Irving sticks Curry and maybe we get more Shump than we bargained for. Of course, could LeBron guard Curry? Seems like an interesting idea because he probably won't be used to his potential on Barnes.
Klay Thompson - He was doing some shooting on Monday, which means he's symptom-free from his concussion. Thompson has yet to be cleared, but that should happen on Tuesday because he's almost through the protocol. Simply put, he's playing.
Thompson hasn't been getting a ton of attention this postseason, averaging 19.7 points, 3.7 boards, 2.9 assists, 0.9 steals and 3.0 treys. Still, Klay has a very good true shooting percentage of 56.8 with his 24.9 usage rate in 35.6 postseason minutes per game. Here's his shot chart in the postseason: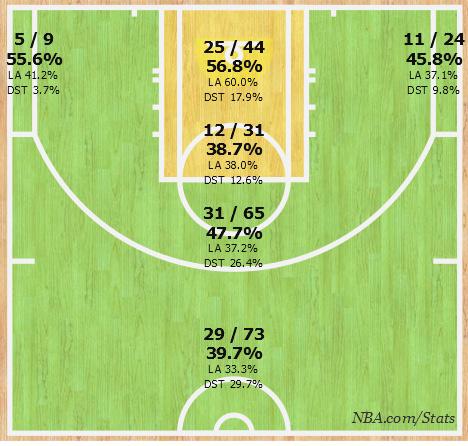 It's almost hard to believe how good he is in the postseason considering he's been just "OK" by many estimations — a testament to how much we all love Curry. Seriously, though. We've heard people call Mike Conley, Kawhi Leonard and Draymond Green underrated. Who the heck underrates those guys? But I digress.
Here's a look at Klay's shooting-off-the-dribble stats with the playoffs on top and regular season on the bottom: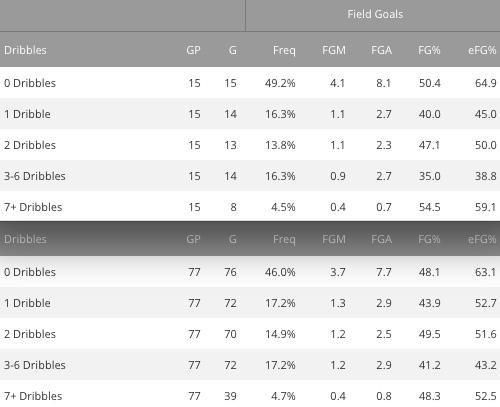 Besides a slight uptick in both frequency and efficiency on no-dribble shots, that's a very similar distribution. We all know the Warriors and their ball movement is what drives their offense. The Cavs will have to cut down his moves on the baseline and make sure they're switching properly on the off-ball screens.
One last thing, Klay's defensive numbers have been terrific in the postseason:

Again, he's underrated. Expect him to stick LeBron on occasion with more time on J.R. Smith and even Kyrie at times.
Draymond Green - Props to Steve Kerr. All along he had Draymond Green's back and it's paying off in spades. Dray has seen his minutes increase to 37.5 in 15 playoff games, averaging 14.0 points, 10.8, 5.3 assists, 1.7 steals, 1.2 blocks and 1.3 treys. If you take the points out of it, that is a massive stat line.
Before this season, Larry Bird, Bill Walton and Alvan Adams were the only guys to average at least 10 boards, five dimes, one steal and one block and made it to the NBA Finals. This year, two guys have done that with Dray and LeBron. He's seriously a stat machine and is getting paid this offseason.
He should have won Defensive Player of the Year and once again he's shutting people down in the paint. Here are his defensive stats from the postseason:

He locks his man down in the paint, which begs the question: Dray on LeBron? Dray has 75 post-up defensive possessions and has kept his man to just 0.79 points per possession (PPP) on those. LeBron has a PPP of 0.88 on post-ups in the playoffs and has scored 57 total points, which is by far the most among non-PF/Cs. Kerr has all the faith in Draymond, so I wouldn't be surprised whatsoever to see Dray get more defensive possessions on 'Bron. The Cavs are also using LeBron at power forward more often. Plus, Dray's defensive presence is kind of wasted on Tristan Thompson, right?
As for the offense, Dray is taking 62.7 percent of his shots without a dribble, so again the ball movement is key just like with Steph and Klay. Even with the extra minutes, his usage rate is 19.0 (up from 17.1 in the regular season) is solid, but his true shooting percentage took a slight dip to 52.4. Not too bad. Obviously, Dray is going to hang some huge stat lines.
Harrison Barnes - He really turns it on in the postseason. In the 15 games, he's averaged 11.3 points, 5.0 boards, 1.8 assists, 0.8 steals, 0.5 blocks and 0.9 treys on 53.1 true shooting percentage. Barnes has been killing it around the basket: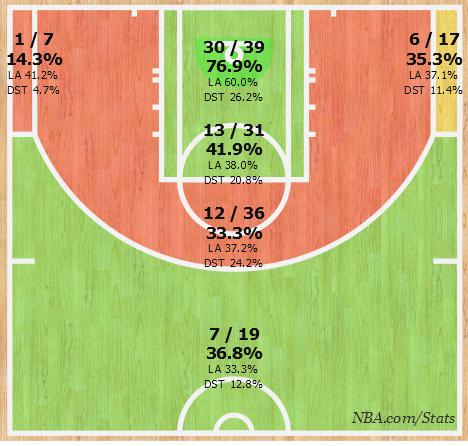 He's made 20-of-22 dunks and made 11-of-18 on his layups, so that explains a lot. Plus, he was assisted 77.4 percent of the time, so credit to ball movement for the 40th time or so. Barnes is also taking 73.1 percent of his shots with one or less dribbles. Basically, he's just riding the coattails of Klay and Curry, but he's doing it really well. He'll have a similar role against the Cavs and it'll be very interesting to see much LeBron sticks him. He should also see a nice amount of time on LeBron himself. Barnes was effective against James Harden, so he's capable of defending isolation guys.
Andrew Bogut - Even against some very tough Western Conference teams, Bogut's defensive numbers around the rim are outstanding:

He's been the best rim protector in the NBA the past month and the only problem is he is fouling a tad too much. Bogut has 3.9 fouls per game in just 24.4 minutes in these playoffs. Although, his worst series with fouls was against the Grizzlies, which makes sense because it came against focal point Marc Gasol. As alluded to earlier, it's all about rim protection against LeBron. Bogut won't have nearly the amount of on-ball responsibility against Timofey Mozgov and Tristan Thompson. His weak-side help will be huge, obviously.
On offense, Bogut has really been used at the top of the key to distribute the ball. That helps explain why Curry has been able to get so many treys on catch-and-shoot. He's one of the best passers in the league and Kerr knows it.
Andre Iguodala - When the Warriors played LeBron this season, Iggy was far and away the most-used defender. He is almost certainly going to be on LeBron when he's on the court and that will be his biggest area of impact.
Is he up for the challenge? Iguodala has been a monster in defensive isolation in the postseason, coming in at 92.3 percentile on those plays with his 0.40 PPP. He was fifth in Defensive Player of the Year voting last season and some people gave him love in the voting this year (I'm not sure why with so many defensive breakouts this year, by the way).
With so much pressure on him for defense, don't expect much out of Iggy on the offensive end.
Festus Ezeli - A Festus for the rest of us. He had one of the best games of his life in the closeout game against the Rockets, scoring 12 points with nine boards and one block. Bogut was in foul trouble, but Kerr has to feel more confident with Ezeli really coming around. Perhaps Bogut will be able to be more aggressive on defense and may be more likely to get into foul trouble. Ezeli's rebounding in the second unit is going to be huge and he'll really need to put a body on Tristan Thompson when they're both playing the five.
Shaun Livingston and Leandro Barbosa - Kerr has really tightened up his rotation, so don't expect these guys to play too much. Livingston's length is probably a better asset against the Cavs and that figures to get him a few more minutes.
Prediction? Pain! Rocky III references aside, I'll take the Warriors in five. They're just the better team and are nowhere near the level of the other Eastern Conference teams the Cavs faced to get to The Finals. This is going to be a lot of fun.
Enjoy the games!