Devin Booker is one hard guy to cover and he was a big story from Tuesday. The other big story has been a common trend: Injuries. They just won't go away. Let's go over a fun four-game night.
 
Black Hole Suns (Pacers 97 at Suns 94)
 
What is up with the Suns? They can't go a week without some sort of wacky change to their rotation and Tuesday was no different. Before we get into that, how about a positive?
 
Devin Booker set a career high and scored more points than any rookie this season with 32 points, adding two assists, four turnovers and six 3-pointers in 40 minutes. He didn't really fill the stat sheet at all, but his on-ball defense was also one of his best aspects of his game. He was the third-youngest player to put up a 30-point game ever with only LeBron James and Kevin Durant younger than he was (H/T Arizona Republic's Paul Coro). 
 
His offensive game is really becoming more complete and he continues to try and take guys off the dribble. After a couple of the Hornacek Doghouse Trips, he's locked in for minutes. In 2016, he's played 32 minutes per game with a 59.7 true shooting percentage and a 22.2 usage rate. All of those numbers could be on the rise, too. One last thing on Booker is how interesting his shot chart is in those eight 2016 games: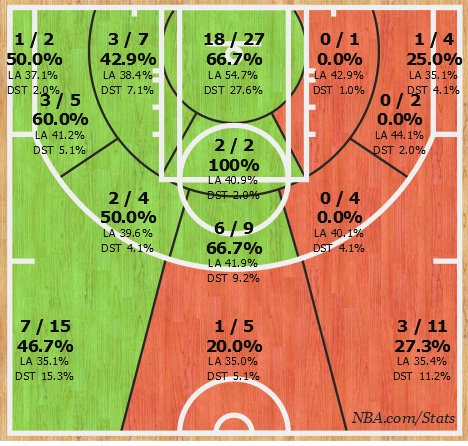 Like the left side much? Booker has to be owned everywhere and he might be a top-five rookie in this loaded draft class for Dynasty.
 
OK, so the bad? The Suns were really banged up for this one. Jon Leuer (back) was a late scratch, Markieff Morris (shoulder) missed the entire second half due to injury and Mirza Teletovic (ankle) stepped on Myles Turner's foot in the third quarter. The good news is nothing sounds serious, but you never know with a team that has openly said they're preparing to be sellers. On top of all that, coach Jeff Hornacek benched T.J. Warren for not hustling. Per the Suns' broadcast, here's the quote from Hornacek after the game.
 
"We are looking for guys who are going to hustle, and if you don't hustle, we'll take you out," Hornacek said. He also called Warren "a great player" and that a bench guy "needs to bring some energy." This was really just a message to Warren, so expect him to hear it loud and clear going forward. I wouldn't panic yet, especially with so much trade talk and all these injuries, too.
 
P.J. Tucker played a whopping 45 minutes, which isn't a surprise because Hornacek loves to play Tucker when it's against a high-end wing like Paul George. Tucker had 12 points, 10 rebounds, five assists and two 3-pointers. He should be owned, but keep in mind he might get traded.
 
Alex Len returned from a hand injury and it may have still been bothering him. He had a wrap on his hand, finishing with six points, 12 rebounds and one assist. He's more of a deep stash. Tyson Chandler was OK with three points, 14 boards and one block — no thanks. Brandon Knight scored 21 with eight turnovers and has been a massive letdown since the Eric Bledsoe (knee) injury. As bad as he's been, he still feels like a buy-low target.
 
The Pacers also couldn't escape the wrath of the injury bug. Ian Mahinmi suffered a left ankle sprain and did not return. Mahinmi could not put weight on his left foot as he was helped to the locker room. What's more, he is having an awful 2016 with left leg injuries. This month, he has suffered this left ankle sprain, a sprained left knee and a sore left heel. Ouch. There's a good chance he's going to miss time, so that means it could be time for… 
 
Myles Turner. One of the darlings of Orlando Summer League has caught fire with a 25-point game on Sunday and also posting a wonderful line on Tuesday: 15 points, four rebounds, four blocks and one turnover in 31 minutes. He also was called for two goal tends, so the shot-blocking is on full display -- he had the highest block rate among drafted NCAA players last year. If you need a big man, you kind of have to add him until Mahinmi gets the all clear. He has great upside with solid percentages to go with those blocks.
 
The other noteworthy item is George Hill (personal) did not play. Hopefully, everything is OK with Hill and we'll see him back soon. With him out, Monta Ellis was solid with 20 points, three rebounds, three assists and two steals. Joe Young might have been the more intriguing story with 11 points, three rebounds, five assists and one 3-pointer in 19 minutes. He even played some minutes next to Ellis today. After the game on the Pacers broadcast, Turner said he really likes his chemistry with Young because of their time in Summer League. He's still only a deep-league stash, but he's a talented dude and looks like a steal in the second round.
 
Paul George wasn't very active with his 19 points, eight rebounds, four assists, four steals and one 3-pointer. He's likely a top 10-20 guy going forward for standard leagues.
 
Editor's Note: This is your chance to try FanDuel risk free! Sign up today and if you lose your first contest, you'll be refunded the entry fee up to $10. Play now!
Bye Pelican Bye (Wolves 99 at Pelicans 114)
  
It certainly hasn't been a Big Easy in New Orleans when it comes to injuries. Tuesday night dealt them another tough blow with Eric Gordon suffering a fractured right ring finger. Nemanja Bjelica smacked his hand on a drive and it likely caused the fracture. He does not have a timetable to return, but he could miss the next 4-6 weeks. Although, it could be a hairline fracture, which might not cost him too much time. If there is a red-hot add, cutting Gordon makes sense right now.
 
So if E.J. (Eric Jr.) is out, what happens? Well, the first thing that comes to mind is the Pelicans are more likely to be sellers at the deadline and also makes them more likely to shut guys down like Tyreke Evans. Until then, Norris Cole will be benefiting the most here. The Pelicans are almost certainly going to sign someone to a 10-day, so that'll be something to watch. If you want to add Cole and you have something to cut, go for it. His upside is not high, so I'd rather have Donald Sloan or someone like that. Cole had seven points, five rebounds, two assists and two turnovers in 23 minutes. Not great, Bob.
 
Tyreke Evans was pretty solid in his 21 minutes, scoring 13 points with three rebounds, five assists and one block. Coach Alvin Gentry has said before that he wants to be careful with Evans because the guard doesn't go half speed, which has put him in harm's way. Plus, his shut down risk is probably No. 1 on the list in the NBA. His knee tendinitis will not go away and his owners will be on red alert if the Pelicans are mathematically eliminated.
 
OK, so how about some positives? Jrue Holiday looks terrific and he's playing with some impressive control and recognition. He scored 19 points with nine rebounds, one steal and two 3-pointers in 27 minutes. With Tyreke likely to play off the ball slightly more, there is a lot to like about Jrue's value. Obviously, he'll need to stay healthy, but he should be very good for the next two months.
 
Anthony Davis had a terrific start, finishing with 35 points, seven rebounds, two blocks and one 3-pointer. He's not the shutdown candidate 'Reke is, but it'll be a concern.
 
The Wolves offense is so 2000-late. OK, I'm the worst. Anyway, they do not have enough shooters on their roster and they made a grand total of three treys in this loss. Plus, their lineup combos are such a mess because coach Sam Mitchell can't figure out what to do on the wings. Here are the combos from Tuesday: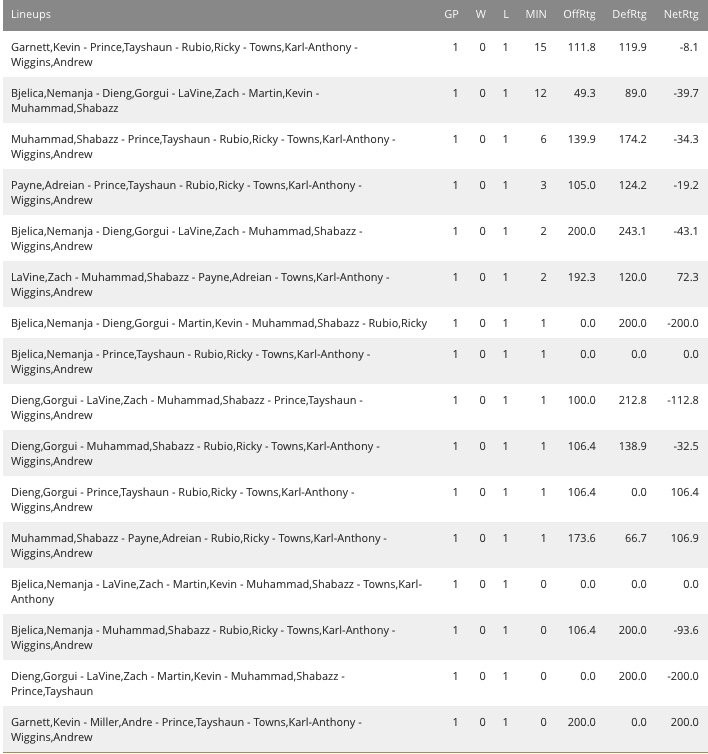 Yikes with those net ratings. The biggest takeaway is Gorgui Dieng and Karl-Anthony Towns only playing two minutes together. The two of them did not play together at all on Sunday and their time together has really seen a downward trend. Dieng was still pretty good with eight points, seven rebounds, two steals and two blocks in 18 minutes. Yes, the minutes are bad, but he's really been less effective next to KAT, so logging minutes away from him isn't too bad at the end of the day. He's still a hold. Obviously, Towns is a monster regardless with 20 points, 13 rebounds, two assists, one steal, one block and one 3-pointer in 32 minutes.
 
The other aspect that has changed is Zach LaVine being a straight backup PG. He's not playing minutes at shooting guard these days and his minutes are down. He only had four points, one rebound, four assists, one steal and one block in 18 minutes. His stash appeal isn't nearly as great, so I wouldn't be clinging too tightly to him.
 
The beneficiary of the LaVine bump has been Shabazz Muhammad. Andrew Wiggins is logging almost all of his minutes at shooting guard, which leaves big minutes at small forward behind Tayshaun Prince. Muhammad played 28 minutes with 13 points, five rebounds and one block on Tuesday. He is a decent points stash, but not a great one for standard leagues. He's kind of like Wiggins because he only does scoring. Speaking of Wiggins, he had a very typical line of 21 points, four rebounds, two assists, three steals and nothing else on 7-of-17 from the field. He still has a long way to go before he's a fantasy stud. Nikola Pekovic rested Tuesday and Kevin Garnett will rest Wednesday. Ricky Rubio is also playing a little better, scoring 15 points with one rebound, four assists, one steal and one 3-pointer.
 
Prediction? Payne! (Thunder 110 at Nuggets 104)
 
So the Thunder actually got very crazy with their rotations on Wednesday during their win. Check out the lineups:
Cameron Payne was the 🔑 with the starters actually struggling -- Andre Roberson was bad. In fact, the Payne, Russell Westbrook and Kevin Durant combination had a net rating of plus-42.2 in their 11 minutes together. Payne didn't close the game out and he actually had a bad game on the stat sheet. He missed all nine shots from the field with four rebounds, six assists and four steals in 20 minutes. Just keep an eye on him and really the big takeaway is that he's the Westy handcuff. Plus, he has upside with dimes, steals and treys.
 
The other noteworthy combo here was Steven Adams getting run next to Enes Kanter, who busted out for 25 points with eight rebounds and two turnovers. Obviously the Kanter-Adams lineup won't continue too much and it didn't have much success before today. Adams and Kanter aren't the highest upside players. Serge Ibaka had a bad game with four points, 10 rebounds, three assists and two blocks. He's fine.
 
As per usual, Kevin Durant was big time with 30 points, 12 boards, four assists, two steals, two blocks and three 3-pointers. He's scored 20 points in every game this year, excluding the one game in which he got hurt in game. Russell Westbrook threw down some jams on his way to 27 points, five boards, 12 dimes, three steals and one 3-pointer. Highlight time:
Changing gears, Kenneth Faried (17 points, 15 boards and one block in 28 minutes) and Danilo Gallinari (27 points, three rebounds, one assist, two steals and four 3-pointers) were great for Denver and they're trending up in a big way now that they look healthy.  Besides them, it was pretty ugly.
 
Jusuf Nurkic was cleared to play, but he did not. That led to Joffrey Lauvergne getting 20 minutes, scoring 12 points with four rebounds, one steal and one block in 20 minutes. He's still likely behind Nikola Jokic, who had just six points, three rebounds, one assist, one steal and one turnover in 19 minutes. If you're stashing, I'd still go Nurkic, Jokic and then Joffrey in that order. Darrell Arthur also played poorly with four points, seven boards, four assists and two blocks in 29 minutes. Expect him to trend down and maybe the Nuggets want to deal him.
 
Probably the biggest takeaway here was Will Barton struggling. He played just 19 minutes for six points, three rebounds, two assists, one block and two turnovers. He scored 21 points in two of his previous three games, so there's no need to panic here. Although, his owners should probably lower expectations with Gallo taking up so much usage and even Emmanuel Mudiay takings shots from him, too. Mudiay was 5-of-14 from the field for 13 points, so yeah.
 
Gary Harris had a more realistic game with 11 points, six rebounds, two assists and two 3-pointers in 30 minutes. Sean Kilpatrick also got in the mix with five points in eight non-garbage time minutes.
 
Algonquin for The Good Land (Bucks 91 at Heat 79)
 
While the Bucks got the win, there really wasn't much to discuss here. The one storyline that has gained some attention is John Henson and Greg Monroe playing together. That did not happen on Tuesday, which is probably a bad sign because Henson on Hassan Whiteside and Monroe on Chris Bosh makes sense on defense. Henson was OK with nine points, one board and two blocks in 15 minutes while Monroe had 15 points, 10 boards, one assist and one block. Henson is worth a look, if you need the blocks -- he led qualifiers in block rate last year.
 
Khris Middleton continues to impress with a 22-point scoring night while adding seven rebounds, seven dimes, two steals and two 3-pointers. His breakout season hasn't been about his shooting because the well-roundedness of his game is on full display. He's the real deal and should be a top-50 guy going forward.
 
It was not Dwyane Wade's night. He scored a season-low two points in the loss with two boards, four assists, five turnovers and no defensive stats in 21 minutes. He wasn't in foul trouble and he was in good spirits on the bench late in the game. He's coming off a 22-point game on Sunday, so he's fine for now. Although, he is on a back-to-back on Wednesday, so keep an eye out for that.
 
Yeah, so about Tyler Johnson. Michael Carter-Williams swallowed him whole with suffocating defense and got him in early foul trouble. He was totally dead weight out there, finishing with three points, four rebounds, one assist, two steals and three turnovers. He made as many NBA field goals as you did last night, but he had six attempts. If one thing is clear, it's that Goran Dragic's job is totally safe when he comes back. Sadly, Dragic is out for a few more at least.
 
Gerald Green's knee tendinitis issue seemed like it was bothering him slightly, finishing with six points on 2-of-10 from the field. He's probably fine, but there were just a couple things that didn't add up. Oh and he passed on a dunk attempt??
 
Chris Bosh is having a big year and put up 23 points, five boards, two assists, one steal and two 3-pointers. Hassan Whiteside is also a stud with 23 points, 18 boards and two blocks. His knee looks prettay, prettay good.
 
Tuesday News and Notes
 
Michael Kidd-Gilchrist is ready for contact. I broke that all down in Tuesday's column, so check it out here. There's also some stuff on Kemba Walker and Kevin Love.
 
The Magic are likely making a lineup change on Wednesday. Victor Oladipo (knee) is already out, but there should be another change. It's likely going to be either Evan Fournier or  Channing Frye with Frye as the favorite because he's been awful. The Magic also have been spanked in the first quarter, so their starters need a change in a big way. Obviously, Aaron Gordon is the guy you'll want to add, but we have seen this movie before on Gordon possibly getting more run. However, he is playing next to Tobias Harris a lot more and they're playing well together, too. This time around feels better than last time because there is hard evidence on how bad Frye has been and how much better the Magic are with Gordon.
 
In case you missed it, Doctor A and I covered the Magic in the podcast, so bang it here for some more in-depth analysis. We also talked about the trade deadline and other recent changes to rotations on there, too.
 
Derrick Favors (back) is doubtful to play on Wednesday. He just can't get clearance and it's going to take a long time before he's all good. It'll be Trey Lyles and Trevor Booker getting his minutes again.
 
Andrea Bargnani (ankle) is questionable for Wednesday. Who cares?
 
Kirk Hinrich (quad) has been ruled out for Wednesday. That means Aaron Brooks backs up Derrick Rose. It's also worth mentioning E'Twaun Moore is only playing shooting guard right now, so he isn't affected with no Captain Kirk.
 
Kris Humphries (knee) is already out. Marcin Gortat has been fantastic and the Wizards even used him next to Nene. Drew Gooden (calf) is also out and should miss several games. Otto Porter (hip) is out, so Kelly Oubre will start. That also bodes well for Gortat, John Wall and Jared Dudley.
 
Kristaps Porzingis (foot) and Lance Thomas (knee) are questionable to play. If Three 6 Latvia and Lance can't go, there should be a little more Derrick Williams, more Carmelo Anthony and Arron Afflalo in the first unit, and more Kyle O'Quinn. Also, keep an eye on Jose Calderon because his D has been awful.
 
Larry Nance (knee) is doubtful for Wednesday, so we'll see more of Julius Randle and Ryan Kelly.
 
Nik Stauskas (shoulder) is expected to return on Wednesday. That is going to be very interesting because he was playing somewhat well before his injury. Hollis Thompson should certainly play less, but he's actually playing well, too. The most important part will be what happens to Robert Covington, who played big minutes at power forward on Monday. Lord Robert Covington should still be owned until further notice, but expect him to cool down from a nice weekend.