We've seen some wild finishes the past couple nights. The Heat had a 99.8 percent chance to win the game in regulation, but they needed to get to overtime to pull off the 102-96 win in Game 1 on Tuesday. 
Why? Well, this happened at the end of regulation:
 
Yeah, this wasn't supposed to happen thanks to some missed free throws and turnovers. Besides that one-minute blunder, the Heat buckled down in overtime with a quick 8-0 run to start off the five-minute frame. Dwyane Wade was the hero as per usual, finishing with 24 points, six rebounds, four assists, three steals, two blocks and one 3-pointer in 37 minutes. He was terrific in the first round and the pressure is even higher for him in ths season. Wade is basically a must-use player in DFS these days.
 
Goran Dragic took it to Kyle Lowry on both ends with 26 points, six rebounds, two assists and three 3-pointers in 41 minutes. He had a lot of easy shots during this game, so this kind of output is likely unsustainable. Josh Richardson, his backup, was effective with 11 points, two rebounds, one steal and two 3-pointers. Richardson was a net-rating superstar in the first round and he led the team yet again (min. five minutes).
 
Several other Heat players were above expectations. Hassan Whiteside played a whopping 39 minutes, scoring nine points with 17 rebounds, two steals and one block. He and Jonas Valanciunas went toe-to-toe in what looks to be the most important matchup of this series. Whiteside also tweaked his knee, but he's fine.
 
Joe Johnson was perhaps the biggest surprise, scoring 16 points with seven rebounds, two assists, two steals and one turnover in 42 minutes. He's clearly going to play a lot and he even made 7-of-19 from the field for a nice amount of usage. He's not sexy, but JJ looks like a nice option. Luol Deng was a bit of a letdown with 10 points, four rebounds, three assists, four steals and five turnovers in 39 minutes. He'll be better in Game 2.
 
Jonas Valanciunas tweaked his ankle in the fourth quarter and was pulled with three minutes left in regulation, but did return. He was awesome in this game, but there's a chance he could have a swelling issue for Game 2. JV finished with 24 points, 14 boards, three assists, three blocks and two steals in a whopping 41 minutes. Again, he was the man. If he is limited, it'll be Bismack Biyombo stepping up in a big way on Thursday. Biyombo finished with no points, three rebounds and one turnover.
Kyle Lowry had a bad start, failing to score in a half for the first time in his 19 career playoff starts. He didn't score until there were seven minutes left in the third quarter. He was also under 40 percent from the field in all seven games against the Pacers in the postseason (both stats per TNT). Besides the crazy buzzer-beater, Lowry finished with just seven points, four rebounds, six assists, three steals and three turnovers in 43 minutes. He needs to be better. Lowry does get props because he was shooting after the game for practice and answered all the questions about his struggles. He was even shooting at 12:25 in the morning (and maybe later than that):
12:25am: Kyle Lowry shooting by himself on the main court at ACC pic.twitter.com/g3SezIzkSl

— Josh Lewenberg (@JLew1050) May 4, 2016
DeMar DeRozan also needs to be better. The All-Star scored 22 points with six rebounds, four assists, one steal and two turnovers in 42 minutes. He took tons of careless shots and had a turnover at the end of the game to cost his team. In case you missed it, here's a column about how bad he and the Raptors were in the first round.
This series should be fun with a lot of close games.
Warriors Come Out To Play (Blazers 99 at Warriors 110)
Who needs an MVP anyway? The Warriors were smoked in the first quarter down 34-21, but they were just too good down the stretch to take a 2-0 lead. Their depth is just too impressive and they probably don't get enough credit for their defensive stops. 
 
Coach Terry Stotts got aggressive guarding Klay Thompson and it worked early. During a sideline interview on TNT, Stotts said he didn't want Thompson's man to leave him to be a help defender. Well, it worked for the most part with Thompson finishing with 27 points, three rebounds, three assists and five 3-pointers. The Blazers had trouble keeping tabs on him on offensive boards and pump-fakes, so he got loose late. Still, Stotts was on it and had the right idea. Not having Stephen Curry (knee) hurt Klay a bit here because the defense could really focus on him. Still, you have to like his chances for a stronger outing in Game 3.
 
Draymond Green struggled with his shot during this game, making 7-of-20 from the field for 17 points with 14 rebounds, seven assists, one steal, four blocks and two turnovers. He was the point-forward as per usual and that won't be changing at all. He'll be a nightly triple-double threat.
 
Andre Iguodala (15 points, five rebounds, four assists, two steals and one 3-pointer) and Shaun Livingston (14 points, four rebounds, four assists, one steal and one block) continued to step up without Curry. They were a big part of the massive fourth, as well. Both should even better a shade better in Game 3, assuming Curry is out.
 
Putting Festus Ezeli in during the fourth quarter was huge. He finished with a plus-minus of plus-13 with a stat line of eight points, six rebounds, one assist and one block. He probably won't be this good again the rest of the way, but coach Steve Kerr has to like having another weapon in his arsenal. 
 
Damian Lillard went supernova in the third quarter with 17 points, finishing with 25 points, four rebounds, six assists, two steals and six 3-pointers. After that strong third, he was a no-show in the fourth with no points. He was awesome against the Warriors all season and we're still waiting on a massive postseason showing from him. It's coming.
 
C.J. McCollum only had a 12-point game in Game 1, but he was better with 22 points, two rebounds, two assists, one steal, one block and one 3-pointer. He had less pressure on him for the defensive side of the ball, so that bodes well for his offensive output. He'll likely have a big game at home. Al-Farouq Aminu was also very good at the power forward spot, finishing with 14 points, six rebounds, two assists and one block.
 
Moe Harkless' main responsibility was to stick Klay, but he had a decent stat line with 11 points, seven rebounds, one assist and one 3-pointer. That's a fair expectation going forward. Mason Plumlee saw a slight improvement with six points, 11 rebounds, four assists, one block and six turnovers.
 
This might be a sweep even without the MVP. Crazy. 
 
Side note: This is kind of silly, but I thought this story from Forbes is pretty funny. It compares the Warriors personnel to Silicon Valley companies. Sadly, no mention of Pied Piper here.
 
Tuesday News and Notes
 
So you're a fan of missed calls, you say? Well, Monday night might have been the best 14 seconds of your life. In case you haven't heard, the NBA does a review of the last two minutes of close games as sort of a report card on the refs. Basically, Monday's officials had grades worthy of sending them back to elementary school refereeing. Here's what the report looked like (column on the right is: INC= incorrect non-call, CC= correct call, CNC= correct non-call):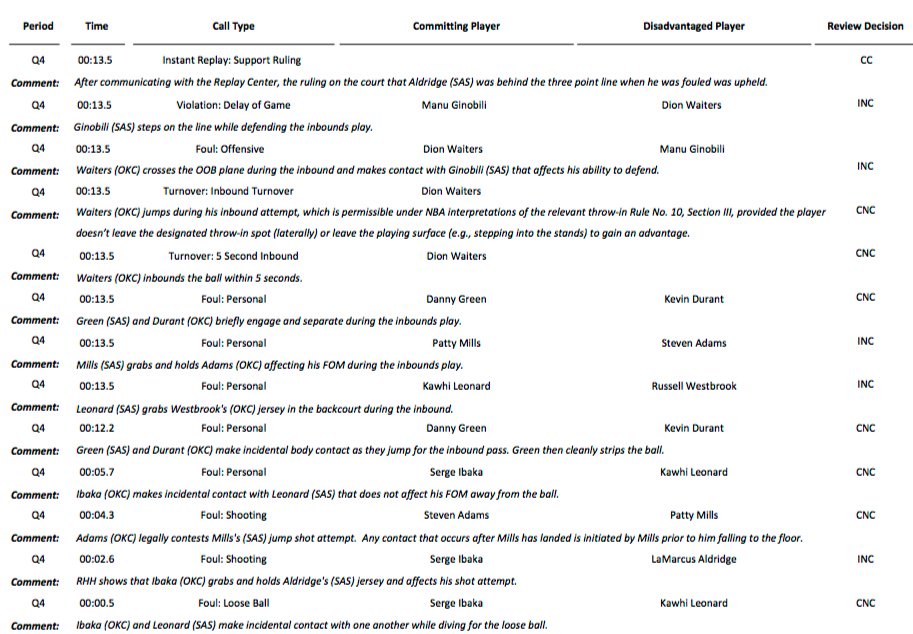 Yes, that is five incorrect non-calls in those final 14 seconds. The refs missed Manu stepping on the line, Waiters fouling Manu, Mills fouling Adams, Kawhi fouling Westbrook and Ibaka fouling Aldridge. That's just 14 seconds. It was crazy.
 
Still, we can't blame the refs for the Spurs losing this game. The Spurs did have a timeout after their steal and they were in a 3-on-1 fast break. Danny Green should've thrown a bounce pass around Steven Adams instead of lobbing it, and Ginobili probably shouldn't have kicked out to Patty Mills in the corner. Whoever you want to blame, at least we have a series now.
 
Stephen Curry (knee) is hopeful to go through a scrimmage on Thursday. If you want to play the guessing game, the Warriors are hopeful Curry can get out there for Game 3, but it feels like Game 4 is a more realistic expectation.
 
Scott Brooks is a big proponent of analytics, apparently. OK then.