If you play pickup ball, you've heard it 1,000 times. It will be in a game to 15 points, some team will be up 14-13 and someone will call "game" upon the release of a jumper. On Saturday in front of his home crowd, Paul Pierce said he just did that.
 
Pierce hit a game-winning bank shot at the buzzer to beat the Hawks 103-101 on Saturday. After the game, he was asked if he banked in the winning shot. "I called game," Pierce said. That might be the most perfect answer ever to a very common question.
 
Besides the epic shot and quote from Pierce, the Wizards also had a catastrophic meltdown. They were up 20 points in the fourth quarter with 7:37 left. However, the Hawks' bench squad went off. They had a 21-3 run as a unit and the Pierce moment probably never should've happened. Let's talk about what the noteworthy guys did from that game.
 
Follow me on Twitter @MikeSGallagher.
 
Bradley Beal had one of his best games as a passer, finishing with 17 points, eight dimes, three rebounds, one steal, two 3-pointers and five turnovers. His seven assists in the first half was his highest total for any half in his career and he really spread the ball around nicely to his teammates in the starting five. One of the interesting things with the Wizards was how much Beal and John Wall played off each other, so it is not a surprise to see him dish it out after a one-game adjustment period. In fact, ESPN added in their broadcast coach Randy Wittman said Beal would be more of a point guard while Sessions would be a shooting guard in halfcourt offensive sets. I'd expect Beal to have a better game.
 
Speaking of Sessions, he didn't play well, scoring eight points with three rebounds, six assists and three turnovers. His defense was actually much, much better than it usually is, though. Sessions did get 35 minutes and it's not like he had much competition for minutes. Expect a better game, but not a 21-point night like from Game 2.
 
Before the Pierce shot, the story of the contest for Washington was Otto Porter. He was very successful on cuts a la T.J. Warren and he played fantastic defense. Those cuts led him to putting up a line of 17 points, nine rebounds, four assists, one steal and two 3-pointers in 40 minutes (!). Porter really showed some offensive promise in Las Vegas Summer League, especially in his mid-range game. The Georgetown product put it all together on Saturday and he's likely earned a role in the 34-38 minute range going forward in this series. We'll see what happens if they advance. 
 
John Wall did not play against the Hawks on Saturday. He was at the game and had very informative interview with ESPN's Chris Broussard. Wall said he is hoping to start dribbling in 2-3 days and he is still dealing with pain. There was never really any sign he'll be ready to play in Game 4 at all and he is likely out for the series.
 
As mentioned, the Hawks rotation was in total disarray on Saturday. Paul Millsap did not start the game due to flu-like symptoms and he checked in with seven minutes remaining in the first quarter. In the loss, he just didn't look right. The Wizards were actually going at him and he only had eight points, two rebounds, two assists, one steal, one block three turnovers and one 3-pointer. How wacky was the rotation without Millsap? Here are the lineups from Saturday. Note the net ratings: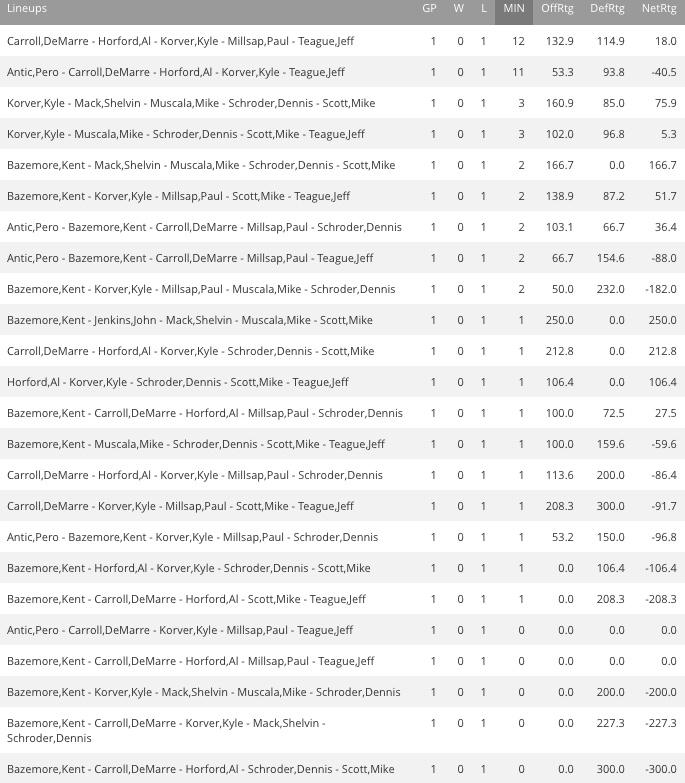 Again, let's just throw this out for now. Sticking with the pickup basketball theme in the open, this reminds me of the time a team has a guy missing and they have a replacement. The rhythm just isn't the same. There is a lot of non-verbal communication when a teammate cuts and sets the spacing. That guy was Millsap for the Hawks. 
 
The Hawks starting five was one of the best units in the NBA. Heck, they all even won a Player of the Month award back in January. While Dennis Schroder (18 points and five assists) having a good game is very noteworthy, this is not going to continue. DeMarre Carroll has been magnificent in the playoffs and Jeff Teague hasn't been bad either. Also, Al Horford had a minor leg issue and had to go to the locker room, but he seems to be fine. Kyle Korver was the only starter to get minutes down the stretch because the Hawks needed treys. Pero Antic got the start, but he had no business being in the starting lineup with his awful rebounding and lack of in-the-paint presence on either end.
 
As for the late game, the Grizzlies were able to grind out a Game 3 win. Interestingly, all of the lower seeds in the four series are up 2-1 now. 
 
Stephen Curry is one of the best getting free, but that wasn't the case on Saturday. In fact, 12 of his is shots from the loss had a defender within 0-4 feet of him. That's impressive for Memphis because Curry only attempted 7.9 of those per game during the regular season. The MVP finished with 23 points on 8-of-21 from the field with two rebounds, six assists, one steal, one block, two 3-pointers and four turnovers. He was just 2-of-10 from beyond the arc. He'll be better on Monday.
 
Klay Thompson had some success with 20 points, eight boards, two assists, one steal, two blocks and three 3-pointers. We can expect this type of line for Klay going forward. As for the bigs, the Grizzlies did a terrific job with defense on Draymond Green (six points, six boards, seven assists, three steals, one block and five assists on 1-of-8 from the field) and Andrew Bogut (two points, eight boards, two assists and one block). The GSW bigs were in some mild foul trouble, which made them be less aggressive. The crazy part about Green is that he was still able to have a good game, but it just wasn't on the offensive side. Although, that's your main concern if you're reading this. Outside of the scoring, Green's line was good. He'll be fine.
 
The Grizzlies still haven't lost a playoff game with Mike Conley in the starting lineup. They played how they wanted on Saturday and were able to get 16 points in the paint in the first quarter. They set the tone and they kept the Splash Bros and Co. at just 6-of-26 (23.1 percent) from deep, which was probably the difference. Marc Gasol was amazing on defense, but he made just 6-of-17 from the field on the offensive side. Still, a 21-point, 15-board game with two assists and one steal is superb against a great defensive team.
 
Z-Bo also did his thing with 22 points, eight boards, three assists and one steal. He also was much better on defense, too. Mike Conley's presence has been more of a glue guy and he didn't have a good stat line, scoring 11 points with no rebounds, five assists and two 3-pointers. Expect him to be more of a defense-first guy. Nobody else on the team scored more than 11, which is just what the Grizzlies want. Control the tempo and pound the ball inside to put pressure on the big men. Of course, they want to be grinding like the Clipse.
 
This series just got very interesting and we haven't seen the Warriors under this kind of pressure in a long time. Monday should be fun.
 
The big news heading into Sunday will be Pau Gasol. He is questionable to play today due to a left hamstring strain. Gasol lasted five minutes in the second half on Friday, but he did not return for the final 19 minutes of the game. Pau added he has some soreness on Saturday, so one would think he's not going to play. It's worth mentioning that Gasol hasn't had a injury to his hammy since 2010, so it's not like Chris Paul.
 
As mentioned, the Bulls made some tweaks to their rotation. Here are the second half lineups from Friday: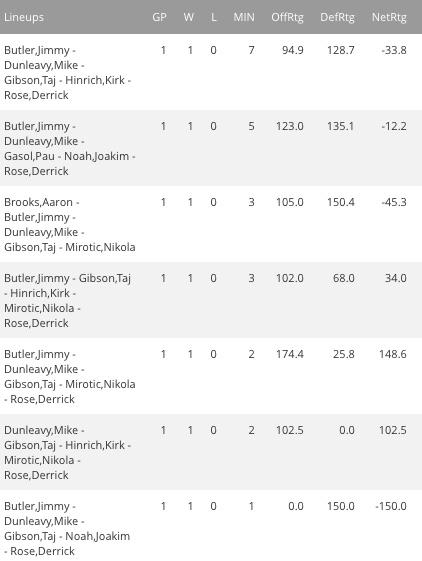 The first thing that jumps out here is the success of Taj Gibson at the five. He and Nikola Mirotic played very well next to each other, so we should absolutely expect that to continue. 
 
Gasol is playing around 32 minutes in the rotation, so there are a lot of minutes to go around. Based on the second half rotation, Taj's playing time would extrapolate to about 40 minutes and Mirotic would be around 25. The gap shouldn't be that big, though.
 
Looking at Mirotic, the Cavs really don't have someone to match up with him. He's been much better on one-dribble drives with his length and his 3-point range will also throw a wrench in the Cavs going with a lineup of Tristan Thompson and Timofey Mozgov, which was extremely effective in Game 2. If Pau is out, Mirotic could be in for a big game.
 
You could argue Taj was Chicago's best player on Friday. He led the team in rebounding rate (25.7), true shooting percentage (78.1) and he didn't turn the ball over. If Friday was an indication, Taj will start and he should play huge minutes.
 
OK, so Joakim Noah should max out at around 30 minutes, that leaves 66 minutes of playing time up for grabs. Giddy up on Miro and Taj.
 
One other thing worth mentioning is Derrick Rose putting up a Russell Westbrook-like 48.7 usage rate in the second half. He wasn't very efficient in the big win, but kudos to him getting his confidence back. With Kyrie Irving likely to play at less than 100 percent, we could be looking at a big Rose game on Sunday. It would also be on one day of rest, too. Who would've thought?
 
Chris Paul should have his minutes go up for Game 4 on Sunday. Paul played 15.9 minutes in the first half, so he was on pace for 32 before Austin Rivers went supernova on all of us. For now, I'd think 35 minutes seems like a good number. Of course, Rivers going off again could change that.
 
Enjoy the games today!