Is it possible we take LeBron James for granted? He gets ripped when the Cavs can't come through and several folks don't want to give him credit when he dominates. Well, even LeBron's biggest haters have to give him props.
Despite a 26-point deficit and giving up a whopping 74 points to the Pacers in the first half, LeBron James led a massive comeback with his line of 41 points, 13 rebounds, 12 assists, one steal, two blocks and six 3-pointers in 45 minutes during the thrilling 119-114 victory.
In the fourth, Kevin Love (13 points and six rebounds) and Kyrie Irving (13 points and four assists) did not play at all while LeBron was the only Cav to play all 12 minutes. In that time, he posted 15 points, five boards, three dimes, no turnovers, a +68.9 net rating, a 59.9 true shooting percentage (TS%), and a 55.4 usage rate. Just unreal output from arguably the best player ever.
As for Kyrie and Love, this was really just about coach Ty Lue going with the hot hand and rolling with Bron. It should be back to normal in Game 4 on Sunday.
Ah the Pacers. It looked like they were going to cut their deficit in half, but now they have to fight for their lives in an 0-3 hole. Paul George didn't get enough help with his 36 points, 15 rebounds, nine assists, one steal and five 3-pointers in 45 minutes. Not to be that guy, but you would have to think the odds of him joining the Lakers in a couple summers have increased, right?
Thaddeus Young played big minutes with 39, scoring 11 points with 14 rebounds, three assists, one block and one 3-pointer. He got a front-row seat of LeBron James going bonkers, though. The Pacers will need him to be a monster in Game 4, and they really need to figure out how to get him some easy dunks and layups.
Coach Nate McMillan was a little late to put Jeff Teague back in the game, and that might have been due to his defensive struggles in this series. Teague finished with 15 points, three rebounds, seven assists, one steal and four 3-pointers. His wrist injury didn't look like a problem. Lance Stephenson was also probably in the game for too long, finishing with 13 points, six rebounds and one assist in 24 minutes.
Editor's Note: Get our MLB Draft Guide + Season Pass ($39.99 value) for FREE with your first deposit on FanDuel! Click here to claim now.
The Buck Starts Here: Raptors 77, Bucks 104
The Raptors were just awful. In the first half, they had more turnovers (nine) than field goal makes (seven). DeMar DeRozan couldn't make a single field goal on his eight attempts, needing his eight free throws to account for his scoring. Nobody takes tougher shots than DeMar these days, so it's going to be tough for him to snap out of this awful game.
So what's the plan here? Well, it doesn't look good for their starters. Here are the lineups used for more than five minutes in this series: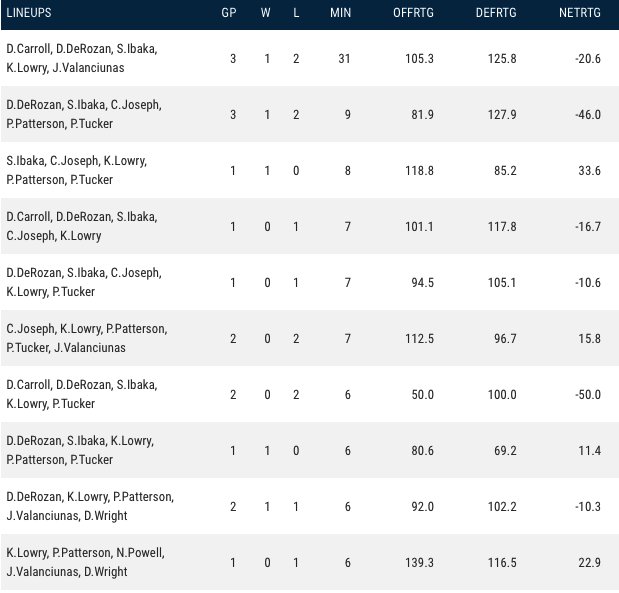 Yuck. Only the top two lineups were used in all three games and they are getting smashed on the defensive end. Despite Jonas Valanciunas coming off the bench in the second half, he should be starting on Saturday and really the Raptors have to figure out how to get him going to add some diversity to their offense right now.
Changing gears to the Bucks, what's left to say about Giannis Antetokounmpo? He's still just 22 years old and is just taking over this series. On Thursday, he finished with 19 points, eight rebounds, four assists, two blocks, two steals and two 3-pointers in just 33 minutes. He's shaping up to be the No. 2 pick in fantasy drafts next year and he seems like a lock for at least one 5x5 next season.
Khris Middleton's hamstring surgeon needs a raise. In the Thursday win, he posted 20 points, three rebounds, seven assists, two steals and one 3-pointer in 34 minutes. He played 41 minutes in the first two games and he would've been there again had this game been close.
I still wouldn't count out the Raptors yet. Maybe someone tell them it's not a playoff game and they can buy it?
Give That For Data: Spurs 94, Grizzlies 105
The Grizzlies were able to limit Kawhi Leonard to just 18 points and they did so with a little bit of the Spurs medicine. They applied a lot of pressure to Kawhi on the perimeter, and coach Gregg Popovich said it was like their offense was stuck in the mud. Leonard is just too good to be held under 20 again.
By the way, coach David Fizdale said Kawhi was like a robot. Leonard is probably going back to his usual program in Game 4. Besides him, there really wasn't much to break down. Tony Parker came out flat with a no-point dud while Pau Gasol also didn't play well with six points and eight boards. After the Spurs just rolled in the first two, there likely won't be many adjustments.
Zach Randolph was a beast with his 21 points in the starting lineup. He and Gasol had a lot of success next to each other during the regular season against the Spurs, and now they likely will stick with that lineup again. Although, the starting lineup was a -25.0 in net rating on Thursday due to a slow start, but still Fizz has to roll Z-Bo out there again. He'll be a nice DFS play.
Mike Conley is really good, scoring 24 points with eight assists. He should be able to exploit the matchup against Tony Parker and he may have another big game in him. Marc Gasol also put up 21 points with six boards and three assists.
The Spurs are still likely going to handle their business, but at least it was not a sweep.
Too Much Westbrook?
There is just way too much Russell Westbrook, especially late in games. Victor Oladipo was asked about how Westbrook just takes on so many possessions. "Nah, we've been playing that way all year," Oladipo said.
Oladipo isn't exactly right here. Westbrook has been completely ridiculous in the fourth quarter during this series. Here's a quick look at his usage rate in each quarter with his true shooting percentage:
First: 45.0 (59.5 TS%)
Second: 49.2 (46.5 TS%)
Third: 51.5 (55.0 TS%)
Fourth: 57.1 (31.9 TS%!)
Total: 50.5 (47.1 TS%)
Those fourth quarter numbers are jaw dropping. On the season, Westbrook still had a 52.0 usage rate in the fourth, but he was actually making shots in the fourth with a 57.2 TS%. In his two fourth quarters against the Rockets, here's what his shot chart looks like: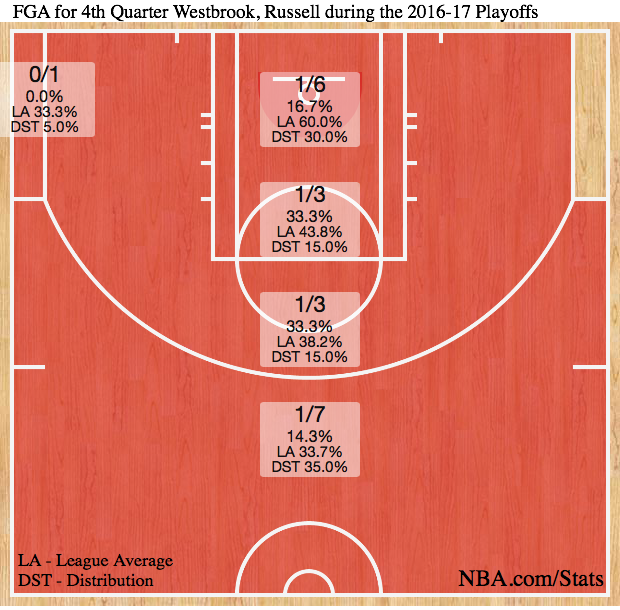 Yikes. He didn't take too many midrange shots, but he missed a ton of 3-pointers. Furthermore, he's still just 3-of-16 on his pullup threes compared to just 2-of-6 on his catch-and-shoot treys. Westbrook actually was decent on pullup triples on the year at 34.5 percent, but the Rockets look to be defending him a little tighter.
As you might expect, it's been heavy isolation for Westbrook in this series. He's been an isolation scorer for 22 possessions, but his efficiency comes in at 11.1 percentile. For what it's worth, James Harden is right behind him with 21 iso possessions, but he's at 77.8 percentile. Westbrook has actually been good as a PNR ball handler, coming in at 74.1 percentile on his 32 possessions. He's also been really bad in transition, posting just 0.8 points per possession for just 16.7 percentile. By the way, Westbrook wasn't really great as transition guy anyway at just 31.2 percentile in transition. It's all volume.
Moving forward, coach Billy Donovan either needs his guys to knock down shots or try to cut down on the Westy isolations. 
Quick notes from Thursday
Isaiah Thomas is expected to meet in Chicago on Thursday. He should be all set and hopefully he can turn in a gem in a win. He deserves it.
Ivica Zubac (ankle) thinks he can start, but we'll see how the Lakers do in the draft and in free agency. They do not want to Trust The Process with their top-three protected pick.
Coach Brad Stevens continues to hint he will start Jonas Jerebko. Amir Johnson may move all the way out of the rotation, so maybe Jerebko can get to minutes in the upper 20s. He'll be a risky DFS play.