Saturday was quite the championship sports day. We saw a Triple Crown in horse racing, Serena Williams won her 20th major championship, FC Barcelona won the Treble and the Lightning won Game 2 of the Stanley Cup Final. The NBA? Well, it'll have its day tomorrow night when Game 2 tips at 8:00 EDT.
 
For the second day in a row, the biggest news of the day involved Kyrie Irving. He had successful surgery on his broken left knee cap and will miss the next 3-4 months.
 
By now, you've probably figured out or saw that Matthew Dellavedova will get a big uptick in minutes, so let's look ahead even further for next season. Fantasy owners know the Kyrie injury history all too well and it's a big reason why he had such a low ADP (average draft position). Here's a look at his injury history (via NBATV):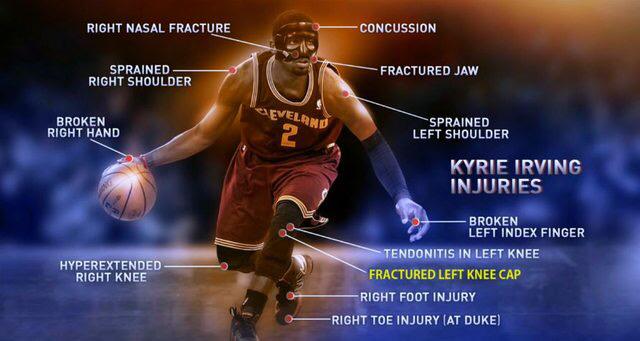 It's crazy. Usually when it comes to injury-prone guys, it's the same injury over and over again. Back when we called Stephen Curry injury prone, it was always his ankles. Kyrie actually did have a few ankle injuries, but it wasn't noteworthy enough to put in this graphic. So what's the most common injury for Kyrie? It's his knees. In our Rotoworld system, the word "knee" appears a grand total of 163 times on Kyrie's blurbs. Before this recent run of tendinitis and the broken knee cap, Kyrie had a left knee injury back in December of 2014, a left knee bruise in December 2013 and a sore right knee in February 2013. Up until this season, his knee problems weren't really of the chronic variety.
 
On top of that, broken knee caps aren't usually a lingering injury. In fact, both Blake Griffin and John Wall fractured their patellas (knee caps) and have been arguably the two most durable players at their positions since those injuries. Wall actually played in a whopping 208 consecutive games after his knee injury while Blake has missed more than two games just once in his five seasons since he made his debut — this season is the one with more due to an odd elbow injury. Wall did have some left knee issues in following seasons, but he had the stress fracture in his right knee. As for Blake, he broke his left knee cap and his only noteworthy injuries have been contact injuries with bruising. Those injuries didn't force him to miss games. The bottom line here is there is little reason to be worried about Kyrie's patella fracture affecting him once he's back.
 
However, the tendinitis is a problem. As mentioned, he already had tendinitis earlier this season and it's something he'll likely have to endure going forward. Here are a few players with recurring knee tendinitis issues as recent as this year: Marvin Williams, Andrew Bogut, Mo Williams and Andre Iguodala. Of course, there are some cases in which players have one bout with knee tendinitis, and then it ends. Kawhi Leonard is an example there.
 
All that said, I'm not drafting Kyrie next year. He was a first-round value this season thanks to his phenomenal improvement as a catch-and-shoot player while providing nice across-the-board value. There's too much risk and other guys offer similar upside.
 
Rudy Gay said that coach George Karl told him he'll play more power forward next season. This really shouldn't come as a surprise because Rudy played a ton of four with Karl. The Kings used Boogie with a stretch four for 286 minutes last season. That excludes all the usual fours, so either Rudy or Omri Casspi were the guys getting minutes at the four.  In those minutes, Gay had a 24.3 usage rate while Boogie was up to 38.9 (!). Boogie was also scoring 1.6 DFS points per minute in that playing time, too. Gay was right on his average of about one fantasy point per minute in those situations. His rebounding rate, assist rate and efficiency didn't see many changes either. Outside of maybe getting a minute or two more, this doesn't really affect Rudy too much.
 
Indirectly, shifting Rudy over to the four means there will be more minutes on the wings for Ben McLemore and Nik Stauskas. Both players have yet to really hit their stride, but wing scorers usually take a couple years to get it going. After the All-Star break, McLemore's efficiency actually went down quite a bit while his usage rate saw a noticeable bump. I'm not drafting either guy next year. Sauce Castillo is still the best nickname, though. This could wind up being slightly moot if the Kings do opt to grab a power forward. They could go in any direction in the draft and have a ton of needs.
 
Besides that, we didn't have much actual news. Emmanuel Mudiay worked out for the Lakers and said he'd like to play with Kobe. It would be a mild shock to see him go second in the draft ahead of Karl-Anthony Towns or Jahlil Okafor. Mudiay is likely going in the top five, though.
 
Another player possibly going in the top five is Willie Cauley-Stein. He reportedly increased his vertical leap to 42 inches. That would be Rudy Gobert-like rim protection for the Kentucky big man. WCS can block some shots, but he's still going to have a rough time at the line after making just 61.7 percent last season. He'll still be worth a very long look in fantasy leagues, assuming he lands in a favorable spot.
 
Louisville guard Terry Rozier is rising up draft boards. Last week, a number beat writers were raving about him in workouts and now NBA teams are apparently doing the same, according to Marc Spears of Yahoo! Sports. Maybe Rozier climbs ahead of guys like Tyus Jones of Duke.
 
Enjoy Game 2!