It's fantasy playoff time. If you're reading this, you've probably got more on the line this week when it comes time to set your roster later today. We had some impactful stuff happen on Sunday and a lot of insignificant stuff, so I'm going to try to cut out the fat of stuff we already knew coming into the weekend.
I'll quickly go over each game and some important things that happened, and then I'll break it down from a fantasy angle and how it may affect your lineup decision today.
We'll also be going over plenty of stuff to get you ready on the podcast tomorrow! Send me your questions and tough lineup decisions @MikeSGallagher and we'll answer them on the show!
Dallas 111, Brooklyn 104 
Key developments
Jeremy Lin suffers a right ankle sprain and does not return.
Rondae Hollis-Jefferson played 30 minutes with six points, nine rebounds and one block.
Trevor Booker picks up a DNP-CD after missing the last two games.
J.J. Barea played 27 minutes and was red hot off the bench with 20 points, including nine straight to help get the win.
Seth Curry's slump continued, making just 3-of-9 from the field. The same for Yogi Ferrell.
Nerlens Noel did not score with four rebounds, one assist and one block in 21 minutes.
What it means
The Lin injury is clearly the biggest news here. We all know the Nets just love to play it safe, so they may keep him out even though his ankle injury didn't look bad. You cannot trust Lin unless there is good news Monday afternoon, and he is now a drop candidate. Lin going down allowed Spencer Dinwiddie to get hot with 18 points, seven dimes, one steal and two 3-pointers. Dinwiddie wasn't very good in the starting lineup before, so it's tough to add him. Isaiah Whitehead has also played better and could split minutes, which negates Dinwiddie. Also this could help Caris LeVert, who did handle the ball more earlier in the season. Of those guys, I'd add LeVert first, but not in a 12-team league. There are so many adds right now.
RHJ was finally able to avoid foul trouble and get his minutes back up after just 19 on Friday. With Trevor Booker possibly being shut down, there could be enough minutes going to RHJ to add him in most leagues. Still, he just hasn't been very good, so starting him the fantasy playoffs would be bold. 
With Booker resting, it looks like it'll be a committee for backup PF with Justin Hamilton, Andrew Nicholson and Quincy Acy. Unless Brook Lopez rests, there isn't much to see here. Acy is the best of the bunch.
The Barea arrival makes this a messy situation. Ferrell is not really someone I'd want to own right now and I really wouldn't want to start Wesley Matthews despite a decent game — 15 points vs. BK isn't special. While Seth Curry is ice cold, his minutes are there his owners should still be throwing him out there.
Don't worry about Noel. It was just foul trouble and a fast-paced game isn't his bag.
Editor's Note: Golf is coming soon to FanDuel! And they've created the Tee Off Classic to celebrate, offering you an opportunity to win a VIP trip for 3 to play a round of golf with Jerome Bettis! Play now.
Philadelphia 105, Boston 99
Key developments 
Isaiah Thomas missed his second game, but the Celtics are hopeful he plays Monday.
Al Horford scored a season-high 27 points with eight rebounds, six assists, one steal, two blocks and one 3-pointer.
Jahlil Okafor's knee was acting up again and he did not play in the second half. 
Timothe Luwawu-Cabarrot looked good as a starter yet again with 13 points. Justin Anderson (illness) also did not play.
What it means
Yeah, not much to take away from on the Celtics side. Horford looks to be turning a corner and maybe this game can springboard him to a successful run with IT back. You're obviously starting him with four games.
Marcus Smart needs to stop shooting jumpers, making just 4-of-20 on jumpers as the starter this weekend. Smart, Jaylen Brown, Terry Rozier and Gerald Green will lose value once IT is back.
With Jahlil going down, there's a lot going on here. Simply put, Richaun Holmes needs to be owned everywhere and he should be a DFS stud. Dario Saric also gets a slight bump because he's had increased usage when he's not next to Jah or Joel Embiid. Dario is an elite player to own right now, especially when his shot is falling. For super deep leagues, we will see some Shawn Long for minutes in the teens. It's also worth a mention Holmes did have a heat pad on his leg, but he is fine.
TLC looks really good, but there isn't much to like about his fantasy value unless you're in a deep league. One other takeaway is his strong play hurts Justin Anderson once he can come back. Basically, it's going to be a committee for the wing minutes next to Robert Covington with Nik Stauskas, Gerald Henderson, Anderson and TLC. If I had to have one, it'd be TLC because he's trending up.
Quickly on RoCo, he did hurt his left shoulder, but returned and looked fine. We'll see if the 76ers dial him back to have a better chance at more lottery balls. It's possible.
Detroit 112, Phoenix 95
Key developments
Devin Booker did not play due to ankle soreness. He said on Friday he's been playing through it, so it's possible he misses additional time.
The Suns signed Jarell Eddie to a 10-day deal on Sunday and he scored 13 points in 29 minutes today. He scored 10 in the first half, so it wasn't garbage time.
Derrick Jones Jr. struggled in his start at guard, making 1-of-9 from the field for three points with five rebounds and one block in 26 minutes.
Tyler Ulis is even more awesome than even his biggest fans thought, scoring 17 points with 11 dimes, three steals and two turnovers. 
Reggie Jackson did not play well for most of this game, but the Pistons won and he finished with 14 points, two rebounds and four assists. Tobias Harris also didn't play well with eight points, but he's sticking in the starting unit.
Andre Drummond is rolling again with 18 points, 18 boards, two assists and two blocks.
What it means
Booker's sore ankle is a concern. The Suns have shut down a healthy Tyson Chandler and a healthy Eric Bledsoe, so all bets are off when it comes to playing Booker in fantasy. Unless we get an update, it's really tough to throw him in your weekly lineup even with four games. On Friday, he said "we'll see" about missing time. Not good.
Tyler Ulis is a baller. Period. You're absolutely starting him in even a four-team league this week. Marquese Chriss and T.J. Warren are also must-start players in even shallow formats. 
With the bigs, Alan Williams still looks like center to own, scoring 11 points with 12 rebounds, two assists, two steals and one block. He will be getting his. Meanwhile Alex Len was better with 11 points, seven boards and one assist. Unless you're desperate, it's still tough to start him in a four-game week.
Jarell Eddie could be sneaky in DFS and personally I added him in my 30-man league on Saturday night. I'd prefer him over Airplane Mode if you're super desperate. This is moot if Booker is OK.
Not much to the Detroit side here.
New Orleans 123, Minnesota 109 
Key developments 
Anthony Davis made tough shots all night, finishing with 28 points, 12 rebounds and three assists. He did have a right shin injury late after a leg-on-leg issue with Karl-Anthony Towns. 
DeMarcus Cousins returned from his one-game absence with 15 points, 11 rebounds, four assists, three steals and one 3-pointer in 31 minutes.
Jordan Crawford went full Steez with 22 points, two rebounds and four 3-pointers in 21 minutes.
Tim Frazier got the start at shooting guard, scoring three points with two rebounds and eight assists.
Karl-Anthony Towns was limping in the last two minutes of the game because of that aforementioned contact with AD. KAT blew up as per usual with 33 points, six boards, two assists, one steal and four 3-pointers.
Shabazz Muhammad scored 20 points with six boards in 24 minutes off the bench. Brandon Rush scored six points in 39 minutes.
The Wolves are also going to sign Omri Casspi.
What it means
AD's injury didn't look bad and it appeared he wanted to stay in for garbage time, but the Pelicans were up 18 and it was over. He also took a shot to his right eye, but didn't miss time from that. Dial him up for this week and pray he doesn't go to the locker room.
On top of the Boogie line, Jrue Holiday was also able to co-exist with 21 points, three rebounds, seven assists, one steal and four 3-pointers. He likely won't be a week-winning guy, but we've see a team like the Cavs yield three fantasy stars.
If not for Steez making five straight shots in a 2:53 span for 12 points, we probably wouldn't even mention him here. There's no doubt he's been a great signing for the Pels, but he really needs to do more than just score. It'll be tough to roll with him in a three-game week for standard leagues. In points formats, he does have double-digit scoring in six of his seven, so maybe he's your guy.
KAT didn't return from that leg issue with less than two minutes left in the game, but he was sitting on the bench and looked to be fine. It's so crazy that he hasn't missed a game yet. Get pumped for his Hall of Fame speech in 2052. Yes, he's playing for that long.
While Muhammad has been better, the arrival of Casspi does scare me off to call him an add. He is a lot like Crawford and really just scores.
Ricky Rubio has been awesome and had another good one with 10 points, three rebounds and 14 dimes. This is why being patient is huge in fantasy. 
Toronto 116, Indiana 91 
Key developments 
Umm, nothing for the Pacers? Myles Turner had a bad game with three points in 29 minutes, but that's pretty much it.
Jonas Valanciunas didn't play in the fourth yet again, but finished with 11 points, 13 rebounds and one block in 24 minutes. 
With no JV and a big lead, Jakob Poeltl scored 12 points with seven boards, one steal and two blocks in 23 minutes.
Norman Powell is struggling with 11 points in 14 minutes on Sunday. P.J. Tucker also played 26 minutes and guarded Paul George. Tucker scored nine points with four rebounds, two steals and one 3-pointer. DeMarre Carroll did some damage in 18 minutes with 12 points, six boards, two assists, one block and four 3-pointers.
What it means
Turner has seen a handful of bad games lately, but you still have to start him this week.
We really didn't learn too much on JV. He continues to be a top 100 kind of player with very limited upside these days.
I really want no part of the Toronto wings not named DeMar DeRozan. Just too matchup dependent.
Portland 115, Miami 104 
Key developments
Damian Lillard is one of the hottest players in the NBA, scoring a season-high 49 points with one rebound, five assists and nine 3-pointers. He probably won a few fantasy matchups this week. Lillard Savings Time!
Noah Vonleh actually had another good game with 11 points, seven boards, one assist and one steal.
Jusuf Nurkic is just ridiculous with 21 points, 12 boards and three blocks.
Dion Waiters (ankle) was on crutches and is out indefinitely. 
Josh Richardson scored 10 points during his 33 minutes as a starter, adding one rebound, two assists, one steal, one block and one 3-pointer.
James Johnson is a beast with 24 points, seven rebounds, five assists, two steals, two blocks, two 3-pointers and no turnovers.
After the game, coach Erik Spoelstra said he won't commit to his starting lineup.
What it means
All our watches are stuck on "Lillard Time" right now. Here's his shot chart since the break: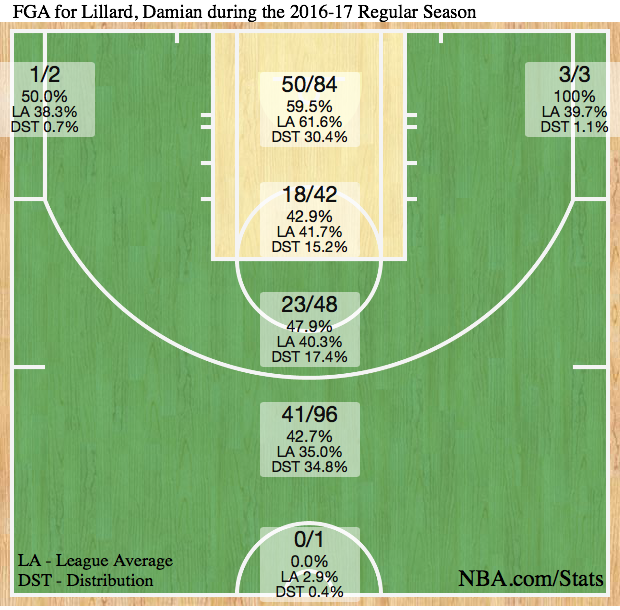 That's good for a 33.3 usage rate and a 63.8 true shooting percentage. He is as hot as he's been all year and looks like he wants to carry his team to the postseason. 
Our Nurk Alert notification system is malfunctioning. Just too many. He's been unreal. 
Vonleh's recent play is just another weapon for coach Terry Stotts. That means the whole forward rotation is even messier than before. I'd rather look for almost anyone else over Vonleh, Al-Farouq Aminu, Evan Turner, Allen Crabbe and Moe Harkless right now.
While Richardson wasn't great for Miami, he can really do it all and coach Erik Spoelstra likes his defense. I'd strongly consider adding him with Waiters possibly out for the regular season.
James Johnson is making a strong bid for Most Improved Player. He also benefits with Waiters out.
San Antonio 118, Sacramento 102 
Key developments
The Kings did not play Arron Afflalo, Ben McLemore and Tyreke Evans.
The Kings broadcast has said Malachi Richardson could play Wednesday.
Darren Collison was awful with two points, two rebounds and four assists in 24 minutes.
Kosta Koufos played just 15 minutes with five points and five boards.
Rookie time. Skal Labissiere was effective once again with 14 points, seven boards and one assist. Georgios Papagiannis followed up his Saturday double-double with six points, 10 rebounds, one steal and one block in 24 minutes.
Kawhi Leonard scored a season-low 12 points with two rebounds, three assists, two steals and one 3-pointer in 26 minutes. Pau Gasol picked up the slack with 22 points and nine boards.
Davis Bertans started, finishing with two points and one rebound in 15 minutes. Dewayne Dedmon played 12 minutes off the bench with six points, four rebounds and one steal.
What it means
The Kings youth movement is 100 percent on. If I owned any King not named Skal Labissiere, Willie Cauley-Stein, Georgios Papagiannis or Buddy Hield, I'd be dropping them right now. Malachi returning could even throw another wrench in the situation for the veteran guards.
Papa G looks for real. The Kings are feeding him inside on halfcourt sets and it looks like that's going to be a staple for their offense in the near future. I would obviously prefer to own Skal or WCS, but Papagiannis looks like he's part of the next crop of pickups in competitive leagues. He's a strong rebounder, he has looked more mobile and he's a solid free throw shooter. All of these are great signs. Plus, I'd bet Koufos gets several games off for "rest."
The Spurs are the Spurs, so there really isn't much to take away from here. There's no way you should be worrying about Kawhi's subpart 3-of-12 shooting line. He's allowed to have a bad game, you know?
Cleveland 125, LA Lakers 120
Key developments
D'ANGELO RUSSELL IS BACK! He scored a career-high 40 points with two rebounds, six assists, two steals and seven 3-pointers.
Ivica Zubac isn't going away, scoring 10 points with six rebounds, two assists and one block.
Brandon Ingram also kept it going with 18 points, six boards, one assist, one block and one turnover.
Tristan Thompson went to the locker room with a mouth injury and did not return. It sounds minor.
The Cavs had their big three return. Kyrie Irving an OK game, scoring 46 points with two rebounds, three assists and six 3-pointers.
What it means
D'Angelo Russell apparently needs to start. Coach Luke Walton trusted him with some key minutes and his fantasy owners can finally breathe easy. I think Ingram is probably worth an add in most leagues. Coach Luke Walton trusts him now.
You have to love what you're seeing out of Zupac. Buy his album in all leagues.
While Kyrie was great, he'll have more rest coming.