Hey! We actually have matchups for the postseason. The Cavs will play the Pistons and the Raptors will face the Pacers in the first round. Amazingly, we still don't know any of the Western Conference matchups or the other two matchups on the Eastern Conference. If you play DFS, I will tweet out lineup breakdowns for each team (@MikeSGallagher), so check that out.
 
Tuesday's action wasn't the best NBA showcase, but we still saw some good stuff with a lot of close games. Here we go:
 
The Heat Is On (Heat 99 at Pistons 93; I hope you get the reference for the Detroit cop)
 
The Heat picked up Joe Johnson after the Nets released him and Joe Cool was terrific on Tuesday, scoring 25 points with two rebounds, five assists, two steals and three 3-pointers in the win. He really fell off before this game, so his team will need to see keep it going again before trusting him.
 
Simply put, the Heat had their starters step up and the move of Hassan Whiteside to the first unit has made sense to prep for the postseason. They will play their guys on Wednesday against Boston in the biggest game of the season.
 
The Pistons have looked pretty bad at times. Reggie Jackson did not play due to an abdominal strain, but it seems like a rest. Expect their whole team to rest on Wednesday based on how their starting group played more than anyone. In fact, the Pistons starting five played more than any other combo in the NBA (Hawks five is second).
 
Pace over Ma$e (Knicks 90 at Pacers 102)
 
The Pacers earned the No. 7 spot the East with a 102-90 win over the Knicks led by George Hill in the win. He scored 19 points on 8-of-12 from the field with three rebounds, two assists, two steals, one block and five 3-pointers. Hill hasn't played great this year, which stings even more with Kawhi Leonard going off this season — the Pacers traded their draft pick for George Hill.
 
They were able to keep Paul George's minutes in check at 29, scoring 19 points with four rebounds, six assists, two steals and one 3-pointer. His ankle looked fine, but he will likely rest Wednesday. If he does rest and C.J. Miles is also out, Solomon Hill is probably your go. Bear Down.
 
Ian Mahinmi continued to make his claim as one of the most improved players, scoring 14 points with eight rebounds and two turnovers. He protected the paint very well and remains a big reason why Myles Turner didn't break out. Turner actually had a good game with 13 points, five boards and one block. He probably won't play more than 20 minutes in postseason games.
 
The Knicks are done for the season. If you're into the lottery, the Knicks spot is No. 7, which will go to the Nuggets or Raptors — the Nuggets get the choice of their pick or the Knicks pick. Carmelo Anthony rested in this game, which allowed Derrick Williams to score 21 points in 32 minutes. He only got one board, so that's weak sauce for DFS players.
 
Jerian Grant was unleashed on Tuesday, finishing with 18 points, six rebounds, six assists, two steals, one block and two 3-pointers in 39 minutes. He will likely be replaced, but he may get a shot as the backup.
 
It'll be all about the Anthony, Robin Lopez and Kristaps Porzingis frontline next year. The Knicks figure to be aggressive this year.
 
Thunder Doesn't Strike (Thunder 98 at Spurs 102)
 
The two best teams from Tuesday played the most meaningless game of the night, so we'll just skip it. Boban Marjanovic scored nine points with eight rebounds and two blocks in 22 minutes. Free Boban for life. Pop has to play Boban on Wednesday, right?
 
Phila So Raptor (76ers 98 at Raptors 122)
  
The Raptors didn't rest guys, but Drake was in the house. There is really no analysis needed here. Perhaps the only analysis is that Norman Powell is going to go off on Wednesday, so get him in your DFS lineups. He looked great on Tuesday with 18 points, four rebounds, one assist, three steals and two 3-pointers. I'm calling a career high right now. Delon Wright is also set for a big night after his return, scoring eight points with two rebounds, five assists, one steal, one block and two turnovers. I would trust him in DFS over Cory Joseph, who did not play on Tuesday.
 
It was a bad night for a few 76ers. The biggest letdown had to be Jerami Grant, who got into foul trouble with six points, two rebounds, two assists, and two blocks. I'd expect him to go off on Wednesday as one of my favorite DFS plays.
 
Robert Covington was as advertised with 24 points, three rebounds, three assists, one block and six 3-pointers. He'll go off again on Wednesday, too. He might be the highest-scoring wing on Wednesday.
 
Christian Wood got 19 minutes with eight points, five boards and two blocks. You would have to be crazy to start him in DFS, but he should play a lot on Wednesday.
 
Clipped Grizz (Grizzlies 84 at Clippers 110)
 
Yeah, these teams will rest on Wednesday. Play the backups in DFS. We will have you covered on blurbs.
 
 
Tank On, Tanker
 
 
Hey, so the tanking is clearer. Here is the latest (via tankathon.com)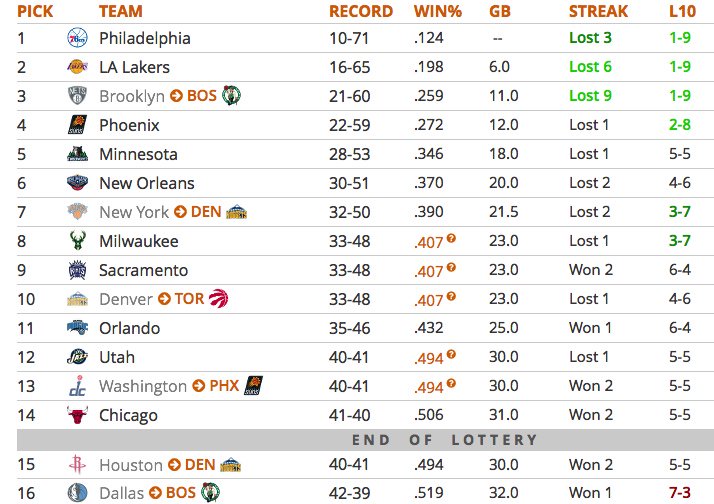 Yes, that means the 76ers, Lakers, Knicks, Wolves, Pelicans, Knicks, and Magic have nothing to tank for. Remember that.
 
News and notes from Tuesday
 
Alexis Ajinca and Norris Cole are not going to play on Wednesday. That means the Pelicans will be going small against the Wolves, so fire up Toney Douglas, James Ennis, Tim Frazier, Luke Babbitt and Dante Cunningham.
 
Boris Diaw (groin) should return on Wednesday. I still love Boban.
 
Thomas Robinson (knee) is out for Wednesday. I would bet on Chris McCullough, but I love rookies. Henry Sims is a low-end bet.
 
The Bucks are looking at Jason Kidd as a coach for their future. Oh word?
 
Darrell Arthur (knee) is doubtful to play on Wednesday. He's been effective when he plays, but he is hurt far too often. It'll be a heavy dose of Nikola Jokic and Jusuf Nurkic.
 
The Kings are resting Rajon Rondo, Darren Collison and DeMarcus Cousins for Wednesday. Seth Curry. All the Seth Curry.
 
The Magic are not going to play Victor Oladipo (concussion) on Wednesday. I am really, really high hopes for Mario Hezonja.