Some things just don't make sense. After a horrible start, Kobe Bryant has left many people befuddled with his magnificent play lately. Heck, Lakers coach Byron Scott doesn't know what is going on with Bryant. "I can't explain it. I don't even try," Scott said after Tuesday's game.
 
The Black Mamba matched his season-high 31 points during a 111-107 win over the Nuggets on Monday, adding three rebounds, five assists, one steal, one block and two 3-pointers in 32 minutes. Surprisingly, this was his fourth consecutive game with an effective field goal percentage of at least 50.0. Here's his shot chart in that span: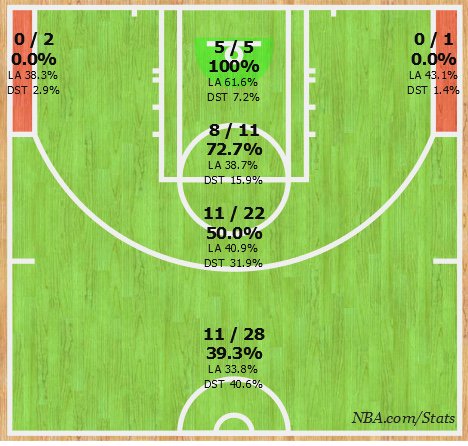 Crazy. He put up a 30.0 usage rate and a 62.2 true shooting percentage (TS%) in those 30.7 minutes per game. Kobe was hanging around a 40 TS% through the first month of the season, so this is a shocking turnaround. As you can probably tell by that shot chart, that's pretty fluky. He only has five shots at the rim and he's absolutely rolling on his twos greater than three feet, making 57.6 percent of his 33 shots. It's pretty clear that kind of output isn't sustainable, so he'll probably cool off in the very near future. That said, I hope I'm wrong because it's a lot more fun to watch Kobe when he's making so many tough shots.
 
Besides more Vino, there was some solid production from the starting backcourt. Jordan Clarkson scored 19 points with eight rebounds, two assists, three steals and two turnovers in 38 minutes. Lou Williams stayed hot with 17 points, four rebounds, five assists and three 3-pointers. Sweet Lou has been remarkable in his last 10, averaging 17.4 points, 3.3 boards, 2.4 assists, 1.1 steals, 1.6 turnovers and 2.4 treys on 49.5 percent from the field. That's good for fourth-round value in that span, so he's obviously a sell-high player. He shouldn't be on any wires, though.
 
Julius Randle had a minor ankle tweak, but he thinks he'll be ready to roll for Wednesday against OKC.
 
On the Denver side, there were three very good performances with Danilo Gallinari (ankle) and Emmanuel Mudiay (ankle) out.  Will Barton thrilled his way to 25 points, eight rebounds, two assists, one block and two 3-pointers in 38 minutes. He scored 18 points in just eight first-quarter minutes, so it could've been an even better night. He's running away with Sixth Man of the Year and looks like he'll be a top-60 player.
 
Gary Harris also logged big minutes with 35, scoring 21 points with one rebound, one assist, one steal, one block and one 3-pointer. He also had a knee strain in this game, so it could've been an even bigger outing. Harris is locked in to his minutes at shooting guard and he should be picked up in standard leagues. Yes, Gallo not playing helps here, but the Rooster was playing a lot of minutes at the four, which opens up minutes for Thrill and Harris.
 
Nikola Jokic continues to outplay Joffrey Lauvergne. Yes, Jokic has been out of position about 20 percent of the time on defense, but at least he is improving. He scored 15 points with 10 rebounds and five assists. Jusuf Nurkic (knee) could be back, but adding Jokic makes some sense with his upside. Meanwhile, Lauvergne didn't score in his foul-plagued 16 minutes. Kostas Papanikolaou started, played 11 minutes and scored nine for Danilo Gallinari. He obviously isn't worth owning. Kenneth Faried scored 14 points with nine rebounds. He's playing a little better.
 
Editor's Note: This is your chance to try FanDuel risk free! Sign up today and if you lose your first contest, you'll be refunded the entry fee up to $10. Play now.
Broad Street Bullied (Grizzlies 104 at 76ers 90)
  
Well, the 76ers lost again. They're 1-29 and are on an 11-game losing streak. They have a 3.3 winning percentage and are basically the NBA embodiment of Ray Finkle. They are dead last in offensive efficiency by a mile. On play type efficiency, they are bottom two for isolation, ball-handler pick-and-roll, roll-man PNR and off screens (Synergy). They were dead last for every play type last year, so at least there is some improvement. They're not even on pace to win three games this year.
 
There was one positive here because Jahlil Okafor is playing a lot better these days. On Tuesday, he scored 18 points with five rebounds, two assists and four turnovers in 33 minutes. Since his suspension and being put back in the starting lineup, he's been productive with averages of 19.4 points, 7.9 boards, 1.0 assists, 0.6 blocks and 1.8 turnovers on 49.6 percent from the field and 85.3 percent from the line. Here's his shot chart: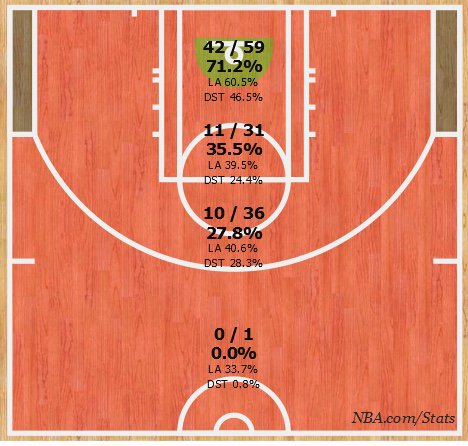 Not bad and he's trending up after a really bad start. Still, that's not even top-75 value in standard leagues, so he still needs to turn it up with some blocks. He's becoming a little more reliable in DFS, though.
 
The 76ers brought Nerlens Noel off the bench and it didn't work out with just five points, eight rebounds, two assists, one steal and one block in 27 minutes. If you're going to buy low, you shouldn't be giving up anything you're going to miss. He really hasn't shown any signs of turning it around this season and he does not co-exist with Jahlil Okafor whatsoever. Jerami Grant got the start and didn't have a great game with nine points, six rebounds, one block and one 3-pointer. His block was pretty nice, though:
 
Tony Wroten continues to waste his 32.0 usage rate on the season. On Tuesday, he went 2-of-9 from the field for seven points with five rebounds, seven assists and five turnovers in 29 minutes. Basically, he ended the possession 18 times and came away with seven points. That's horrible. In fantasy, you can't trust him in nine-cat and his poor play isn't worth stashing in 12-team points leagues.
 
The 76ers did not play Kendall Marshall on Tuesday night and they'll be resting Tony Wroten on Wednesday against the Bucks. Marshall should have a good chance for output tonight, but you can't trust him in DFS yet. 
 
Robert Covington is also really stuck in a slump, scoring just eight points with eight rebounds, three assists, two steals and six turnovers. In that same eight-game span as Okafor returning to the starting lineup, here is Covington's shot chart: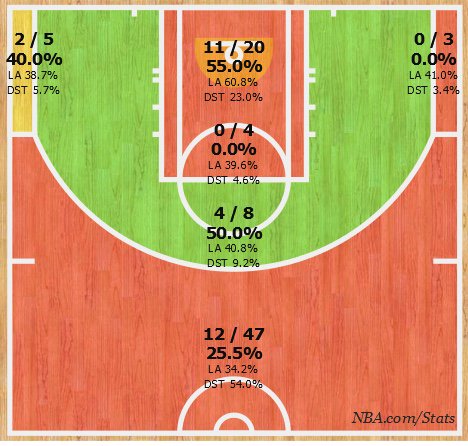 Yikes. It's probably not a coincidence that Covington is slowing down with Okafor getting better and Wroten returning. That sell-high window is a goner.
 
The Grizzlies made some major rotation changes back on Dec. 13. Matt Barnes moved into the starting lineup and Zach Randolph moved to the bench. Additionally, Tony Allen did not play since the change until last night during the win in Philly. Allen wasn't very good in his return, missing all five shots from the field and just 1-of-4 from the line in 17 minutes. Even when he was healthy, Allen's minutes were only hanging in the teens. TA took his minutes from Jeff Green, who played just 19 minutes with eight points, three rebounds, one steal and no turnovers. Before the rotation change, it was Allen hurting Courtney Lee (15 points, two assists and two steals in 34 minutes), so that'll be something to watch. For now, Green and Lee owners are both on notice to make a drop.
 
Coach Dave Joerger initially said he would be using the new rotation for 5-10 games, so he might be starting to assess where he's at. Here's a look at the lineups since the rotation change (at least five minutes played):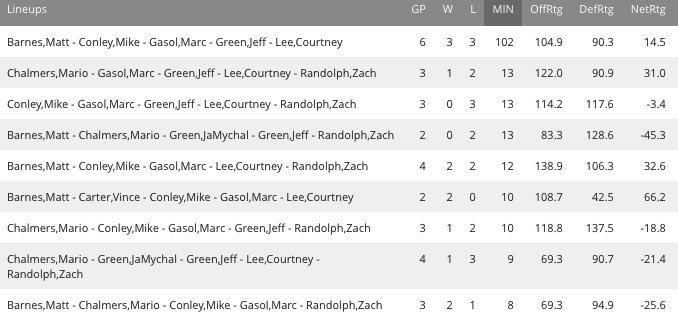 That is a ton of minutes for the starters and they played well together, too. With Z-Bo looking a little older and slower, it makes sense to stick with this rotation — Z-Bo had 14 points, eight boards and three assists in 25 minutes on Tuesday. Marc Gasol (19 points, six boards, five assists, three steals and one block) and Mike Conley (18 points, one rebound, six assists, one steal and one 3-pointer) were good.
 
Overheating Engines (Pistons 93 at Heat 92)
 
The Heat-Pistons game didn't really have many takeaways. Goran Dragic did not play on Tuesday because he has right thumb and left wrist problems, so he could miss additional games. Beno Udrih played 34 minutes with 14 points, three rebounds, six assists and no turnovers. He'll get big minutes until either Dragic or Tyler Johnson (shoulder) can return. Josh Richardson also got in the rotation with 14 minutes, four points, two rebounds and two assists. Gerald Green also saw big minutes with 29, scoring eight points with four rebounds, one assist, three blocks and two 3-pointers.
 
Not much else happened here with Dwyane Wade putting up 19 points, five rebounds, one assist, one steal and no turnovers. Chris Bosh scored 20 while Hassan Whiteside put up 16 points, 16 boards and four blocks.
 
Stanley Johnson was the fantasy story of the night for the Pistons, scoring 14 points with four rebounds, three assists and four 3-pointers in 23 minutes. He was red hot in the second quarter, but his minutes have been down. Kentavious Caldwell-Pope (14 points, three assists and two 3-pointers) and Marcus Morris (eight points, five rebounds, three assists and five turnovers) don't seem to be relinquishing their minutes, so Johnson is more of a stash and likely needs an injury. Drummond was a disappointment with 11 points, 12 boards, one assist and two blocks in 34 minutes.
 
Mavericks' Goose Gets Cooked (Mavs 99 at Raptors 103)
 
Coach Rick Carlisle was one hot little potato after the game. He called the first half "embarrassing" and he benched his starters with hopes his team gets the picture. "If the effort is gonna be like that these guys won't be Mavericks for long," Carlisle said. He could be talking about anyone, but Zaza Pachulia (seven points, three rebounds, two assists, one steal and one block in 18 minutes) had a really bad game. Raymond Felton didn't play well either with seven points, four rebounds, three assists, three steals and two turnovers. For now, there's no reason to think his starters won't get the message.
 
The other big news from this game was Deron Williams suffering a hamstring strain. While he has been injury prone, Williams hasn't really dealt with hamstring issues much. He did say he heard a pop, so it's not a minor issue. If he needs to miss time, Ray Felton would start and be a nice add in all leagues while J.J. Barea (eight points, five assists, one steal and two 3-pointers in 22 minutes) would play more, too. 
 
Bismack Biyombo was the story for the Raptors with a career-high 20 boards, adding nine points, two assists and two blocks. Biyombo has been outstanding, but Jonas Valanciunas should be back. This might be closer to a timeshare once JV comes back, but his owners shouldn't totally panic yet.
 
James Johnson (ankle) was a late scratch and Patrick Patterson (illness) lasted just eight minutes before tapping out. That led to Anthony Bennett getting into the rotation for 10 minutes. Luis Scola also played 32 minutes for 15 points, nine boards, one steal, one block and one 3-pointer. Both injuries sound minor, so there's no need to make a pickup here.
 
Kyle Lowry (17 points, 10 rebounds, seven assists, one block and two 3-pointers) and DeMar DeRozan (28 points, four rebounds, four assists, seven turnovers and two 3-pointers) were solid in the win. The Raptors are No. 2 in the Eastern Conference.
 
News and Notes from Tuesday
 
Joakim Noah suffered a sprained shoulder and will be out for at least two weeks. He wasn't in a sling at practice on Tuesday, so he could make it back after that two-week span. In case you missed it from Tuesday, I covered Bobby Portis, Nikola Mirotic and Taj Gibson stepping up. If you don't want to read it, pickup Portis and then Taj.
 
Otto Porter (thigh) is not sure if he'll be able to play against the Grizzlies. If he can't go, it'll be Kelly Oubre getting the start again. He's been pretty good in his two starts, averaging 8.0 points, 5.5 boards, 1.0 assists, 0.5 blocks, 0.5 steals and 2.0 treys. He had a very good 81.0 TS%, too. Besides Oubre, Garrett Temple will look to put up his third straight career-high scoring night after a 21-point game on Saturday and a 23-point game on Monday.
 
Bradley Beal also confirmed he's hoping to play next week, but won't rush back.
 
Jerryd Bayless (ankle) is not going to play against the 76ers on Wednesday. He's been out since Dec. 4 and doesn't have a timetable to return. That means we'll see more minutes from O.J. Mayo and Michael Carter-Williams.
 
Marcus Smart is getting a little closer and he will travel with the team. Once Smart returns, it'll be affecting Evan Turner and R.J. Hunter more than guys like Isaiah Thomas and Avery Bradley. Smart won't have a high usage rate and most of his production will come from steals, dimes and treys. If you want to stash Smart because you need a PG, it's not a bad idea.
 
Damian Lillard (foot) is out for Wednesday against the Pelicans and will miss his second straight game. C.J. McCollum is questionable from his ankle sprain, so we probably won't know his status until later today.
 
If he plays, he is probably going to start at point guard and push Tim Frazier to a bench role. Coach Terry Stotts has a lot more confidence in Crabbe over Frazier. On the year in lineups used for more than two games, McCollum was the point guard in three of the top five combos used — Lillard the point guard in one and two, obviously. If C.J. is out again, the rotation should look similar to what it was on Monday.
 
Carmelo Anthony (ankle) is questionable to play against the Cavs. If he can't go, we'll see more of a red-hot Lance Thomas and Derrick Williams.
 
Elfrid Payton (ankle) is questionable to play against the Rockets. If he can't go, we'll see some more point guard minutes from Victor Oladipo and Shabazz Napier would get a big bump, too. Oladipo would be a very nice play and Napier to a degree.
 
Mo Williams (thumb) is questionable for Wednesday against the Knicks. With Kyrie Irving back, there's little reason to keep Mo on your roster.
 
Shane Larkin (concussion) will return to the lineup for Wednesday against the Mavs. Revenge game? He should take minutes away from Bojan Bogdanovic, Donald Sloan and Wayne Ellington.