Carmelo Anthony is really clicking again. He had a gem on Tuesday during a 108-96 win over the Pistons and wasn't really forcing shots, scoring 24 points with six rebounds, six assists, one steal and two 3-pointers. He's actually really put it together over his last eight, averaging 24.3 points, 8.1 boards, 4.5 assists, 0.8 steals, 0.5 blocks and 1.3 treys on 49.7 percent from the field. Here is his shot chart in that span:
That's pretty good on the most part, but obviously those mid-range shots are a little unsustainable. Still, you have to like Melo getting 31 percent of his shots at the rim. In his first 23 games before this hot streak, Melo was only taking 23.1 percent of his shots at the rim, so that is a really good sign.
 
The Knicks are sort of changing their system a bit. They were pushing the rock more often and were leaning more on pick-and-roll, too. Melo has some decent numbers as a pick-and-roll player, but for some reason the Knicks haven't really run it since they embraced the triangle.
 
I'm not ready to say Melo is going to be a second-round guy like he has been in his last eight, but he's looking a lot better. The Knicks have no reason to tank because they don't have a draft pick, so Melo's chances on a shutdown are pretty low.
 
The Knicks had some great output from their bench. Kyle O'Quinn scored a quick 10 points, finishing with 12 points, two boards and one steal in 11 minutes. There's no need to read into this here. Derrick Williams was also fantastic with 18 points, four boards and one 3-pointer. His strong play sort of kept Kristaps Porzingis on the sidelines late in this game. Interestingly, the Knicks went crazy with their rotations. Here's a look at the lineup combos from Tuesday: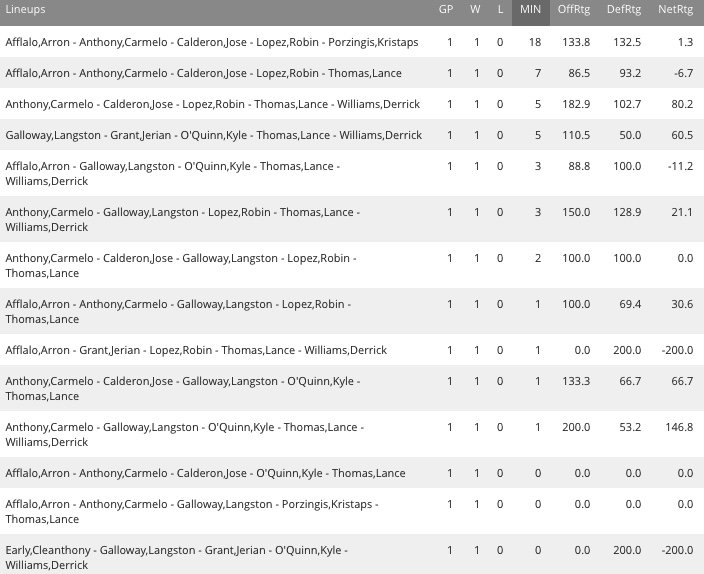 Interestingly, their best lineup for more than a minute was Jose Calderon, Lance Thomas, Carmelo, Williams and Lopez. That was the first time the Knicks used that combination all season. It's kind of cool to think about using three SF/PFs on the outside and maybe the Knicks use that lineup again. Plus, that lineup might work with KP at the five, but it obviously wasn't an option in this game against the Pistons.
 
Speaking of Three 6 Latvia, he was disappointing with 10 points, two rebounds, one assist and two blocks in just 19 minutes. The Knicks aren't quite ready to make him matchup proof and they are shifting him to more of a center at times. That means it wasn't a great matchup for him against Andre Drummond. He'll be more consistent soon, but for now DFS owners need to look at the scenario and not the matchup. He should still be fine in season-long leagues as a top 40-60 guy. Robin Lopez also had his best game in a while with 11 points, seven boards, two assists, one steal and six blocks. He's not a pickup yet.
 
There wasn't much going on with the Pistons. Andre Drummond made just 5-of-15 from the filed for his 13 points, which is hard to believe when 13 of his shots came from within six feet — the other two were eight and nine feet and one was a make. He's obviously fine.
 
Brandon Jennings made his season debut and played 17 minutes, scoring seven points with one rebound, four assists and one 3-pointer in 17 minutes. He was just a straight backup to Reggie Jackson and that'll probably continue. Jennings will need a trade or Jackson to get hurt to boost his fantasy value, but don't forget he hasn't been a great per-minute guy in his career and coming off an Achilles is no joke. I wouldn't stash him in most leagues. Reggie Jackson was OK with 17 points, five boards, nine assists and one 3-pointer in 31 minutes. He's fine.
 
The Pistons also played it straight up with the rotation and their starters played together for 27 minutes on Tuesday. Such an SVG move. Stanley Johnson was playing 43 percent of his minutes at shooting guard in his previous four, which dipped to 31.6 percent. He's a stash and likely needs Marcus Morris (17 points), Ersan Ilyasova (19 points) or Kentavious Caldwell-Pope (nine points) to miss time. 
 
Editor's Note: This is your chance to try FanDuel risk free! Sign up today and if you lose your first contest, you'll be refunded the entry fee up to $10. Play now!
Al Horford: 3-point specialist (Hawks 121 @ Rockets 115)
 
DeMarcus Cousins may wish he's Al Horford sometimes. Boogie can't hit his threes, but Al just made a career-high five treys on Tuesday, finishing with 30 points, 14 boards, two assists, one steal, one block and no turnovers. He's a fantasy monster in standard leagues. Paul Millsap also crushed it with 22 points, 13 boards, four dimes, one steal, five blocks and one 3-pointer. No analysis needed here. Jeff Teague was also pretty good with 22 points, two boards, eight dimes, three steals and two 3-pointers.
 
After the studs, there were some really, really good guys, and some really, REALLY bad guys. Let's hit the good guys with Kent Bazemore, who scored 26 points with three rebounds, four assists, two steals and five 3-pointers. The Hawks completely trust him now and clearly the Hawks wing spot can lead to some good numbers. It's also worth mentioning he saw some point guard minutes on Monday, so the level of trust is as high as ever and he should be owned in all leagues. Why did he get PG minutes? Well, because…
 
Dennis Schroder is in the doghouse. He only played 12 minutes on Monday and he was a DNP-CD on Tuesday. This is probably something that will turn around and he might have just done something to get on coach Mike Budenholzer's nerves and the coach spoke on it after the game. "(We'll) continue to grow and develop the roster and continue to grow and develop Dennis," coach Budenholzer said. He'll be back, but isn't worth owning in most leagues right now. Shelvin Mack was the backup on Tuesday, but there is no need to add him yet.
 
Kyle Korver is struggggggggggggggggglin. He was 0-of-11 from the field and missed all 10 from deep on Tuesday. Here is his shot chart in his last four: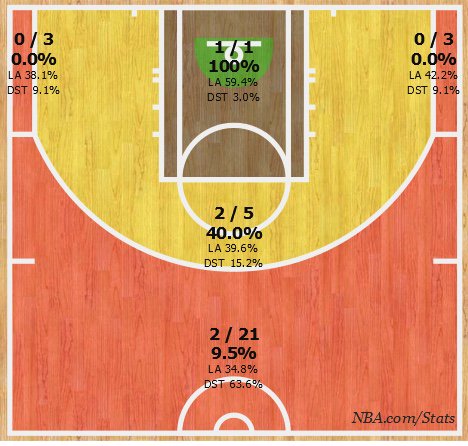 Ugh. He's having a really bad year, but I still wouldn't cut him in standard leagues. You can get him for a song right now, and you don't even have to be Randy Watson or something like that. The greatest love of all.
 
For the Rockets, there were a lot of positives in the loss. Clint Capela picked up a little extra run with Terrence Jones (illness) out. Cap had 17 points with 10 boards, two assists, two steals and one block. He's basically a hold because TJ was playing well. Donatas Motiejunas picked up most of the run with 27 minutes, but he didn't produce with six points, seven boards, two assists, one steal, one block and two 3-pointers. He was almost out of the rotation before, so there's no need to add here.
 
Perhaps the most noteworthy item when it comes to the future is the play of Ty Lawson. He's starting to figure it out off the bench, putting up a 14-point, four-dime game in 26 minutes. He's still not going to have a big usage rate or many play-making chances, but I don't hate the idea of adding him in deeper leagues. Patrick Beverley still looks like the better player to own with his steals, but he had a bad game with nine points, one assist and one trey.
 
Dwight Howard went off with 30 points, 16 boards, three assists, one steal and one block while James Harden was solid with 26 points, 10 rebounds, eight assists, one steal and three 3-pointers. Howard looks great.
 
Like a Bosh (Heat 90 @ Grizzlies 99 in OT)
 
Chris Bosh was rollin' to start the game and made 7-of-8 from the field, but he finished just 9-of-21 — yeah, 2-of-13 to close. Bosh is still playing really terrific ball on both ends, so he should be a second-round guy in standard leagues. Not much else doin' here on the Heat side, but Goran Dragic was better with 16 points, three rebounds, five assists, one steal and one 3-pointer. He might be able to get it going.
 
The Grizzlies didn't have Matt Barnes and they basically gave Tony Allen (six points, seven boards and two steals) most of his minutes with a little bit of Jeff Green, too. Green was solid with 16 points, seven boards, four assists and one turnover. His upside is too low, but he's a guy I'd use in DFS on Jan. 2 against the Jazz.
 
Zach Randolph played big minutes with 33, scoring 17 points with seven rebounds, three assists and two turnovers. With the Grizzlies off for so long, they played Z-Bo a lot more than usual. He'll likely be in the 25-minute area most nights, which makes him an undesirable asset in standard leagues. Marc Gasol was outstanding with 23 points, eight boards, six assists and four blocks in 44 minutes.
 
Double Payne Sound-Proof Glass
 
Thunder is a loud sound, but Cameron Payne made noise on Tuesday scoring a career-high 16 points with three rebounds, three assists, one steal and two 3-pointers in 16 minutes. He obviously won't be playing a lot and he's not really a pickup in any re-draft league, but maybe he can lock down the backup job. He looked great in halfcourt sets and did a nice job pushing the tempo. Yes, the title of this section is because of Ace Ventura.
 
Besides that, it was your standard OKC game except that Enes Kanter was really good with 23 points, eight boards and two steals. He's not an add in most leagues, though. Kevin Durant scored 26 points with six boards, eight dimes, one steal, one block and one 3-pointer on just 6-of-18 from the field. Russell Westbrook scored 27 points with seven rebounds, seven dimes, five steals and three turnovers. They're both studs, obviously.
 
Khris Middleton's fantasy line was better looking than Kate, scoring 36 points with seven dimes, one steal and six 3-pointers. There has been plenty of evidence of him ready to bust out and now his fantasy owners are starting to see the fruits of the advanced stats translating to fantasy value. He looks like a top-40 guy. Giannis Antetokounmpo was great with 27 points, 10 boards, two assists and three turnovers while playing great D on KD. Giannis' name still holds more value, so I'd rather trade him away.
 
The big question mark is the Bucks at point guard. Michael Carter-Williams looked like he was ready to lose playing time on Monday, but he had a 19-point, nine-board, nine-dime game on Tuesday. Perhaps the back-to-back set is why the Bucks didn't want to use so much Jerryd Bayless, who played 20 minutes for eight points, two rebounds, four assists and one 3-pointer in 20 minutes. MCW is still a really bad fit in the offense, so if you own him you might want to use this good game to deal him. 
 
Birthday Swishes
 
LeBron James' 31st birthday is Wednesday and he had a great game against the Nuggets, scoring 34 points with six rebounds, two assists, two steals, one block and one 3-pointer. He's been really bad this year, but there is still a lot of hope his efficiency is better. I covered it in the column on Tuesday afternoon, so check that out. He can still jam.
 
Kyrie Irving rested for the last time, so that means Matthew Dellavedova and Mo Williams are major cut candidates. Iman Shumpert had a decent game with 16 points, but again Kyrie will hurt him. Kevin Love's hand issue might have been an issue, making just 4-of-16 from the field for eight points with 14 boards, one assist, two steals and one turnover. He'll be better, but he's more of a third-round guy in standard leagues. Tristan Thompson started, but didn't do much with nine points, seven boards and one block. No thanks.
 
Will Barton is the man. He scored 29 points with seven rebounds, one assist, two blocks and three 3-pointers. He's not going to be quite as good as he's been in the past week because Danilo Gallinari is hopeful to be back soon, but Will is legit. He should be a top-50 guy going forward. This was also such a Barton move:
 
Jameer Nelson was awful and did not score, adding four rebounds, eight dimes, one steal and one block in 24 minutes. Coach Mike Malone went with Randy Foye down the stretch, but he wasn't good either with seven points, three boards, two assists, one steal and one trey. Yeah, Emmanuel Mudiay will likely be out until January, but this might be a timeshare. If you picked up Nelson already, you might want to start looking elsewhere. I would cut him for Gary Harris, who scored 12 points with seven boards, two assists, two steals and one 3-pointer in 33 minutes. His minutes are safe and his arrow is pointing up.
 
Nikola Jokic and basically split the minutes at center with Joffrey Lauvergne. Jokic played 22 minutes with 10 points, seven rebounds, one assist, one steal and one block while Joffrey had 14 points, seven boards, three assists, one steal and four turnovers. The Nuggets have been really careful with Joffrey on back-to-backs, so Jokic is the better own and should be a nice play today against the Blazers. Jusuf Nurkic has had limited minutes in practice, so he is going to have a hardcore minutes restriction once he's cleared. If he can produce, it probably won't be until after the break.
 
Tuesday News and Notes
  
The Suns opted to rule Eric Bledsoe (knee) out for the season with his torn meniscus. This is a little surprising because a torn meniscus is usually a 4-8 week prognosis, but it is what it is. Bledsoe was playing 34.2 minutes per game with a team-high 27.3 usage rate, so it's a massive hole for the Suns.
 
Obviously, Brandon Knight has a sky-high ceiling right now. Besides Knight, it gets a little tricky.
 
On Monday, the Suns used a wing combo of P.J. Tucker and T.J. Warren for nine minutes, Devin Booker played 29 minutes as the starting shooting guard, the Suns used Knight next to Ronnie Price for four minutes, and Sonny Weems also played on the wing a bit. This is one game, but the most noteworthy part here is the Warren-Tucker SG-SF combo for nine minutes — they also played next to each other at SF-PF for nine minutes, too.
 
With the Suns now 12-21 and sinking fast, you'd think they take the reins off Devin Booker. He has the potential to score in the teens, add some other stats and he'll make 2.0 treys per game once he gets going. If I wanted to add someone, it would be him over Warren or Tucker. If Warren or Tucker are still on waivers in your league, I would take Warren right now — if you're in a shallow league you should be shooting for upside.
 
If you're looking for more stuff on this, check out our podcast from yesterday.
 
The Warriors had some surprising news on Tuesday. Stephen Curry could get some rest in the next two games against the Mavs and/or Rockets. Curry missed practice and it wasn't because of his recent calf injury, so all the extra work is starting to take its toll. Compared to last year, his minutes are up 2.1 minutes per game, his usage rate is up 3.3 percent more and he's more involved on defense. He's defending 1.3 more shots per game on the defensive side, too.
 
If Curry does sit, it should be Klay Thompson and Draymond Green running the show. We'll also see a lot of Andre Iguodala running the offense while Shaun Livingston also benefits. Draymond Green skipped practiced on Tuesday, but he should be OK. Check back for an update at shootaround.
 
Derrick Favors (back) is questionable to play against the Wolves on Wednesday. He's missed two games so far with the back spasms and it's been a problem for him in the past. If he can't go, the Jazz will go with a ton of Gordon Hayward and Rodney Hood should be a staple in the offense. Trevor Booker has been really bad, but he's the next best option. Trey Burke is also going to play a lot because Alec Burks is out until around the All-Star Game.
 
Tony Wroten is getting some interest from the Knicks. There's no need to stash him anywhere.
 
Damian Lillard (foot) is still dealing with plantar fasciitis. The Blazers are kind of tanking, so they probably won't play Lillard at less than 100 percent. He also said he's pain free, so he definitely could be back. Simply put, Allen Crabbe and C.J. McCollum will benefit the most. C.J. has been a top-15 player in his last 10. Ed Davis (ankle) is also on the injury report, but he practiced.
 
Jahlil Okafor (knee) is also questionable for Wednesday. The 76ers are playing a lot better without him, especially Nerlens Noel. If Okafor is back, that'll hurt Noel quite a bit. We talked about that a lot on the podcast, too. His return would also hurt Carl Landry and Richaun Holmes.
 
C.J. Miles (back) is questionable for Wednesday. Solomon Hill was awesome on Monday, so he would benefit the most. Of course, you can't play Solo in DFS.
 
Jordan Hill (mouth) is out for Wednesday, but Myles Turner could return. Turner would likely slot into Hill's minutes and is worth a pickup in 14-team leagues, assuming you have something to cut.
 
Tim Duncan (knee) is questionable again. More Boban! He scored 17 points on Monday and would be a fun DFS play. He's still not someone to add in most leagues unless TD is ruled out for an extended period of time — he's not right now.
 
Gary Neal (quad) did not travel to Toronto, so he'll be out for a long time. Ramon Sessions, Garrett Temple and Kelly Oubre will benefit, but it's not really enough to grab any of those guys. Bradley Beal (leg) should be back next month.
 
Markieff Morris returned to practice on Tuesday, but why would the Suns even play him? He's a goner.