The Most Valuable Player award has been talked about more this year than perhaps any year ever. The basketball world got totally caught up with 2016-17 having more total triple-doubles than any season ever before and of course Oscar Robertson's triple-double record going down. With James Harden and Russell Westbrook enjoying their vacation on Sunday, we found out Kawhi Leonard is extremely valuable to the San Antonio Spurs. 
Before we get a look at Kawhi, Westbrook did post a picture of his very good dog on Sunday!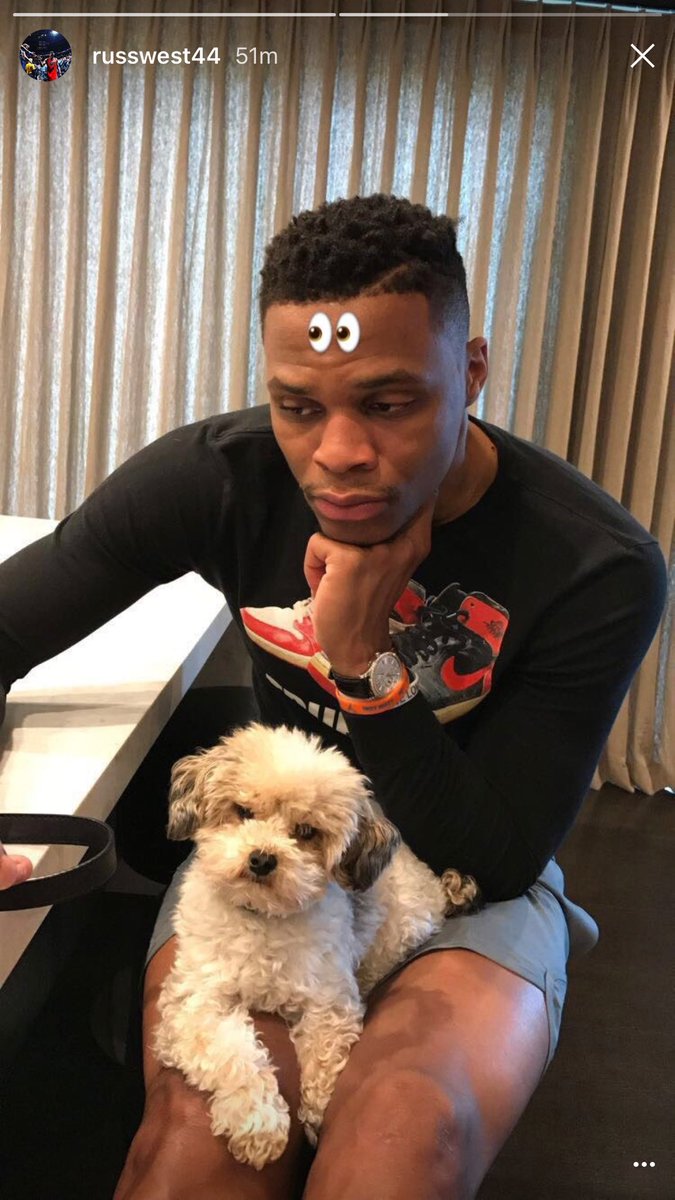 Good dog.
OK, back to Kawhi.
As he stepped on David Lee's foot near the bench, Leonard suffered an ankle injury in the third quarter and checked out with 9:18 left in that frame with the score Spurs 72, Warriors 52. After a minute on the sidelines, Leonard then returned and stepped on Zaza Pachulia's foot at the 7:54 mark, then checked out two seconds later with the score 78-55. He would not return after that and he is going to have an MRI on Monday. With that 78-55 score, you'd think a lead is safe with coach Gregg Popovich running the show, especially after what a Kawhi-less team did to the Rockets on Thursday, right? 
Wrong. The Warriors absolutely went off with an 18-0 run right after that and eventually took the lead as Kevin Durant made a two-pointer with 4:09 left to give the Dubs a 101-100 advantage. The Warriors did have to sweat it out the rest of the way, but they were able to earn a Game 1 113-111 win. Props to the Dubs, but let's take a deeper dive in just how valuable Kawhi Leonard was in this game.
Let's look at the Spurs team stat splits for this game with Kawhi Leonard on the court and off the court on Sunday.
 

Stat

Kawhi ON
Kawhi OFF
Offensive rating
128.2 
91.4 
Defensive rating
92.0 
137.8 
Net rating
36.2 
-46.4 
Rebound percentage
57.1 
34.2 
Pace
97.1
101.7 
Minutes
24 
24 
That does not compute. Kawhitron 2000's computer processing speed just does everything. As much as we love Kawhi for his offense these days, this one is all about his defense. The Spurs were bleeding points and also saw the pace go up in the process. Their offense also took a hit, which is also a little bit about Kawhi going off with his 26 points in his 24 minutes, making 7-of-13 from the field and all 11 free throws — he's 95-of-102 from the line in the playoffs (93.1 percent). By the way, he's an incredible scorer and has a 67.2 true shooting percentage with a 29.4 usage rate. That's insane.
Editor's Note: Introducing FanDuel Mixup, the newest way to play FanDuel Baseball. Smaller lineups, so you can draft your team on the go, plus fun themes every week! Play now.
One other aspect that really stands out is how Kevin Durant performed in this game. He finished with a stat line of 34 points, five rebounds, four assists, one steal, four blocks and two 3-pointers in 39 minutes. As you might expect, KD's scoring stats are just crazy with Kawhi on and off.
With Kawhi OFF: 23 points, 33.7 usage rate, 85.1 true shooting percentage, +78.1 net rating
With Kawhi ON: 11 points, 27.6 usage rate, 43.1 true shooting percentage, -29.4 net rating
Wow. Doubled-up efficiency, increased usage and obviously just flipping the script on net rating. Kawhi was on KD for almost the entire first half and 18 of KD's first-half 19 minutes were also while Kawhi was on the court. Looking at the Warriors as a team, the shot charts are crazy.
This one is with KD on and Kawhi also on: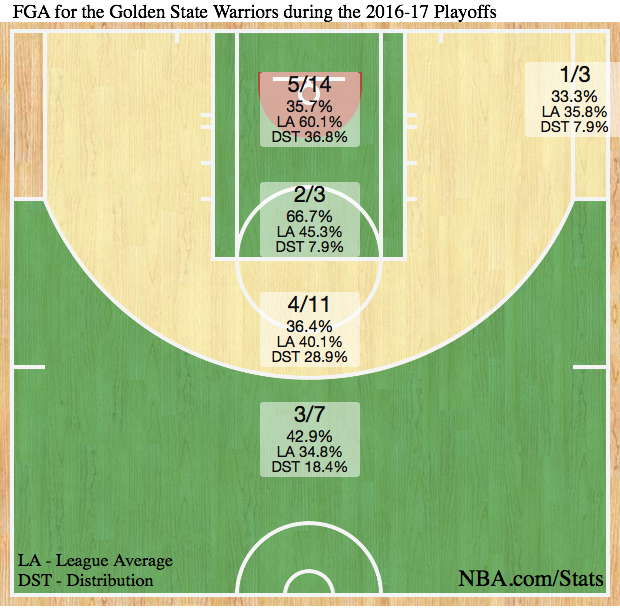 This one is with KD on and Kawhi off: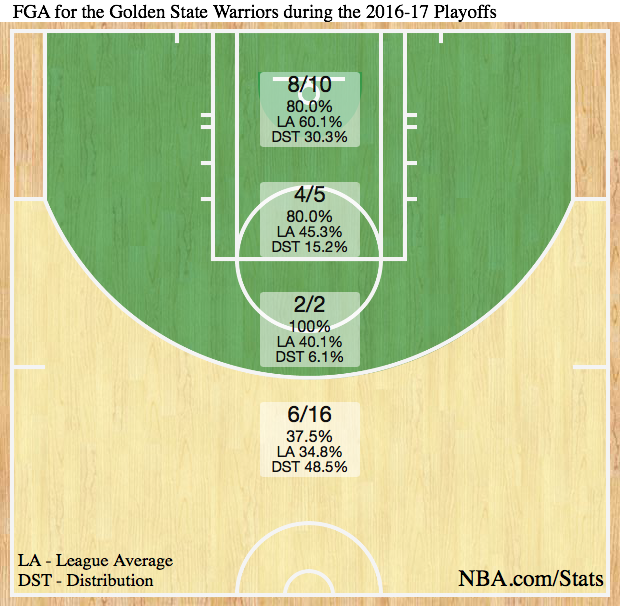 Wow. Eatin' inside and they also went to the line more. On top of those KD splits, the Dubs as a whole squad had a 74 true shooting percentage with KD and without Kawhi. To be fair, KD was balling even before the Kawhi injury, but he just went nuclear after that. He's quite good, you know.
It wasn't just KD making the charge without Kawhi, though. In fact, Stephen Curry and KD combined to score 35 points after the Kawhi Leonard injury, which tops the entire Spurs team total of 33. Curry's strong finish got him to his 2017 postseason-high 40 points, adding seven rebounds, three assists, three steals and seven 3-pointers in 39 minutes.
The Spurs really had a tough time tracking Curry off screens and his style is just such a stark difference from James Harden. You basically know where Harden's scoring is coming from because he has the ball so much, but Curry can sneak up on you and strike like a cobra. The Spurs did have Patty Mills on him a good amount, but maybe they make a change there, especially with how off Klay Thompson is right now.
OK, so what do the Spurs have to do if Leonard does in fact need to miss time? LaMarcus Aldridge has actually turned in two strong games and he did thrive when he wasn't against Draymond Green. LMA had a 29.1 usage rate in his minutes without Kawhi this season, so expect him to get high usage to also slow down the pace. He scored 28 points with eight rebounds, three assists, three steals, one block, one trey and six turnovers in the loss on Sunday.
Meanwhile, Pau Gasol was not good, picking up five fouls in 16 minutes with five points. With Kawhi now banged up, the Spurs may only be able to get away with him at center. There will be too much switching on PNR to have him out there away from the basket. Think of it like the Nuggets when they had Jusuf Nurkic and Nikola Jokic. Both guys can't stay out there, so maybe Pau plays straight center minutes and the same goes for LMA.
The easy analysis is Jonathon Simmons. We get an oversized Jonba Juice for this game, which is a good thing for anyone who loves to watch this fun story. He should have to play minutes in the 30s, regardless of Kawhi's status. Somewhat surprisingly, Kyle Anderson also picked up nine minutes and actually played really well, finishing with four points, four rebounds, two assists, one steal and no turnovers. The Spurs will need some length and versatility, so it wouldn't be surprising to see Slo-Mo start next to Mills, Green, Simmons and Aldridge. We should also get some Manu Ginobili and a little more Dejounte Murray than we bargained for. Murray did play well for the most part, but he had some rough spots. This 15-second clip sums it up.
Bad Dejounte and Great Dejounte in 15 seconds. pic.twitter.com/jBYXUQnHfS

— Michael Gallagher (@MikeSGallagher) May 14, 2017
The Spurs really, really need someone to handle the ball. They made so many careless passes under the basket and it led to a lot of easy fast-break buckets for the Dubs. They had 32 fast-break points and 28 points off turnovers in the game, which is just nutty for a Spurs team to give up. Since the Tony Parker injury, Kawhi is handling the ball for about five-and-half minutes per game, which is way up from his 3.4 during the season. It's a massive hole to fill and maybe Dejounte can help there. As for fellow PG Patty Mills, he has to play better, making just 1-of-8 from the field. He also had a bad airball with the Spurs up 92-85 in the fourth. Not a good day, mate. (sorry)
So what about the Warriors besides Kawhi?
Well, we can start with Draymond Green. The Warriors just seemed a step late and uninterested for the first half, which is tough to overcome for a team that relies so much on other players with switching. Dray was playing some ridiculous defense in the first two rounds, but he still wasn't having the same impact while Kawhi was out there. Although, Spurs shot just 3-of-11 on Draymond on Sunday, per ESPN. He neutralized Aldridge and he really got into a good rhythm on offense as a screener and passer in the first half. Maybe that tech in the first half messed him up. Regardless, Dray could be in for a huge game on Tuesday. This pass was so pretty. The catch, too (another one to follow):
Great pass and catch. pic.twitter.com/t2XPHHPjSc

— Michael Gallagher (@MikeSGallagher) May 14, 2017
While the Warriors didn't have an injury as impactful as Kawhi, they didn't come away unscathed. Andre Iguodala did not play in the final 25:12 of this game, finishing with just two points, one rebound and one assist in 10 minutes. He is dealing with knee soreness and will have an MRI. Iggy is unlikely to play Tuesday, especially now that the Dubs have a 1-0 lead.
Luckily for the Dubs, Shaun Livingston came up huge and basically became the Iggy part of the Mega Death lineup. That lineup combo (Curry, Klay, Livingston, KD, Dray) was used for seven minutes on Sunday, posting a 154.6 offensive rating in that time. Plus, this was one of the prettiest plays of the day, too:
This play!!! #TeamBouncePass! pic.twitter.com/VxWcOGFCbG

— Michael Gallagher (@MikeSGallagher) May 14, 2017
Iguodala did have a problem with his knee back in Philly, so that's even more reasons to sit him. He has been fairly healthy lately, but you never know. Besides Livingston stepping up, Matt Barnes and Ian Clark figure to get in the mix. Clark should be the PG2 while Livingston serves as a wing.
Once again, Zaza Pachulia's 11 points outscored Klay Thompson six points. In case you missed it, Zaza and Klay have been hilarious about this happening before:
Zaza Pachulia handed Klay Thompson a framed SF Chronicle at practice today. pic.twitter.com/5gXNVaCVYO

— Connor Letourneau (@Con_Chron) May 12, 2017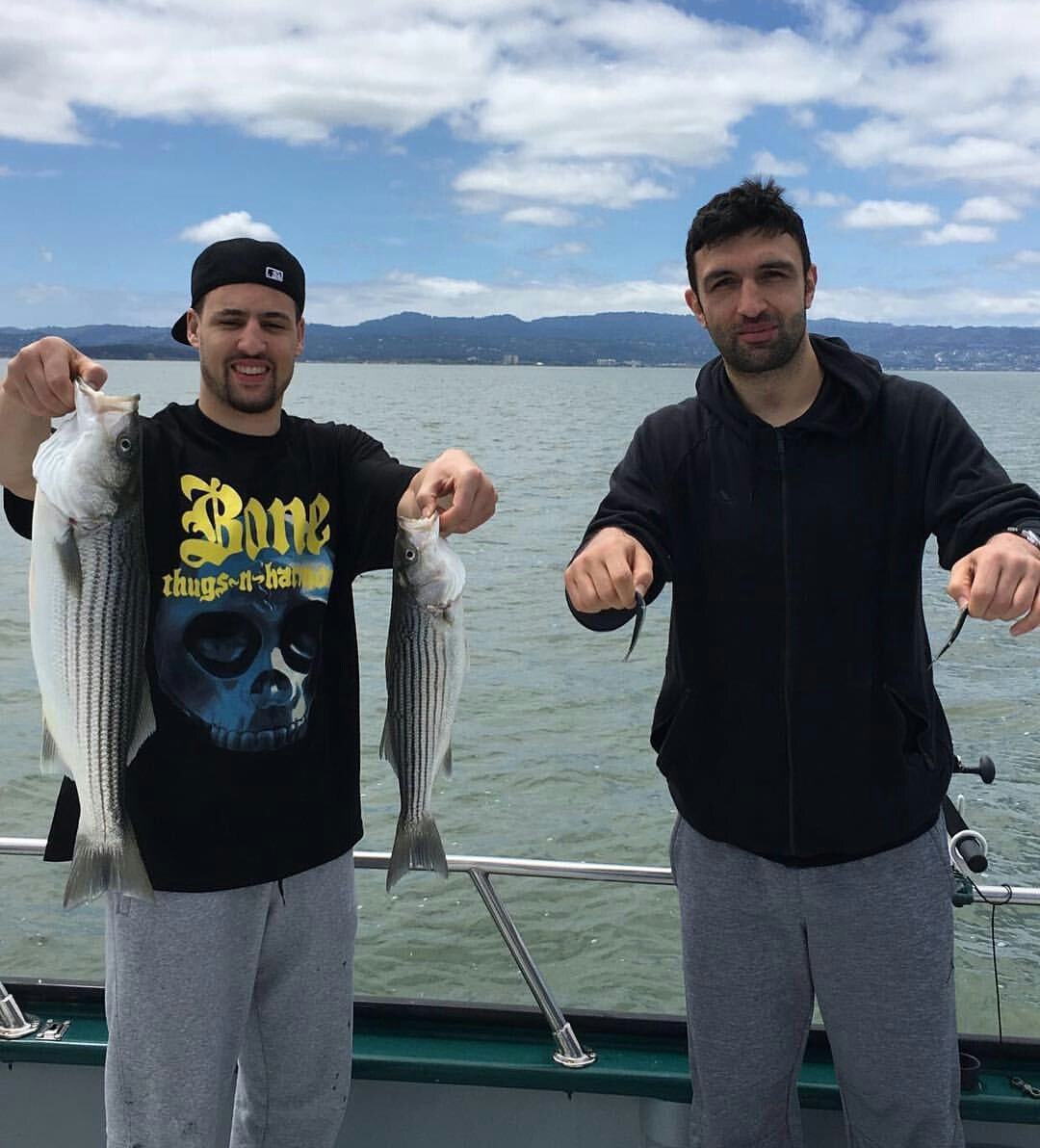 (via Klay's instagram)
As great as that is, Klay hasn't been good on offense. His catch-and-shoot game is off and he's actually scared to shoot. Meanwhile, Zaza made a big impact on both ends and coach Mike Brown said he played him more than he expected. As for the Kawhi injury, I'm not going there. Kawhi did say he didn't think Zaza stepped under him on purpose.
Moving forward, things are not looking good for the Spurs. The tide was starting to turn just before the Kawhi injury, so maybe it was just a period of rust to go with these crazy Kawhi stats.
Speaking of Zaza, GAME 7, BABY! GAME 7! Enjoy the Wizards vs. Celtics game!