Yeah, so about those Oklahoma City Thunder struggles in the fourth quarter. On Tuesday in San Antonio, they were down five points with five minutes left as they turned the tables yet again to finish with a 95-91 victory to get to a 3-2 series lead. This also comes on the heels of OKC pulling a comeback in the fourth in Game 4. Who are these teams?
On top of that, the Spurs lost one game in their 41 games at AT&T Center this regular season and smoked the Grizzlies in the first round, but now they have lost their last two games at home. Simply put, the Thunder got Bestbrook on Tuesday. He put up a monster stat line of 35 points, 11 rebounds, nine assists, two steals, three 3-pointers and eight turnovers in 39 minutes. As alluded to above, his fourth quarter was superb. Here are some of his fourth quarter stats: 10 minutes, 136.5 O-rating, 90.7 D-rating, 51.3 usage rate (!!!!), 53.0 true shooting percentage, 10 points, four boards, three dimes and two turnovers. This is even more impressive when considering Kawhi Leonard was on Westbrook for most of the fourth. Westbrook also had the key play of the game with an and-one bucket to put OKC up four with six seconds left. If you missed it, here it is (via Bball Breakdown):
The Spurs certainly have a gripe with Kawhi going for the foul. Another aspect of this is how Dion Waiters was inbounding and was guarded by Manu Ginobili. The NBA officials likely only missed one call this time and not the five they missed in the final 14 seconds in Game 2. But I digress.
Moving on from Westbrook, Kevin Durant was just OK by KD standards with 23 points, six rebounds, five assists, two steals, one block, two 3-pointers and five turnovers in 43 minutes. With Kawhi not on him as much, the expectations were a little higher. Based on how great Westy was, expect Kawhi to guard the point guard again in Game 6.
For the second game in a row, the Thunder got another fourth-quarter gem from Enes Kanter. The former Jazzman finished with eight points, 13 rebounds and three big blocks in 30 minutes. He closed over Serge Ibaka (five points and four boards) yet again and it should continue. Steven Adams was also very good with 12 points, 11 rebounds, one assist, one steal and one turnover in 35 minutes. 
The Adams-Kanter lineup has been truly awesome in the last two, posting a 41.0 net rating in their 34 minutes together. Taking it a step further, in their 21 minutes together in the last two fourth quarters, they posted a 53.0 net rating. This move is here to stay and the Spurs have to make some adjustments.
So with all this talk about the Thunder closing out strong in the fourth, you probably wouldn't guess the leader in net rating in the last two fourth quarters. Oh yes. It's Dion Waiters. He probably knows this and is calling for the ball as we speak. He's posted a 56.4 net rating in the fourth thanks to Andre Roberson falling out of the mix late. Waiters had a serviceable fantasy line with nine points, three rebounds and two assists in 26 minutes. His minutes aren't going anywhere and he might get into the 30s in Game 6.
LaMarcus Aldridge killed the Thunder early in Game 1 and 2, but Kanter has put the clamps on him now. Wait, what? LMA made 6-of-21 from the field for 20 points with nine rebounds, three assists, two steals and one block on Tuesday. Here's what his shot chart looks like in the last three games: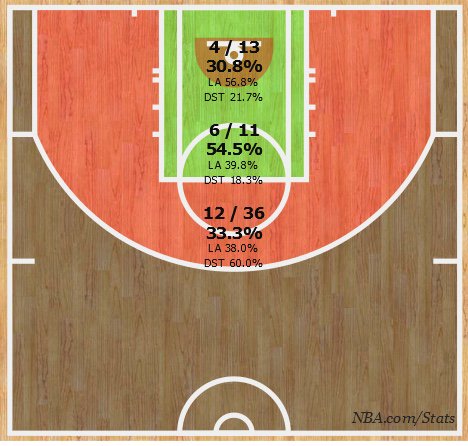 No bueno. After putting up an 80 true shooting percentage in Game 1 and 2 combined, he put up just a 45.4 in the last three. Aldridge is struggling big time around the rim and on his bread-and-butter midrange. The Spurs should still be feeding him, but they need to work on spacing him better. They'll figure it out, but I still wouldn't use him in DFS.
Kawhi Leonard was effective on the stat sheet with 26 points, six rebounds, four assists, five steals and one 3-pointer. He was second in the MVP vote for good reason and the Spurs need to use him even more. Considering how he's so efficient, expect Coach Gregg Popovich to use him even more. Danny Green also had another high part of his roller-coaster year with 20 points, three rebounds, one assist, two steals, one block and six 3-pointers. He's the ultimate hit-or-miss guy.
As mentioned, the Spurs flopped in the fourth. Outside of Green and Kawhi, the Spurs basically turned into the fourth-quarter Thunder. The rest of the Spurs went 2-of-13 in the fourth and made plenty of mistakes. Tony Parker wasn't bad on the stat sheet in 32 minutes, scoring nine points with four rebounds, five assists, one steal and one block. He's still a nice DFS value.
Something has to be done right now with the Spurs running out of gas. Tim Duncan (five points, three rebounds, one assist and two blocks) looks like he has been playing since the Eisenhower administration all of the sudden, so he probably should see his minutes drop to the teens. On Inside the NBA after the game, Dwight Howard mentioned using Boban Marjanovic over TD to help out in the paint. While I don't think I agree with Dwight on anything else, this move should absolutely happen. Boban probably won't be starting, so it's tough to use him speculatively in DFS.
You can follow me on Twitter @MikeSGallagher!
Anti-Tank Weapons?
The 76ers might actually be getting some talent headed their way. Sam Hinkie will forever be linked to Joel Embiid (foot) due to how it was first pick after a tank. Yes, Hinkie made the Nerlens Noel-Jrue Holiday deal, but the 76ers didn't tank that year before the Hinkie hiring. Hinkie also picked up Dario Saric in a trade for Elfrid Payton in a trade during the 2014 NBA Draft. Just like Embiid, we have yet to see Saric in the NBA. That means the 76ers two 2014 lottery picks have not played at all in the NBA for each of their first two seasons since drafted. Crazy.
Well, now Hinkie is gone and we might be getting some action from Embiid and Saric. Brett Brown said on Sports Radio WIP he had a strong belief Embiid would be ready to go for the 2016-17 season. If you remember, Embiid was expected to be the first pick in the 2014 draft ahead of Andrew Wiggins and Jabari Parker. Most of the hype around him was he could be an Anthony Davis kind of player. The news of his fractured navicular bone derailed his value with reports of some teams taking him off their boards while most draft pundits had him outside of the top 10.
Moving forward, this is going to be some uncharted waters. A potential All-Star talent right off the bat in the modern era has never missed the first two years of his professional career. Preferably, we'd like to get a look at him in Summer League, but that sounds unlikely. As much as I want Embiid to succeed, it would be shocking to see him play 25 minutes per game at a high level. As talented as he might have been, he's been away from the game for too long. His social life might have thrown him out of a routine to get him off track. Embiid will be one of the most interesting stories this summer.
Saric is a different story. Hinkie likely took Saric in the draft in order to start his contract clock later while he develops overseas. We also don't see draft-and-stash players go as high as 12. It won't be easy for Saric to come over because the 76ers can only contribute $600K, so Saric would have to pay probably around $600K himself — the 76ers could give him a signing bonus, of course. He would be locked in at the 2014 rookie scale deal and could get a slight increase on that. If you want to get more details on money side, bang it here for PBT's info.
Assuming he does indeed come over, what can we expect from Saric? He's a 6'10" small forward with range and some ball-handling skills. Coach Brett Brown has said he's hoping to turn Saric into a stretch four, which won't be too hard these days — hey, Luol Deng played 10 minutes at center on Monday. Looking at his 14 games in the Turkish tournament, the Croatian averaged 11.5 points, 5.6 boards, 1.1 assists, 0.4 steals and 1.6 treys. Saric was fairly efficient, posting a 58.6 true shooting percentage. Not bad for a 34 percent 3-point shooter at age 22. He also posted those numbers in just 23 minutes per game, so that's a positive. 
It's not going to be easy to project his role right now. The 76ers could be taking a player with a similar role in Ben Simmons or Brandon Ingram with their top-four pick -- they have the No. 1 slot in the lotto, so they can't fall past four; they also have a 45 percent chance to get the Lakers pick at 4-5. Plus, it feels like the 76ers will actually be using their cap space to go for it, and I don't blame them. 
Chances are Saric will only be a reserve and he would have to take minutes away from Nik Stauskas, Hollis Thompson and Robert Covington. For now, he's probably not worth drafting in 12-team leagues. We'll see what happens on May 17 with the lottery. I'm pretty stoked for it.
Editor's Note: This is your chance to try FanDuel risk free! Sign up today and if you lose your first contest, you'll be refunded the entry fee up to $10. Play now!
Tuesday News and Notes
Stephen Curry said he received treatment on Tuesday and added he was sore. He's not in jeopardy to miss Wednesday and the very first thing coach Steve Kerr said in his post-game press conference on Monday was Curry will start. For DFS, it's going to be awfully tough to fade a guy who dropped the most productive overtime ever. There is also a very good chance the Warriors blow out the Blazers. In case you missed it, here's some more stuff on Curry here. Oh and you probably heard he was the unanimous MVP.
Draymond Green said the series against the Blazers is over because he's Draymond Green. 
Coach Dwane Casey is concerned DeMar DeRozan's hand. He should be concerned with a lot more than that because DeRozan is just wasting possessions. He's hands-off material in DFS -- pun intended. The column from Tuesday also had plenty of lineup info for the Heat and Raptors.
Devin Harris had surgery on his thumb and his toe on Tuesday. Both injuries were nagging him for most of the season, especially late in the year. Harris is still under contract for two more seasons as a backup. The Mavs tried to convert him to more of an off guard and it didn't go too well.
The Kings are not interested in trading DeMarcus Cousins, according to Vlade Divac. We'll see how he fits with Dave Joerger. You'd think if Cousins acts up yet again, then it might be time for a change. Furthermore, if the Kings are concerned Boogie doesn't mesh with Joerger, it might not be a bad idea to shop him a bit. He will have more value now because they would lose a lot of leverage after a Boogie blowout.
If you're into DFS, we'll be doing a podcast this morning!