The Warriors have eight games to go and they are sitting at 67-7 with a 36-0 record at home this season and have won their last 54 regular-season games at Oracle Arena. Their second unit almost blew the lead on Tuesday, but coach Steve Kerr put his first unit back in for the final minute to seal the 102-94 victory.
We'll kind of move through this edition of the Daily Dose quickly for the "important" games in the playoffs standings here and focus on the uncertainty at the bottom. Draymond Green just missed a triple-double with 15 points, 16 rebounds, nine assists, one steal, two blocks and three 3-pointers. 
Klay Thompson set the record for most 3-pointers in any March ever, which isn't a surprise after he won Western Conference Player of the Week. Thompson didn't have a great game with 16 points, four rebounds, one steal, one block and two 3-pointers. If you count treys, Stephen Curry put up a 5x5 with 26 points, seven rebounds, seven assists, five steals and six treys. He's on track for 400 treys this year. He's at 356.
As for the Wizards, they played the Warriors pretty tough, but John Wall did not play well with eight points, five rebounds, 11 assists, one steal and four blocks. Markieff Morris was solid in his return from a calf issue, finishing with 15 points, seven rebounds and three 3-pointers.
Editor's Note: This is your chance to try FanDuel risk free! Sign up today and if you lose your first contest, you'll be refunded the entry fee up to $10. Play now!
Harden Criminals (Rockets 106 at Cavs 100)
The Rockets stole one on Tuesday. Yes, LeBron James (rest) not playing certainly was a factor, but it was a 20-point comeback for Houston on the road. It was also their 12th double-digit comeback on the year, so it's nothing new. As you might expect, James Harden was terrific with 27 points, six rebounds, eight assists, one steal and three 3-pointers. The Rockets fighting for their playoff lives is great for his fantasy value and makes it less likely he rests.
Patrick Beverley continues to be effective with another nice line of 10 points, seven rebounds, six assists, two steals, one block and two 3-pointers. He should be a top-75 player, especially since he doesn't like to rest. Dwight Howard destroyed his fantasy owners' free throw percentage, making 7-of-22 from there with an 11-point, 11-board double-double. There really isn't a lot of fantasy impact here, so we'll just move on.
There will be more rest on the way for the Cavs. It's not official yet, but they have a back-to-back set starting on Thursday and chances are a rest day will be on Thursday or Friday for some guys. As for Tuesday, Kyrie Irving was effective with 31 points, two rebounds, eight assists, one steal, one block and five 3-pointers. Before Tuesday, he had a 38.8 usage rate when he wasn't next to LeBron this season, so a big line is not a surprise. Kevin Love was a letdown with 13 points, 11 rebounds and two treys. Again, expect Irving and Love to rest on Thursday and/or Friday.
Detroit Rest City (Thunder 82 at Pistons 88)
The Pistons got very, very lucky. Kevin Durant and Serge Ibaka rested on Tuesday to help them get a win. They almost lost the game even without those two, but they're sitting in the No. 7 hole right now for the Eastern Conference standings.
There really isn't a lot of analysis needed on this one. I thought the most interesting thing was the Pistons using Andre Drummond and Aron Baynes down the stretch. It was just the fourth game all season those two were used together and it was for a whopping five minutes. Drummond put up another double-double with 13 points, 15 boards, two steals and two blocks. Ho hum.
Marcus Morris was also very good with 24 points, seven rebounds, two assists, one block and one 3-pointer. He's on another heater, so he should probably be owned right now.
Russell Westbrook was a usage monster in the loss, making 8-of-28 from the field, 6-of-9 from the line and four turnovers in 35 minutes. He finished with just 24 points, four rebounds, six assists, one steal and two 3-pointers, too. No bueno.
Looking ahead on OKC, they probably won't be resting guys going forward, but they do have a five-game cushion on the Clippers.
Bull Charge? (Bulls 98 at Pacers 96)
The Bulls got a huge win, but it's too bad the Pistons won. The may have lost Taj Gibson (rib) to a contusion to his ribs after he played just 10 minutes. If he is going to miss time, that should really open up some run for Nikola Mirotic and Bobby Portis.
Mirotic snapped out of his slump with a tremendous line of 28 points, 10 rebounds, two assists, one steal and seven 3-pointers. He's as unpredictable as they come, but he would be looking at more minutes with Taj out. Portis started the second half for Taj, finishing with nine points, one rebound and no turnovers in just 10 minutes. There's obviously no need to move here.
The Bulls stars were also dinged up. Jimmy Butler had an informal minutes cap on Tuesday, finishing with 36 minutes, 14 points, four rebounds, three assists, two steals and one turnover. He has a back injury on top of the bad knee, so his fantasy owners should probably expect him to be a top 25-40 guy and not the top-10 guy. On the bright side, the Bulls winning is big to lower his shutdown chances.
Derrick Rose suffered an elbow injury in this game. Honestly, the only person who knows who will play on Thursday is Derrick Rose. Yo Derrick, if you're reading this, let us know what's up. 
The Bulls continue to get pounded inside as Ian Mahinmi is the latest to benefit with 18 points, seven rebounds, one assist and two blocks. He's kind of a sneaky, late-round center going forward. Myles Turner wasn't really in a great spot and foul trouble kept him to six points, five boards and one block in 16 minutes. Not to worry there.
Paul George gave us a little scare with a leg injury. He had some contact to his lower right leg and he did check out. George did return and looked fine, finishing with 20 points, nine rebounds, five assists, four steals, one block and two 3-pointers. He'll be all good.
No One Team Should Have All That Power (Forward) (Nets 105 at Magic 139)
So the Magic power forwards had a good night against the Nets. Aaron Gordon dunked his way to 9-of-11 from the field for 20 points with four rebounds, one steal and one 3-pointer in 21 minutes. Andrew Nicholson turned in a 116.7 effective field goal percentage, making all nine shots from the field for a career-high 24 points with three rebounds, two assists and three 3-pointers.
Gordon has been pretty bad lately, but there's no reason to think he can't stay hot. Keep him rolling. As for Nicholson, he should be able to put up some low-end value because it doesn't look like Ersan Ilyasova (ankle) is coming back any time soon. Of course, the Magic don't play the Nets every game going forward.
Victor Oladipo (wrist) made his return to the starting lineup, but the blowout factor screwed him up. He finished with just seven points, three rebounds, eight assists, three steals and one 3-pointer in 26 minutes. He'll be better. Dipo's return did not hurt Elfrid Payton with the PG scoring 11 points with five boards, 12 dimes, two steals and one turnover. Payton's owners should expect a dip from his output the past week. 
Sanka, ya Dedmon? Dewayne Dedmon was great again with 15 points, four rebounds and three blocks. It's still tough to trust him with just 20 minutes.
The Nets rested Thaddeus Young and Rondae Hollis-Jefferson in the second half of a back-to-back set. Before we break down what happened, I would be shocked if Brook Lopez didn't get off on Thursday or Friday. You could say the same for Bojan Bogdanovic, too.
Anyway, it was all about the Truck lane. Thomas Robinson scored 18 points with 12 boards, two assists, one steal and one block. If he starts, you start him in DFS and season-long leagues. Period. Besides that, there's really nothing to see here. Shane Larkin was fine with 10 points four rebounds, three assists, two steals and one turnover, though.
Brook Lopez (five points, three rebounds, one assist and four turnovers) and Bojan Bogdanovic (six points) were benched in the second half because the Nets were smoked. I'd still expect them to sit in one of the next two games.
Nic-Bat Cody Whacked (Hornets 100 at 76ers 85)
As expected, the Hornets thumped the 76ers. Nicolas Batum put up a trip-dub with 19 points, 12 rebounds, 12 assists, one steal and one 3-pointer in 38 minutes. Simply put, he's rolling an he will be paid this offseason.
Besides Cody Zeller going off against the 76ers frontcourt (hope you started in DFS) and Kemba struggling, there isn't much to see here on the Charlotte side. Jeremy Lin (back) also did not play, so that put Jorge Gutierrez in the mix for 12 minutes behind Kemba Walker, who had a bad game with 16 points, five rebounds, two assists, two steals and four 3-pointers.
The 76ers are a little short-handed these days. They didn't have Jerami Grant (quad, knee), Nerlens Noel (knee) and Richaun Holmes (Achilles) for Tuesday — Jahlil Okafor (knee) is out for the year, of course.  Coach Brett Brown is kind of a mad scientist with his lineups at times, but he's kind of out of options right now.
As you might expect, the 76ers got weird with their lineups for Tuesday. Here's what it looked like: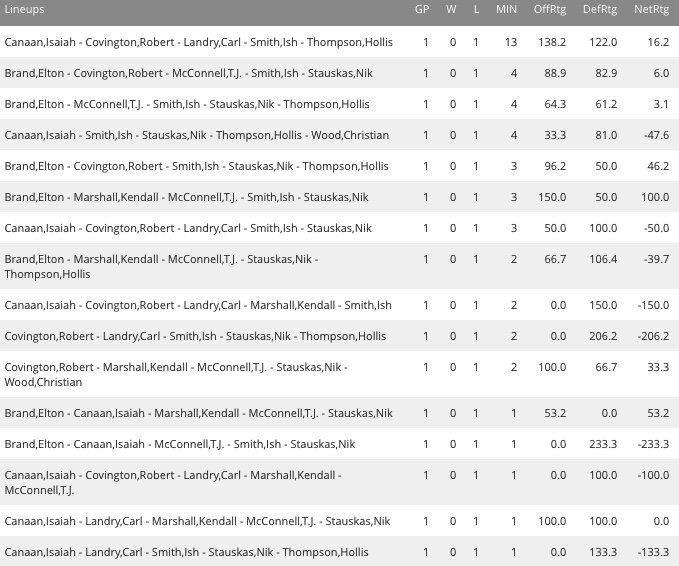 Yeah, that's a mess. This was kind of a best-case scenario to go small with Covington at the four and he logged most of his minutes there, finishing with 18 points, seven boards, two assists, three steals and six 3-pointers. He should be huge the rest of the way.
The small ball was out of control with a lot of dual PG lineups. Kendall Marshall (two points, two boards, two dimes, one steal and one block) played at the two while Isaiah Canaan (10 points, three rebounds, one assist, one steal and three 3-pointers) played at the three, as well. Canaan should be a sneaky guy to own with his scoring and treys. He'll play quite a bit.
Holla, Holla Hollis Thompson picked up most of the run at the three with just eight points, 10 rebounds, three assists, one steal, one block and two 3-pointers. He was just 2-of-11 from the field in his 29 minutes, so the usage was definitely there for him. I'd expect him to be a lot better against the Hornets on Thursday.
Ish Smith logged major minutes at 41, finishing with 15 points, three rebounds, six assists, three blocks and three 3-pointers. He blocked Kemba Walker twice. Ish should be very good in DFS with all the usage, but he needs to make shots in standard leagues.  
Bye Pelican Bye
The Pelicans ruled out Jrue Holiday with a right inferior orbital wall fracture for the season, Alonzo Gee with a ruptured right proximal rectus femurs (quad) tear for the season and also diagnosed Ryan Anderson with a sports hernia. Anderson is likely out for the year with this injury, but he's out for at least two games. Norris Cole also has a back injury and is day-to-day, but he might be out for the year, too. So what now?
Before the breakdown, the injury report is completely crazy:

Yeah, not good. There will be some players playing a couple different positions. If Cole can't go, there are only eight guys ready to play. If I had to guess, it would be something like this:
Point guard
Well, there are just two options and they should split it down the middle as ball-handling goes. Frazier should be able to get 30-33 minutes at the point while Douglas gets the rest with a handful of minutes at shooting guard. Frazier is a better well-rounded guy while Douglas should score better.
Shooting guard
This is where it hurts to lose Gee. Toney Douglas is going to have to play a lot at the two because who else is? There should be some minutes for Jordan Hamilton here as basically the Gee replacement. He had decent per-minute numbers in the D-League, so he is very much a sneak play.
Small Forward
It's hard to believe the loss of Alonzo Gee (quad) is so important. He played 41 minutes in the two previous games before his quad tear on Monday. Gee went down after just four minutes at the second half. Excluding the Gee minutes, it was Babbitt and Hamilton getting the minutes at the three. They also played together for 4.1 minutes, too. It should be Babbitt time. He's going to be pretty good the rest of the way. Welcome to the last two weeks of the season when we talk about Luke Babbitt being a difference maker.
Power forward
Dante Cunningham will run this spot with some stuff for Alexis Ajinca, too.
Center
Ajinca should play a lot at the five and should be able to flirt with 30 minutes, so he's a fantasy option in most leagues.
OK, so if I'm ranking value from top to bottom, here it goes (not counting price in DFS): Douglas, Babbitt, Frazier, Ajinca, Hamilton, Cunningham, Asik, Perkins.
Other Tuesday Notes
Kyle Lowry (elbow) is banged up and has inflammation in his right (shooting) elbow. He might get a night off, so there could be more minutes for Cory Joseph.
Justise Winslow (knee) is good to go and Goran Dragic (illness) is questionable to play. Josh Richardson would be a must-play sans the Dragon.
Giannis Antetokounmpo is projected to be the point guard for the Bucks next year. We talked about it on the pod (below), but the short version is he's a first-round pick now.
Here is the podcast from Tuesday: