Phoenix doesn't get a lot of rain, but when it rains it pours. It's monsoon season for the Suns as they were dealt another tough blow with T.J. Warren diagnosed with a broken foot. He will miss the rest of the season.
 
The Suns also introduced their new interim coach on Tuesday with Earl Watson answering plenty of questions regarding his team and rotation. We'll use some of Watson's comments to break down the Suns players from their game against the Raptors on Tuesday. As you could expect, they lost 104-97. At least it was close, though.
 
At his press conference, he called Devin Booker a "superstar" and said he's going to be "special." Before he opened it up to questions, Booker was the only player mentioned by name, so it's pretty obvious he will be featured in the offense. Watson also really focused on the Suns passing the ball more like the Warriors and Spurs. Of course, there is one problem: Draymond Green isn't on the Suns. Watson also made it seem like Booker will be handling the ball more, which has been one of his more impressive aspects of his game.
 
To nobody's surprise, Booker busted out for 27 points, five rebounds, two steals and six 3-pointers on Tuesday. He attempted 9-of-19 from the field with four turnovers, so the usage rate is on the rise. Booker should be very good this year and his Dynasty value looks terrific.
 
Perhaps the biggest story of Tuesday for at least this season, Watson said the Suns have to "nurture and embrace" Markieff Morris. He said the team will need his positive attitude in the locker room. Watson also said that he wants clearer roles and rotations, so he will probably cut down on the ridiculous lineup combos, so that's a positive for Morris.
 
Well, Morris reciprocated the embracing with a season-high 30 points, adding 11 rebounds, six assists, one steal, two blocks and one 3-pointer. After the game, Watson hyped up Morris even more. "He is the main focus of our offense moving forward, we know that," Watson said. We haven't seen a Watson sing praises like that since Randy Watson. That boy can sing! He good!
 
Well, maybe Morris was after Hornacek after all. Whatever it is, you have to pick him up after this in any league.
 
Watson also mentioned Archie Goodwin needs some work as a ball handler and called him a two guard. That is also so far, so good. Goodwin dropped a career-high 12 assists with 18 points, one block and two 3-pointers in 45 minutes. Watson did say he's expecting Brandon Knight (groin) back, but Goodwin looks great again after this one. 
 
Watson called Tyson Chandler a good guy and said he's someone you can have taking care of your kids. Well, Chandler didn't have a big night on the stat sheet with no points, five rebounds, one assist and one block. He'll be better, but he's more of a veteran presence than anything.
 
Alex Len is supposed to be the center of the future and general manager Ryan McDonough said he's focusing on the youth. Basically, don't overreact to Len having a rough game in 16 minutes, scoring two points with four rebounds. I'd still take Markieff over Len right now, but Len is still a decent hold.
 
Mirza Teletovic and Markieff Morris were the four and five for 13 minutes in this one. Mirza was decent with six points in 24 minutes, but he's not a great add yet. You can drop Jon Leuer.
 
Lastly, the rest of the wings: P.J. Tucker (10 points, six rebounds, two assists, two steals and one 3-pointer) is going to play huge minutes. Sonny Weems played 12 minutes while Jordan McRae played just two minutes behind Goodwin. 
 
The Suns play the Rockets on Thursday, so that should be a riot.
 
So how about the victors? Summer League star Norman Powell made his first start of his career as the 26th rookie starter in the NBA this year, failing to score with one rebound, one assist and two steals in 15 minutes. This was because James Johnson (ankle) did not play, which also allowed Terrence Ross to bounce back with 16 points, three rebounds, one assist, one steal and two 3-pointers. Ross should be able to hang around mid-round value for the next month or so.
 
The stars were up to their usual tricks. Co-Eastern Conference Players of the Month, DeMar DeRozan and Kyle Lowry, dropped 48 together. Lowry was particularly awesome with 26 points, three rebounds, four assists, two steals and five 3-pointers in 42 minutes. He's the man.
 
Perhaps the most interesting thing is Jonas Valanciunas (14 points, six rebounds and no blocks in 19 minutes) losing some run to Bismarck Biyombo (seven points, 12 boards and one block). JV is fine and Bizzy B isn't a great add unless you need the blocks.
 
Besides the Suns game, there actually wasn't much to break down from Tuesday.
 
Editor's Note: This is your chance to try FanDuel risk free! Sign up today and if you lose your first contest, you'll be refunded the entry fee up to $10. Play now!
The Boston C Party (BOS 97 at NY 89)
 
Well, coach Brad Steven did it again with a new/old wrinkle to his center and power forward rotation. Tyler Zeller led the bigs in minutes with 27, scoring 16 points with 10 rebounds, one steal and two turnovers in a win over the Knicks. Starters Amir Johnson and Jared Sullinger played a combined 32 minutes. Even Zeller was caught by surprise with the move. "I never expected to stay out there that long, but it was great to be able to," Zeller said. Alrighty then.
 
As has been the case all year, there is really no way to trust Stevens right now with the frontcourt rotation. Zeller was a DNP-CD in his last game and played a grand total of 10 minutes in his last three games combined — garbage was a factor. Amir (four points and four rebounds), Sully (four points and two boards) and Kelly Olynyk (13 points, five rebounds, one assist and one 3-pointer) are all guys fantasy owners in shallower formats shouldn't be too tied to in the event another high-upside guy emerges.
 
As for the guards, the Pizza Guy delivered. Isaiah Thomas scored a team-high 20 points with five rebounds, eight assists, one steal and one 3-pointer. Even with Marcus Smart coming on, Thomas should still be stellar. The two have played next to each other for an average of 12.1 minutes per game in all of the last five games.
 
Smart had a down game with four points, one rebound, two assists two steals and no turnovers in 29 minutes. His defense will keep him close to 30 minutes and his recent improvement from deep should bode well for his value.
 
Joe Crowder's leg injury wasn't a big problem with 16 points, five rebounds and one trey. Avery Bradley had a bad game with six points and four dimes while Evan Turner scored 14 with 10 boards, four dimes and three steals. Turner is actually playing really well, but his upside isn't too great. Bradley should be fine.
 
There wasn't much of interest with the Knicks here. Robin Lopez pulled down an incredible 11 offensive boards, finishing with 17 points, 13 total boards, two assists and three blocks in 37 minutes. Since 1985-86, no player grabbed at least 11 O-boards with 13 or less total rebounds (Basketball Reference). He's more of a low-end player to own with a decent floor.
 
Langston Galloway is just the latest point guard to get shut down by Boston with one point, nine boards, and two assists. It sounds like Jose Calderon (groin) will be back for the weekend, so his owners can probably expect a dip. Carmelo Anthony scored 16 points with 14 boards, four assists and one 3-pointer in 35 minutes.
 
It's you. You're the Rocket Man (MIA 102 at HOU 115)
 
Dwight Howard is basically that guy at the end of The Rock right now for how poorly he's finished. Amazingly, he's now been unable to finish the last three Houston games because of officials: Friday he had two techs, Saturday he had two techs, and Tuesday he was suspended for bumping into an official. He'll likely be getting a suspension at some point with 12 techs on the year, which puts him four away from 16 to get a one-game suspension. Basically, if Silicon Valley had a basketball team, it would want Dwight because of all his techs. (BOO! 🍅🍅🍅🍅🍅🍅🍅🍅🍅🍅)
 
Clint Capela (hip) also did not play in this game, so that meant it was wacky lineup time: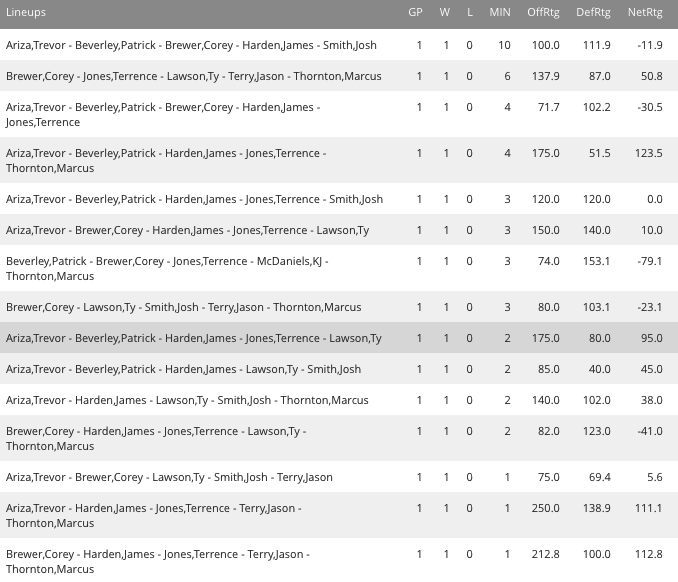 Craziness. The Rockets went small for 45 minutes of this game with only three minutes of Terrence Jones and Josh Smith together. Smith actually played well in a start and has the trust of his coach, finishing with 19 points, four rebounds, one assist, two steals, one block and three 3-pointers. Terrence Jones scored 11 points with seven rebounds, one assist, one steal and no turnovers. Expect Jones to be bumped way down in minutes once Dwight and Capela are back. Smith is fine to own in points leagues, but I'm not eager to add in standard.
 
James Harden was very good with 26 points, four rebounds, 14 assists, two steals, one block and three 3-pointers. Marcus Thornton took advantage with 18 points, but that's because of so much small-ball.
 
Miami got a great game out of Amare Stoudemire with 14 points and 10 rebounds. Leave him on the wire unless you get bonuses for players taking red wine baths.
 
With Hassan Whiteside (hip) getting closer, there really are no takeaways from this game. Goran Dragic looked fine with 14 points, four rebounds, six assists one trey. He should start to trend up and was coming around before his calf issue last month.
 
Two turntables and 30 points (MIL 95 at POR 107)
 
C.J. McCollum has a radio show on Friday nights for hip-hop, but he was spittin' hot fire like Dylan against the Bucks, scoring 30 points with four rebounds, six assists, two steals, two blocks and three 3-pointers on 10-of-18 from the field. No analysis needed here.
 
Al-Farouq Aminu was very good with 16 points, five rebounds, one assist, three steals and three 3-pointers. He's really trending up and should be owned everywhere. Noah Vonleh said he thinks he'll be fine from a foot sprain. If not, that's more for ALF and Meyers Leonard, who dropped nine points, five boards, two assists and three treys. He's a low-upside guy with no blocks. Damian Lillard double-doubled with 14 points, five boards and 12 assists.
 
The Bucks were pretty boring as per usual. Khris Middleton had a decent game with 21 points, eight rebounds, three assists, three steals and two 3-pointers. He's cooled off since Jason Kidd took over again, so hopefully there is nothing to that. Michael Carter-Williams (two points, six rebounds and two assists) and Jabari Parker (six points and one rebound) are going to be very inconsistent. Jerryd Bayless took some of MCW's minutes with 16 points in 30 minutes, but you can't pick him up after just this game. He scored six points combined in his previous two. Giannis Antetokounmpo is filling it up with stat-stuffing lineups right now and had another one, scoring 19 points, eight rebounds, five assists, two steals, one block and one trey.
 
The Sam Mitchell Killer (MIN 115 at LAL 119)
 
You might remember Kobe Bryant lighting up Sam Mitchell's Raptors for 81 points back in the day. Well, Kobe scored a season-high 38 points with five rebounds, five assists, two steals and seven 3-pointers in 33 minutes. Check out his shot chart: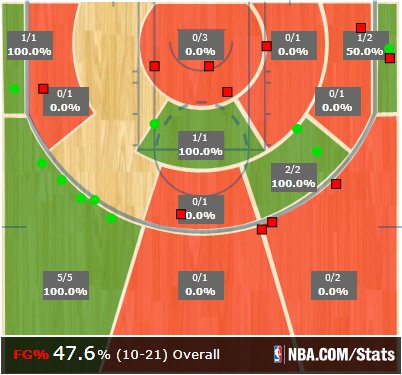 No makes inside of eight feet is crazy. Kobe is what he is and he's going to miss games. If you managed to start him in DFS, you are one gutsy fantasy owner. Expect him to sit out in more home games, but it was really cool to see him light it up.
 
Besides Kobe, Julius Randle continues to look good with 15 points, 12 boards and two dimes. He and D'Angelo Russell are definitely trending up again with Russell dropping 18 points, three rebounds, three assists, one steal and two treys. Russell will likely start later this month.
 
Lou Williams is one of the most efficient higher-volume isolation players in the NBA thanks to free throws. He scored 20 points with nine points at the line, adding four dimes, one steal and three 3-pointers. He's a hold while Jordan Clarkson showed some signs of life with 16 points, three rebounds, two assists, two steals and one turnover.
 
The Wolves seem to have their rotation figured out right now. Gorgui Dieng is locked in as a bigger offensive threat, scoring 19 points with six rebounds, five assists and one steal. He is trending up despite his block totals really falling off. Karl-Anthony Towns got into early foul trouble and only had 14 points, nine rebounds and two blocks. If you missed it, check out the column about him from yesterday.
 
The sophomores were very good with Zach LaVine scoring 14 with seven dimes while Andrew Wiggins scored 30 with five boards. Both likely have more perceived value, so they're kind of sell-high players.
 
 
News and Notes from Tuesday
 
Nikola Mirotic not only had an appendectomy, he also had a hematoma removed. The details of the surgery are not yet known, but there is a good chance he is out until March and beyond. That means we'll see Bobby Portis in the rotation while Taj Gibson and Pau Gasol will play a ton. Doug McDermott also played one minute at power forward on Monday and a ridiculous 16 minutes on Sunday. Hopefully, this won't continue. Maybe Portis heats up and another injury to Taj or Pau would help him, too. He's a decent stash for those missing out.
 
Jahlil Okafor will go back into the starting lineup on Wednesday. In January, Nerlens Noel played just 163 of his 401 minutes next to Okafor (40.6 percent). They also didn't play together at all in Okafor's return on Saturday, so that is definitely something to watch. This means less run for Jerami Grant and Robert Covington as well — Covington played a lot of four on Saturday.
 
DeMarcus Cousins (ankle) did some work in practice, but he'll likely be a game-time call. Expect Rudy Gay to carry the torch while Kosta Koufos, Willie Cauley-Stein and Omri Casspi all benefit.
 
Rajon Rondo (turf toe) was a surprise on the injury report. The Kings Twitter did show Rondo doing some stuff at practice, so he's likely on the probable side here. As someone who has suffered turf toe, I'd be really surprised to see this injury coming from practice. We'll get an update this morning, but expect him to play.
 
Ben McLemore (wrist) put in some practice and he has looked better. There's still no what he can be added.
 
Tyreke Evans (knee) is doubtful to play on Wednesday. Bryce Dejean-Jones will likely get another start after a fairly impressive couple games. He's only worth a look in deep leagues. Norris Cole also benefits big time while Jrue Holiday will look to bounce back.
 
Tim Duncan (knee) is out again on Wednesday. Boban please?
 
Ian Mahinmi (back) is out again, so fire up Jordan Hill and Myles Turner again. I wrote stuff about Turner on Tuesday. Hill is more of a short-term add now with Mahinmi possibly back on Friday.
 
Jodie Meeks (foot) is shut down until March, so he might be out for the year. Stanley Johnson did get some SG minutes, so that might help his outlook slightly.
 
Tiago Splitter (hip) is out. He just can't stay healthy.
 
Jameer Nelson (wrist) is out. Randy Foye will get some PG minutes.
 
Kemba Walker (knee), Jeremy Lamb (toe) and Cody Zeller (shoulder) are all questionable while Nicolas Batum (toe) is doubtful to face the Cavs. Batum might just rest until the break, but expect him to get it going after that. Walker's injury doesn't sound serious.
 
Deron Williams (hip) could be out with a hip-to-hip injury. If he's out, that means more J.J. Barea and Ray Felton with JJB being the better add.