Hopefully, you don't have plans on Saturday. The boxing fight of the century, the Kentucky Derby, the late rounds of the NFL Draft, and Game 7 of the greatest NBA first round series will all be on May 2. Oh and baseball and hockey, if you're into that sort of thing.
 
Follow me on Twitter @MikeSGallagher.
 
The Clippers came up huge down the stretch during a 102-96 win in San Antonio on Thursday. Chris Paul (19 points, 15 dimes, four steals and one 3-pointer) and Blake Griffin (26 points, 12 boards, six assists, one steal and four blocks) did all the heavy lifting, especially late in the game. 
 
In the second half, CP3 put up 15 points, seven dimes and no turnovers while Blake had 18 points, seven boards, four dimes and two blocks. The Clippers are really dangerous when both guys are playing well, but we all knew that. On top of those two, J.J. Redick (19 points) and DeAndre Jordan (15 points, 14 boards and three blocks) were also noteworthy contributors. DJ was 7-of-15 from the line as the Spurs continue to Hack-A-DJ. Also, Glen Davis suffered what the team is calling a sprained ankle, but it looked a lot worse than that. He did have a severe foot injury earlier in his career, so maybe that has something to do with it. If he's out, that's more minutes for DJ and Blake. CP3 will be the man regardless and he may have had one of the most underrated seasons of anyone this year. Of course, his fantasy owners know all about how good the Point God was.
 
Kawhi Leonard has been a fantasy hero and savior of worlds, but that wasn't the case on Thursday. It was probably the worst game we've seen from him in the past year and coach Gregg Popovich even said Kawhi had a bad game. He made 3-of-15 from the field for 12 points with seven rebounds, two assists and four turnovers. Here's what his shot chart looked like: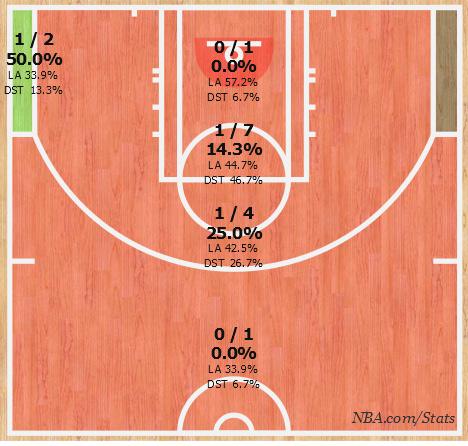 When a guy who has dominated in the paint for so long has a night like this, it has fluke written all over it. Expect Kawhi to go off in Game 7. Tony Parker (eight points, seven dimes and two turnovers) did not play down the stretch and Tim Duncan (12 points and 13 boards) wasn't nearly at his best either. They looked worse as the game went on, so maybe all these minutes are causing problems. Still, it's hard to draw a conclusion.
 
As for the positives, Marco Belinelli was on fire with 23 points and seven 3-pointers while Boris Diaw was great with 17 points, four boards and five assists. Diaw has been big time in this series.
 
Game 7 is at 8:00 EDT on Saturday night. Get your chores/errands done in the morning, you guys.
 
So this was the Bulls team that was going to steamroll the Bucks, huh? The Bulls dominated from beginning to end during a 120-66 win in Milwaukee on Thursday. The Bulls were up 32 points at half and basically had this game into garbage time before the second half started. The Bucks starting unit combined for just 29 points in one of the most embarrassing losses in playoff history. In fact, it was the worst loss in a series-clinching game in NBA postseason history.
 
None of the Bulls starters had a bad game. In fact, their starters put up a pristine 65.7 effective field goal percentage.  Mike Dunleavy was awesome with 20 points on just seven field goal attempts with four treys, four boards, five assists and one steal. He's created some nice space from the competition of Tony Snell and Nikola Mirotic. Somewhat shockingly, Mirotic didn't check in until the game was basically over and he might not have been in the rotation had it been close. He finished with just two points in eight minutes. The rookie hasn't been great on defense at small forward and coach Tom Thibodeau probably won't want to use him at the three against the Cavs. Although, don't forget LeBron will be playing the four a lot in the upcoming series. By the way, you can check out a column on the Cavs rotation from Tuesday here. For now, I'd expect the Bulls to give Dun-Dun 30 minutes, Snell 13 minutes and Mirotic picking up some scraps at SF.
 
Jimmy Butler (16 points, five assists, four steals and two 3-pointers) and Derrick Rose (15 points, five rebounds, seven assists, one steal and three 3-pointers) were both at the top of their games. Rose was on a stationary bike during the game, but there was no sign of an injury. He'll be ready to go in a very exciting series against Kyrie Irving. "He's a great young player, demands a lot of attention whenever he does have the ball," Rose said of Irving. "That's what we have to give him." It should be a lot of fun watching these two face off.
 
Butler didn't have a great year against the Cavs this season. In two games, he averaged just 18.0 points, 5.5 boards, 4.0 assists, 2.0 steals and 1.5 treys on 40.0 percent from the field. Butler also struggled against the Bucks during the regular season, but he took care of business in the postseason. Expect him to have a big series.
 
The Bulls bigs handled their business. Joakim Noah (11 points, 10 boards and one steal), Pau Gasol (19 points, eight boards and one block) and Taj Gibson (nine points, six boards and three assists) were all looking at bigger games had the Bucks been able to stay in it. Mirotic losing his playing time at power forward bodes very well for Taj against the Cavs.
 
The Bucks lines were ugly. Zaza Pachulia scored a team-high eight points. Eight! It's the first time in postseason history no player on a team hit double-figures. None of the starters had more than four boards or two assists either. Giannis Antetokounmpo tackled Mike Dunleavy and he could be suspended for the first 1-2 games of next season. The Bucks were one of the most pleasant surprises this season, but the trade of Brandon Knight basically ended their chances to advance in the first round. 
 
The Bucks have some big questions heading into the offseason. The biggest will be what they're going to do with Khris Middleton. Nobody could have expected him to explode the way he did, and he also changed positions with his shift to shooting guard. For fantasy, Middleton was the 13th-best player in standard leagues in the 2015 part of the season. With Jabari Parker set to come back for opening night, there's really no way you can draft Middleton in the top 40 picks.
 
It's not just Middleton with the Bucks possibly extending John Henson's contract. Although, that might not happen with coach Jason Kidd not being the biggest Henson fan. He could potentially be a mid-round guy in fantasy leagues with his ability to block shots. Still, it's hard to draft him in fantasy leagues next season right now. Plus, his offensive game didn't really make any strides this season.
 
Andrew Wiggins won the Rookie of the Year award on Thursday and he's likely headed for several other awards in his career. Wiggins really grew as a scorer in the last couple months of the season and it had a ton to do with his shot selection. Here's a look at his shot chart since the break along with a summary of shot types in that span: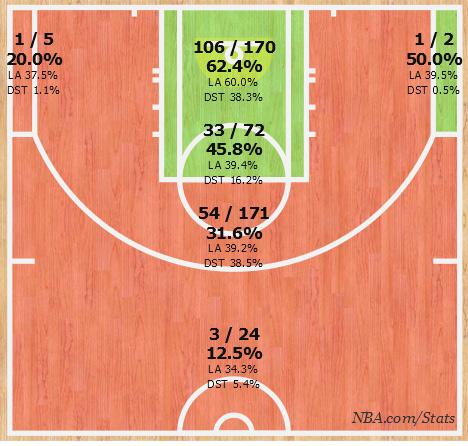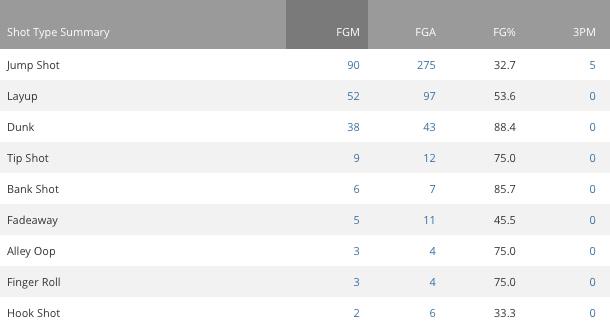 He is feasting inside. On top of killing it in the paint, it's worth mentioning he attempted 7.9 fouls shots per game since the break. That amount of scoring inside is extremely unusual and he's also shown improvements as the year has gone along. 
Since summer league, it was pretty clear Wiggins was going to be a very good isolation scorer. It took a few months, but he's really put up some elite numbers in those situation. In fact, here's a really cool graphic from Synergy Sports: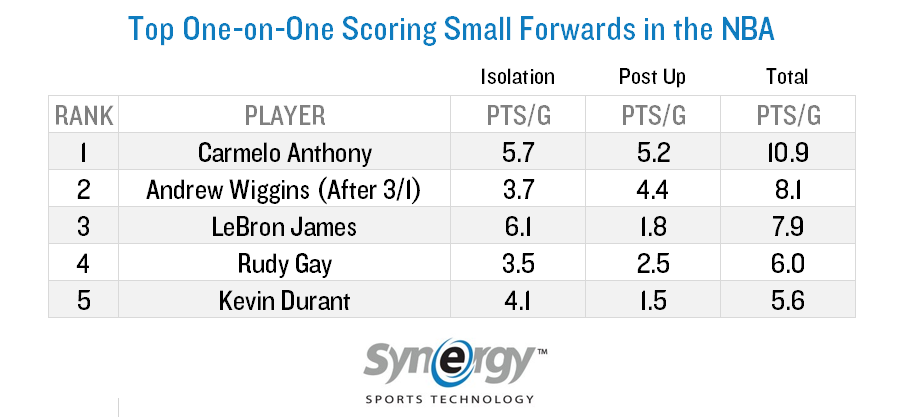 He's 20 years old and lists at 199 pounds, so his ceiling as a scorer is as high as just about anyone and it's on as soon as he has a decent jumper. After the break, he averaged 20.0 points, 4.9 boards, 2.3 assists, 0.9 steals, 0.7 blocks and 0.2 treys. He could take another leap next season for fantasy owners. Even with the scoring, Wiggins was only a seventh-round guy for standard leagues after the break. Why so low? Obviously not making treys hurts and his low defensive stats aren't helping either. Chances are he's going to be too expensive for me to draft.
  
The Thunder and Billy Donovan agreed to terms on Thursday.  It's not often a coaching job opens up with two top-10 players, so it's going to be interesting to see how this works. Honestly, I don't really know much about Donovan's offensive system, but we can talk about ex-coach Scott Brooks' system a bit.
 
You might be surprised to know that OKC dropped to 11th in the NBA for percentage of plays coming in isolation. That has a lot to do with Kevin Durant not playing for much of the season and they're likely going to be in the top five for isolation percentage. That's not on Brooks or Donovan because KD is one of the best isolation players in the NBA — maybe top five ever. For fantasy, I wouldn't really let this coaching change affect values. Donovan will likely have a similar pace and play type. Hopefully, Donovan coaches at summer league and we can get a feel for his play calling.
 
Enjoy the games this weekend!