As usual, the goal here is simple. We're looking to highlight the games and teams circling the best Vegas totals, point spreads and play calling outlook. These aren't the only plays of the week, but some of the best plays surrounding those circumstances. For a full player by player outlook on the week, make sure to check out my thoughts in the Week 14 Worksheet.
Team Outlooks
| Team | Spread | ImpTotal | @ | Spread | ImpTotal |
| --- | --- | --- | --- | --- | --- |
| New Orleans | 2.5 | 24.3 | Tampa Bay | -2.5 | 26.8 |
| San Diego | 1.5 | 23.5 | Carolina | -1.5 | 25.0 |
| Dallas | -3 | 25.3 | NY Giants | 3 | 22.3 |
| Pittsburgh | -2 | 24.5 | Buffalo | 2 | 22.5 |
| Houston | 6 | 20.3 | Indianapolis | -6 | 26.3 |
| Washington | 0 | 23.3 | Philadelphia | 0 | 23.3 |
| Oakland | 3.5 | 21.0 | Kansas City | -3.5 | 24.5 |
| Seattle | -2.5 | 24.0 | Green Bay | 2.5 | 21.5 |
| Atlanta | -6 | 25.5 | Los Angeles | 6 | 19.5 |
| Baltimore | 7 | 19.0 | New England | -7 | 26.0 |
| NY Jets | 2.5 | 20.8 | San Francisco | -2.5 | 23.3 |
| Arizona | 1 | 21.3 | Miami | -1 | 22.3 |
| Denver | 1 | 21.3 | Tennessee | -1 | 22.3 |
| Chicago | 7.5 | 18.0 | Detroit | -7.5 | 25.5 |
| Cincinnati | -5.5 | 24.3 | Cleveland | 5.5 | 18.8 |
| Minnesota | -3 | 21.0 | Jacksonville | 3 | 18.0 |
Tampa Bay hosting New Orleans is the only game this weekend with a combined implied total over 50 points and the only game in which both individual teams carry implied totals of at least 24 points. For whatever it's worth, both times these teams met a season ago the total went under and that was with the Saints having a historically poor defense.
That's problematic for those paying for Jameis Winston ($8,200) this week as his pricing has been taxed all the way up to the QB5.  Winston has been a great floor play, but has not had many ceiling performances to justify that price hike and the Saints defense isn't allowing many big games despite the belief that they are still horrendous.  Winston been lower than the QB13 just once over his past seven games, but also has finished higher than QB10 just once also while the Saints have only allowed two quarterbacks in the front half of weekly scoring over their past five games.
Despite being cautious on using Winston, I have no qualms paying up to the top spot for Mike Evans ($8,900) this week.  Evans is the only receiver in the league that has had over 30 percent of his team's targets this season (30.9 percent) and is leading the league in multiple subset categories involving volume. Evans leads the league in second half targets (78) and 4th quarter targets (40 while also leading the league in receptions that resulted in a first down (65).  Not only are you getting the prerequisite volume for his price, but the matchup is also sound as the Saints secondary is allowing the 6th most receptions and 5th most receiving yards to receivers.
The Colts have the next highest team total of the week and are big favorites at home. Andrew Luck ($8,200) is the same price as the aforementioned Winston and gets a Houston pass defense that has been in decline recently.  After allowing multiple touchdown passes just once over their first eight games, the Texans have allowed multiple touchdown passes in four straight games and 18.8 points per game to opposing quarterbacks over that span.
To go along with that decline, they've also been touched up by lead receivers in the passing game, allowing Jordy Nelson (8-118-1), Tyrell Williams (8-70-1), Amari Cooper (4-57-1) and Allen Robinson (9-107-1) to all find the end zone over that stretch. T.Y. Hilton ($7,600) is at comfortable price for the type of ceiling of he possesses to get both he and Luck into high upside lineups this week.
Matthew Stafford ($8,500) is the second most expensive quarterback this week, but is in a spot as a large home favorite that has been accommodating to him in the past.  As home favorite of seven of more points, Stafford has averaged 23.8 fantasy points and 2.3 touchdown passes per game over his career.  To top that off, he's also made solid work of carving up the Bears at home over his career. In the five games that he's faced Chicago at home, Stafford has posted 27.9 points per game and 2.4 touchdown passes while throwing for over 390 passing yards in each of the past two meetings by these teams in Detroit.  The Bears were good defensively at home in the snow last week against a poor San Francisco offense, but were coming off of allowing three straight top-12 scoring weeks prior.
Play Splits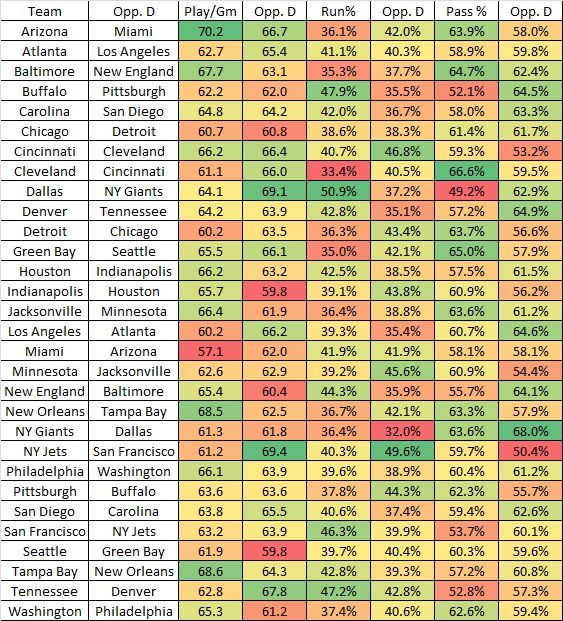 It's not gaudy, but Tennessee stands to get a play volume spike while remaining run heavy against the Broncos at home this weekend.  The Denver defense has been far more exploitable on the ground than through the air, something the Titans can oblige. Tennessee is third in the league with 141.5 rushing yards per game while Denver faces 29 rushing attempts per game (third most) and allows 122.8 rushing yards per game (28th). DeMarco Murray ($7,900) looks like a great tournament option this week that may go overlooked due to the stigma of the Denver defense. Murray limped into the bye week with a toe injury, but that late season bye was timely as he wasn't even on the injury report this week. Murray also comes with scoring upside as he is tied with LeGarrette Blount for the league lead in goal to go carries (17) so he has the touchdown punch to go along with volume and if Tennessee happens to cave in on itself, 23.3 percent of the opposing receiving yards gained against Denver are to running backs, the highest rate in the league.
He hasn't exactly lit the world on fire over the past two weeks, but I believe you have to plug your nose and get Jeremy Hill ($6,900) into lineups this week, especially with pricing being tight this week. Opponents are running the 6th most plays per game against the Browns and the percentage of those plays being runs is the second highest rate in the league. Hill has just 54 rushing yards total the past two weeks as the feature back, but he has 66 percent of the team rushing attempts over that span, so you're at minimum getting value on touches for his cost.  Cleveland has allowed 100-yards rushing in 10 games this season, the most in the league. Tack on the fact that weather calls for snow and wind in Cleveland tomorrow and Hill should be a big part of the gameplan once again despite his recent ineffectiveness. 
The Giants passing game is in an intriguing spot this week as Dallas has forced teams to be heavily one dimensional, something the Giants have no issue doing on their own accord. 76.3 percent of the yardage gained by the Giants has been through the air, the highest percentage in the league while 77.1 percent of the yardage gained against the Cowboys has been through the air, the highest percentage in the league.
Despite those two points of data synching up, there is always some concern with overall play volume when it comes to facing Dallas, but they are facing a ton of passing volume from opposing quarterbacks lately. Over their past four games, Dallas has faced 46, 35, 53 and 46 pass attempts, so overall play volume isn't too big of a worry when it comes to the passing volume Eli Manning  ($7,700) can see in this game and he's affordable as the QB14. Manning has also been far better at home this year than on the road, averaging 307.5 passing yards per game at home as opposed to 208.7 per game on the road.
It's hard to latch onto any of Manning's passing weapons outside of Odell Beckham ($8,500) since Beckham is dominating looks and yardage. Beckham has 25.2 percent of the New York offensive yardage, the highest percentage for any wide receiver. It's not a coincidence that like Manning, Beckham has also really gotten going at home this season, averaging 103 yards per game in New York compared to 66.2 on the road.