As usual, the goal here is simple. We're looking to highlight the games and teams circling the best Vegas totals, point spreads and play calling outlook. These aren't the only plays of the week, but some of the best plays surrounding those circumstances. 
Team Outlooks
| Team | Spread | ImpTotal | @ | Spread | ImpTotal |
| --- | --- | --- | --- | --- | --- |
| New Orleans | 7 | 24.8 | Atlanta | -7 | 31.8 |
| Green Bay | -3.5 | 26.5 | Detroit | 3.5 | 23.0 |
| Jacksonville | 4.5 | 21.5 | Indianapolis | -4.5 | 26.0 |
| Carolina | 6 | 20.3 | Tampa Bay | -6 | 26.3 |
| Kansas City | -5.5 | 25.3 | San Diego | 5.5 | 19.8 |
| NY Giants | 7 | 18.8 | Washington | -7 | 25.8 |
| New England | -9.5 | 27.0 | Miami | 9.5 | 17.5 |
| Cleveland | 6 | 18.8 | Pittsburgh | -6 | 24.8 |
| Dallas | 3.5 | 19.8 | Philadelphia | -3.5 | 23.3 |
| Seattle | -9.5 | 26.3 | San Francisco | 9.5 | 16.8 |
| Buffalo | -3.5 | 22.8 | NY Jets | 3.5 | 19.3 |
| Baltimore | 1 | 20.3 | Cincinnati | -1 | 21.3 |
| Chicago | 5 | 18.0 | Minnesota | -5 | 23.0 |
| Arizona | -6 | 23.3 | Los Angeles | 6 | 17.3 |
| Oakland | 1 | 19.8 | Denver | -1 | 20.8 |
| Houston | 3 | 18.5 | Tennessee | -3 | 21.5 |
No game carries a higher total this week than the Saints and Falcons as these teams rank first and second in points per game in the league.  Atlanta has been a force on offense and need a win to secure the second seed in the NFC. The Falcons have scored 30 or more points in 10 games, a franchise record for a single season and have scored on 55.5 percent of their possessions, the highest rate since the 2007 Patriots (57 percent).
For a team that scores so many points, they are a little tricky for daily purposes because so many different players score week to week for them. The counter to that is to just play Matt Ryan ($8,700). Ryan has had an MVP caliber season and the past two non-Jameis Winston quarterbacks to face the Saints have been the QB4 and the QB3.
For stacking purposes, Julio Jones ($8,300) may be overlooked this week since he's priced slightly above Jordy Nelson this week, which surely will be a popular play. Jones played 62 percent of the snaps in his return (70 percent of the passing snaps) last week, a season low for him while active, but just did miss a big game on those limited reps. The Saints are giving up huge plays vertically in the passing game recently allowing five touchdowns of 20 or more yards over the past five weeks.
As you'll notice below, the splits for the Saints should dramatically skew pass-heavy here. The Falcons have trailed for just 29.7 percent of their offensive snaps (second), creating a script passing funnel weekly. That will be no problem for the Saints as Drew Brees ($8,200) is on the verge of having his fifth 5,000-yard passing season for his career. It's a road game for Brees, but we saw him light up the scoreboard on the road two weeks ago in a high-scoring game, so I'm not concerned with him here against an Atlanta defense that has allowed more passing points than any team outside of Cleveland and the Jets.
Michael Thomas ($6,700) is still the far more trustworthy play of the New Orleans pass catching group and the Falcons give up more production to intermediate receivers. He's a strong play in cash formats for his cost and carries touchdown upside as he leads the team with 15 red zone targets on the season.
For tournament purposes, Brandin Cooks ($7,100) is always a target to post a crooked total. Cooks has had just 18 receptions for 153 yards and one touchdown in four games versus Atlanta in his career, but he spent the majority of those games lined up across form Desmond Trufant, who is on the shelf the remainder of the season.  
I know nobody wants to play him, but this may be a spot to dust off using Coby Fleener ($4,800) as a near-punt play in tournaments. Fleener is second on the team in red zone targets (14) and the Falcons who have allowed 11 top-12 scorers to opposing tight ends, including a TE2 week (20.4 points) to Fleener in Week 3.
Green Bay visiting Detroit in the final game of the season will be popular largely for Aaron Rodgers ($8,800). Over his past 10 games Aaron Rodgers has thrown 26 touchdowns to three interceptions and has 50 more fantasy points than the next highest quarterback, Drew Brees. Rodgers averages 2.26 fantasy points per possession, the most in the league and will be facing a Detroit team that is on the cusp of setting the all-time completion percentage allowed at 72.9 percent, breaking the 71.2 percent mark by the 2011 Colts. Rodgers has smashed a host of good passing defenses over his current run and should crush Detroit indoors to close the 2016 season.
Jordy Nelson ($8,200) paired with Rodgers will be a chalk as you can get this week, but that doesn't mean that it's wrong to follow suit.  Nelson has averaged 9.2 yards per target over the past nine weeks after averaging 6.3 yards per target through six weeks and has scored in every game except for four, tying Sterling Sharpe (1992 and 1994) for the most games in a season with a touchdown reception in Green Bay history.
You can even go a step past Nelson to add Davante Adams ($6,800) or add him to the mix to get a unique stack. Adams has traded up and down games over the past six weeks, but this should be a week where Green Bay is once again funneled towards the pass and Adams has the highest touchdown odds after Nelson.
If this game is going to hit the mark many are expecting, we don't want to completely ignore the Detroit side of things.  Matthew Stafford ($8,000) has struggled mightily since injuring his finger, failing to throw a touchdown in 10 quarters since the injury with four interceptions. He's been the QB17 or lower in six of his past eight games with just nine touchdown passes over that span, but the Packers secondary has been a target all season for fantasy production. The Packers allow 27.1 passing yards per drive (29th) and 1.64 passing points per drive (29th) to opposing quarterbacks but have faced the 7th fewest possessions on the season. Pairing Stafford with the Green Bay receivers is a unique game stack for those chasing this game.
You can also look to add Golden Tate ($5,700) very cheaply to your Packer stacks. Tate has averaged 9.4 targets over the past 10 weeks and is fourth in the league in receiving yards (865) over that span. Green Bay has allowed some enormous receiving games on the season and very recently. Just last week Adam Theilen lit up Green Bay for 12 catches and 202 yards with two scores and the week prior they allowed all three Chicago wide receivers to post top-12 scoring weeks. For his cost and target volume paired with matchup, Tate is a sound target across all formats.
By default of the slate, the Colts hosting the Jaguars is near the top of expected exciting games this weekend. The Indianapolis side of things is a touch sketchy because they can't run the ball well and the Jaguars are very solid when it comes to defending the pass. The Jaguars allow just 220.4 passing yards per game to opposing passers (third) and just 6.5 yards per pass attempt (second). That leaves Andrew Luck ($8,400) and T.Y. Hilton ($7,800) more in the tournament tax bracket this weekend.
We mentioned Blake Bortles ($7,600) last week and I believe this is a spot that you can double down on him to close the season.  In Bortles' past three starts against the Colts he has been the QB6, QB3 and QB3 while Indianapolis has allowed 16 or more points to 10 different quarterbacks on the season.
Play Splits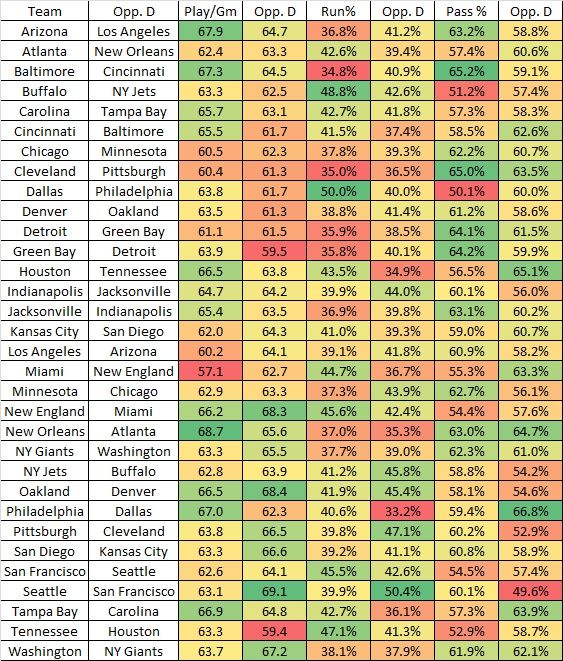 We have one final week to attack the San Francisco defense as they allow the most plays per game that are tied directly into rushing volume for their opponent. Thomas Rawls ($7,400) has already practiced in full all week, so he appears to have a green light in a game that Seattle will pushing to win as they can still jump into the second seed if they win and Atlanta loses. San Francisco allows 4.0 red zone opportunities per game, the most in the league and is allowing 180.8 yards from scrimmage to opposing backfields.
Washington is an intriguing target here because the matchup will inherently force them to be pass-heavy and in turn, the Giants may be resting players on the defensive side of the ball as they have nothing to gain this weekend while Washington is still fighting for their playoff life. Kirk Cousins ($7,900) was already just one of two quarterbacks to post top-10 scoring weeks against the Giants this season and he's been a consistent source of yardage weekly. Cousins averages 30.7 passing yards per drive, the most in the league while he has been a top-12 scorer in nine of his past 10 games.
Unfortunately, DeSean Jackson ($7,000) has been priced up a bit since he's been so hot, but a Cousins-Jackson pairing is still a solid tournament play. Since returning from injury in Week 11, Jackson is 7th in wide receiver scoring and third in receiving yardage (555) while having four 100-yards games over that span.