As usual, the goal here is simple. We're looking to highlight the games and teams circling the best Vegas totals, point spreads and play calling outlook. These aren't the only plays of the week, but some of the best plays surrounding those circumstances. For a full player by player outlook on the week, make sure to check out my thoughts in the Week 9 Worksheet.
Team Outlooks
| Team | Spread | ImpTotal | @ | Spread | ImpTotal |
| --- | --- | --- | --- | --- | --- |
| Indianapolis | 7 | 23.5 | Green Bay | -7 | 30.5 |
| New Orleans | -3.5 | 28 | San Francisco | 3.5 | 24.5 |
| Dallas | -7 | 27.8 | Cleveland | 7 | 20.8 |
| Tennessee | 4 | 21.5 | San Diego | -4 | 25.5 |
| Carolina | -3 | 23.8 | Los Angeles | 3 | 20.8 |
| Jacksonville | 7 | 18.5 | Kansas City | -7 | 25.5 |
| NY Jets | 3.5 | 20.3 | Miami | -3.5 | 23.8 |
| Denver | 1.5 | 21 | Oakland | 1.5 | 22.5 |
| Pittsburgh | 2.5 | 20.5 | Baltimore | -2.5 | 23 |
| Buffalo | 7 | 18.3 | Seattle | -7 | 25.3 |
| Philadelphia | 2.5 | 20.3 | NY Giants | -2.5 | 22.8 |
| Detroit | 6 | 17.5 | Minnesota | -6 | 23.5 |
The Packers enter this week with by far the highest team total as they are playing their 5th home game over their past six games played.  Due to multiple injuries at the position, the Packers aren't even using a running back anymore and have run swerved into not even attempting to run at this point. Over the past two weeks Green Bay has thrown the ball on 70.2 percent of their offensive plays.
Circumventing the running game with a short passing game has really lifted Aaron Rodgers' ($9,100) fantasy output. Rodgers has been the QB4 and the QB2 the past two weeks with seven touchdown passes and now has accounted for all 19 of the Green Bay touchdowns on the season, as he has both of their rushing scores.  Rodgers is second in the league in red zone pass attempts (48) while leading the league in pass attempts from inside the 10-yard line (28).
The Colts have been a disaster on the back end, signaling another strong set up for Rodgers. The Colts are allowing the 4th most fantasy points per possession to opposing passers and have allowed multiple touchdown passes in each of their past five games to Blake Bortles, Brian Hoyer, Brock Osweiler, Marcus Mariota and Nick Foles, not exactly a group of passers that can match the caliber of Rodgers.  He's the most expensive play at the position, but Rodgers is the best cash game option on the board entering the weekend in terms of expected volume, touchdown outlook and implied team total. 
If you're looking to pair Rodgers up with a Packer receiver, things get a little tougher because the ball distribution is so spread out and Ty Montgomery ($6,500) and Randall Cobb ($6,900) both missed last week's game.  Montgomery was coming off of back to back games with double digit receptions and Cobb was coming off of three straight games with 11 or more targets, so their absence freed up a lot of opportunity last week.
The stickiest player from both weeks has been Davante Adams ($7,100), who has 16 and 14 targets over the past two weeks with the scheme change, but even he filled in for Montgomery last week as he had a 4.6 yard average depth of target (aDOT) per Pro Football Focus last week after having an 11.5 aDOT coming into the game.  Jordy Nelson ($8,200) still has the most touchdown upside of the group, but he's been overpriced based on his output so far outside of those scores as his 6.9 yards per target rank 34th of the 42 wide receivers with 50 or more targets on the season so far. For tournaments, your best bet is to make several lineups around Rodgers where you mix and match this unit, but in cash I'm only looking at playing Rodgers by himself.
The Saints at 49ers is the only game this weekend in which both teams have an implied point over 24. That's somewhat surprising for San Francisco as they haven't scored 24 points in a game since Week 2, but considering both of the defenses involved here, it's not too much of a shock.  The 49ers are last in the league in points allowed (31.3) while the Saints are 31st (30.7).
With the Saints being on the road, that may push some people off of Drew Brees ($8,600) this week, but he's the next best thing behind Rodgers this week if you need to use the $500 in cap space somewhere else. Brees was just fine on the road in his last start in a much tougher climate at Kansas City, posting 25 points, so we're not too concerned about the road bugaboos here in a great matchup that should feature a lot of plays.  The 49ers have allowed 18 or more passing points in five of their past six games, limiting only Drew Stanton on a short week over that stretch.
Because the 49ers are so lousy against the run, they really haven't allowed a plethora of counting stats to opposing wide receivers, but everyone is in play here for the Saints still. Similar to the situation we mentioned above in Green Bay, the ball distribution for the New Orleans passing game makes it hard to pinpoint a clear stacking partner for Brees. Coming out their bye, Willie Snead (26), Brandin Cooks (24) and Michael Thomas (24) have all seen nearly identical targets.  Thomas ($5,800) is still a great value at wide receiver for those looking to get a cheap option at the position and is cash game viable, but Cooks ($7,600) and Snead ($6,500) aren't uncomfortably priced for builds.
Kansas City has intriguing home total without Alex Smith available, but are still big favorites against the Jaguars this week. While Smith is out, the bigger news is that Spencer Ware failed to be cleared from a concussion he sustained a week ago, leaving Charcandrick West ($5,600) in a prime spot as a big home favorite to secure upwards of 20 touches. In 12 games in which the Chiefs have been favored by seven points or more under Andy Reid, the Chiefs have averaged 129 rushing yards per game with 10 games in triple digits. In the four games last season in which West reached 16 touches, he was a top-12 scorer in every one of those games.
Play Splits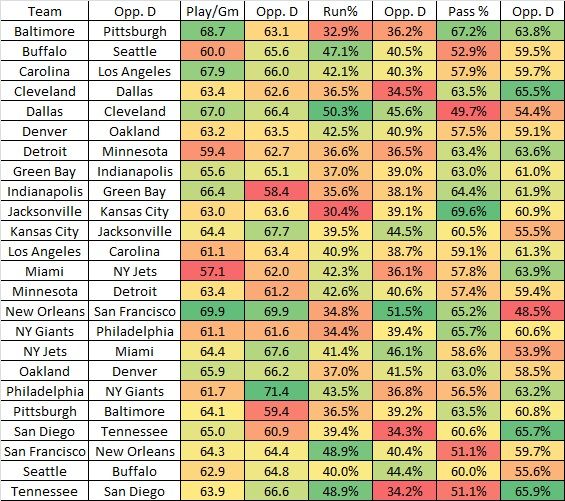 Looking at play splits, there's no reason you shouldn't be starting off your cash builds with Ezekiel Elliott ($9,200) this week. Despite their slow pace, Dallas is still running a lot of plays per game and Cleveland is facing a lot of them weekly. On top of that, Cleveland is often trailing, facing an abundance of running plays, something that rolls right into what Dallas wants to do on offense in the first place.
Elliott leads the league in rushing despite already having a bye and Dallas is running the ball at an absurd clip. The Cowboys are the first team to rush for 175 yards or more in five consecutive games since 1986. After allowing 114.2 rushing yards per game through five weeks, Cleveland has allowed 193 rushing yards per game over the past three weeks. On top of all of that, Zeke is the only back with 15 or more carries in every game this season and has Dallas scored a touchdown on 30 percent of their possessions (third in the NFL) while the Browns have allowed a touchdown on 31.5 percent of their opponent's drives, the highest in the league.
The Colts are in an interesting spot because there's clearly shootout potential this week for their game in Green Bay, but their implied total isn't as gaudy as you may suspect, which may be a result in the fact that the Packers are good at playing keep away, limiting opposing possessions and plays.
Green Bay has to do that because they can't stop anyone from passing all over them, and because their run defense is so elite, teams are willing to attack them through their soft secondary. Green Bay is allowing the 5th most passing points per drive and the 6th most passing yards per possession (27.7) in the league. The Colts aren't going to be able to run the ball in this game, so if they can get enough possessions here, there's room for them to do a lot of damage.
Andrew Luck ($8,000) is a fall back to lineups that won't have Rodgers or Brees because of this, but my main target on the Indianapolis side of the ball is Donte Moncrief ($6,100). Moncrief played 89 percent of the snaps in his first game back last week and led the Cols with nine targets. He's also the main red zone option for the Colts as he's now scored a touchdown in seven of his past 10 games playing with Luck.  With T.Y. Hilton nursing a hamstring injury, Moncrief will a popular play, but one that is worth using due to his upside and cost.
Tacking onto the Saints thoughts from above, there's going to be a lot of offensive plays run by the Saints this week and the 49ers are just getting hammered on the ground. The benching of Mark Ingram ($6,700) last week throws some shade on what would've been a glorious spot for him in cash lineups, but I still want exposure to him this week in tournaments at minimum. For one, I still believe Ingram is the Saints' best back and two, even if there is a split with Tim Hightower ($6,100) this week, this a matchup where both players can find success due to that play volume and matchup.  The 49ers have allowed double digit points to multiple backs in each of their past two games and have allowed over 170 rushing yards in four straight. There's multiple touchdown upside here for this backfield that may have depressed ownership because of the unknown split between the pair coming in, making them perfect tournament targets.