We're already into Week 5 and trends have started to take shape. As usual, the goal here is simple. We're looking to highlight the games and teams circling the best Vegas totals and play calling outlook. For a full player by player outlook on the week, make sure to check out my thoughts in the Week 5 Worksheet.
Team Outlooks
| Team | Spread | ImpTotal | @ | Spread | ImpTotal |
| --- | --- | --- | --- | --- | --- |
| San Diego | 3.5 | 23.3 | Oakland | -3.5 | 26.8 |
| NY Giants | 7 | 20.5 | Green Bay | -7 | 27.5 |
| NY Jets | 7 | 20.5 | Pittsburgh | -7 | 27.5 |
| Chicago | 5 | 21.5 | Indianapolis | -5 | 26.5 |
| New England | -10 | 28.5 | Cleveland | 10 | 18.5 |
| Atlanta | 4.5 | 21.0 | Denver | -4.5 | 25.5 |
| Philadelphia | -3 | 24.5 | Detroit | 3 | 21.5 |
| Washington | 3.5 | 21.0 | Baltimore | -3.5 | 24.5 |
| Tampa Bay | 4.5 | 20.3 | Carolina | -4.5 | 24.8 |
| Cincinnati | -2 | 23.5 | Dallas | 2 | 21.5 |
| Tennessee | 3 | 20.0 | Miami | -3 | 23.0 |
| Arizona | -3 | 22.5 | San Francisco | 3 | 19.5 |
| Houston | 6.5 | 17.0 | Minnesota | -6.5 | 23.5 |
| Buffalo | PK | 19.5 | Los Angeles | PK | 19.5 |
The highest implied team total this week belongs to a road team as New England is geared up for the return of Tom Brady ($8,700).  All narratives about how angry Brady will be aside, this is also a great spot for opposing quarterbacks as the Browns have allowed 16 plus points and multiple passing touchdowns to all of Carson Wentz, Joe Flacco, Ryan Tannehill and Kirk Cousins so far on the season, four guys that aren't exactly on our weekly radars for weekly QB1 numbers.
Still, it's a curious spot as Brady has underperformed in these spots recently. Over the past five years, the Patriots have been double digit favorites 16 times and in those games, Brady has averaged 268 passing yards and 1.7 touchdowns as opposed to 296 passing yards and 2.2 touchdowns per game in other games. He's not my favorite play of the week in his price range and will carry high ownership, but I still believe Brady is still a fine option and will clear value in cash games.
The spread could bode well for LeGarrette Blount ($7,500) stacking late game output if New England doesn't just keep chasing points to the degree the narratives surrounding Brady's return suggest. While in New England, Blount has averaged 14.0 points per game when the Patriots have been favored by nine or more points.
Brady's return affects the pass catchers as well. New England has been conservative with Brady out, as they're first in the league in run rate at just fewer than 52 percent of their plays so far as they rank last in the league in pass attempts per game (28.5). With Brady in 2015, they ranked 4th in the league at 40.4 pass attempts per game.
With the expected increase in volume, I love Julian Edelman ($7,000) at his price point in cash games, but he's been dealing with a foot inury all week and is questionable. He should play, but some of the shine is rubbed off there. Outside of Edelman, the main focus for players here will be the New England tight ends. The Browns have allowed the most receptions in the league to opposing tight ends (32) and three top-10 weekly performers to the position so far.
Rob Gronkowski ($7,200) went from 22 percent of the team snaps in Week 3 to 67 percent last week, but he's run just 17 routes so far on those snaps and there are still whispers that his hamstring isn't quite full go yet. With people flocking back to the Brady/Gronk stack, Martellus Bennett ($6,300) may go under owned in a great spot. Bennett already has two 100-yard games on the season and there have only been seven total 100-yard games by tight ends so far pn the season, and that was without Brady in the slower paced offense. Bennett's 12.4 yards per target are also the highest for all tight ends with double digit targets.
The reason that Brady isn't my main target is because the Steelers are tied with Green Bay for the highest team total while being at home. At home, is Ben Roethlisberger ($8,600) shines as he's thrown three or more touchdowns in five consecutive games in Pittsburgh while averaging 336 passing yards in those games.
It's also a great matchup outside of the inherent home cooking as the Jets are hemorrhaging splash plays to opposing games, something that plays right into the wheelhouse of the Steeler offense. The Jets are allowing opposing quarterbacks to complete 71.4 percent of their passes, the highest rate in the league and New York is allowing 10.2 adjusted passing yards per attempt, also the highest in the league.
Roethlisberger leads the league with six touchdown passes from outside of the red zone while Antonio Brown ($9,600) leads the league with 11 receptions on the throws 15 yards or further downfield.  While he hasn't been the player we've known, it also doesn't hurt that Darrelle Revis is battling a hamstring injury and is doubtful.  Also, if you're looking to save cap space or hunting for a moderate tournament option, Sammie Coates ($5,300) ties into all of the above as he leads the league in receptions of 40 or more yards (5) and the Jets have allowed the most receptions of 40 plus yards (7).
The Packers are tied with the Steelers in terms of implied totals this week as they host the Giants on Sunday Night. Aaron Rodgers ($9,100) isn't someone I'll be using in cash games over the aforementioned Roethlisberger or Brady, but makes for an intriguing tournament option. Rodgers has averaged 30.3 points per game at home with Jordy Nelson ($8,400) active since 2011. Nelson himself has gotten better every week of the season. He's scored in every game and now has scored in 13 of his past 19 games played.
While the matchup on paper isn't great, Eddie Lacy ($7,100) may be worth throwing into some lineups based on blind faith in the team totals and point spreads. Home teams giving away seven or more points have rushed for an average of 124.6 yards per game with 66.7 percent (210 of 315) hitting the century mark on the ground.
Play Splits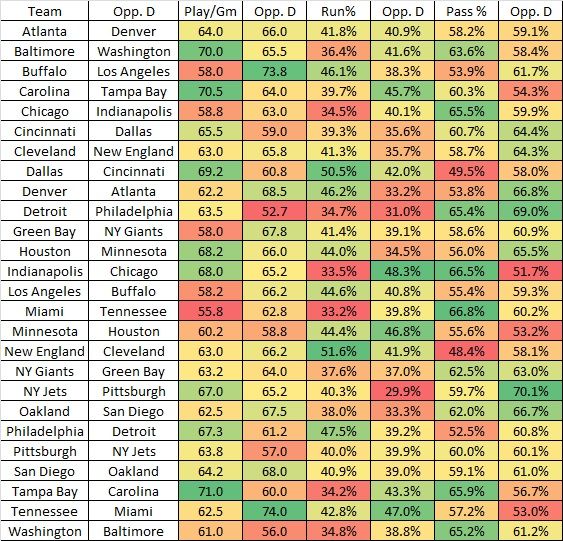 The Packers have been forcing teams to abandon the run and pass versus them and the Giants have already been playing offense that way coming into this week. Just 12.2 percent of the offensive yardage gained against the Packers has been rushing, the lowest rate in the league while just 25.3 percent of the yardage gained by the Giants on offense has been on the ground, 25th in the league. With the expected pass=heavy approach tied into the matchup, this is a great spot to take advantage of Odell Beckham's ($8,500) price reduction. For all of the perceived disappointment, Beckham actually has just two fewer receptions and just four fewer receiving yards than he had at this stage last season.
While Packers rank first in the league in yards per carry allowed (1.8 yards), they rank 31st in yards per pass attempt (8.3) and 27.3 percent of the completions against the Packers have gone for 20 or more yards, the highest rate in the league. The Packers have allowed the highest scoring receiver in fantasy in each of their past two games and Sam Shields is still out. Beckham still ranks 9th in targets for all wide receivers and Sunday Night is a prime spot for him to erase last week's letdown in what was a tough matchup to begin with.
Another extreme passing funnel defense so far has been the Chargers and the Raiders offense matches right up with them as they have remained pass heavy to start the season. Derek Carr ($8,100) is flying a touch under the radar this week with all of the quarterback options, but he's the only quarterback other than Matt Ryan to have three games of 20 or more points and San Diego has allowed three 300-yard passing games and multiple touchdowns three times already.
San Diego has lost shutdown cornerback Jason Verrett for the season and Brandon Flowers is expected to miss this game with lingering effects from a concussion in Week 3, leaving the Chargers with only Casey Hayward as a reliable option in the back end. Hayward has been excellent thus far, but the secondary may be too banged up for him to move around with just one receiver this week. He's hasn't been a top-40 scoring receiver since Week 1, but Amari Cooper ($7,200)is still seeing 23 percent of the Oakland targets and is due for a big game at some point if you're chasing it.
Instead of chasing an unknown quantity, however, Michael Crabtree ($6,900) remains underpriced again this week. Crabtree has out-target Cooper in the past two games 23 to 15 and now has outscored Cooper in 12 of the 20 games the two have played together.
Even though teams aren't stacking rushing attempts against San Diego or have had much success when they do (opposing backs are averaging 3.7 yards per carry), the Chargers still have allowed the second most points to opposing backfields as they are getting crushed through the air by backs.  Only Atlanta has allowed more receptions to the running back position than San Diego (36) has and they have allowed the third most receiving yards to backs this season.
With Latavius Murray out for this game with a toe injury, DeAndre Washington ($4,700) and Jalen Richard ($4,900) become near minimum salary options this week to clear cap space.  Both are expected to share the field as on the season, Richard has played 54 snaps to 51 for Washington while Washington has out-touched Richard 29 to 22. If choosing between the two, I'd edge towards Washington, but Richard makes for an interesting pivot in terms of ownership between the two.