Rookie Ja Morant was given the keys to the Memphis offense right off the bat in the 2019-20 season, starting in every game of his career while leading his team in points and assists per game. Over the 59 games with Memphis, the 2019 No. 2 pick averaged 17.6 points, 3.5 boards, 6.9 dimes, 0.9 steals, 0.3 blocks and 0.9 treys on a very respectable 49/37/77 shooting line. Due to Zion Williamson' knee injury, Morant is the heavy favorite to win Rookie of the Year with his Grizzlies sitting in the No. 8 seed. For fantasy, he only finished as a late-round guy for nine-cate leagues, just cracked the top 75 in eight-category formats, and was 64th per game for points leagues (FanDuel scoring). He did have some valuable stretches over the course of the season and we'll get into those, but first let's go over his injury history.
Morant didn't miss any of his 65 games at Murray State. He had arthroscopic right knee surgery prior to the NBA Draft to keep him from Las Vegas Summer League.
In his rookie season, the Grizzlies did rest him for a back-to-back set in November, he missed four games because of a nagging back issue in early December, and he missed one more game in December in a back-to-back set. Morant played in each of the 40 games after that, and the only non-back injury that put him on the injury report was ankle soreness in October.
Good stuff injury wise for a guy who will turn 21 in August.
Coming into the NBA, the biggest question would be if Morant could take his style of play at Murray State and bring it to the big leagues. In his last year in college in a weaker Ohio Valley Conference, Morant had a whopping 53.1% of his shots come from within three feet, making 61.0% of them. Only 17.3% of his shots were two-point jumpers and 29.6% of his shots were from deep. In the NBA, Morant's explosiveness was still able to get him big volume at the rim while he really cut out his mid-range game. Here's his shot chart for the whole season: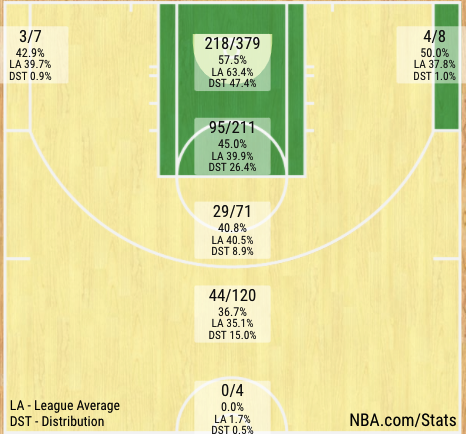 Getting up to 47.4% of his shots at the rim is solid and he wasn't too far off the league average for FG% among guards either. His 57.5% was identical to Damian Lillard and ranked 36th among the 61 guards with at least 150 attempts at the rim. Over the course of the whole season, he clearly proved that the primary piece of his offensive arsenal can translate.
Morant got some Russell Westbrook comps coming out of college, but it turns out he's way ahead of Russ' pace as a perimeter scorer. He shot 36.7% on 3-pointers, and a very respectable 47.6% on his two-point jumpers on the year. Considering he was unassisted 74.2% of the time on his jumpers, this is a big win for Morant, especially if he gets better.
With his 25.8 usage rate, Morant being unassisted on 67.4% of his shots and still coming up with a 49.1 FG% and 56.8 eFG% is big time for a rookie guard. In the last 10 seasons, only nine rookie qualifiers with at least 24 minutes per game topped Morant's 67.4 unassisted percentage, and Morant's 52.3 eFG% slaughters most of those guys. Eight of the nine were below 50.0 eFG% (Kyrie Irving), and six of them were below 45.0 eFG% (if interested on the nine: De'Aaron Fox 44.1, Luka Doncic 49.7, Trae Young 48.0, Elfrid Payton 43.3, Michael Carter-Williams 43.1, Ricky Rubio 39.8, Kyrie Irving 51.7, John Wall 42.7, Jordan Crawford 40.9). Additionally, among rookies with 20-plus minutes per game and 500 total minutes since 2003-04, Ja and Zion Williamson are just the third and fourth with a TS% over 55% and a usage rate over 25 (Joel Embiid, Kyrie Irving; via Seth Partnow on Twitter).
Part of the reason why he was so efficient was Morant's output on his assisted shots. Morant made 42.0% of his catch-and-shoot treys, and overall he shot 58.4% on his no-dribble shots (includes layups/dunks, 66.8 eFG%). There wasn't too much volume on those shots with Morant only being assisted on 25.8% of his jump shots, 30.0% of his layups, and 30.2% of his finger rolls, but he was assisted on 70.5% of his 44 dunks. For a rookie with the ball in his hands a lot, his off-ball game is a helpful part to his efficiency.
Despite Morant ranking just 78th in minutes per game, he still managed to finish 12th in time of possession per game at 6.5 minutes. The 6.5 matches Luka Doncic's rookie year with only Trae Young, Ben Simmons and Michael Carter-Williams topping him in their rookie years (Ben and MCW had 3.8 and 4.5 more minutes per game, respectively; stat tracked from 2013-14). Trae led the NBA in touch time in 2019-20 and Luka was tied for second (James Harden), so Morant figures to climb higher in this category in 2020-21. He was tied for 14th in the NBA in assists per game, and that also has an excellent shot to get into the top 10 as his minutes increase.
He also finds himself in a good system with the Grizzlies ranking seventh in pace and eighth in assisted percentage. The Grizzlies offense was the fifth-fastest offense off a defensive rebound and they were the fastest off turnovers, so there's a little Westbrook-like impact from Morant here. Plus, most of his teammates rely on passing with only Tyus Jones having an unassisted percentage higher than 38.5%, so there should be a lot of assist opportunities again next year. Especially if Brandon Clarke can extend his range a bit like we saw Jaren Jackson Jr. do later in the 2019-20 season.
Somewhat surprisingly, Ja wasn't too heavily involved in transition scoring with just 3.1 possessions per game, but he shot 62.7% in transition. Of the 26 guards with more possessions per game in transition, only Jaylen Brown had a better FG% (62.9%). Ja was also above average as a pick-and-roll shooter at 45.8 FG% (47.9 eFG% 58.2 percentile when factoring in turnovers). Pretty good stuff for a rookie.
There is one mild concern that we haven't seen next to Ja yet. Justise Winslow still hasn't played for the Grizzlies, and the Grizzlies paid up to get him on their roster before the trade deadline. The 2019-20 season was an injury-plagued disaster for Winslow, but he was a fairly ball-dominant guy in 2018-19 with a 4.4-minute time of possession to lead the Heat. Of course, the Heat were starved for a point guard last year with Goran Dragic only at 36 games and Tyler Johnson getting traded. If Winslow is cutting into Morant's touch time, that's not necessarily a negative because Morant was so good when his teammates helped him. The Grizzlies have no reason to take the ball out of his hands, though.
Maybe the most disappointing part of Morant's season from a fantasy standpoint was just 0.9 steals. He actually trended down there with a brutal 0.5 steals per game over his last 17. He only had two lost-ball turnovers in a 17-game span, and somehow he had just two steals off guys who were PG/SG kind of guys in this span. He just has to luck his way into better steals, but it's really hard to be too aggressive in fantasy drafts based on what we saw here (obviously not as important in points leagues). If he somehow can get this to like 1.4 steals, that would be massive for his fantasy value.
It's always interesting to see any scoring trends you can spot on young guards in their first season. Let's take a look at how Ja performed on his twos in the first 29 games and last 30, specifically his FG% at the rim (first column), percent of his shots at the rim (second), percent of shots in the mid-range (third), drives per game (fourth) and FG% on drives (last).

That's a huge boost in drives with Ja ranking fourth in the league over that span (three guys ahead all played 3.5-plus more minutes per game; Westbrook, Luka, DeRozan). He's also really efficient on those drives, and typically young guards are way below 50% on shots off drives. Forgive me on a recycled stat from the Trae Young my own Deep Dives, but Kemba Walker was at 37.8% in his third season (47.9% this year), Damian Lillard was at 40.3% in his second season (54.6% this year), and Russ Westbrook was at just 40.2% in 2013-14 and 43.0% in 14-15 (56.2% this year). With Ja getting huge volume at the rim, he could be even better on twos next year. Luka had a huge boost on twos this season after he picked up his drives in the second half of his rookie season, too. You also like to see him cutting down on mid-range shots, and he was trading off some twos for some threes.
It certainly made sense to make that swap with Ja being way better on 3-pointers than expected. Here's a look at his catch-and-shoot 3P%, percentage of his threes via catch and shoot, pullup 3P%, and his wide-open shooting numbers on threes over the first 29 and last 30 games.

He was a very good catch-and-shoot guy off the bat, and he got a lot better. He was still wide open quite a bit here, and perhaps that's because Ja is so fast that it's hard to go over screens on him. The pullup shooting is probably a little unsustainable to start (40-plus 3P% is elite on pullup treys), but he could still be in the mid-30s with a full offseason to work on his game. Being so far ahead of where he should've been puts him in an advantageous position for what should be his first healthy offseason.
Excluding the underwhelming steals output, Morant checks off so many boxes you want from a fantasy point guard. He's great in FG% for a young guard, he'll have a very high touch time, he doesn't have much of an injury history, he got better as the year went on, his shot selection improved, he is in a great system, and his team should compete for a playoff spot. Point guards can be pretty thin after the first 25 picks, so Morant may deserve some consideration at the third- and fourth-round turn.
If you've checked out the pods, you've probably heard me talk about how I might want to go with Jayson Tatum and Kevin Durant to start my draft when I'm at the back end. If that's the case, that basically forces my hand to take Morant in either the third or fourth depending on who else is there. Even with the lack of steals, I'd still take him ahead of guys like Kyle Lowry, Chris Paul, D'Angelo Russell, De'Aaron Fox and many more.