The NFL Draft is an exhilarating time for all fans. Without any true clairvoyance on how the picks that our favorite teams make will play out, we offer up our insights, excitement, disdain and worst of all, try to slap a grade on the entire process before the ink dries.
With the benefit of hindsight, we can go back and judge whether a draft was good or not, but that's not the focal intent here. I'm not looking to go back and dissect why or why not Player A was a good or bad pick at the moment. Rather, I want to know which teams have gotten the most profit out of their draft picks and which teams are selecting the most players that contribute.
For that, we're using Pro Football Reference's Approximate Value (AV) metric. That measure is far from a flawless science, but it's satisfactory for what we're looking to accomplish, which is identifying players that are contributing and placing a mark on that total contribution. It's also a completely objective measure, so we're eliminating a level of he said/she said in regards to the players involved.
There's a lot more minutia to cut through that goes into building a successful NFL franchise for a front office outside of the draft, so don't take this to any extreme. We're strictly trying get on the dance floor in hashing out which organizations have been good and poor at getting return from the draft process.
I'm also focusing on the last five years here, but will be shrinking the field in a moment. Going out further creates some noise involving player movement, so we're looking at cutting that mark in half. Now that the pins have been set up, let's knock them down.
The Seattle Seahawks are way ahead of everyone in terms of overall return from the players they've selected. No NFC team has won more games (including the postseason) over this timespan than Seattle's 60 wins, and their foundation for those wins was acquired through the draft. Stockpiling picks has been the groundwork for Seattle as they've made the third most overall draft picks (47) of this time frame and ranked second in AV per pick. 
The Seahawks' accumulation is so far ahead of the pack because they absolutely demolished the 2011 and 2012 drafts, so those stellar picks have had a longer window to boost that total. In those two drafts, they landed Richard Sherman and Russell Wilson (who ranks first in AV provided per game for players in this study), but they also landed a flock of contributors in K.J. Wright, Bruce Irvin, Bobby Wagner, J.R. Sweezy and James Carpenter. They've started to lose some players via free agency, so it will be interesting to see if they maintain, because over the past three years, the Seahawks rank a concerning 31st in return from their draft classes.
The Carolina Panthers are all the way over to the left as they're tied with Chicago and New Orleans for making the fewest draft selections (31) over the past five years, but they've gotten the biggest bang for their buck in the entire NFL in terms of AV per pick. The Panthers have dominated the early rounds recently, nailing Cam Newton and Luke Kuechly (who rank third and fifth respectively in AV provided per game), Star Lotulelei, Kawann Short and Trai Turner within the first three rounds. They also hit on the now-departed Josh Norman in the later portion of the draft.
The Cincinnati Bengals probably don't carry the reputation they deserve when it comes to drafting; they've been excellent in seeing return on their picks, especially on offense. Their entire starting offensive line (which ranked first in Football Outsiders' DVOA last season) was home grown and the interior part of that line in Clint Boling, Kevin Zeitler and Russell Bodine were all picks over the past five years. They also selected two tackles last year to keep the line rotating through those spots transitioning. Outside of their line, the rest of their core offense was also drafted over this span. Andy Dalton, A.J. Green, Tyler Eifert, Giovani Bernard and Jeremy Hill have all been main factors on a perennial playoff offense, while Marvin Jones and Mohamed Sanu both saw big paydays in free agency.
Because the Bengals have invested so much into their offense with their recent draft capital, they haven't yielded many defensive stars through the draft. Outside of hitting on George Iloka as a fifth-rounder, they've only seen modest contributions from Dre Kirkpatrick while failing to squeeze much out of Margus Hunt or Darqueze Dennard to date.
The schism between Jim Harbaugh and the San Francisco 49ers' front office combined with early player retirements have really cloaked the fact that the 49ers have been the worst team on getting return from draft weekend over the past five years. No team has accumulated and made more picks than the 50 players the 49ers have selected, yet they rank 29th in return AV and dead last in return per pick (4.6). Nine of those 50 picks (18 percent) have yet to play a game in the NFL, the highest rate for any team over that span. GM Trent Baalke has loved to move around in the draft with little profit to date while foregoing players that have turned out to be NFL contributors. Recent selections that have been picked with draft spots the 49ers have moved out of include T.Y. Hilton, Allen Robinson, Eddie Lacy, Travis Frederick, Theo Riddick and Charles Clay.
Mickey Loomis and the New Orleans Saints are one of the best teams at tight-roping the salary cap, but they seem to have no real regard when it comes to valuing NFL draft picks. New Orleans is tied for making the fewest picks over the past five years (31) and is by far last when extending that mark over the past 10 years (62). For reference, that's 30 fewer picks than the Packers have made over the same span. They've done a solid job with their first-round picks, but the lack of pick volume has really hurt the Saints in the middle to late portion of drafts, where they've yielded hardly any usable results.
There's a reason the New York Giants spent so much in free agency this offseason and it's because they've been unable to stock their roster through the draft. They've especially struggled in the early rounds. Odell Beckham and Weston Richburg have been hits, Justin Pugh has been good enough and David Wilson fell to unfortunate circumstances beyond their control, but Rueben Randle, Marvin Austin, Jerrel Jernigan, Prince Amukamara, Damontre Moore, Jayron Hosley and Jay Bromley were all top-100 draft picks that have yielded almost zero to subpar results. The Giants have also only acquired two draft picks during that span (Ryan Nassib and Landon Collins) while being a part of dealing seven picks away.
As for making draft day deals, no team has acquired more picks over this period than the 27 picks attained by the Minnesota Vikings as they've only dealt 17 away. The Cleveland Browns have been the league's most active team, trading 21 different draft picks while securing another 24 themselves and that doesn't even include this year's trade with the Eagles.
On the other end of the spectrum, no team has held pat like the Pittsburgh Steelers. They've been a part of just two draft deals during this stint with little to show from either trade, acquiring Alameda Ta'amu and Shamarko Thomas.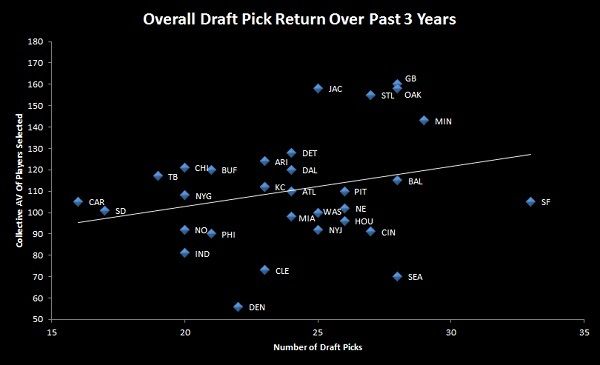 Shifting gears to a more immediate return and you can see some big changes and how one or two strong drafts can really change your big picture outlook. As mentioned with the Seattle Seahawks, they've gotten little back from their past three drafts despite making a reasonably high number of picks. That shift could show that they were just really fortunate for a few drafts over having a real advantage in philosophy, or it could be that they simply didn't have a lot of room for players to contribute since their established roster was so much intact.
The same can be said for the Denver Broncos. As they've been consistently churning out deep playoff runs, opportunities haven't been there for younger players to see significant playing time, but it's probably fair to say they've botched some high capital picks in Montee Ball and Cody Latimer.
I'm sure many expected the Packers to be near the top of the first page, but they don't make an above par appearance until here. The 2011-2012 drafts netted them Randall Cobb and Mike Daniels, but not a lot else afterwards sans the freshly absent Casey Hayward. Over the past three years, Ted Thompson and company have lived up to their reputation, however. Despite uninspired results from Davante Adams and Datone Jones, Green Bay has gotten major contributions from the middle rounds in David Bakhtiari, Corey Linsley and Micah Hyde while Eddie Lacy and Ha-Ha Clinton Dix have produced on their investment.
The teams that appear above both trend lines are Carolina, Minnesota, Buffalo, Dallas, Tampa Bay, Arizona, San Diego and the Rams. Even squeezing the time frame down to the past three years, Carolina still maintains the top spot in terms of AV per pick while making the fewest total picks.
It's hard to say that a team that hasn't made the postseason since 1999 has been doing anything positive, but the Buffalo Bills have done well in drafting viable NFL players. Even with E.J. Manuel included, Sammy Watkins, Stephon Gilmore and Marcell Dareus were the other first-round picks made by Buffalo over the past five years and are arguably in the top tier of their respective positions. While Cordy Glenn, Preston Brown, Aaron Williams and Nigel Bradham aren't yearly Pro Bowlers, they have played noteworthy ancillary roles for the team.
Tampa Bay, Chicago and San Diego have also gotten solid return on a small amount of investments. The Tampa Bay Buccaneers ranked first in overall return from the 2015 class, getting contributions from Donovan Smith, Ali Marpet and Kwon Alexander to go along with the first overall pick Jameis Winston, just a year after selecting Mike Evans and Charles Sims.
The Jacksonville Jaguars and Oakland Raiders make the biggest jumps in terms of where they were on the trend line as both have added a substantial amount of core pieces over the past couple of drafts and both teams have accumulated an above average number of picks. Because they have done well in recent drafts and had a lot of cap space to spend this offseason, it puts both organizations potentially on the rise.
We know Oakland has done well at the top, adding Khalil Mack, Derek Carr and Amari Cooper as foundation pieces the past two years, but they also added Gabe Jackson and Justin Ellis as starters in the middle rounds and have gotten production out of late sixth round picks Latavius Murray and Mychal Rivera, which we're about to see is huge when weighing in that bottom rung investment.
The jury may still be out on Blake Bortles big picture, but it's hard to knock a second-year quarterback who just set all new franchise records from an objective draft pick stance. Add Allen Robinson and Telvin Smith as big hits to pedestrian returns from Luke Joeckel and Johnathan Cyprien and solid rookie years from T.J. Yeldon and A.J. Cann and it's easy to see why Jacksonville is trending in the right direction.
The Minnesota Vikings are in a similar bucket as a team that has drafted well short term and their results have already paid off in terms of making the postseason. The Vikings have made the second most picks (29) over the past three seasons and they've made the most picks in the first round over the past four years (8) with the only miss being Cordarrelle Patterson, who still gave them above par rookie production and is a special teams contributor. Outside of the first round, they've added Eric Kendricks while getting good rookie production this past season from two later picks in Stefon Diggs and T.J. Clemmings.
Ryan Grigson takes a lot of heat and much is warranted. Since landing Andrew Luck in 2012, the Indianapolis Colts haven't gotten much to speak of from their past three drafts. The Colts have only made three total picks in the first two rounds since 2012, and 2013 first-round pick Bjoern Werner has already been released from the club. Jack Mewhort, Hugh Thornton and Donte Moncrief are starters, but outside of them the only noticeable contributor they've been able to land so far is nose tackle David Parry.
There's a reason the Cleveland Browns are scorching the earth and going with a completely different regime and approach and it's because they've been a disaster. While it's too early to make calls on Danny Shelton and Cameron Erving, the Browns have gotten nothing out of 2014 first rounders Johnny Manziel and Justin Gilbert while getting subpar play from Barkevious Mingo, their 2013 first rounder. Their two best picks recently have been Joel Bitonio and Christian Kirksey, and they've been another team that has just been buried by failing to get anything from players they've selected in the fourth round or later. Out of 11 picks from that stage of the draft over the past three seasons, only Pierre Desir and Armonty Bryant have given them any tangible snaps.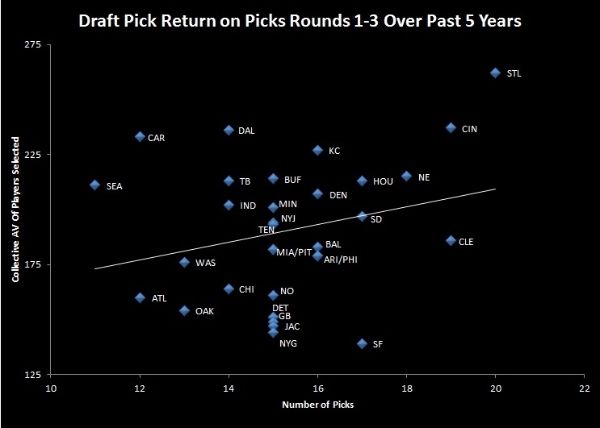 Cutting up the draft into who has done better in the early and late portions gives us a look at who is getting the most out of their draft capital. Looking above the trend line on return, there's a moderately high correlation here to 2015 playoff teams as eight of the 12 teams that made the postseason a year ago are in the top section.
I didn't mention the Los Angeles Rams in the later portion because I wanted to touch on them here. Its cliché to bag on the Rams for being perpetually stuck on being average with Jeff Fisher, but they've really done well from acquiring so many early-round draft picks, most notably from the Robert Griffin III trade.
That's what makes their current trade so peculiar, because they were able to build their current foundation from that Griffin deal and are now repeating what Washington unsuccessfully attempted to do. But while the Rams benefited from having so many picks in the elite portion of the draft that netted them strong players, they've still struggled mightily to add offensive talent through the draft. 
The Rams were able to milk having all of those picks by landing Robert Quinn, Aaron Donald, Michael Brockers, Alec Ogletree, T.J. McDonald and Trumaine Johnson as their central point of strength on defense, but only came away with Todd Gurley and Tavon Austin as tangible skill players on offense while selecting four wide receivers and three running backs with those high capital picks.
Whether or not you agree with the Dallas Cowboys taking three offensive linemen in the first round over a four-year stretch, you can't argue with the level of play that Tyron Smith, Zack Martin and Travis Frederick have provided as they've tallied eight first and second team All-Pro honors collectively. The Cowboys also received four productive seasons out of third-rounder DeMarco Murray before allowing him to walk away, but out of their 14 picks over the first three rounds since 2011, they've selected only Murray, Terrance Williams and Gavin Escobar at the offensive skill spots while taking Randy Gregory, Demarcus Lawrence and Tyrone Crawford on the defensive front.
Once again, we see what has played a major role in the quick deterioration of the San Francisco 49ers' roster and why they have universal holes to fill. This chart includes the hits of Aldon Smith and Colin Kaepernick as well. San Francisco has made 17 picks in this portion of the draft over the past five years with Kaepernick, Carlos Hyde, LaMichael James, Vance McDonald, A.J. Jenkins, Marcus Martin and Brandon Thomas as their offensive selections. That would be fine if they've revamped the defense, but Eric Reid is the only dart they've truly landed. Arik Armstead was a plus player as a rookie this past season, but played just 384 total snaps, which ranked 40th of all 3-4 defensive ends per Pro Football Focus.
The Atlanta Falcons mortgaged many first-round picks when climbing up to get Julio Jones, and although Jones has been the second best wide receiver in terms of AV per game (.83) behind Odell Beckham (.85) from the past five draft classes, the lack of early-round pick volume has hurt the Falcons as they've made the second fewest picks in the top three rounds over that timeframe.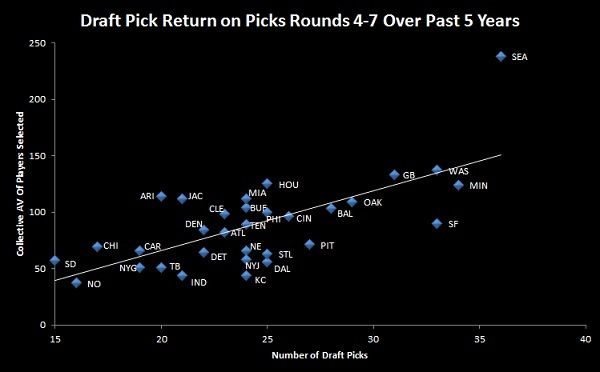 You can easily spot the drastic change in player quality once the draft hits the back portion and the league is far more bunched up in terms of overall results in the later rounds.  The average pick over the first three rounds has been worth .31 AV per game as opposed to .12 per game for fourth round and lower players over the past five years. Only 14 of 784 total players (1.8 percent) selected from the fourth round on have averaged over .50 AV per game since 2011 as opposed to 17.6 percent (86 of 488) of the players taken in the first three rounds. It's not to say your team won't draft any good players this coming Saturday and Sunday, but the return on those picks is dramatically decreased.
There's overlap here at the top as this chart almost mirrors where Seattle was on the opening one. Nobody throws more late-round darts at the board than the Seattle Seahawks and when they hit on Sherman, Wright (the top two players in cumulative AV from the fourth round and beyond overall), Malcolm Smith, Byron Maxwell all in one draft it makes that draft appear to be as much as an outlier as you'd assume compared to the average return from this part of the draft, even for the Seahawks themselves. Outside of that 2011 class, J.R. Sweezy was the only notable contributor they plucked from that area with their 29 picks since, with players like Robert Turbin and Luke Willson playing minor roles.
Interestingly, the Miami Dolphins have done a good job of identifying late and cheap talent, but they've let it all leave their house recently. Lamar Miller, Rishard Matthews, Jimmy Wilson and Charles Clay were all picks in the back half of the draft that left via free agency while Jelani Jenkins was as well and is still with the team.
The Arizona Cardinals have done well to find players to help them in this section of the draft, selecting Bobby Massie, Alex Okafor, Andre Ellington, Justin Bethel and Sam Acho.
While it's definitely much harder to land consistent contributors, let alone a difference maker in this part of the draft, some teams have just been really poor at landing any guys that can play at all.
The New Orleans Saints have only had Kenny Stills and Corey White play extensively for them out of 16 draft picks in this range and neither is with the team. The Kansas City Chiefs landed Zach Fulton and Laurent Duvernay-Tardif, but otherwise they have made 24 picks here with the next highest contributor being De'Anthony Thomas.
The Dallas Cowboys have done well at the top with their picks, but outside of Anthony Hitchens, their best claim to making a good pick after the third round is Dwayne Harris and they've actually gotten zero return to date on 14 of their 25 picks here.
Even looking back at recent NFL drafts offers no true clairvoyance for how this weekend will play out based on organization, but teams like Minnesota, Carolina, Arizona, Tampa Bay and the Rams have held the most consistent approach over the past five seasons in getting immediate results from their picks.  While many of the most successful drafting teams have adopted a buckshot approach in securing as many draft picks as they possibly can, there are also examples of teams applying the same and coming up on the short end of overall and individual player return. If anything in regards to volume, there's more correlation to successful franchises that acquire more premium picks (rounds 1-3) than just overall arrows in their quiver. That's no true revelation by any means, but the teams with the most picks in the opening three rounds this season are Tennessee with six (all within the top 76 picks), followed by Denver, New England, Cleveland and Seattle with four each while the Eagles only have two such picks and the Rams just one.