Regular season fantasy basketball is over, but you guys can still get in on some postseason action. I wrote up some rankings for points leagues earlier today, so bang it here to check those out.  We did this draft on FanTrax, so hop on over here and check it out for yourself. Here is the scoring format for this draft:
Point - 1 point
Rebounds - 2 points
Assists - 2.5 points
Threes - 3 points
Steals - 5 points
Blocks - 6 points
Free throws made - 1 point
Turnovers - -3 points
Editor's Note: Play one-day fantasy basketball during the NBA playoffs! Rotoworld's partner FanDuel is hosting a $100,000 league for Saturday's NBA games. It's just $2 to join and first place wins $8,000. Starts Saturday at 12:30pm ET. Enter now!
There are no bench spots, so all your guys matter. You can check out some more detailed thoughts on strategy in the rankings column, but basically it's all about getting the most games. Here we go (also if you're reading this on Yahoo!, it will probably look a lot better on the Rotoworld page here).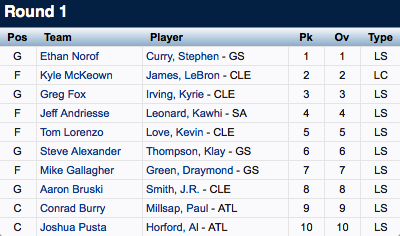 Round Recap: Considering how the format favors 3-pointers, Curry is the right pick for me. Of course, LeBron is a monster and the Cavs have the best odds to make it to the NBA Finals. It was a little surprising to see Kawhi Leonard go at four, but that's where I had him ranked, as well. If the Spurs can make a run, he's going to be a fantasy stud, and coach Gregg Popovich will play him more too. Of the first eight picks, seven of the players came from the Cavs or Warriors.
Favorite Pick: Draymond Green (too hard to choose, so I'll take my own for the first and last time in this article)
Least Favorite Pick: J.R. Smith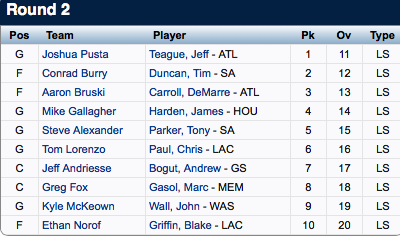 Round Recap: After that Cavs-Warriors run, it was a Hawks fest with four Hawks going from 9-13. The Hawks should be able to get past the Nets, but they might have some trouble with the Wizards or Raptors in the second round (I have the Wizards beating the Raptors). I was really happy to land James Harden and will be hoping the Rockets can win two long seven-game rounds. The two Spurs, Tony Parker and Tim Duncan, were right on time. I also liked John Wall, Marc Gasol and Andrew Bogut going where they did.
Favorite Pick: Tim Duncan
Least Favorite Pick: DeMarre Carroll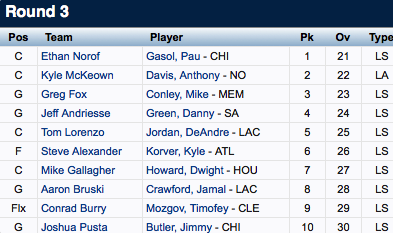 Round Recap: If the Bulls can somehow upset the Cavs, Pau and Jimmy Buckets will be massive steals. It's certainly possible despite how the Cavs are plying good ball. I was a little surprised to see Anthony Davis go so high because he may only see four games. Of course, if that series goes six, he could be worth it because he's going to play 40-43 minutes. The DeAndre pick is solid, but the matchup for the Clippers is extremely tough. He'll also get a ton of foul shots and won't be punished for misses in this format. If Conley starts off healthy, he could wind up getting 12 games or so.  Steve Alexander had to get in on his Hawks run, so he went with Korver, which is fine with all the points for 3-pointers. The same goes for Danny Green.  I went with Dwight Howard partially because I have Harden, but this is a really good format for him.
Favorite Pick: Jimmy Butler
Least Favorite Pick: Anthony Davis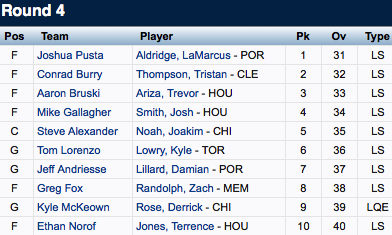 Round Recap: It's all strategy from here on out. Several owners went on the double-dip round. I went with Josh Smith (wanted Ariza) to pair with Dwight and Harden. I liked Greg Fox's pick with Z-Bo and that's paired with Conley, so he must have been really happy with that pick. There was a nice run on point guards to end the round with Kyle Lowry, Damian Lillard and Derrick Rose. If the Raptors and Blazers can advance, those picks will kill their value. The same goes for LaMarcus Aldridge. I'm all about stacking, but I thought Tristan Thompson was a little early.
Favorite Pick:Trevor Ariza
Least Favorite Pick: Tristan Thompson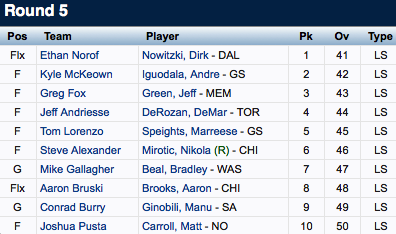 Round Recap: Ethan is going to need the Mavs-Rockets series to go seven with some of each on his team, which certainly could happen. Jeff Green could be a nice pick and the same with DeMar DeRozan. The Warriors are likely going to run a 8-9 man rotation (Lee, Speights, Barbosa and Iggy), so Speights is a solid pick there because the Warriors should get a ton of games. Plus, David Lee isn't healthy. Doctor A (Steve) stacked some Bulls and it's going to be very interesting to see what coach Tom Thibodeau does. He said he'll have a nine-man rotation with Tony Snell and Kirk Hinrich splitting the ninth spot. Aaron Brooks is nice and he could gain some value if something happens to Rose. I thought Manu Ginobili was a terrific value and surprised so many others with TD, Parker and Kawhi didn't pair him up. All these picks were pretty solid except for Matt Carroll, which was obviously a mistake. I needed some Eastern Conference guys, so I went with Bradley Beal -- I like the Wizards to make some noise.
Favorite Pick: Manu Ginobili
Least Favorite Pick: Matt Carroll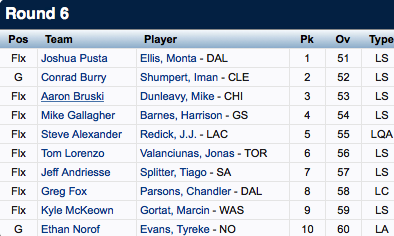 Round Recap: Lots of players on teams likely go bow out in the first round were taken here. Conrad kept his crazy Cavs stack going and he must be hoping Shump plays a lot in garbage time. Tom stacked up his Raptors and Bruski is stacking up some Bulls. I think the Warriors will win the West and was happy to land Barnes to pair with Draymond. Splitter could be a steal as long as he's healthy. Of course, that calf injury has been a problem all season.
Favorite Pick: Marcin Gortat
Least Favorite Pick: Iman Shumpert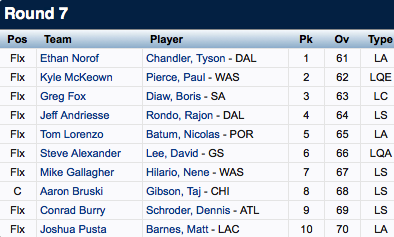 Round Recap: Compared to where Dirk went, Tyson Chandler was a steal. Plus, Ethan was the one who grabbed Dirk, so the stack was really nice. Kyle also went on a double-dip with Wizards, which I loved -- I went Nene. Bruski continued his Bulls run with Taj Gibson. While David Lee wasn't in the rotation quite a bit, he should be in there for the Warriors (this pick was made before Lee was ruled out for Game 1). If the Blazers get past Memphis, there are going to be so many steals. I also really liked the Diaw pick.
Favorite Pick: Taj Gibson
Least Favorite Pick: Matt Barnes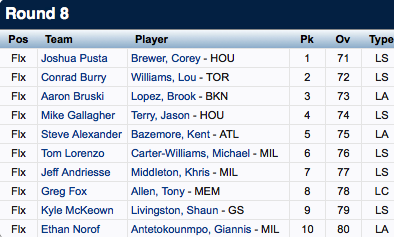 Round Recap: Lou Williams could be a huge steal and it all comes down to the Raptors beating the Wizards. We also finally saw some Bucks go with three in this round. As far as I can tell, Livingston isn't expected to be in the playoff rotation, but he could eat in garbage time. There were so many injured guys, so Allen could really be a great pick if he's close to 100 percent. I kept my Rockets stack going. If they make it to the Western Conference Finals and need 12-14 games to get there, I'm looking good.
Favorite Pick: Lou Williams
Least Favorite Pick: The Bucks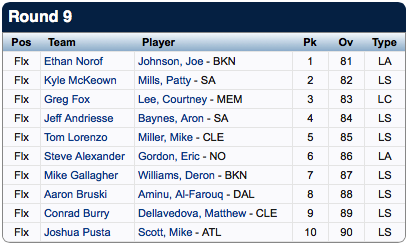 Round Recap: Necessary Evil! Baynes was taken and I really liked that pick from Jeff. Most owners paired up their last-round guys on good teams while Joe Johnson, Al-Farouq Aminu, Eric Gordon and Deron Williams also went. If those guys play seven games, it's all good.
Favorite Pick: Aron Baynes
Least Favorite Pick: Deron Williams (I'll pick my own to offset the start)