There were two seven-game series in the first round and those two winners will face off against each other. Both the Heat and Raptors had some peaks and valleys in their wins with consistency at a premium.
These teams faced off four times in the regular season with the Raptors winning three of them — they've also won the last three games, too. Chris Bosh (blood clot) played in three of those games with Dwyane Wade also out for that 112-104 loss on Mar. 12. For the Raptors, DeMarre Carroll did not play in any of those four. Of course, the Raptors are not exactly going in with a lot of momentum due to their stars struggling. In other words, the regular season sample size doesn't hold much weight.
Before we get to the matchup-based stuff, we have to talk about how terrible DeMar DeRozan and Kyle Lowry were in the first round. Let's start with Lowry.
The 2015-16 All-Star made just 31.6 percent from the field. Here's what his shot chart looked like: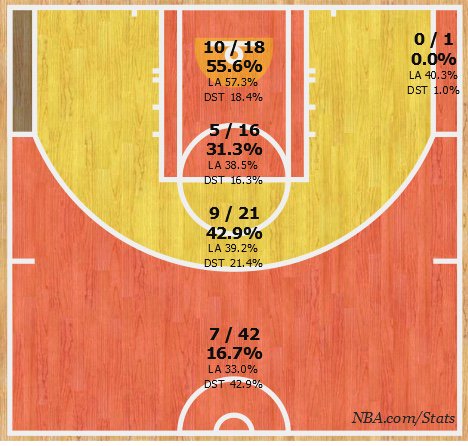 Not good. What really pulled him down was his catch-and-shoot attempts. Lowry made just 4-of-22 on those with 21 of them coming from behind the 3-point line. Lowry admitted he was taking too many shots off balance and that he's not concerned with his elbow. Basically, the key will be for him to start hitting treys again.
As bad as those shooting numbers are, he's getting open looks. Of his 67 shots from beyond 10 feet, he's only had a defender within four feet of him on 19 of them (28.3 percent). In other words, it's not a matter of shot selection, it's more about him just getting on balance.
Lowry did say he's ready for a fresh start before Game 7. "I'm shooting 0 percent right now. I've got a clear, empty clip," Lowry said. As bad as he was shooting the ball, Lowry still was good basically everywhere else, so expect him to rebound nicely even though he didn't put up good numbers against them. In those four games, Lowry averaged 16.8 points, 5.0 boards, 5.0 assists, 2.3 steals and 1.8 treys on 33.9 percent from the field.
While DeMar DeRozan's field goal percentage was slightly better than Lowry's at 31.9 percent, his true shooting was worse at a woeful 40.3. Plus, DeRozan had a team-high 30.2 usage rate in 36.2 minutes per game. How bad is that? Well, DeRozan is the first player to play in at least three playoff games to put up a usage rate greater than 30 with at least 35 minutes per game and fail to hit 43 true shooting percentage. His shot chart is a disaster: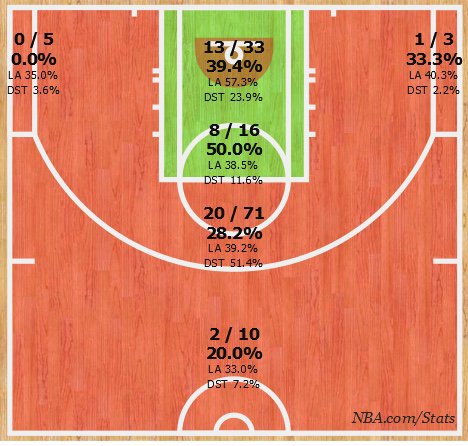 He was terrible at the rim and he took way too many jumpers. Unlike Lowry, DeMar had tight defense on him for 53.7 percent of his shots beyond 10 feet. That's just way too much. Simply put, he needs to improve on his shot selection. Also unlike Lowry, DeRozan fared well against the Heat. In the four regular season games, DeRozan averaged 29.3 points, 5.3 boards, 4.5 assists, 1.3 steals and 1.0 treys on 48.8 percent from the field. He should obviously be better in this round.
Let's just go through the other players quickly before we get to the lineups. Lowry said Jonas Valanciunas might be taking a few more jump shots in this series.  He will have a tough matchup against Hassan Whiteside, obviously. DeMarre Carroll and Norman Powell should get plenty of run against a smaller group with Luol Deng at the four. Plus, they used smaller lineups more in the last three games against the Pacers.
Things are a little different this time around, as well. Perhaps the funniest stat here is that Norman Powell played just five total minutes against the Heat during the regular season. Anthony Bennett played nine minutes this year against them. While the Raptors did go 3-1, their two most-used lineups were actually negative in net rating. Those were bigger lineups, so that's even more evidence the Raptors will want to go small. DFS owners won't want to be looking at Patrick Patterson.
Moving to the Heat side, their rotation should be a little tighter than Toronto. Their starters were used for 95 minutes together in the first round, which was the third most-used lineup in the first round. Plus, their lineup with Josh Richardson in and Goran Dragic out was one of the best lineups in the postseason with a 59.7 net rating in 25 minutes per game — no lineup with more than 15 minutes was better.
Basically, the Heat rotation should look very similar in this round. They'll likely try to attack the paint just like they did against the Hornets. Wade played 31.1 minutes per game in the first round, but keep in mind garbage time was a factor. He should be able to get to 33 per game with basically a 20-6-6 kind of line with some defensive stats, as well. He'll be a strong DFS play.
Luol Deng basically had a dream matchup against Marvin Williams and Frank Kaminsky. It won't be as favorable in this series, but Deng did hang a nice 20-point game in the Bosh-less outing during the regular season.
Hassan Whiteside should be very active and get even more playing time. He was in some foul trouble and did have garbage time cut his run down in the first round, averaging 29.1 minutes per game with 13.1 points, 11.4 boards, 3.4 blocks and 0.4 steals.
While Richardson's net rating stats look great, his stat output wasn't there. He's going to be more of a reality factor and not much in fantasy. Goran Dragic gets a bad matchup against Kyle Lowry, so it won't be easy to trust him in DFS either.
For more specific DFS stuff on this matchup, check out today's podcast with Ryan Knaus!