You would think after Karl-Anthony Towns went off for a unanimous Rookie of the Year win, we would probably max out on rookie impact in the NBA. Sure, nobody is as good as KAT in the NBA these days and we probably won't see a season like his 2015-16 ever again, but there's no denying the NBA has a slew of rookies making a difference. 
Despite a subpar rookie class, the amount of rookies making an impact in fantasy is kind of crazy. So much so that the we probably have to think about how we're going to attack this issue next year in fantasy. If you're in a season-long league, you probably have at least one rookie you're rolling with in your fantasy playoffs. If not, better luck next year.
What may even be crazier than the rookie impact is where it's is coming from. While 2016 No. 2 pick Brandon Ingram leads the rookies in minutes per game, he's the only 2016 lottery pick in the top seven for that department. In other words, it's more about the opportunity than the "talent" coming in based on where a player is drafted. Hey, Nikola Jokic was a second-round pick from 2014.
One fantasy takeaway from this is you have to show love to the rookies. When a guy goes off on a bad team, you have to take notice and probably pick him up. Sure, there are some instances where this doesn't work out, but that's because the Nets are playing the very, very long game with Caris LeVert. I mean, they're going to have 20 different starting lineups when they're not trying to set the record like Alvin Gentry did with his 40-plus starting combos last year.
This week, I wanted to take another quick look at two guys who are going to smash the rest of the way. This time of year, we always hear the college hoops guys say "you didn't see Player X in college" or whatever. Well, it cuts both ways. These college heads have never seen Dario Saric play ball. Poor guys.
Editor's Note: Golf is coming soon to FanDuel! And they've created the Tee Off Classic to celebrate, offering you an opportunity to win a VIP trip for 3 to play a round of golf with Jerome Bettis! Play now.
Let's start with everyone's favorite point guard. Oh not you? Well, Tyler Ulis has been amazing to watch since last month and he's doing it with his unique style. In March, he's averaged 12.1 points, 2.2 boards, 7.2 assists, 1.4 steals and 1.6 turnovers on 42.9 percent from the field and 81.0 percent from the free throw line. In his last three games, only his teammate, T.J. Warren, has played more minutes per game in the NBA — Gary Harris is surprisingly third on this list.
After Sunday's loss in Detroit, Ulis talked about how teams are defending him differently. He said teams are taking away the pocket pass and forcing him to score more. He added this isn't the first time he's had to score, and also he's done a fine job in doing so lately. Here's what his shot chart looks like for March: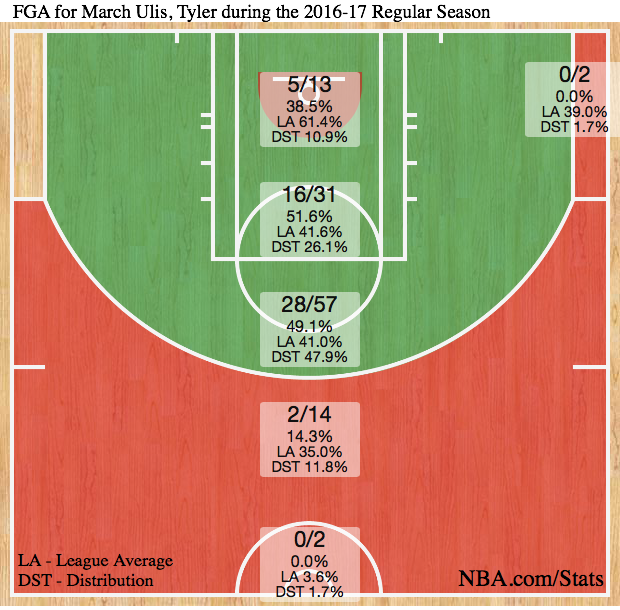 This shot chart would probably turn Daryl Morey into an Arthur closed-fist meme, but that's Ulis' game. He doesn't have the size to get all the way to the basket and score over guys, but he loves to just find the soft spot and lay it up when the rim protector is trying to figure out where he should be. This is a great example: 
Ulis is getting really good at this. Finding the right soft spot in the paint when a lot of bodies are around him. pic.twitter.com/IPxJv8ZczH

— Michael Gallagher (@MikeSGallagher) March 13, 2017
OK, so we know Ulis is going to crush this season, but where does he fit in going forward? The Suns were trying to identify if Ulis is better with an on-ball guy like Brandon Knight or an off-ball guy like Leandro Barbosa. Well, we certainly found out that he is better as a ball-dominating guy.
The Suns are going to be in a pickle for next year. They reportedly don't want to contend until 2020 and are not planning to sign veterans until then. Does that mean the Suns trade Eric Bledsoe? If so, the Suns are likely to give Ulis big minutes and perhaps would even go with him over their 2017 draft pick — the 2017 class is very PG heavy up top.
Ulis is shaping up to be a solid player in dynasty leagues for fantasy, especially with how much coach Earl Watson loves him.
Let's go to Homie Depot really fast. He's the man and is going to be on a lot of league-winning rosters. Since the trade deadline, he's averaged 19.5 points, 7.9 boards, 4.2 assists, 0.9 steals, 0.5 blocks and 1.5 treys on 46.2 percent from the field.  Here's his shot chart since the trade deadline: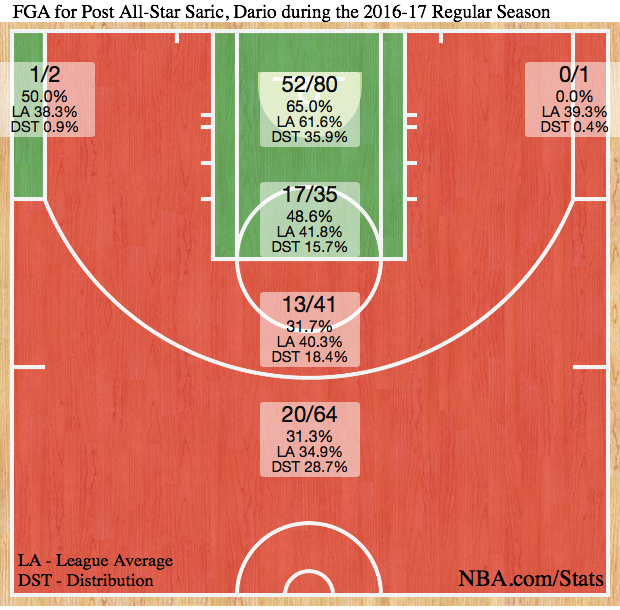 Another guy who just needs to get into the paint. Dario does settle for too many jumpers and he's been counting on that more often these days. Of course, he's still very efficient and has quickly been the go-to guy late. Interestingly, Saric has been straight cash Homie (GET IT????) at home in the fourth, turning a 68.8 true shooting percentage in those seven fourth quarters since the break.
So where does The Homie fit in next year? Obviously he's not going to be involved nearly as much with his 27.0 usage rate since the break. Ben Simmons is going to demand the ball and we've already seen Dario's usage rate take a big hit next to The Process, Joel Embiid. Still, coach Brett Brown will find a way to get Dario the rock and his style of play just doesn't look like a rookie at all. If we're factoring in Simmons and Embiid, Dario is still probably only a mid-round pick in fantasy. The 76ers are legitimately trying Simmons as a one, so they may roll out a starting five of Simmons, Timothe Luwawu-Cabarrot, Robert Covington, Dario and The Process. Plus, they'll have their pick and possibly the Lakers' pick if it falls out of the top three. Sam Hinkie tha gawd!
OK, so as fantasy owners recognizing the have-not teams is essential to finding the gems. The more committed to youth a team is, the more gems we can find. In case you missed it, Ryan Knaus (Knaus_RW) and I talked about this on the pod from Monday. Check that out! 
Good luck in the fantasy playoffs!