It didn't take long for the Kawhi Leonard MVP talk to heat up. The Thunder getting blown out on Sunday to put them on a three-game losing streak seems to have cooled off most of the Russell Westbrook MVP support. Plus, the Spurs are absolutely on fire and pulled off a big win against the Rockets on Monday. Kawhi had his fingerprints all over it with 39 points and one of the most MVP-caliber 24 seconds to close this game. Words cannot describe how awesome it was, so if you missed it, just click here. Hey, you might as well just check out the entire Kawhilights from last night while you're at it.
Unless you put a lot of weight into triple-doubles, it's hard to make a case for Westbrook. As we all know, the volume of possessions he gets is like nothing we've ever seen, or even close to it. No player has ever hit a 39 usage rate in a season and Westbrook is at an absurd 42.1 to shatter Kobe Bryant's previous record of 38.7 usage rate from 2005-06. By the way, the only other players to even hit a 37 usage rate in a season are Michael Jordan and Allen Iverson — DeMarcus Cousins is at 36.9 this season, but he'll likely trend down on the Pelicans.
Yeah, Westy is leading the NBA in scoring at 31.7 points per game, but just think about possessions he has to use. If you factor in Westbrook's 44 and-one free throws this year, he's using 34.7 possessions per game! Almost 35!! So to take true shooting percentage a step further, he's scoring 0.91 points per possession used per game. That's not very good. In case you were wondering, Westbrook has 2.9 bad-pass turnovers per game (via NBA Miner), so that's still 32 possessions if you take those out.
Enter Kawhi Leonard. Since he returned from a one-game absence due to a quad injury, the Spurs have gone 10-1 and Kawhi may have turned in one of the best stretches of any player in a double-digit span this year. In his last 11 games, he averaged 30.5 points, 6.5 boards, 3.9 assists, 2.4 steals, 0.4 blocks, 2.0 treys and just 1.9 turnovers on a 61.0 true shooting percentage in his 35.0 minutes per game.
That is just a crazy difference in efficiency. Factoring Kawhi's 0.6 and-one attempts per game to this shortened sample, Kawhi is using 27 possessions per game in his last 11 games. That means he's scoring 1.13 points per possession used, which is a whopping 24 percent better than Westbrook's usage of possessions. 
You would think that someone with that kind of efficiency on using their possessions would have a killer shot chart or something. That's actually not really the case for Kawhi in those 11 games: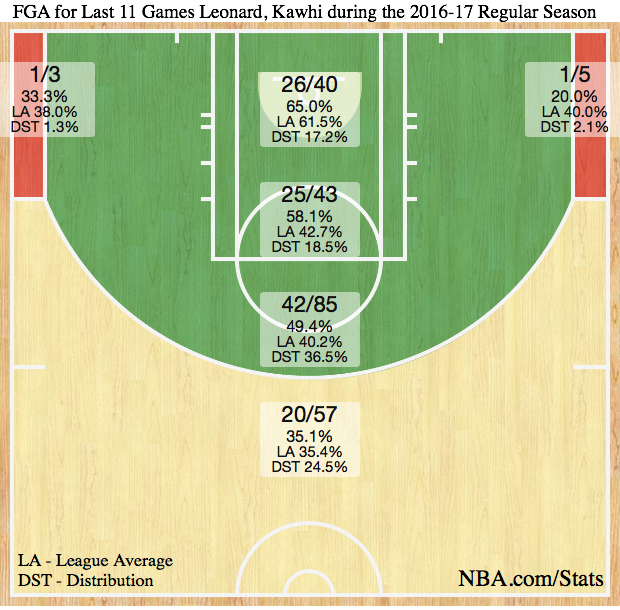 Compared to his season averages, he's basically on par at the rim, he's 1.7 percent better on his mid-range shooting, and he's actually 6.0 percent worse on his 3-point shooting. In other words, he's not even at peak efficiency and this hot stretch is 0.6 TS% below his previous season average.
The main reason why he's been so incredible with his used possessions is the low turnovers. In the history of the NBA, no scoring qualifier has ever turned in a 31 usage rate with 1.9 turnovers or fewer. He's doing that in 35 minutes, and his usage rate would be closer to 40 in that span had he turned the ball over like Westbrook.
Editor's Note: Golf is coming soon to FanDuel! And they've created the Tee Off Classic to celebrate, offering you an opportunity to win a VIP trip for 3 to play a round of golf with Jerome Bettis! Play now.
As anyone who plays nine-cat fantasy hoops knows, Kawhi just crushes because he's so on low turnovers. Leonard is tied for 58th in turnovers per game this year, but he is seventh in points per game. Yeah, assists are obviously a factor on that, but Kawhi is still at a very respectable 3.4 per game. By the way, Kawhi's bad-pass turnovers are at just 0.7 per game and he's only at 0.5 lost-ball turnovers compared to Westbrook's 0.8 -- Harden is at 1.2. Turnovers aren't exactly the most important stat, but something has to be said about how incredible Kawhi is at keeping those down.
One other impressive aspect of Kawhi's offensive game lately is that everyone knows it's coming. Here's a look at his how he performs on contested shots. 

He's not wide open very often at all and he's facing tight defense 53.6 percent of the time in this span. That's not exactly DeMar DeRozan's 74.2 tight defense percentage, but it's right at LeBron James' 52.8 tight defense percentage. LeBron is also at 61.5 TS%, so there are a lot of similarities as a scorer there — yes, LeBron is the best passer maybe ever (Nikola Jokic SOON!).
Kawhi may still be slightly behind James Harden for MVP, but his recent play has his on track to pass him within this next month. This is pretty much the case for Dario Saric for Rookie of the Year, too.
For fantasy on Kawhi, we really don't need to analyze much here. He's a beast and will be a top-five player for a long time. For DFS, you just fire him up basically every day when the Spurs aren't favored too heavily. The Spurs are in OKC on Thursday and Golden State comes to San Antonio on Saturday. If Kawhi goes off in those two national games, Kawhi for MVP will probably be a mainstream thought.
One other quick thing: I just wrote about Kawhi as an MVP and didn't even mention his defense until just now. He's just not fair.
Micro Machine
Tyler Ulis is the man right now. After a week of the Suns dropping hints, they finally unleashed him last week.
Before last week, both the front office and coach Earl Watson have said he will be their third guard. They were unsure if it was going to be Leandro Barbosa or Brandon Knight logging minutes next to him because the team wasn't sure if they wanted another on-ball guy like Knight or a guy who's off the ball like Barbosa. Well, now we know with Brandon Knight not playing at all and Ulis absolutely going off in limited minutes.
In his four games last week, Ulis averaged 12.8 points, 1.8 boards, 6.8 dimes, 1.8 steals, 1.3 turnovers and 0.5 treys on 58.8 percent from the field and 100 percent from the line — a 67.2 true shooting percentage. For a 5'10" guy, his shot chart is hilarious.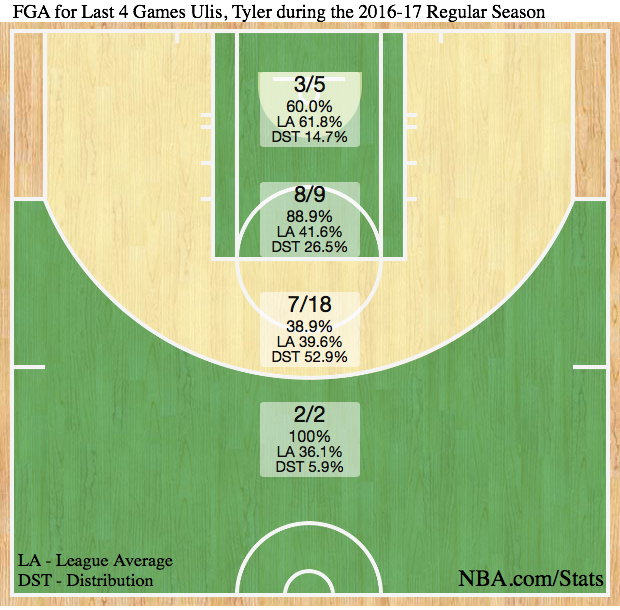 Going hard in the paint! Ulis also posted a 19.7 usage rate on his 106.4 pace, so he's getting some solid usage — also keeping his turnovers down like Kawhi. Ulis' big shot to win it was obviously the headline, but he was making shots all week long. This is one of my favorites when the righty switched to his left for the and-one bucket:
Tyler Ulis lefty!!!!!!!!!!!!! And 1!!!!!! (He's a righty) pic.twitter.com/WvQ1dI0OXu

— Michael Gallagher (@MikeSGallagher) March 5, 2017
Perhaps one of the best things about Ulis is just how he's making everyone better. After the game, Marquese Chriss said he loves to play with Ulis on the Suns broadcast. As it turns out, you better believe he does based on his on/off splits with Ulis this season (stats are Chriss' per game):

Yeah, a 15.7 TS% bump will definitely work when he's next to Ulis. Chriss has taken 20 shots this season off Ulis passes, turning in a very impressive 67.5 effective field goal percentage on those. That's almost 20 percent better than his 48.7 eFG% on other shots this year. With how much the Suns want to develop Chriss, you would think the Suns try to put those two on the court together more. By the way, Chriss has looked really good lately and probably had his best game on the season during the Sunday win. Ulis just overshadowed him.
The Suns second unit has been terrific since the break. The Ulis, Alan Williams, Derrick Jones Jr., Leandro Barbosa and Jared Dudley actually turned in a 10.3 net rating in their 59 minutes together since the break. That's really good and it's been even better in the three-game win streak, posting a 27.2 net rating in 33 minutes. New death lineup? By the way, the starters were only -15.7 in net rating during their three-game winning streak.
Second unit minutes are nice, but if Ulis is really going to be an impact guy on the stat sheet, he needs some first-unit run. Yeah, that Chriss run is huge and that tandem does have a +15.3 net rating in their last three games, but Ulis will really need to see some run next to the starting guards.
On Sunday, Watson went super small with Ulis, Eric Bledsoe and Devin Booker for a whopping 10 minutes together. Before Sunday, that combo was used for a grand total of just 16 minutes on the entire season — hey, it's a +19.7 net rating in those 26 minutes, though! A big reason why Watson went with that group is because the Celtics went small, but it's not too farfetched to think they can continue to run it out there. Back in the preseason, the Suns really talked up Booker at the three and he is 6'6", so it's not a bad idea at all. Obviously the Suns won't trot him out there against LeBron, but they can probably get away with it in most matchups. Tonight against Otto Porter?
In the last three games, Ulis did also play 14 minutes next to Booker without Bledsoe and another 10 minutes next to Bledsoe and no Booker. So even if we're going off those numbers and don't even look at the trio going out together, Ulis could be looking at around eight minutes next to a first-unit guard. With Bledsoe's minutes being slightly dialed back, Ulis should be looking at all of the 17-21 minutes as the backup point guard. 
The bottom line is Ulis should be looking at 22-30 minutes per game. It does feel like it's going be higher than that based on how Watson ended his press conference on Sunday. "Tyler Ulis. No more questions. Thank you for coming," Watson said after the Ulis buzzer-beating win. 
We can probably just give Ulis the March Western Conference Rookie of the Month right now. I'm expecting big things the rest of the way and it could be even more if the Suns start resting Bledsoe.
By the way, we're looking for some nicknames for Ulis. Greg Esposito (@ESPO) came up with Micro Machine and I've also seen Juice Box out there. If you have any cool ones, hit me up @MikeSGallagher.