The following is a ranking of all the rookies for the rest of the 2013-14 season for standard leagues:
You can follow me on Twitter @MikeSGallagher for stats, analysis and lots of shot charts.
1. Michael Carter-Williams - There's not a lot of analysis needed here for the unanimous top rookie in fantasy. The 76ers run the fastest pace in the NBA and MCW is the team's floor general. He actually has a higher usage rate than Damian Lillard and Chris Paul this season and is a bit of an offensive weapon himself. Just for fun, let's take a look at his shot chart: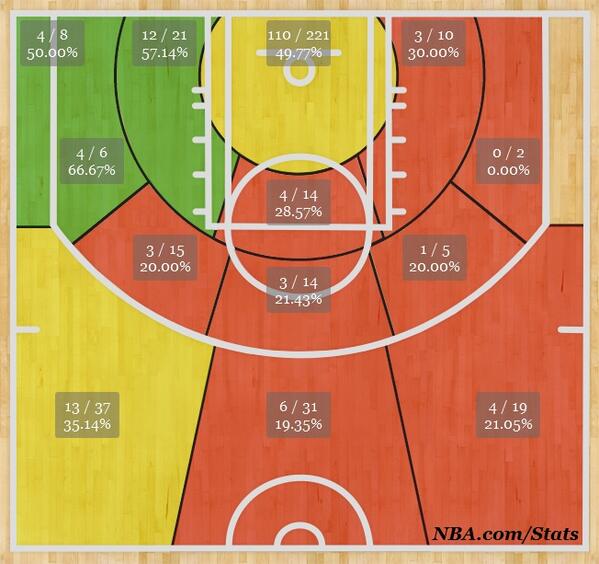 Yeah, he really can't go right, right? The rookie is shooting just 22.2 percent on the right third of the court. The good news is those shots are only 8.9 percent of his total field goal attempts. Still, he has a couple key aspects to suggest he can get it going and stay at a respectable FG%. The big one is shooting 49.7 percent within eight feet, especially when those shots account for 54.8 percent of his total.


MCW shooting 41.4 percent from the field is really the only knock on him. He leads all players in steals per game, ranks 12th in the NBA in assists per game and is second among all point guards in rebounds per game. He's a stud.
2. Giannis Antetokounmpo - After a bumpy ride last week, Antetokounmpo is back in the good graces of coach Larry Drew. The coach may have finally made up his mind about keeping Antetokounmpo at shooting guard. This is great news for several reasons.
 
His numbers at shooting guard are much better compared to small forward.  In his eight starts at shooting guard, Alphabet averaged 10.8 points, 6.6 boards, 2.8 assists, 1.4 blocks, 1.3 steals, 0.5 triples, 2.8 fouls and 2.4 fouls on 46.8 percent shooting. By comparison, his numbers at small forward are 4.0 points, 5.4 boards, 2.4 assists, 0.4 steals, 0.2 blocks, 0.2 triples and 3.2 fouls on 30.2 percent from the field.
 
So how good are those averages at shooting guard? Well, no other player in the NBA matches the averages at rebounds, triples, blocks, steals and shooting percentage. Paul Millsap, Rudy Gay and Josh Smith were the closest three players who take 3-pointers.
 
The Bucks still aren't running plays for him, but that's fine. In fact, 53 percent of his shot total comes either off transition or cuts (per Synergy), which explains his respectable shooting percentage. His jumper still needs a lot of work and he's making just 23.3 percent of his shots. He also has more dunks than jumpers, which is extremely rare for a shooting guard.
 
Like just about every rookie ever, he'll have his ups and downs in this season -- Damian Lillard notwithstanding. The Greek Freak should be owned in all leagues with his Nicolas Batum-like upside.
 
3. Trey Burke - He was starting to get it going with better shots, but not so much these days. Let's take a look at his shot chart over the last seven games: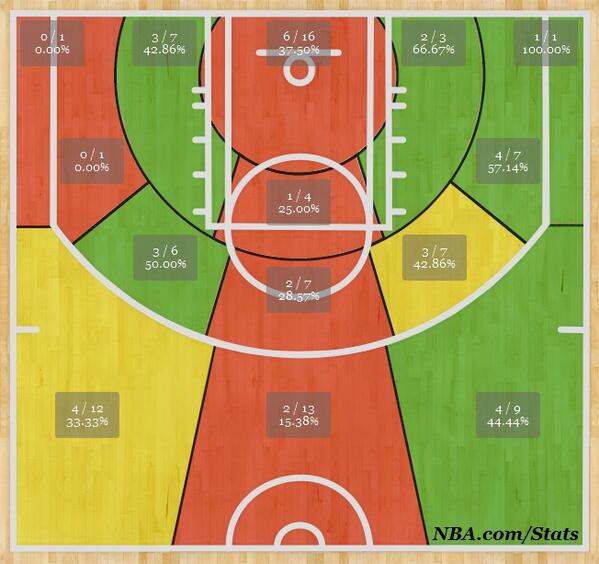 The toughest pill to swallow is his shooting from close range. Not only is he shooting just 37.5 percent from within eight feet, those shots only account for 17.0 percent of his shot total. A lot of people draw the comparison to Damian Lillard, but at least Dame can get to the rack and does so regularly. Although, Lillard is really struggling on his close-range shots. But I digress.


Shooting aside, Burke has improved in a lot of areas. His assists and steals are trending up along with his usage rate. He has two two-steal games over his last three, which matches his total in the first 24 games of the season.


The Jazz have been using him a lot in pick-and-roll and that's probably the best aspect of his game. He's shooting 45 percent on his PNRs, but the team has a score percentage of just 40 percent (Synergy).


Burke has to start attacking the basket more. While all 13 of his blocks against have come from within nine feet, that shouldn't be enough to discourage him. Besides, a 3.7 blocked percentage is pretty good. If you can buy low and can afford to take a hit in FG%, go for it.
 
4. Victor Oladipo - Win/loss splits are always fun. OK, not always. I bring that up because Oladipo is shooting 48 percent in wins and 38 percent in losses. That would be pretty sweet if he played for the Spurs or Pacers, but the Magic are one of the worst teams in the NBA.
 
On the whole, VO has a lot of issues in his offensive game. The most glaring issue is still on his jumper, making just 26.6 percent of those on the season. The good news is he's shooting 48.7 percent on his shots in the paint. His ISO game is way off and he really has nothing to hang his hat on.
 
On the other hand, the stats are definitely there for Oladipo. On the season, he has averages of 13.1 points, 4.2 boards, 3.5 assists, 1.4 steals, 0.7 blocks and 0.9 triples. He's also making 75.0 percent at the line.
 
5. Kentavious Caldwell-Pope - He's starting to come around and the Pistons need him to. They're at their best when they can get their big men the ball in the paint, so they'll need some floor spacers to get that done.
 
Brandon Jennings, Will Bynum and Rodney Stuckey do not have legitimate range as shooters, which certainly creates a niche for KCP. His 2014 is off to a fast start, shooting 53.7 percent from the field for 10.0 points, 1.6 steals and 1.2 triples in 28.6 minutes.  Plus, he ended 2013 on a high note with a career-high 17 points on Dec. 30.
 
The sample size isn't enough to say he's arrived or anything, but it's enough to pick him up in deeper leagues and hope for the best.
 
6. Pero Antic - It's never a good sign when a 31-year-old rookie starts with the injuries. Antic missed Sunday's game due to back spasms and it's unclear how much of a problem this could be. I tried to dig up some info on whether or not he had any sort of history on his back problems, but I came up empty.
 
Antic seems like he's going to be locked in as the starting center, but the improved play of Mike Scott could change their plans. Scott was actually the only player on the Hawks to have a positive plus-minus stat on Sunday in the loss to Memphis.
 
Before going down to injury, Antic was putting up some solid numbers. In his previous five games, he averaged 10.6 points, 4.8 boards and 2.4 triples. The production from deep will be his saving grace and the Hawks will continue to use him in that role. Coach Mike Budenholzer is from the Coach Pop School of Efficiency and Spacing (CPSEAS), meaning the stretch five will be in his plans. Fellow Pop disciple coach Brett Brown does the same thing with Spencer Hawes. His minutes will be capped at about 24, but the triples will keep him in the standard-league conversation.
 
7. Tony Snell - The departure of Luol Deng has opened the door for Tony Snell. While he wasn't much of a shooter at New Mexico, the Bulls have given him the green light. His shooting percentages are ugly pretty much everywhere, making 39.1 percent from the field and 31.8 percent from downtown.
 
Snell's offensive game has a very long way to go. He forced a lot of shots when I watched him play at Las Vegas Summer League and the Bulls really aren't even running plays for him outside of coming off screens. He's only been put in isolation 10 times on the season (per Synergy).
 
The Bulls brought in Cartier Martin on a 10-day deal and it would almost be a shock to see the Bulls not keep him. Martin played 26 minutes off the bench on Saturday, which was more than Snell's 17 as the starter in place of the injured Jimmy Butler. On Monday, Butler returned and Snell's minutes exceeded Martin's by a 16 to nine count.
 
Snell won't have a big upside because the offensive numbers won't be there outside of the treys, but he should be more effective in steals with a 0.4 per game average in just 18.4 minutes. The Bulls will likely use him more as their primary defender once they get more confidence on him.
 
8. Dewayne Dedmon - Dedmon bumped himself up 30 spots from when I started putting the rankings together to now. Fantasy value is basically where talent meets opportunity and Dedmon has the latter part of that formula.
 
The 76ers signed him to a 10-day deal and there's a good chance it might stick. They don't really have much depth and they're probably not too thrilled about playing Spencer Hawes 32.0 minutes per game -- he's played 79 minutes over his last two games. Hawes was at just 27.2 minutes per game last year, so we'll just split the difference and say he should be around 29.3, which would match his career high.
 
Dedmon is a very raw player. He actually just started playing organized basketball five years ago, but you wouldn't know it based on his D-League stats. In 15 games, he averaged 15.2 points, 13.5 boards, 2.3 blocks and 1.5 steals on 54.0 percent. Last shot chart, I promise: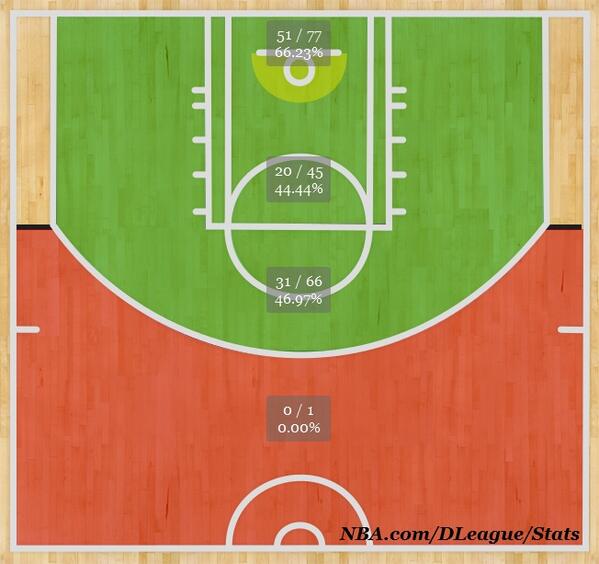 It's a good one. He shot 41.7 percent of his shots in the restricted area and his mid-range game was solid. Obviously, all of these numbers will be taking a nose dive in the big leagues. However, it's still a nice sign he seems to understand the importance of getting good shots.
 
9. C.J. McCollum - The Blazers have found their role for prized rookie C.J. McCollum. He's going to be the backup to Wesley Matthews at shooting guard, which isn't exactly the greatest opportunity. Wes has been one of the best shooting guards in the Western Conference and he ranks seventh in the NBA in effective field goal percentage. Matthews isn't going to be slowing down either.
 
C.J. is going to play almost exclusively next to Mo Williams. The rookie has played a total of 51 possessions on the season and 48 of those have been next to Mo. Terry Stotts runs some of the tightest rotations in the NBA and there's a good reason why. He's a great coach.
 
Anyway, McCollum has the upside of a volume scorer. He led Las Vegas Summer League in shots per game and was second in points per game. We just won't be seeing it for a while unless something happens to Damian Lillard or Wes Matthews -- two very durable players.
 
10. Ben McLemore - Those concerns about B-Mac not being able to score on his own are popping back up again. He's also shooting just 19.2 percent in 2014. No bueno.
 
11. Tim Hardaway Jr. - If J.R. Smith gets cut/suspended, THJ would pick up some value. That's probably not going to happen.
 
12. Mason Plumlee - If Kevin Garnett ever has to miss extended time, Ma$e Plumlee would be a decent pickup.
 
13. Cody Zeller - His minutes still aren't going anywhere.  The Bobcats need Josh McRoberts out there for spacing. Wait, did I just type that?
 
14. Steven Adams - From the random stat department, Funaki has caused four ejections this year. Here's a cool story from Anthony Slater of the Oklahoman about it. Also, there's another story about his sister winning a gold medal for shot put. Yeah. The O'Doyle family would want nothing to do with the Adams family.
 
15. Kelly Olynyk - He hasn't played in over 24 minutes in any game since Nov. 20. Kris Humphries beat him for minutes.
 
16. Miroslav Raduljica - Larry Sanders probably has a higher chance of being suspended than almost any other player. Slava is getting minutes in garbage time now, but that's it for the most part.
 
17. Toure Murry - He probably has passed Beno Udrih on the depth chart.
 
18. Nate Wolters - If Brandon Knight or Luke Ridnour need to miss time, Wolters is worth a look.
 
19. Alex Len - He can rebound and his low-post D isn't too bad, but he just doesn't have any agility at this level.
 
20. Archie Goodwin - Leandro Barbosa has passed him on the depth chart. The Suns will have to start losing games quickly for Archie to pick up steam again.
 
21. Matthew Dellavedova - He had a 41-minute game earlier this season, but he's not good enough to get too excited about his prospects.
 
22. Ryan Kelly - If Pau Gasol's toe injury becomes an issue, Kelly is back on the radar.
 
23. Otto Porter - He looks lost out there right now.
 
24. Hollis Thompson - He had his chance and squandered it.
 
25. Gal Mekel - The Israeli has a great sixth sense on finding guys. He's also a very creative passer.
 
26. Dennis Schroder - Another Summer League favorite. He's kind of a bull in a china shop.
  
27. Ricky Ledo - He has the same usage rate as LeBron James at 29.7 percent. Ledo was also one of my favorite players to watch at Las Vegas Summer League and he does have a very impressive skill set. He also leads the NBA in offensive efficiency rating (minimum= 10 games played and three minutes per game). Yes, the sample size is microscopic, but it's still kind of funny. If you're in a keeper league, there's a lot to like out of Ledo for his high ceiling. 
 
28. Shane Larkin - It was tough to see him suffer another ankle injury on Saturday. He's OK, though.
 
29. Vitor Faverani - Well, it was fun for the first week.
 
30. Anthony Bennett - He's horrible and might be the worst first overall pick with injuries taken out of the equation.
 
31. Ray McCallum - If the Pizza Guy misses time, Ray would be a very interesting pickup. He was a fun watch at summer league for his play-making skills.
 
32. Robbie Hummel - He is even less likely to get minutes with Chase Budinger back in action.
 
33. Dwight Buycks - He's down in the D-League, but could come back up should the Raptors choose to go down the tank path.
 
34. Luigi Datome - As mentioned in the KCP section, the Pistons need a shooter. Datome might as well be called Atome with his lack of D, though.
 
35. Rudy Gobert 
36. Nick Calathes 
37. Ognjen Kuzmic
38. Reggie Bullock
39. Shabazz Muhammad 
40. Nemanja Nedovic
41. Nerlens Noel 
42. Jeff Withey
43. Glen Rice Jr.
44. Carrick Felix
45. Isaiah Canaan
46. Lorenzo Brown 
47. Jamaal Franklin 
48. Brandon Davies  
49. Sergey Karasev 
50. Phil Pressey 
51. Gorgui Dieng 
52. Dionte Christmas 
53. Andre Roberson 
54. Peyton Siva 
55. Erik Murphy 
56. Tony Mitchell
57. Ian Clark
58. Solomon Hill
59. Allen Crabbe 
60. Arinze Onuaku 
61. Elias Harris
62. Chris Smith - He has to be last, right?