Just like everyone was saying back in June, this is not a very strong rookie class. There are a lot of guys hitting the proverbial rookie wall as 2014 has been a rude awakening to players who ended their 2013s on high notes. Most of them are struggling in so many areas that it's hard to imagine them snapping out of it.
In case you missed it last week, their deficiencies do not coincide with what Rookie Time was about. That column went over the top 10 rookies over the past five seasons and indicated rookies tend to get three more minutes per game after the break and have almost two more rounds of fantasy value. Bang it here to read the entire column to check out a few other trends over the previous five years.
The following is a rest-of-the-season ranking for all of the rookies in 2013-14. These rankings also favor players who may get a bump in minutes as a result of their teams being sellers at the deadline. I covered the first five guys on this list in greater detailed because they're fantasy relevant to everyone while the 99 percent of you guys could care less about Isaiah Canaan and Ricky Ledo. 
Follow me on Twitter for more stats, shot charts and observations @MikeSGallagher.
1. Victor Oladipo - It's been a bumpy ride for Oladipo lately. He was handling the point-guard duties for Jameer Nelson earlier this month and even had an 11-dime game, but he's been coming off the bench over the past four. In that span, the rookie averaged 16.0 points, 3.5 boards, 3.0 assists, 1.8 steals, 0.5 blocks and 0.8 triples on 50.0 percent from the field and 88.2 percent from the line. That's good for fifth-round value in that span. It's not a surprise to see VO put up some good numbers next to Jameer. While Nelson is on the court so far in 2014, Oladipo shot 44.9 percent from the field on a usage rate of 20.3 percent. Without Jameer, he shot just 39.6 percent with a usage of 27.4 percent.
 
He is been very aggressive in his recent outburst with 52.2 percent of his shots coming from inside of three feet. Plus, his turnovers are starting to have a downward trend. He is pointing up the rest of the way.
 
2. Michael Carter-Williams - He's a bit of a hot topic in hoops and we're going to try and dissect him a little more than usual. Quite frankly, his offensive game has fallen apart. Here's what his shot chart looks like in 2014: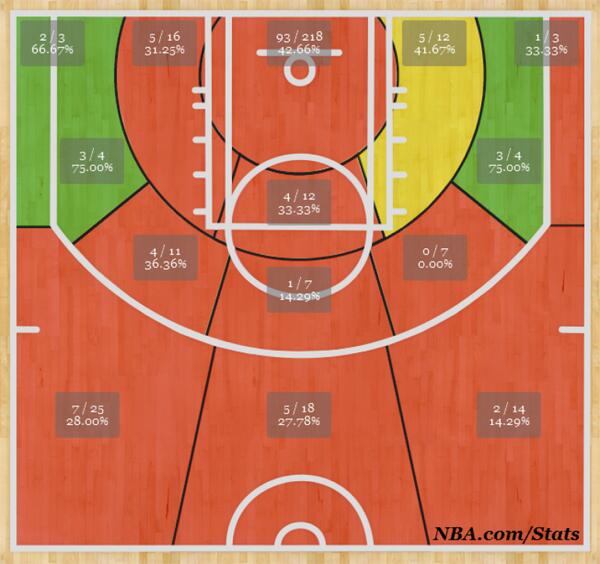 Breaking it down even further, he's shot 20.4 percent on his jump shots, but he's been very effective with his shots off the dribble. In 2014, he's 12-of-18 on his pull-ups and runners, which is a very low total from his 162 jumpers. It's pretty obvious teams have learned how to defend him and he's been blocked way too much. In fact, Carter-Williams has been blocked a league-high 58 times in 2014 and Zach Randolph is a distant second with 37. 
 
The numbers are always informative, but some of the time the tape helps. Most of MCW's points come off pick-and-roll as the ball handler, so I watched the last 35 PNRs on Synergy and there were some tendencies. First and foremost, he made just 13 of those 35, which is fairly close to his season average of 35.7 percent. The good news is he made eight of his 14 in the last two games before the break. However, the bad news is that came against two of the worst pick-and-roll defenses in the NBA in the Warriors and Jazz.
 
On the whole, he really does a good job of separating from the screen and can get into the lane better than most point guards. Carter-Williams is also fairly adept with both hands and he's been able to finish when he gets there. On the other hand, teams are defending him differently in this situation. There seems to be more people going under screens and forcing him to shoot his jumper. If you're a visual person or not hip to the lingo, I posted a Vine on Twitter here (keep your eyes on Klay Thompson). The rookie also has been keying on the basket a little more and has taken some highly-contested 5-10 footers rather than passing. The bottom line is he really needs to get a jumper. In the spirit of Spring Training, how about a baseball analogy? Basically, MCW can't hit a curveball, so he needs to learn how to hit one. In other words, MCW's bats are sick. He cannot hit curveball. Straightball he hit very much. Sorry, I had to get a Major League reference in there.
 
Things aren't going well on the other end either. His steals are going down a lot. MCW was leaving his man quite a bit earlier in the season to help on another player, or what some will call cheating. As a result, his steals numbers dropped from 3.5 from back in December to 1.5 in January and he's at just 0.8 in February. He's going to have to reinvent his game on both ends and his owners shouldn't be expecting him to be anywhere near his tremendous start from back in November and December.
 
3. Giannis Antetokounmpo - It's been bad lately. Really bad. Antetokounmpo's horrible January shooting of 40.2 percent from the field and 65.7 percent from the line was just the beginning. In February, he's at just 28.1 percent from the field and 55.0 percent from the charity stripe. On top of that, he has more fouls per game (2.0) and turnovers (1.8) than field goals per game (1.5) this month.
 
Earlier this season, Alphabet made his money predominantly on cuts and transition buckets. According to Synergy, here's how he scored his buckets this month: one spot-up jumper triple, two offensive board putbacks, one transition layup, one layup as PNR ball handler, one ISO jumper and a dunk off a cut. That's it. So he only had two buckets from his bread-and-butter. It's also worth mentioning he's 3-of-20 in his last four games. Yikes. Let's shot chart his 2014 (left) compared to 2013 (right):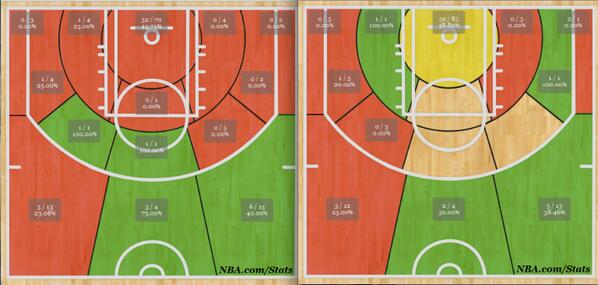 The big drop off is from around the rim. On top of that, he only attempted 54 percent of his shots from within eight feet from 2013 vs. 65 percent from back in 2014. He's also taking way too many mid-range jumpers in 2014. His usage hasn't even really gone up, which is a bigger concern. In 2014, he's sitting at a somewhat low 17.1 percent and was at 15.9 percent back in 2013. Obviously, the teenager should not have his usage rate in the high teens.
 
The Bucks have to get him the ball in transition more because his man isn't completely ditching him which allowed all of those aforementioned cuts from earlier in the season. There is still a lot of upside, but his owners might have to put some faith in coach Larry Drew to get him the ball in more advantageous spots. I know. I'm scared too.
 
4. Tim Hardaway Jr. - He's actually changing his game a little bit and creating his own shot. Back in January, he was almost exclusively shooting catch-and-shoot triples with a whopping 92.9 percent of his 3-point makes coming in that style. That has changed as he dropped to just 86.6 percent already. Although, he's shooting just 23.5 percent from deep this month, so the Knicks should probably get him more looks off the catch.
 
The rookie has also taken 5.0 two-pointers per game this month, which is way above his December monthly average of 2.6. If the Knicks are serious about making a run in the playoffs, they're likely going to have to trade away one of their wings. Whether it's Hardaway Jr. or Iman Shumpert, there could be some minutes available.
 
Hardaway Jr. probably will never been the type of player who can do it all and is really just a shooter, but that's valuable to some degree. If you need some 3-pointers, he could be a 1.5 per-game guy.
 
5. Trey Burke - Similar to Carter-Williams, Burke has really struggled in the scoring department. Let's do the same thing for Burke as we did with the Greek Freak with his 2014 on the left and 2013 on the right: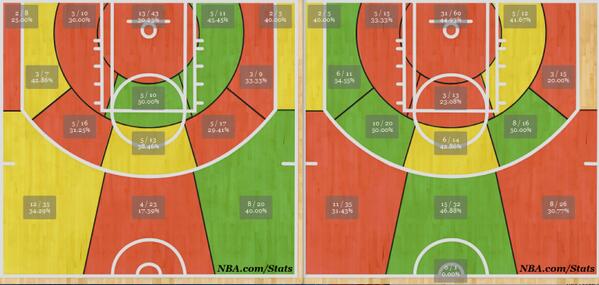 At the end of the day, that shot chart on the left has him at just 33.2 percent from the field. His 30.2 percent from within eight feet is absolutely putrid. Plus, he's only at just 34.2 percent in the restricted area in 2014, which is way below his 51.9 percent from 2013. That doesn't even make sense for a professional basketball player. 
 
What's more, he's scoring just 28.1 percent of the time in isolation and 30.1 percent on spot-ups this season. The only area he's decent is in pick-and-roll scoring, making 40.8 percent on the season. In 2014, he has basically been right around that number, so there hasn't been much of an improvement.
 
Simply put, Burke seems like he's a little bit scared when he gets in the paint. While Michael Carter-Williams doesn't care about getting his shot blocked as evident by his ridiculous 58 in 2014, Burke is at just five in that span. Considering how much smaller he is, that number should be a lot higher. Plus, he's attempted just two free throws in his last 10 games compared to just 118 field goal attempts. Think about that for a second.
 
Maybe the Jazz should hire George Karl to tell Burke about getting to the line more. It's more about this being in his head and he just has to be more fearless around the basket. He's got a lot of work to do and is not improving whatsoever.
 
6. Nate Wolters - Wolters is going the other way as far as offense goes. In his first 38 games of his career, the rook made just three 3-pointers on just 10.3 percent from downtown. In his last three games, he's 4-of-9 and is on his way to his best offensive month in every category. The South Dakota State product is shooting 44.8 percent from the field this month, posting averages of 9.8 points, 4.3 boards, 3.5 assists, 0.8 steals, 0.7 blocks and 0.7 triples.
 
The Bucks are going to be an interesting team to watch and they should have some moving parts. Gary Neal seems like he's out the door, which is a good thing for the minutes on the wing. He's been at 19 minutes per game since returning from injury over his last seven. Conversely, O.J. Mayo is coming back soon. He had some conditioning issues and it's probably safe to assume he won't be able to match his 27.5 minutes per game this season. His motor isn't there and he's certainly not a mayonnaise-colored Benz/Miracle Whip on the court. If you got that reference, can you believe The College Dropout came out 10 years ago?
 
It's not like Wolters is the answer, but a coach can really grow to like how a point guard takes care of the ball as a backup. He's not going to cost much and the fans like him, so those are two of the most important things for the Bucks right now. 
 
Also, I just have to add Doctor A, Aaron Bruski and I might have to fist fight for who doesn't blurb the Bucks recaps on our Player News page by the time April comes around. They're the worst with their unpredictable rotations.
 
7. Ryan Kelly - The Lakers are looking to trade some guys and it's likely going to help out Kelly's minutes and he needs 'em. He's played just 16.7 minutes per game over last three and coach Mike D'Antoni has gone back to Shawne Williams again. If you want to pick up Kelly until Thursday afternoon, it makes some sense. Although, his upside isn't going to be too high.
 
8. Dennis Schroder - The intrigue of Jeff Teague possibly being dealt adds some short-term value here. If you're in a shallow league or need a point guard, I'd consider stashing Schroder over Kelly. Plus, you'll really enjoy watching him and you can listen to Sir Foster drop some beats at Atlanta home games. In case you missed it, he was the house organist at the All-Star game and he does that stuff for the Hawks, too.
 
9. Pero Antic - If he blocked shots just a little bit, I'd have a little more affinity to owning him in more leagues. Gustavo Ayon is also playing good ball and Antic might not get all of his minutes back upon his return from injury.
 
10. Mason Plumlee - I'm not sure why the Nets would trade for Jordan Hill when they have a player with a similar skill set. Mo' money, mo' problems, I guess. If they don't pull the trigger, Plumlee is a sneaky player to have as a plug-and-play guy for the days Kevin Garnett sits.
 
11. Anthony Bennett - He's no longer a laughing matter and is more of just point-and-snicker player these days. Over his last six games, Bennett averaged 9.3 points, 4.8 boards, 0.8 steals, 0.2 blocks and 0.8 triples. One more shot chart: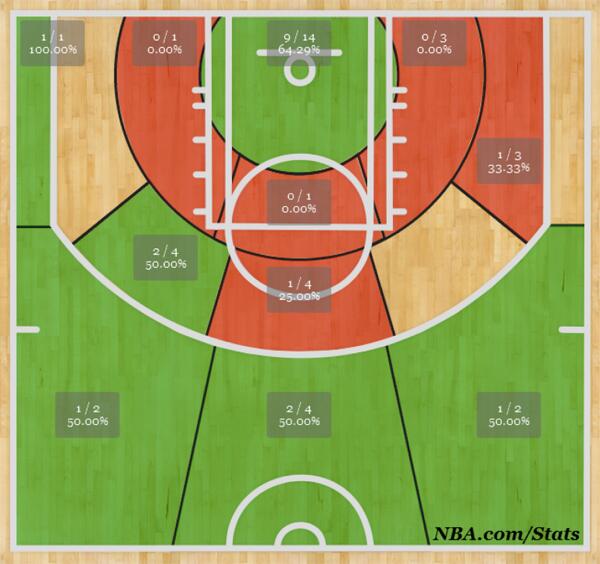 If he didn't attempt mid-range shots, he'd have a spectacular shot chart. Unfortunately, the top pick in the draft has really been taking a lot of mid-range shots this season with 34.7 percent of his attempts coming from that range. He's also made just 23.7 percent of those and shoots just 21.6 percent on all of his jumpers combined this season. It's hard to pick him up with Anderson Varejao more of a day-to-day injury than anything else.
 
12. Kentavious Caldwell-Pope - The Pistons have to be sellers at the deadline, right? If not, KCP's value is pretty much toast. He's played just 11.7 minutes per game over his last six.
 
13. Kelly Olynyk - If the Celtics clean house a little bit, Olynyk can be an interesting guy to think about. His offense really has a long way to go, though.
 
14. Miroslav Raduljica - Larry Sanders going down opens up a rotation spot for 'Slav.
 
15. Ben McLemore - There are some rumors of B-mac being traded, but it would have to be a huge deal for them to budge. They like him a lot.
 
16. Pierre Jackson - He and Nerlens Noel are the only two players on this list yet to make their debut in the NBA. Pierre has been outstanding in the D-League this year with a 58-point game back on Feb. 4. If he gets traded to the right team, he'll get a lot of attention in deep leagues.
 
17. Hollis Thompson - He's not a rotational player on any other team, but if the Sixers can pull of the successful tank, Thompson would be in line for more minutes.
 
18. Phil Pressey - It's still hard to believe the Celtics are playing Rajon Rondo 37 minutes. If they keep doing that, they're really playing with fire. It's such an unconventional move in this era of how teams handle ACL reconstructions, you have to think showcasing him for a trade is at least a possibility. All that said, Pressey might be the worst offensive guard in the NBA.
 
19. Tony Snell - Teams aren't giving him wide-open looks anymore.
 
20. C.J. McCollum - After he burst on the scene with a 19-point game thanks to foul trouble from Wesley Matthews and Damian Lillard on Feb. 8, coach Terry Stotts gave his rookie some more minutes on Feb. 11. The problem is Mo Williams returned the following game and it pushed the Lehigh product back to the teens for playing time. He basically needs Matthews and/or Mo to miss time.
 
21. Shane Larkin - Gal Mekel is back and Larkin squandering his chance with an 0-of-5 shooting on Wednesday didn't help. 
 
22. Nerlens Noel - He could make it back, but it just does not make any sense.
 
23. Nick Calathes - Mike Conley is usually very durable, so it's hard to imagine we see Calathes become fantasy relevant again.
 
24. Vitor Faverani - He's hurt and he has no understanding of offense right now. Faverani could be an interesting player next season with a full offseason.
 
25. Dewayne Dedmon - Sixers.
 
26. Cody Zeller - He had a bright spot against the Mavericks in 22 minutes, but five points and seven boards is nothing to write home about. Power forwards and centers are just pushing him around in the low post.
 
27. Rudy Gobert - Derrick Favors' hip injury seems minor and Gobert should fall out of the rotation again. Plus, he can't shoot free throws with that lanky frame.
 
28. James Nunnally - The Hawks seem to like him and he could have some short-term value on days when DeMarre Carroll can't go.
 
29. Robbie Hummel - The injury to Kevin Martin put him back in the rotation.
 
30. Steven Adams - He's going to get into a lot of fights in his career with how hard he bangs in the paint.
 
31. Ray McCallum - The score-first point guard could get some minutes should the Kings deal Jimmer Fredette.
 
32. Jeff Withey - The Pelicans might suit up Pierre at center, especially with that new beak.
 
33. Alex Len - Hey, at least his ankles are still holding up. Len is pretty good inside of five feet, but has nothing outside of it. He's a potentially good offensive rebounder.
 
34. Toure Murry - At least he's above Beno Udrih on the depth chart now.
 
35. Erik Murphy - Maybe if the Bulls do some wheeling and dealing, he gets some run.
 
36. Otto Porter - Man, the third pick had so much promise for being a stat-stuffing guy. His hamstring injuries from Las Vegas Summer League totally messed him up.
 
37. Matthew Dellavedova - He's a good bet for minutes should the Cavs dump Jarrett Jack.
 
38. Ognjen Kuzmic - The Warriors have some frail centers and Kuzmic would get minutes should Andrew Bogut and Jermaine O'Neal go down.
 
39. Brandon Davies - Sixers. Fantasy owners might want to keep an eye on second-year Arnett Moultrie, by the way.
 
40. Jamaal Franklin - The Grizzlies used him as a ball handler a little while Conley was down, so they do trust him. He's somewhat talented, too.
 
41. Luigi Datome - If only 3-pointers were the only thing to matter in basketball.
 
42. Gorgui Dieng - He's such a project that his favorite standup ever is Eddie Murphy's Raw. 
 
43. Archie Goodwin - There was so much hype back in the summer, but he's really just a one-way player. That one side is defense, which is a problem in fantasy.
 
44. Vander Blue - ROY? No. ROY G BIV? Definitely.
 
45. Gal Mekel - He recovered somewhat from a meniscus tear, which gives Eric Bledsoe owners some unwarranted optimism.
 
46. Sergey Karasev - Hey, he's back up with the Cavs and should be zzzzzzzzzz.
 
47. Ricky Ledo - This guy is probably ranked too high and anyone else who was at summer league would know why.
 
48. Tony Mitchell - The Pistons are a mess. That's a bit of a good thing for rookies.
 
49. Shabazz Muhammad - His one game after the Kevin Martin injury looks like a total fluke.
 
50. Robert Covington - The 23-year-old forward has a good frame, but has a long way to go.
 
51. Dwight Buycks - It doesn't look like the Raptors are trading Lowry.
 
52. Reggie Bullock - Another Las Vegas Summer League star.
 
53. Solomon Hill - It's not easy being a backup small forward for the Indiana Pacers.
 
54. Nemanja Nedovic - The same can be said for a guard on the Warriors.
 
55. Isaiah Canaan - If you watch any D-League games, Canaan is quite a treat. Attack-mode switch stays in the "on" position.
 
56. Seth Curry - It was fun to see him up in the big leagues for four minutes.
 
57. Glen Rice Jr. - Junior dominated in the D-League last year, but it has not translated.
 
58. Elias Harris - He's still waiting for his first point in just 11 minutes. It could happen if the Lakers sell everyone.
 
59. Andre Roberson - In the sparse playing time he's had, he hasn't looked good.
 
60. Carrick Felix - He's a little Corey Brewer-like for his love of getting buckets in transition. Felix needs to stay healthy.
 
61. Dionte Christmas - I hope you enjoyed your Presidents' Day weekend.
 
62. Peyton Siva - The Pistons probably aren't trading Brandon Jennings.
 
63. Ian Clark - A sharp-shooting swingman, but the Jazz would likely just give Burks more minutes assuming they get rid of Richard Jefferson.
 
64. Allen Crabbe - His ceiling is really nothing outside of a second-unit trey specialist.
 
65. Lorenzo Brown - Sixers.
 
66. Arinze Onuaku - Hey, he's played 25 minutes.
 
67. Chris Smith - J.R. Smith's bro, bro.