We are getting a full Stephen Curry. He stops and stands strong over PGs, and devours with the power of Hercules. Oh yeah, we're kicking this off with some Big Daddy Kane lyrics 29 years after 'Ain't No Half Steppin' came out.
Well, MVP Curry is back. In his last five games, he has a ridiculous 75.5 true shooting percentage on his 31.6 usage rate. In layman's terms (not Jake), he's averaged 34.8 points, 4.6 boards, 8.2 assists, 2.0 steals and 7.4 treys. Yes, 7.4. Those 7.4 are more than the Bulls, Pistons and Spurs in their last five while it ties the Pacers and 76ers at said 7.4. Can I say 7.4 one more time? 7.4! Anyway, his shot chart in that five-game span is a month early for St. Patrick's Day (he missed one game, so that's why it says last six at the top):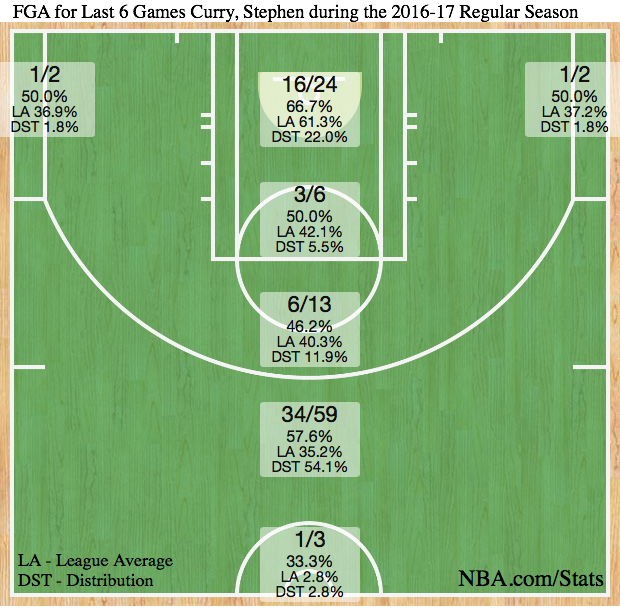 Yeah, Steph is back. Last week, he only needed three games to be fantasy's top player for the week. The big week moved him to No. 3 overall behind Kevin Durant and James Harden for the entire year — Harden has played four more games, too. If Curry doesn't rest, he could be close to as good as he was last year. What KD effect?
Editor's Note: Golf is coming soon to FanDuel! And they've created the Tee Off Classic to celebrate, offering you an opportunity to win a VIP trip for 3 to play a round of golf with Jerome Bettis! Play now.
Khristmas Present 
The Bucks are getting a little bit of help tomorrow. They'll have Khris Middleton available against the Heat on Wednesday. Before we get to his impact on the stat sheet, let's just go over the timeline on Middleton's progress. The Bucks were whisper quiet on this, so it's pretty light.
Dec. 22 - Doing some light jogging and shooting.
Jan. 4 - Not running at full speed yet.
Jan. 20 - Middleton got shots up before game vs. Orlando.
Jan. 27 or so - Middleton said last week he was sure he was ready to play.
Feb. 1 - Full contact practice and he went "full throttle," per coach Jason Kidd.
Feb. 8 - GAME TIME!!
Yeah, that's a lot of gaps, but you get the picture. That Jan. 20-27 time is key and Middleton's interview from over the weekend made it sound like that was the time he was close to feeling like 100 percent. If you want to check out some of the interview, check it out here. If not, here are some of the key points.
He had a lot of comments when he broke the news against the Nuggets last Friday. Middleton said he's had to push through some tightness and "a little bit of pain." He said the way he plays off the ball should help his fit with the 2016-17 Bucks. Middleton was also asked about his play-making, but he really just talked about scoring and did only bring up pick-and-roll offense. In other words, his assists probably won't be as strong as his 4.2 per game last year.
Here's what his shot chart looked like in the 2017 portion of last season: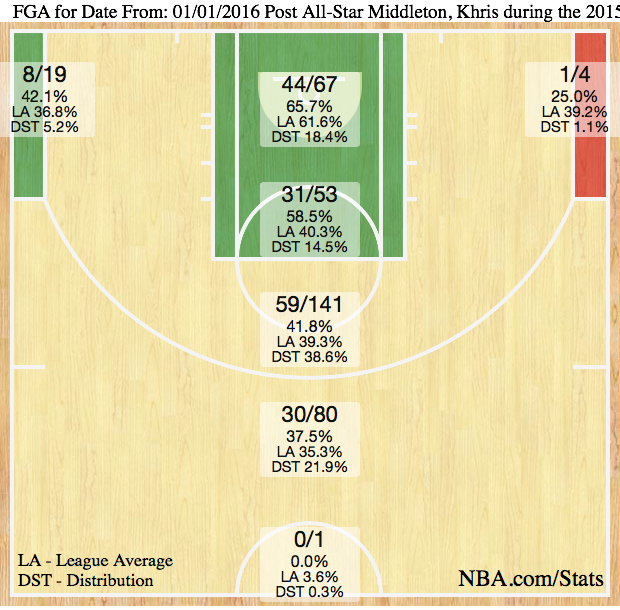 That's a lot of mid-range shots, which is likely not going to be the case once he's back up to speed. Even in his interview, he talked more about corner treys and being more of a floor-spacer for Giannis Antetokounmpo. Middleton was also unassisted on 57.8 percent of his makes after the break, which is also almost certainly going down this year because of Giannis' impact on the offense. Just to put a bow on Giannis,  it shouldn't affect him too much. Here is some stuff I wrote about him in the Rotoworld blurbs from Friday: Antetokounmpo gets a whopping 62 percent of his shot total within eight feet, and he's also facing tight defense on 63.6 percent on all his shots -- only 9.7 percent on shots from beyond 10 feet. All these fancy stats aside, more space for Giannis should be a good thing and scoring isn't the main reason why he's a top-five player in fantasy anyway. The possible slight hit in usage could be offset by the uptick in better efficiency and dimes.
So there is also the Jabari Parker factor. Obviously it'll be a while before Middleton is up to speed, but it really shouldn't affect Jabari too much. Middleton actually wasn't a very high-usage guy last year at 22.9 percent on his usage rate. Last season, Parker's 20.9 usage rate with Middleton and Giannis Antetokounmpo is slightly higher to his overall 20.8 usage rate. 
Quickly on Malcolm Brogdon, he's likely going to take a massive hit in production. He is a "point guard" for the Bucks, but he's out there more to space the floor as a catch-and-shoot guy. He's assisted on 47.9 percent of his buckets, which is really high for a "point guard" on offense. For what it's worth, Russell Westbrook is assisted 19.4 percent of the time. Yes, this is the other extreme.
Basically, the Bucks will probably be like the Cavs as a three-headed monster on offense. Kevin Love (26.3), Kyrie Irving (29.1) and LeBron James (29.4) all sustain high usage with a combined 84.8 percent. It likely won't be to that extent, but it proves three guys can all be offensive stars for fantasy teams.
Alright, so back to Middleton here. He's not going to be a guy you can count on for probably a month or so. Sure, it helps he's had 1-2 weeks to ramp up and go through some "full throttle" workouts, but his hamstring muscle had a rupture. He's basically in uncharted territory for a player coming off an injury like that. He'll likely be sitting on back-to-back sets and should have a strict minute limit until March. Obviously he has to be owned everywhere in fantasy, but he's probably not going to be a difference maker until the Ides of March. For DFS, he's probably not going to be worth about a $6K price tag until said time, but we'll see. The Bucks have been really quiet on this, which is nothing new for them. This should be a lot of fun and big props to Middleton for putting the work in to get out there to help his team.
Real Deal Beal
Can we talk about how good Bradley Beal is right now? John Wall has arguably been the best player in the Eastern Conference over the last three weeks, but some credit has to go to Beal -- you can make an argument for Isaiah Thomas, by the way. Check out his shot chart in the last five games: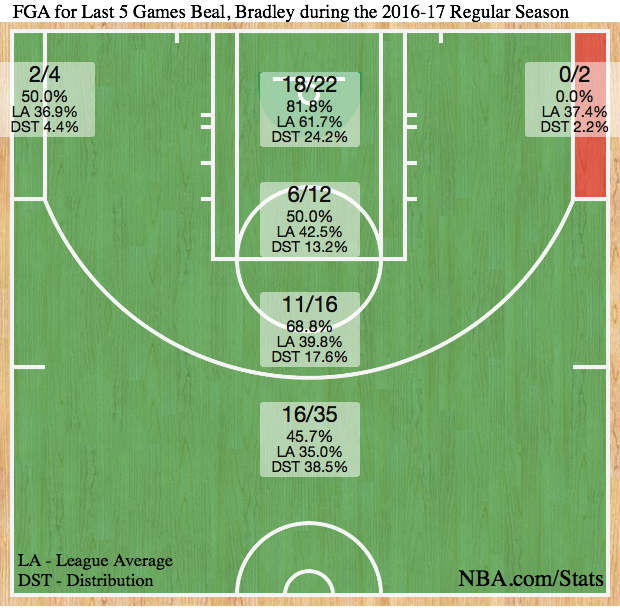 Midrange is back! Besides that, Beal is absolutely crushing around the basket like he never has before, and it helps to make 44 percent from three. 
As you might expect, Beal is killing off Wall passes. In that above span, he has a 68.8 effective field goal percentage off all Wall passes. They took some flak for it, but the Beal and Wall backcourt really is one of the best backcourts in the NBA.
Beal has been a top-20 player in standard fantasy leagues for the 2017 portion of the season. He's been truly awesome this season.
In case you missed it yesterday, here is our podcast!