Every year we see teams get off to slow starts, but usually the talented teams get it going once they find their footing. Sometimes it's just a matter of missing shots, or it could be due to some bad matchups to start the year. One team that didn't start hot and is now getting it going is the Denver Nuggets.
After they tied for first in the NBA for post-break offensive rating last year, the Nuggets offense looks like it's back, but there was some concern earlier this year. For the first five games of the season, Denver ranked just 22nd in offensive rating and 25th in pace. However, the last dozen games they've basically flipped it, ranking third in the NBA for offensive rating and sixth in pace.
As you would expect, it's been their starting unit that has really picked it up. Among the 33 NBA lineups to log at least 60 minutes over their team's last 12 games, the Nuggets starting lineup ranks first with their 122.4 offensive rating. We all know Nikola Jokic is the main man, Paul Millsap has finally turned the corner and Wilson Chandler has been solid despite his very low usage rate, but the backcourt has been a nice story this season.
Jamal Murray has been the leading scorer for the Nuggets over this 12-game span with 17.0 points per game. He's also done it in efficient fashion with his 63.1 true shooting percentage (TS%). Among the 53 players with at least 20 minutes per game and a usage rate of at least 25 over the last 12, only Kevin Durant, Anthony Davis, LeBron James and James Harden have been more efficient. Good company right there.
What's even crazier about Murray is he still hasn't even hit his stride. Here's how Synergy breaks down his offensive play types:
| | | | |
| --- | --- | --- | --- |
| Play type | Possessions | PPP | Percentile |
| PNR Ball Handler  | 71  | 0.97  | 81  |
| Spot Up  | 55  | 0.95  | 44  |
| Transition  | 40  | 0.98  | 33  |
| Hand Off  | 29  | 0.66  | 30  |
| Isolation  | 18  | 0.72  | 25  |
| Cut | 11  | 1.27  | 55  |
So besides being very good in pick and roll, Murray has been below average as a scorer on every other play with at least 15 possessions. Plus, only getting 40 possessions in transition on the season is a little surprising. He may still be able to up his scoring even more and it's somewhat encouraging his free throws are going up, especially with his 93.2 percent from the line on the year.
Of course, there's the downside on Murray's stat line and that's the non-scoring stuff isn't really there. This month, he's only added averages of 2.7 boards, 1.7 assists, 0.9 steals and 0.1 blocks. He's never going to be elite guy in the non-scoring departments, but expect Murray to add a little more to his stat line.
Murray's backcourt mate, Gary Harris, has also been on a tear over this 12-game stretch, averaging 14.2 points, 2.6 boards, 2.7 assists, 1.8 steals, 0.6 blocks and 2.5 treys on 52.8 percent from the field and 48.1 percent from deep in those 10 (he missed two for a shoulder issue).
Synergy also really, really likes Harris' scoring this season.
| | | | |
| --- | --- | --- | --- |
| Play type | Possessions | PPP | Percentile |
| Spot Up  | 46  | 1.20  | 80  |
| Transition  | 38  | 1.37  | 87  |
| Hand Off  | 36  | 0.94  | 60  |
| Cut  | 17  | 1.24  | 49  |
| PNR Ball Handler  | 16  | 1.06  | 89  |
| Off Screen  | 16  | 1.25  | 88  |
Not bad. Overall, he comes in at 88th percentile on points per possession with his 1.11, and you can see he's elite in almost every aspect except for cutting. Part of that is because he's not turning the ball over, but of course the main reason why is how awesome he's been on spot-up plays. That is because of his teammates with 73.5 percent of his makes coming off an assist. That also helps explain his absurd 69.8 eFG% on his 86 jumpers. Very nice.
Harris said he wants to shoot 45 percent from deep this year and he just might be able to do it, sitting at 47.4 percent on the season. He's in for a efficient line as a Kawhi Leonard Light asset in fantasy.
Editor's Note: Looking for an edge in your fantasy leagues? The NBA Season Pass provides weekly projections, rankings, the popular Pickups of the Day column, exclusive columns and customizable stat options. It's the extra tool that can take your fantasy basketball teams to the next level.
Kyrie Irving has been playing some of his best ball of his career and he's getting MVP consideration — the MVP should be James Harden for now. In his last 12 games, Irving averaged 23.2 points, 2.9 boards, 4.9 assists, 1.4 steals, 1.7 turnovers and 2.4 treys on 49.3 percent from the field. Here's his shot chart.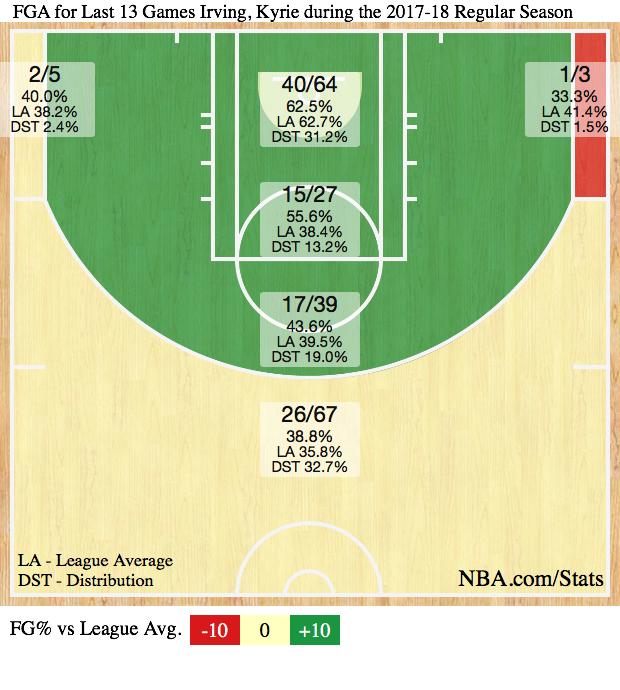 Thanks to those threes and making 3.9 free throws, Irving has a 60.9 TS% and a 30.5 usage rate in those 12. A big reason why he's been better is how he's getting 31.2 percent of his shots at the rim. He's also improved there after making just 57.6 percent at the rim last year.
Specifically, Irving's money time has been in the fourth quarter with his whopping 40.5 usage rate and 60.3 TS%. That's even more impressive when you consider he's only had 0.4 turnovers per fourth. To put that in perspective, Russell Westbrook's NBA-record 40.8 usage rate last year had 1.13 turnovers per quarter, and Westy only had a 55.4 TS% on that usage last year.
Irving's usage rate is also trending up on the season with a 31.1 usage rate over his last seven compared to 28.6 in his first 10 games. Plus, his efficiency has been awesome in that seven-game sample with a 65.1 TS%. Considering he's using his possessions so well, you'd think coach Brad Stevens would use his PG even more as the season goes along.
We all knew that Irving was going to see a rise in his usage now that he's not with LeBron James, but we didn't think that he'd be one of the best high-volume scorers in the NBA while keeping his turnovers way down. Is Irving going to be this good and will the Celtics win out? Probably not. Still, he looks like he's poised to be a top-20 player in fantasy and his team looks like a heavy favorite to be the No. 1 seed. It's hard to believe they started 0-2 and yet they already have a four-game lead in the standings.
There are not many players off to a better start than Kyrie, but one of them is James Harden. His 31.6 points and 9.9 assists per game lead the NBA. He's the obvious choice for MVP so far, but of course it's going to be interesting to see how he fits with Chris Paul.
Coach Mike D'Antoni continues to say he wants to stagger CP3 and Harden. So far, Harden and CP3 have played together for 49 minutes. If you look at Harden's stats in that time per 36, they're very encouraging with 31.8 points, 3.7 boards, 7.4 assists, 2.2 steals and 5.9 treys (!) on his 73.1 TS% and a 30.7 usage rate. The Rockets have actually been killed on defense in that time with a 135.3 defensive rating, but obviously there's nothing to worry about. Hey, we actually like that from a DFS perspective.
Harden probably won't be able to score 32 per game next to CP3 all year, but he should be right there among the NBA's elite for points and dimes. By the way, here's what his Synergy numbers look like:
| | | | |
| --- | --- | --- | --- |
| Play type | Possessions | PPP | Percentile |
| PNR Ball Handler  | 201 | 0.79  | 53  |
| Isolation  | 148  | 1.24  | 96  |
| Transition  | 64  | 1.30  | 80  |
| Spot Up  | 29  | 1  | 55  |
| Post Up  | 12 | 0.83  | 41  |
| Hand Off  | 11  | 0.81  | 48  |
 He is ballin' on isolation, which isn't surprising at all. 
The Rockets and Nuggets should be a real treat on Wednesday.