It's the first day of March and Stephen Curry already has set the record for most 3-pointers in a season with 24 games to go. All season long we've talked about unbelievable Curry has been for efficiency and just dropping triples like crazy and he's picked it up like never before.
 
Here's a rundown of his usage rate, true shooting percentage (TS%) and 3-pointers per game for each month:
 
November: 32.3 usage rate, 67.0 TS%, 4.8 treys
December: 30.8 usage rate, 66.8 TS%, 4.2 treys
January: 31.1 usage rate, 67.0 TS%, 5.1 treys
February: 34.3 usage rate, 71.6 TS%, 6.7 treys
 
Madness in February. In fact, Curry's 6.7 treys per game in February top the average for the Heat, Wolves, Bucks and Jazz. He hit 53.6 percent of his attempts from deep, which equates to an 80.4 effective field goal percentage. Here's what his shot chart looks like in February with the shot locations on there: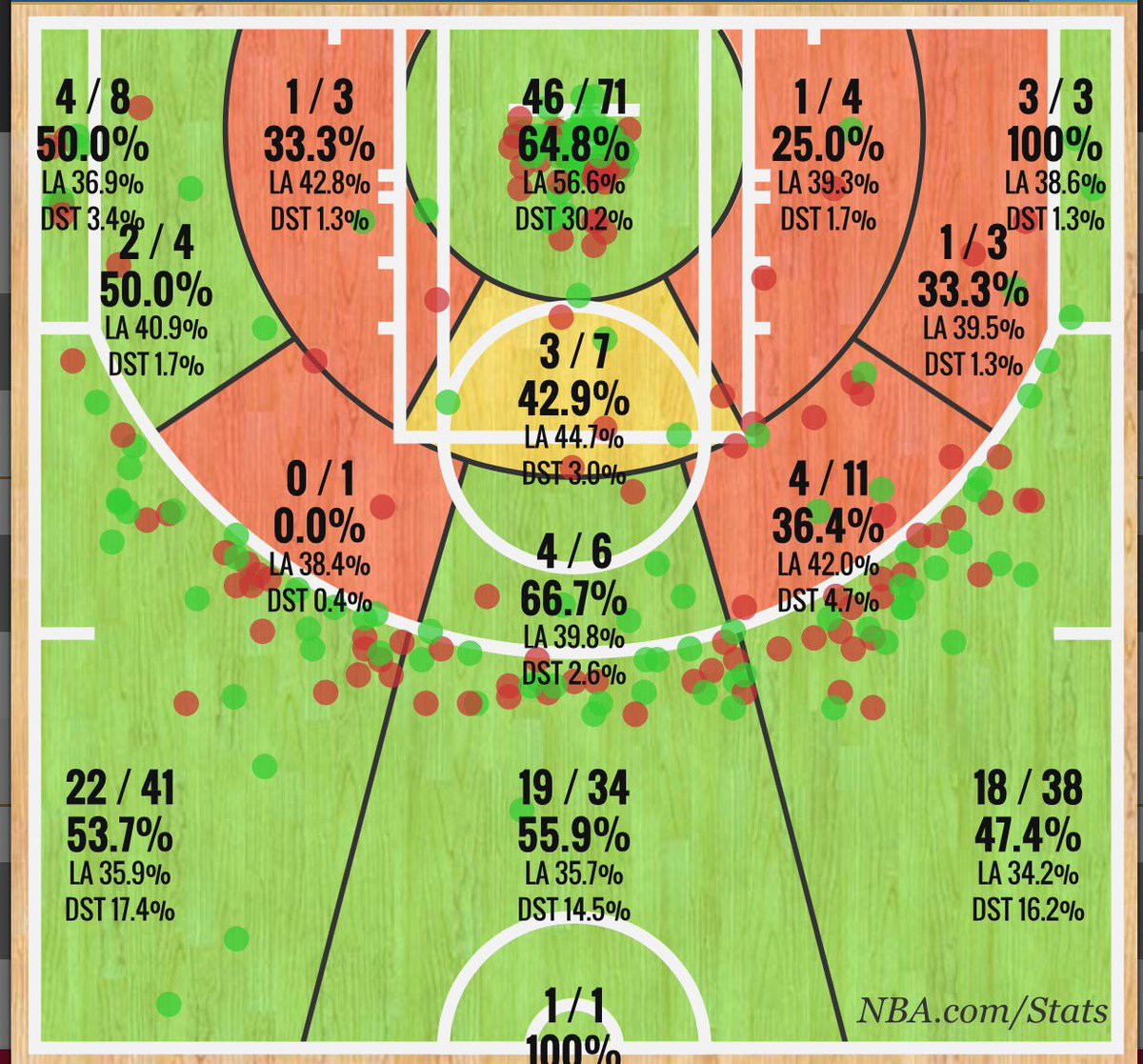 On his five deepest shots of the month, he made every single one of them and of course his last one was pretty special at the end of Saturday's game.
 
The hyperbole police are on alert right now because everyone is talking about how great Curry is. We can probably call them off because Curry has to be considered as the best shooter ever with his 68.5 TS% and 32.0 usage rate on the season. Ray Allen's most efficient season was a 62.4 TS% with a 20.8 usage rate, Reggie Miller's was a 65.0 TS% with a 22.5 usage rate, Larry Bird's was a 61.2 TS% with a 27.5 usage rate, his coach Steve Kerr put up a 66.7 TS% with a 12.9 usage rate. Kyle Korver actually put up a pristine 69.9 true shooting percentage last season, but he only had a 14.4 usage rate.
 
None of those guys come even close to his usage rate in their most efficient years. Even the best player ever only had a 61.4 TS% with a 32.1 usage rate in his best season for efficiency 1988-89. To be clear, I'm not saying Curry is better than Michael Jordan, but I am saying Curry's current season destroys MJ's from an efficiency standpoint.
 
Yes, we can't call Curry the best player ever yet. However, there is no denying this season is arguably the best shooting season of all time.
 
Overshadowed
 
You know who else had an awesome February? Kevin Durant. In those 11 February games, Durant averaged 30.6 points, 8.5 boards, 4.8 assists, 1.5 blocks, 0.9 steals and 3.7 treys on 50.4 percent from the field, 41.8 percent from deep and 93.5 percent from the line -- good for a 64.0 true shooting percentage. Here's his shot chart: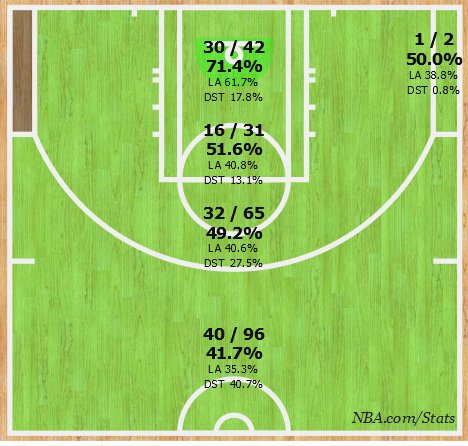 If Curry wasn't around, KD would have Western Conference Player of the Month locked up. Not this time, though. This column has been about KD and Steph more than any other players, so let's just move on here. 
 
Busy Boogie
 
DeMarcus Cousins had himself a busy month. Among players with more than five total minutes played in February, he ranked first with a 35.5 usage rate in 36.3 minutes per game. He put a nice little bow on his usage rate last night with a whopping 47.8 in a loss to the Thunder. All that usage over the month led to averages of 28.6 points, 11.4 boards, 4.6 assists, 1.6 steals, 1.1 blocks, 1.4 treys and 4.5 turnovers per game.
 
Here's his shot chart for February: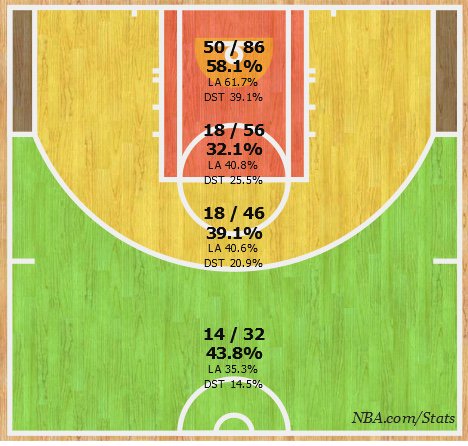 That's a heavy volume in the paint, but he was actually below average on efficiency in the paint. While the missed shots in the paint aren't great, at least his shot selection is good. Back in December, he was even worse with respect to efficiency around the basket. Check out his red shot chart back then: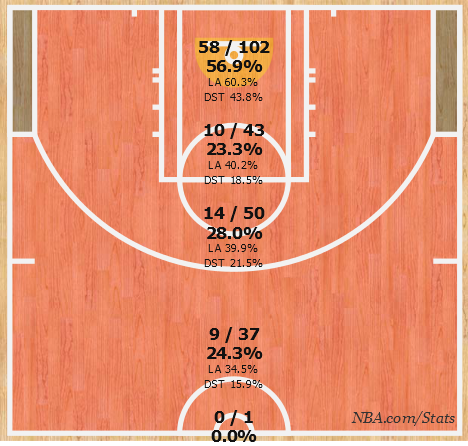 Baby steps. What might be more impressive on the improvement side is Boogie is assisted on just 58.0 percent of his buckets last month. He really isn't getting help despite having the NBA's leader in assists on his team.
 
One common trend for Boogie's success and struggles is when he's getting his shot off during the shot clock. When there are less than seven seconds left on the shot clock, Cousins only has a 35.3 eFG%. When there is more than seven seconds left, he put up a 49.6 eFG%. If the Kings can get him the ball earlier, that might help his shooting percentages and their offense overall.
 
The other huge issue on Boogie has been how terrible he's been on pull-up shots. He's taken 100 pull-ups this season and he posted only a 29.5 eFG%. Yeah, Stephen Curry has a 63.0 eFG% on pull-ups — most unfair comparison in the NBA, I know.
 
When it comes to his DFS value, it's all about that volume. Cousins gets so many shots that his floor every night is arguably the highest of any player. 
 
For his season long value, I'm a little worried. It seems like every night he's getting banged up. He needed to go to the locker room for an ankle sprain on Monday and did return. He's also missed practice this month due to bumps and bruises. The Kings are four games behind the Rockets for the eight spot and 3.5 games behind the Jazz for the nine spot. They're on a three-game losing streak and the bad news is they have a tough road trip coming up. They are at Memphis on Wednesday, in Dallas on Thursday, San Antonio on Saturday, New Orleans on Monday and then come home to face the Cavs on Mar. 9. They might fall out of it quickly. Plus, Boogie has a suspension on the horizon with 14 technical fouls on the year, so two more and he'll miss a game.
 
Effebruary 
 
Besides Steph, there have been some interesting players putting up terrific efficiency. Here are the other players with at least a 20.0 usage rate, 20 minutes per night and a 65.0 true shooting percentage in February with more than two games played:
 
Kawhi Leonard put up a 65.4 TS% with his 26.4 usage rate in nine games. It's kind of easy to forget how good Kawhi has been because of the other players going berserk. Leonard killed it on catch-and-shoot last month with a 70.6 eFG% while he's been capitalizing when he's wide open with a 78.9 eFG%. Expect Kawhi to have a great finish.
 
Kenneth Faried had a huge finish to his February. In his 12 games, he posted a 65.5 TS% with a 20.1 usage rate in 25 minutes per night. With Danilo Gallinari (ankle) out of the picture, the Manimal should be feasting.
 
Kyle Lowry gets all the love in Toronto, but Jonas Valanciunas was terrific in February. In those 11 games, he posted a 69.2 TS% with a 21.9 usage rate. JV was assisted on 71.0 percent of his buckets, so Lowry should get some love there. Lowry assisted JV 18 times in February and the big man made 68.8 percent of his shots off Lowry's passes. Surprisingly, the Raptors didn't really play well with their starting unit and even Lowry-JV lineups with a minus-10.9 net rating in February. Regardless, JV should have a great finish for season-long leagues and is definitely in play for DFS in favorable matchups.
 
Here's today's podcast! Steve Alexander and I talk Suns, Nuggets, Nets, some DFS and take your questions.