Kevin Durant had a bad night during a stunning home loss to the Mavs on Monday. He made 7-of-33 from the field with an unbelievable 26 misses. Those 26 misses are the most since Michael Jordan back in 1997 -- yes, shooters are gonna shoot. It's also the first playoff game KD had with more than 20 misses. In other words, some evil spirit was trapped in KD's body. Here's his shot chart: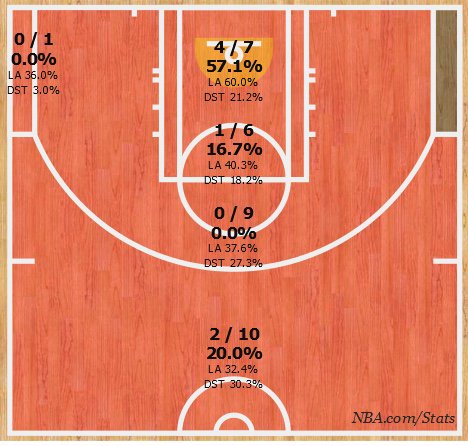 Yeah, making 3-of-26 from beyond three feet is a problem. Durant did have 51.6 percent of his shots from beyond 10 feet with tight defense (defender within four feet). During the season, he had tight defense on 40.9 percent of those, so it's not like it's a shockingly high difference. There's obviously nothing to worry about here for one of the best contested shooters in NBA history. He might have to stop forcing some shots to get him going.
 
He's not the only primary scorer coming off a bad game. DeMar DeRozan has been terrible for two straight and he just can't shake the playoff demons. He is now sitting on just a 37.2 field goal percentage during his playoff career. His shot chart is ugly in those two games this week: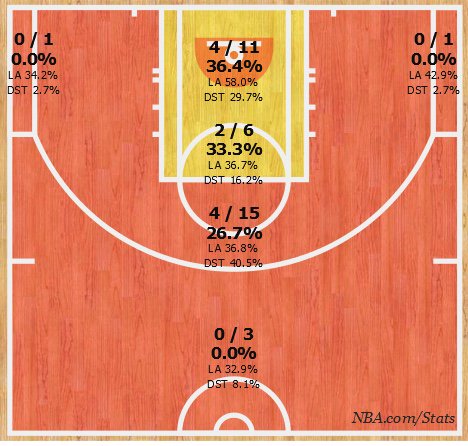 Yikes. That's some horrendous shooting at the rim and DeRozan has faced tight defense on his shots from beyond 10 feet 43.2 percent of the time. The Raptors finally benched DeRozan late in the game with coach Dwane Casey going with Norman Powell and Cory Joseph. It worked, too. There won't be a lineup change here, but maybe DeRozan's usage rate and minutes take a hit. Plus, his defense hasn't been great either. You can't trust him in DFS right now while Joseph has become an interesting punt due to how he's been awesome in pick-and-roll.
 
Working Lineups
 
Let's take a look at which lineups are working the best in the postseason right now. Here are the top five lineup combinations with at least five minutes so far in the postseason. Yes, call the small sample size police.
 
Raymond Felton, Devin Harris, Wesley Matthews, Dirk Nowitzki and Salah Mejri: 70.0 net rating in 10 minutes
 
Wow, one game after the OKC starters posted an absurd 75.5 net rating while the Mavs starters posted a putrid -84.2 net rating in Game 1, this lineup has been the best so far this postseason. Coach Rick Carlisle didn't even use this combination at all in Game 1 either. This combination also wasn't used against the Thunder all regular season.
 
After Game 1, it looked like Mejri was going to get run out of the gym. However, the Mavs had success with him during the season with a team-high 7.8 net rating against OKC (minimum of 20 total minutes played).
 
Of course, the reason why they had such a nice net rating on Monday was because of OKC posting just a 36.0 offensive rating against them. Basically, we can't buy this.
 
Goran Dragic, Dwyane Wade, Joe Johnson, Luol Deng and Hassan Whiteside: 68.2 net rating
 
This is the only starting unit in the top five. Interestingly, the Heat used this lineup for just a matter of seconds against the Hornets during the season. This lineup was used for a total of 82 minutes during the season and it did fare well with a 14.1 net rating. On paper, it really works well against the Hornets with the size matchups across the board.
 
James Harden, Corey Brewer, K.J. McDaniels, Trevor Ariza and Dwight Howard: 66.8 net rating in six minutes
 
Say what? The Rockets had some nice run with this unit in the second half on Saturday, but coach J.B. Bickerstaff didn't even use it in Game 2. Uhh, why? The Rockets and their small lineups weren't working with the exception of this one, so it does make some sense to not give it a go. That said, the Rockets have to try something new and their lack of contested shots is killing them. If I'm JBB, I'm probably sprinkling this lineup in the second and fourth quarters. Also, why isn't Clint Capela playing more?
 
Kyle Lowry, Cory Joseph, Norman Powell, Patrick Patterson and Bismack Biyombo: 57.7 net rating in six minutes
 
This just goes to show how awesome the Raptors were off the bench. The tandem of Powell and Patterson wasn't used in Game 1, but it set the tone in Game 2. Many people complain about Patterson not starting, but as long as he gets 32-25 minutes, what else is there to ask for? He's been great on both ends as arguably the most valuable player on the Raptors to this point. Cory Joseph is also up there.
 
Tony Parker, Manu Ginobili, Kawhi Leonard, LaMarcus Aldridge and Tim Duncan: 57.3 net rating in nine minutes.
 
 
They don't miss Aron Baynes, apparently.
 
A-Very Sticky Situation
 
The Celtics are going to miss Avery Bradley a lot. He is arguably the best perimeter defender in the NBA and the Celtics really need him for spacing on O. Of course, it's going to kill their rotation, as well. Here's how their rotation broke down on Saturday based on minutes at each position:
 
Yep, that's going to leave a major hole at the two. Plus, most of those minutes with Crowder at the four were with Bradley out there with him. It's not going to be easy for them to replace him. Before we get to the "what now?" part, let's see which lineups had success on Saturday: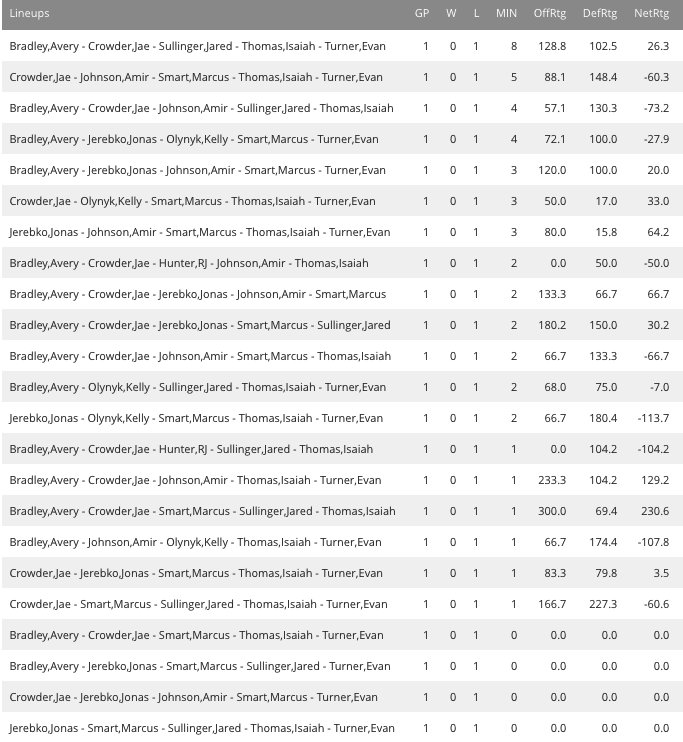 That top combination was the one used to start the second half and really helped pull off a near comeback. Taking Bradley out of that lineup is going to be really tough on both ends. Bradley guarded Jeff Teague a lot, so that means there is a ton of pressure on Marcus Smart. The Celtics might have to start Smart and slot him into Bradley's spot in the rotation with the exception of the SF minutes.
 
That would mean Terry Rozier likely moves into the backup point guard role for 11-13 minutes. Rozier doesn't really have much of a chance against Teague, but he's a decent defender in the isolation stuff Dennis Schroder likes to run. The Celtics may also have to turn to R.J. Hunter, depending on how the first half rotation goes. Plus, not having Bradley in that small-ball lineup may force the Celtics to go bigger more often with minutes for Jonas Jerebko and all the bigs. Although, Kelly Olynyk is questionable for this game, so that would put tons of pressure on Jerebko, Sullinger and Johnson. They might kick the tires on Tyler Zeller, too. If Olynyk is out, Zeller almost has to play.
 
OK, so what about for DFS? Taking the dollar side out of the mix, I would rank the Celtics players as follows for DFS points: Thomas, Crowder, Turner, Smart, Johnson, Sullinger, Olynyk (if he plays), Jerebko, Rozier, Hunter and Zeller.
 
Random Stats
 
The Spurs contested 60-of-61 two-point shots in Game 1 on Sunday. Yes, the Spurs defense is pretty good and you can expect the Grizzlies to struggle to get to 85 points every game.
 
The Clippers screened the Blazers to death on Sunday. Cole Aldrich had a league-high seven screen assists per game on Sunday while Blake Griffin and DeAndre Jordan had a two-way tie at six. To be clear, a screen assist is when a player sets a screen that directly leads to a teammates bucket. If the Blazers can improve in this area, they'll have a better chance for a win.
 
Here's today's DFS podcast. Feedback always welcome at @MikeSGallagher for these short slates. Thanks!