California gave the NBA world quite the entertaining night on Monday. The Warriors destroyed the Spurs while the Kings and Hornets gave us one of the best games of the year. The two stars of those games have been turning some heads and it's not going to be easy to pick the Western Conference Player of the Month for January.
Call the hyperbole police because Stephen Curry is having the best offensive season of all time. On the season, Curry has a 68.5 true shooting percentage (TS%) with his 31.9 usage rate. No qualifier in NBA history has put up a true shooting percentage of 65 with a usage rate of 29 or more, so he is absolutely crushing that. Michael Jordan never even hit 62.0 TS% in any season during his career.
  
After he sort of cooled off in December, Curry is cruising and he's even trending up with an unreal 71.4 TS% in his last nine games. Here's what his shot chart looked like in that span: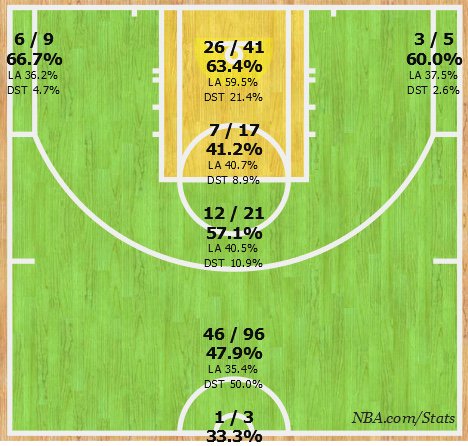 Not fair. There is no answer for Curry right now and the best defender in the NBA couldn't even stop him. This was crazy.
 
That is the smallest and nastiest V cut of the season. Curry is also on pace for a monster fantasy season because of his ridiculous output in treys and efficiency.
 
The Year of Boogie
 
If not for Curry, DeMarcus Cousins would probably be getting more attention in 2016. He scored an NBA-high 56 points on Monday, making 21-of-30 from the field and 13-of-16 from the line. After a nightmare December with a field goal percentage of just 39.1, Boogie has been spitting hot fire like Dylan in January. In those 12, he's put up a league-leading 37.1 usage rate with a 60.6 TS% and a 20.1 total rebounding rate. That translates to averages of 34.4 points, 13.6 boards, 3.0 assists, 1.0 blocks, 1.7 steals, 1.5 treys and 4.2 turnovers on 52.1 percent from the field. Here's his shot chart in January: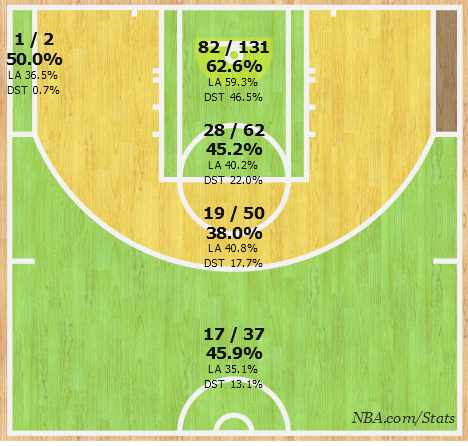 Where to start? The best part of this shot chart has to be how he's taking 66.5 percent of his shots in the paint. All of those shots at the rim have also helped him get to the line a whopping 11.1 times per game this month. That's actually helped him leapfrog James Harden for most free throw attempts per game on the year.
 
One thing that is impressive for Boogie is how well he's performed in really any lineup combination. Here are the 15 lineups with at least nine minutes this month (sorted by net rating):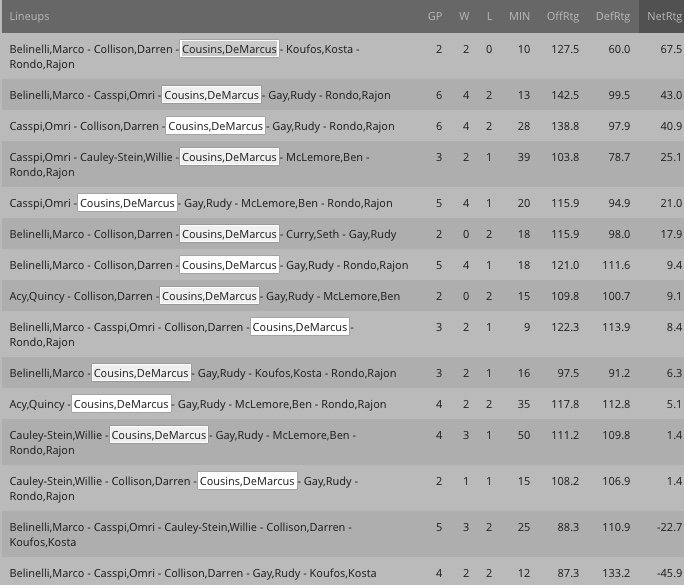 That's pretty wild to go 13-of-13 with positive net ratings for Boogie. In fact, the Kings have a net rating of plus-9.3 this month with Boogie on the court and it's minus-14.9 when he's off the court.
 
To nobody's surprise, Boogie has been the No. 2 player in January in nine-cat and eight-cat leagues (Curry is No. 1). Expect Boogie to keep his dominating ways going all season. Although, he's been so close to getting hurt like every game now, so hopefully he can stay healthy. If you have to go against Boogie in fantasy, this is basically how you feel right now:
 
Len Tall Soup
 
OK, that's a bad headline. Anyway, the Suns have finally let loose Alex Len at power forward. They talked about it a lot at Summer League as he really showed some skills facing up and spacing the floor more. After playing just three minutes next to Tyson Chandler all season before Thursday, Chandler and Len played a whopping 55 minutes in the last two games. Fifty five! That's the most impressive 55 since Jordan's double-nickel and Kenny Powers.
 
On Saturday, the Suns posted a solid 10.9 net rating in their 32 minutes of Len-Chandler. They were a superb rebounding tandem, which has been a major issue for them when they were playing their worst ball earlier this month. Plus, their defensive rating is the worst in the NBA in January at 111.1.
 
Len said he loves the big lineup. "It's easier defensively," Len said (via Arizona Republic). "We're switching everything, helping each other out. The guards can put more pressure on the guards so we can challenge their shots."
 
The Suns kind of stumbled on this lineup because they didn't have Jon Leuer (back), Markieff Morris (shoulder), and Mirza Teletovic (ankle) healthy — Mirza played on Saturday and was out on Thursday. Christopher Columbus ran into America by accident, but it was a game changer — right, BoB? Anyway, the Suns will likely have Markieff back tonight, but do they trust him enough to put him out there for big minutes? I think so tonight. It's a game in his hometown and the Suns will want to boost his value. Still, it might be more about Mirza Teletovic losing minutes.
 
Len is going to be a little too risky to use in DFS as it stands right now, but that might change if coach Jeff Hornacek decides to start Len again. In season-long league, it's going to be awfully tough to leave him on the wire right now because of his upside. He has been quite the tease, though.
 
 
They wanna have me in stripes like Dennis the Menace
 
Dennis Schroder might be getting free soon. The Hawks have really struggled while Jeff Teague is on the court while they're playing well with Schroder out there. Here are their lineups with more than 10 minutes in January: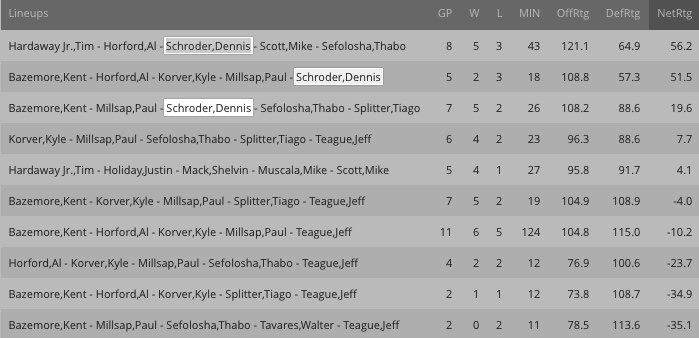 Yeah, not good for Teague. Schroder is in all of the top three lineup combos for net rating while Teague is at the bottom. The biggest thing to note here is how different things have been with the other four starters of Kyle Korver, Kent Bazemore, Paul Millsap and Al Horford. Schroder has a net rating of plus-51.5 in those 18 minutes while Teague is minus-10.2 in the 124 minutes.
 
On the season, Schroder has been very good next to the starters, too. In those 36 minutes, he's posted a 22.1 usage rate, a 57.6 TS% and a decent 26.7 assist percentage (NBA Wowy). Plus, the Hawks are also dominating even before January with a 51.4 net rating in those 36 minutes. With Teague on the year? It's only a minus-3.3 net rating in those 403 minutes.
 
The Hawks did not lose a single game in January last year, but they're sitting at just 6-6 this month with losses to the Suns, Kings, Bucks, Hornets and Knicks twice.
 
Can the Hawks pull the trigger here to start Dennis? I don't think they can. If they do, it's basically going to kill Teague's confidence one year after he made the All-Star Team. Coach Mike Budenholzer did bench Schroder with two DNP-CDs earlier this month and it basically fixed him. Maybe a temporary demotion helps Teague get back on track.
 
Teague did admit that his left ankle has been the reason for his struggles (via Atlanta Journal-Constitution). The good news is that he did have a productive 12-point, 10-dime game in a win over the Nuggets on Monday. He really can't be this bad, so his fantasy owners should still hold out some hope.
 
The other possibility is a trade here. The Schroder-Teague tandem feels like it's eventually going to head south and back in October Schroder said he wanted to start. He's certainly earned a chance to start, but again the Hawks know how important Teague is. "I've said this before, when he plays at that level it changes our team completely," Al Horford said.
 
Teague should still be viewed as a buy-low player because this kind of drop off isn't supposed to happen — Danny Green notwithstanding. Schroder has to be stashed right now with the trade deadline looming now, too.
 
Here's today's podcast!