Draymond Green is quite the unique player. Last year, it was all about his defensive prowess and versatility, earlier this year it was about his passing and helping set up the Warriors offense, and now his scoring has been the story.
 
In his last seven games, Green averaged 21.0 points, 10.6 boards, 6.9 assists, 2.1 steals, 1.6 blocks and 2.1 treys on 53.7 effective field goal percentage (eFG%). He also had a 23.8 usage rate in his 37.9 minutes. That's almost double his 11.7 points per game from last season and Green was putting up just 13.0 points per game in his first 23 games this year. So what's up with the increase?
 
Let's start with the easy stuff. His volume is way up right now and he only had an 18.2 usage rate in his first 23 games. Plus, his minutes have increased 3.9 per game and his efficiency is up a shade at 1.1 percent. Perhaps the interesting part is who he's taking the usage away from. In the first 23 games, Stephen Curry had a 32.9 usage rate, but Curry dropped to 28.4 in usage rate in his last seven — Klay Thompson's usage rate has also increased. Plus, Harrison Barnes not playing has helped Green's output.
 
His shot chart in his hot streak is pretty wild: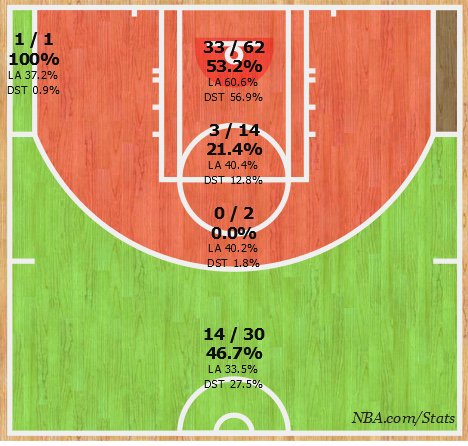 So 147 points in seven games with just two attempts on mid-range shots. He only had 16 attempts in his first 23 games, so mid-range scoring wasn't his bag, baby. The big increase for his shot location stuff is all those easy buckets at the rim and he's not even making that many of them with his sub-par 53.2 percent. That means he could be even better with his efficiency.
 
The Warriors offense can work wonders and Green is really playing better off the ball. In his last seven, he was assisted on a whopping 80.4 percent of his shots. Green has also been open (defender beyond four feet of him) on 30 of his 31 attempts from deep in his last seven. Green also has shot without a dribble 62.4 percent of the time in his last seven, so he isn't trying to do too much.
 
The increase in efficiency seems to be for real, but there are a lot of factors giving a false positive on his high usage rate lately. Green will probably be more of a 15-16 point going forward. He's still going to do a ton of other things on the stat sheet and should be a top-15 player going forward in season-long leagues and a high-end guy in DFS.
 
Down with the King?
 
What's up with LeBron James? His last four games have been a nightmare, making 38.0 percent from the field and 63.3 percent from the line. Plus, he made just 2-of-16 from beyond the arc in that run. Here's his shot chart: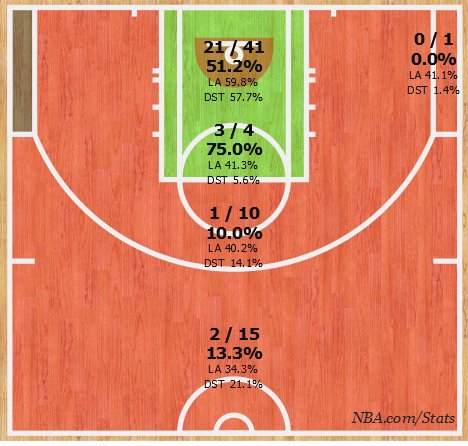 Yikes. LeBron has really struggled on his shots outside of the restricted area all season and he's made just 31.9 percent on mid-range, which accounts for 21.6 percent of his shots.
 
This raises the ol' shot selection talk. If he's taking too many shots of ones he's not making, that's kind of a problem. We all know LeBron is at his best when he gets to the rim, but he's still not this bad. Check out his closest defender numbers on shots from greater than 10 feet away from the rim from this year (top) and last year (bottom):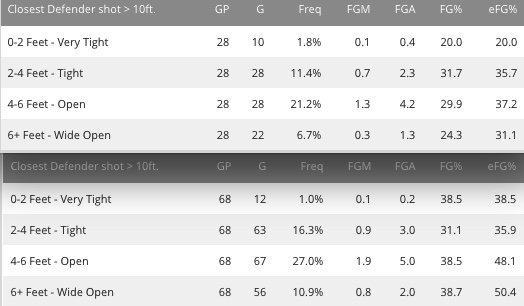 That's pretty bad. He's somehow made just 24.3 percent of his 37 shots when he's wide open and just 29.9 percent of his 117 shots when he's open. Basically, the poor shooting is a little fluky.
 
We've seen LeBron go through shooting slumps before, but this is a major one. He's been one of the worst high-volume jump shooters and he should turn it around — he actually has the highest usage rate in the last 10 games among starters. It's not like he's forcing shots and he's really just missing the open ones.
 
For season-long fantasy, there should still be some concern of him getting some rest, so he's not really a buy-low guy. He should still be able to snap out of it for DFS and it could start tonight. Although, he's been bad on the second half of a back-to-back and is worse on the road, too. On the other hand, the Nuggets are a disaster at defending small forwards and tonight is a stars-scrubs kind of night. Kyrie Irving is out and Kevin Love is banged up, too.
 
Call me Ishmael
 
Ish Smith has been quite the white whale these days. On Monday, he was the first 76er to score 20-plus points with 10-plus assists since Thaddeus Young on Mar. 3, 2014. Smith put up 22 points, three rebounds, 11 assists, two steals and one 3-pointer in 32 minutes. In his two games with the 76ers, he put up a 31.1 usage rate to go with his 8.0 assists per game in just 31.5 minutes per game.
 
Smith was playing very well with the Pelicans and made a career-high 43.0 percent from the field before he was traded. He was also made a career-high 79.6 percent from the line this year, which would go a long way in boosting his value in standard leagues.
 
We all know about the positives with Smith. He has assistant coach Mike D'Antoni helping him run the offense and D'Antoni has seen a lot of point guards go off when he has a say in the offense. Plus, Smith has a whopping 106.7 pace in his two games and one of those two games was against the slowest team in the league, the Utah Jazz — the Warriors are leading the NBA in pace at 102.1.
 
The 76ers don't trade away picks. Like ever. However, they gave up two picks for Ish because they are just tired of getting nothing out of their point guards this year. They cut Tony Wroten, Kendall Marshall played just four minutes on Monday, and T.J. McConnell isn't really a threat to Ish. We know the minutes are going to be there along with the usage, steals and some other stuff, too.
 
The question on Ish is all about the efficiency. Obviously owners in DFS shouldn't care too much, but in season-long leagues it'll be really important for him to convert.
 
He's not really a complex scorer, so let's take a look at his shot chart this year (top) and last year (bottom):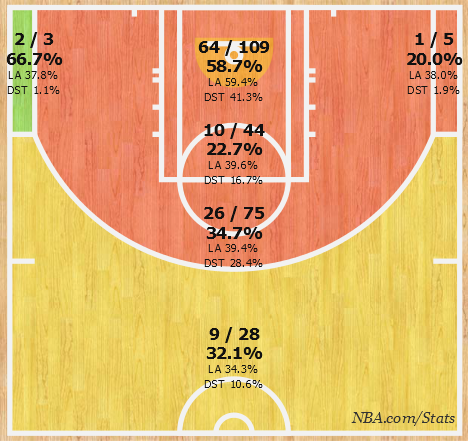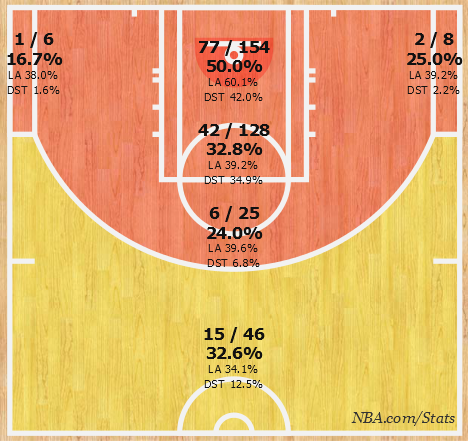 He lives at the rim and he's still right at around 42 percent for his shot total coming from that range. The big difference is that he's 8.7 percent better on those this year. That's a good sign right there and he's taking a lot less on those non-restricted twos — that's a really tough shot for a short player. Another good sign is he's not taking nearly as many highly-contested shots outside of 10 feet. Basically, he's learned his weaknesses, so he should be able to stay near 42 percent.
 
Lastly, BOBAN!! He has been ridiculously good this year. Check out his shot chart: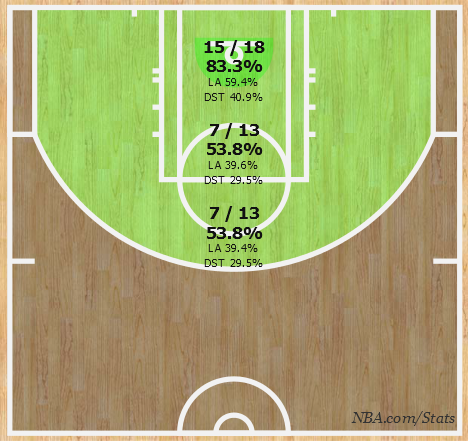 He won't play a lot, but he's a fun player to watch. Plus, if Tim Duncan is out, Boban is in play.
New podcast is out. Steve Alexander (@docktora), Jonas Nader (@JonasNader) and I cover the 76ers, Suns and take your questions: