Hey, we're jumping right into this thing as we're past the midpoint of the season with every team playing at least 43 games. For fantasy, it's always important to know what teams have played the most games and which ones have more ahead. The 76ers have played an NBA-low 43 games while five teams have played 45 (Hornets, Cavs, Pistons, Rockets and Raptors). The Wolves have played the most with their 49 games, the Spurs are up to 48 games and 13 teams sit at 47 games, so keep that in mind on your trade offers. Here are some other trends going on in the NBA these days.
Mr. Smith
Dennis Smith Jr. has finally started to click. Over his last six games, he's averaged 20.2 points, 3.7 boards, 4.8 assists, 1.5 steals, 0.5 blocks and 1.3 treys on 46.0 percent from the field and 87.5 percent from the line. Here's his shot chart over that span: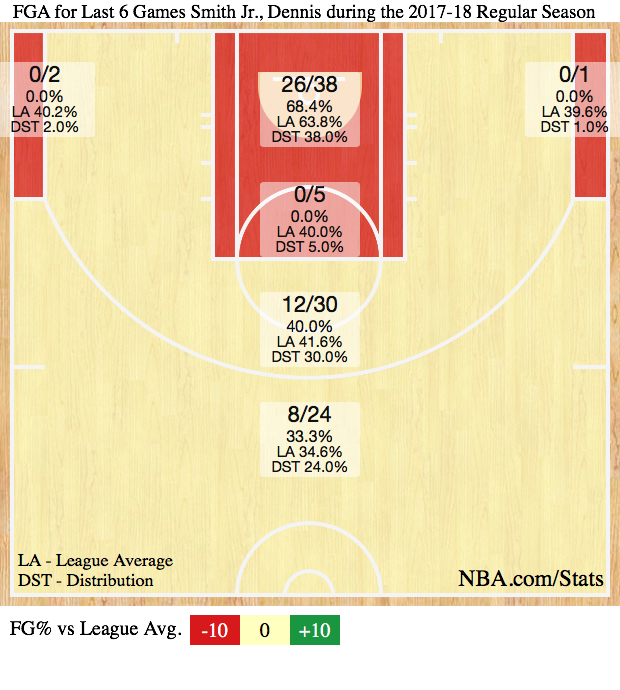 It's certainly nothing special, but him getting to the rim and making those shots is huge. DSJ has only made 31.2 percent of his jumpers on the year, so dropping that total could help his efficiency. The consistency lately has been a major plus with at least 15 in all six of those games and maybe he's going to keep it going now that he's healthy again.
Editor's Note: Looking for an edge in your fantasy leagues? The NBA Season Pass provides weekly projections, rankings, the popular Pickups of the Day column, exclusive columns and customizable stat options. It's the extra tool that can take your fantasy basketball teams to the next level.
Murray's Revenge
The Blue Arrow flamed the Blazers with his career-high 38 points in a 104-101 win on Monday. Perhaps the most impressive part of his 38 was that he only had four 3-pointers as Murray continues to get downhill for some easy buckets while also creating for some of his teammates. Earlier in the year, coach Mike Malone said he wanted to see Jamal Murray get downhill to help open up the offense and apparently Murray heard the message loud and clear.
Murray has also been red hot over his last 13 games, averaging 19.5 points, 4.3 boards, 3.2 assists, 0.8 steals, 0.5 blocks and 2.3 treys on 47.9 percent from the field and 92.9 percent from the line in 34.9 minutes per game.
Here's a look at his shot chart over those 13 games (he's missed one game over the last 14 due to a concussion):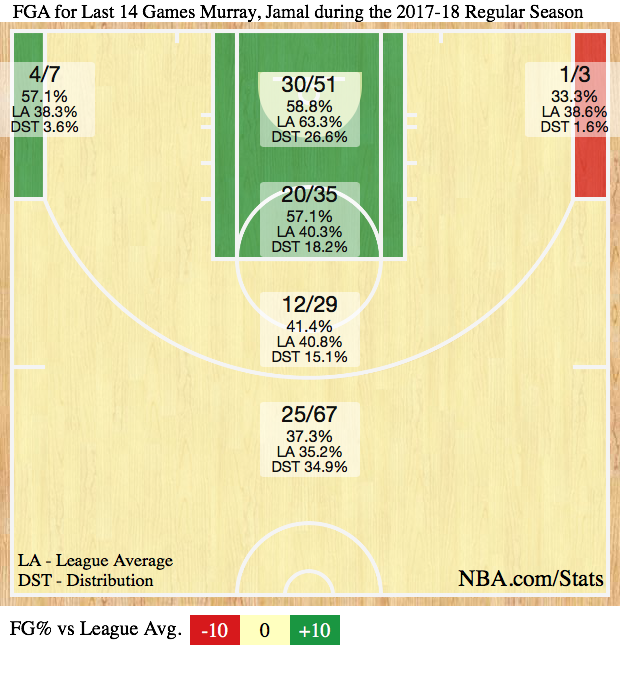 He's been a second-round value after Christmas and there's really no reason to think he'll slow down. Maybe Paul Millsap takes a few shots from him, but Murray is making his money on efficiency and other stats. Plus, Nikola Jokic has mentioned he's OK with his guards getting more boards with his boxing out. Murray's owners hit the bullseye.
Bone Thugs-n-Disharmony
I do have to take a couple minutes to talk about the Cavs. In January, their unit of Isaiah Thomas, J.R. Smith, Jae Crowder, LeBron James and Kevin Love has a -21.6 net rating in 78 minutes. That accounts for most of the 101 minutes Love, IT and LeBron have played together with their -18.4 net rating. No bueno.
Here's a rundown on their units with at least 10 minutes in January: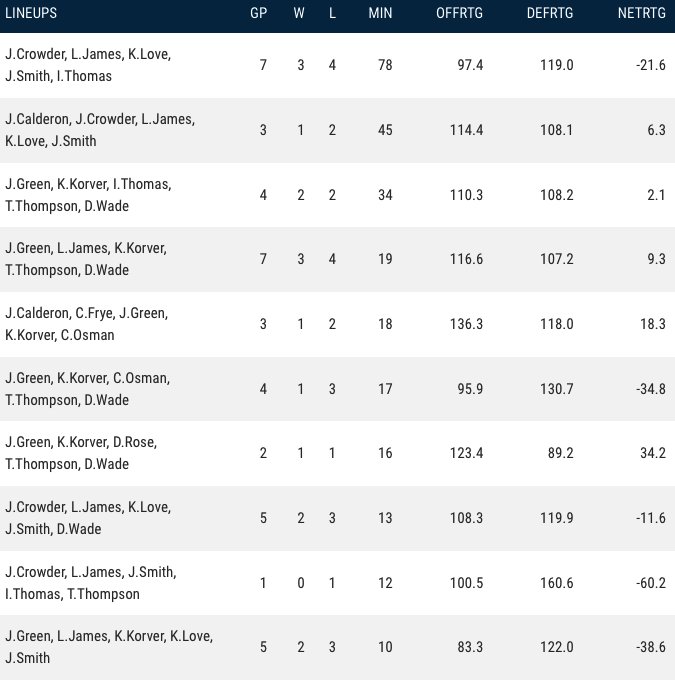 So the non-starting units with 18-plus minutes are doing OK, but defense was still an issue in almost all of those. 
There really isn't an easy solution here and don't be surprised to see the Cavs do something very bold with a trade or lineup. In the very short term, J.R. Smith probably has to get bumped from the first unit or maybe even the rotation. He just isn't playing well right now and he's not a great fit with IT and Love. Cedi Osman time?
There's not much fantasy impact besides how you start players against the Cavs in DFS until they get things fixed. If the Cavs do just stick with this group, Love may take a hit with his dip in usage. He only has a 20.4 usage rate with IT and LeBron, which is way down from his 26.1 usage rate overall this season. Also a positive could be that the Cavs won't be resting LeBron as much. LeBron, Russell Westbrook, DeMarcus Cousins and Karl-Anthony Towns are really the only very early-round guys to play every game so far this season.
Labcabincalifornia
Hey how about a rundown of the Kings' rest? Here's a list of who got a DNP-CD since the Kings decided to start sitting guys:
Jan. 15 vs. OKC: Zach Randolph and Vince Carter
Jan. 17  vs. UTA: Vince Carter and Garrett Temple (Skal Labissiere was hurt)
Jan. 19 vs. MEM: Kosta Koufos and George Hill
Jan. 22 vs. CHA: Zach Randolph and Garrett Temple
There's not much of a pattern yet, but there is narrative street involved. Z-Bo played against the Grizzlies, and Vince was out there in his UNC territory. If you had to guess, you'd think George Hill and Kosta Koufos are next to get a day off. For season long leagues, you basically just dropped anyone above. On the other hand, guys like Buddy Hield, Willie Cauley-Stein, Skal Labissiere, Bogdan Bogdanovic and De'Aaron Fox should all heat up. It really hasn't happened yet, though.
Labissiere had himself a strong game on Monday with a season-high 23 points to go with four boards, two assists, one block and one 3-pointer. He looked really comfortable down low with some left-handed buckets and some hustle on both ends. Make sure he's owned, but just know that there's some speed bumps coming along the way. Maybe Z-Bo gets benched more often.
Buck Town
Jason Kidd getting fired was a fairly big surprise. On paper, the Bucks were doing well with 24-22 record, but losing four in their last five before the firing was enough to make a move. Interestingly, the top Bucks lineups have all done really well. All of their lineups with at least 50 minutes have a net rating of at least +8.6, including their starters posting a +13.1.
With Kidd getting fired, there really isn't much of a fantasy fallout. Giannis Antetokounmpo should be a beast once he's healthy again and maybe Malcolm Brogdon gets hotter than he has been. This could also help John Henson.
To finish up, here are a few things I noticed on shooting tidbits:
Eric Gordon has missed his last 16 attempts from deep.
Courtney Lee has made his last 50 attempts from the line.
John Collins has made two 3-pointers this month after he only attempted two before January.