You don't need to see the Nick Nolte and Eddie Murphy movie 48 Hours to know 48 is associated with two full days. Well, now 48 is also associated with the two full games of the 2016 NBA Finals so far because the Warriors set a record for the biggest point differential in Game 1 and 2. After demolishing the Eastern Conference with a record of 12-2, the Cavs looked worse than any of their Eastern Conference foes in the last week. So what now?
Everyone loves to pick on LeBron James, but this isn't on him. The Warriors continue to collapse on him in the paint, making it really tough for him to get within three feet. That's really been the case for the entire team, though. In fact, here's a look at the team shot chart in the last two: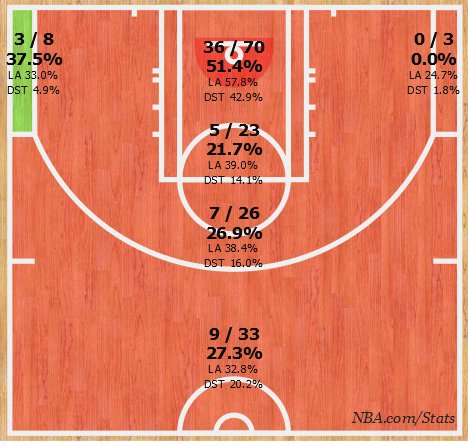 Yikes. They are really having a tough time at the rim, but those shots account for 42.9 percent of their total. The Cavs were fourth in the NBA in field goal percentage at the rim at 63.7 percent with 29.9 percent of their shots come from that area. If they can get those shots to fall, things would be a lot different. Plus, they're also just 12-of-49(24.5 percent) on their two-pointers beyond three feet. 
For LeBron specifically, here's his shot chart in the last two: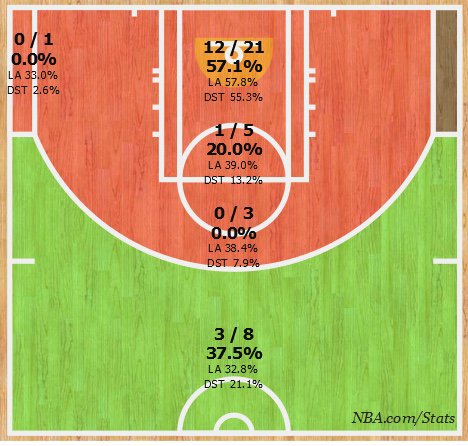 Lots of problems here. Beyond three feet, he's made just 4-of-17 from the field. He also wasn't himself in the paint due to the Golden State defense. Andre Iguodala was able to keep Kevin Durant from getting drives to the cup and he's off to a really nice start here, too. LeBron's offense is built off driving to the rim a heck of a lot more than Durant, so Iguodala's defense is even more important here.
For what it's worth, James was terrific at the rim during the season, making 69.9 percent from there. However, he's 12.8 percent below his average with a similar distribution. The Cavs might want to use some Warrior-style plays with higher screens from their bigs.
Again, this isn't on LeBron. The Warriors know the Cavs will want to get him the ball on every halfcourt set and their ability to bring a double has been a major problem. The Cavs really shouldn't care about the Warriors focusing on LeBron because he's their best player by a country mile.
Kyrie Irving has been terrible on both ends. By now you've probably heard all about how he's been torched on defense. Kyle Lowry got him in the last round and the Warriors are having a field day. He is getting destroyed on basically every play type by every perimeter player. Hey, even Harrison Barnes has torn him up at times.
On the other side of things, Irving's offense has been a nightmare. He's made just 33.3 percent from the field with only one total 3-pointer. The problem with him has been shooting off the dribble, which is what he's been known for among the highlight-loving folks. On his 29 shots with at least two dribbles in The Finals, he's made just seven of them. He didn't make any treys on those, so that's only a putrid 24.1 effective field goal percentage. The Cavs will likely want to use him off the ball to free him up from deep. The Warriors had a similar plan with Curry against the Thunder after Game 4, so the Cavs should be watching some tape there.
The Cavs rotation could be in even worse shape than it was for Game 2. Kevin Love (concussion) is in the protocol right now and is basically questionable to play in Game 3. So what's the concussion protocol?
A player has to be symptom-free before they can begin activity. Once he is deemed as such, he'll have to do ride a stationary bike, jog, run agility drills, and participate in a non-contact practice. He'll have to be symptom-free for each step, too. Once he's through all of that, he can play.
If Love doesn't get cleared to start the protocol on Tuesday, it's going to be awfully tough for him to be ready for Wednesday. While Love has a terrible matchup on his hands against the Warriors, the Cavs still need him. Why? Depth. 
If Love can't go, the Cavs have some major concerns at the four. Their best bet would be to play LeBron at the four to help keep up with all the firepower on the Warriors. The Cavs went with small-ball overkill with James at the five for a whopping 10 minutes in the third quarter. That lineup also had Kyrie Irving, Iman Shumpert, J.R. Smith and Richard Jefferson, and it was a complete disaster with a -58.9 net rating in that time. That lineup combo should be put to bed.
For whatever reason, coach Tyronn Lue loves to play Richard Jefferson long stints. ABC reported just after halftime in Game 2 that Lue wanted to go with more Jefferson and less Channing Frye. Back in the last series, RJ played the entire fourth quarter of a close Game 4 against the Raptors, so this isn't the first time we've seen Jefferson play 10-plus minutes in a row. He's 35 years old and really has no business getting long stints like that. Without Love, we should probably see around 20 minutes of Jefferson.
Timofey Mozgov is probably the favorite for the Love-less starting lineup. In that aforementioned third quarter, the Warriors just kept cutting to the rim to fill the paint. That just can't happen because all those cuts cause even more switching, including on plays when the cutter doesn't get the rock. If the Cavs do go with Mozgov, that would be a ton of pressure on Tristan Thompson on the perimeter with all the offense the Warriors run through Draymond Green.
On the other hand, the Cavs might want to go small. It wouldn't be the worst idea to put Matthew Dellavedova or Iman Shumpert out there either. Even when the Cavs have gone small, they still haven't been able to defend the perimeter. Plus, it might make sense to bring that lineup in late in the first quarter when Andrew Bogut is out there. Mozgov's minutes should try to overlap Andrew Bogut as much as possible because of his lack of lateral quickness.
Lastly, the Cavs starters haven't been that bad. Check out their lineups with at least three minutes in this series: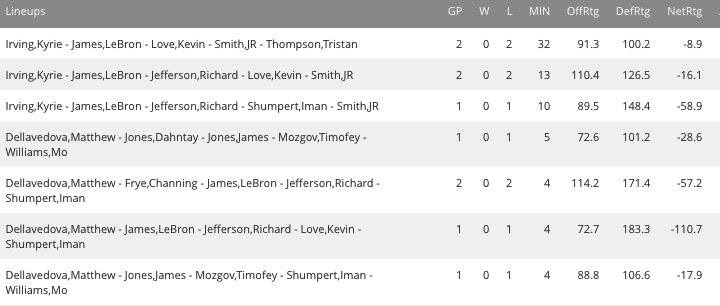 Considering they lost by 48 in those two, a -8.9 net rating is solid in 33 percent of the game time. Most of those other terrible lineups are due to the Warriors bench going off in Game 1.
Homecourt advantage is nice, but it's not going to be easy for the Cavs.
News and Notes from Monday
Dragan Bender has workouts scheduled with the Celtics, Suns and Wolves. Those three pick 3-5 in the draft and chances are the Croatian big man won't be going past the five spot. The Suns probably need him the most and may regret sliding to four due to some late wins and the Nets losing their last 10. Here's a list of the power forwards they started last year: Markieff Morris, Jon Leuer, Alex Len, and Mirza Teletovic. Morris is gone while Teletovic and Leuer are unrestricted free agents. That said, the Celtics have to be a favorite to draft him. DFS players know all too well about the frontcourt mess with the Celtics and we saw Jonas Jerebko as the team's best four against the Hawks in the postseason. Bender would be a lovely fit with coach Brad Stevens.
The Suns also worked out Cal small forward Jaylen Brown. If Bender goes to Boston, Brown is certainly in the mix to go at four. T.J. Warren did see his arsenal grow last year, making 40.0 percent of his 70 attempts from deep last season. Still, this one is playing on two screens at small sample size theater. Warren has one of the ugliest and most flat 3-pointers in the NBA, so his role isn't safe. The Suns could also bring P.J. Tucker back.
LaMarcus Aldridge (hand) and Stephen Curry have said they're out of the Olympics. While both players have cited injuries for their withdrawal, it's hard not to think about the Zika factor. Plus, Andre Iguodala is "keenly watching" the developments in South America. 
It's hard to believe the offseason is just around the corner — hopefully we get at least three more games. if you guys have any ideas for a topic on a stats- or lineup-based column, definitely hit me up @MikeSGallagher