We always talk about offense, but how about some defense? The Jazz have been locking people down with a six-game win streak and look like they'll be able to climb up the standings after the break. They also haven't allowed a team to score 100 points since Derrick Favors returned seven games ago.
 
In fact, the Jazz are first in defensive rating since Favors returned at 92.9 while they're at a 9.9 net rating in that span — that ranks fourth. They allowed a league low in makes at the rim in that span while they also rank in the top three for right corner, left corner and above-the-break 3s allowed in those seven games. No shots at the bucket and cutting down 3s is a good formula on D, right?
 
While defense has been the key, the offense of the starting unit has been very good with a 106.5 offensive rating in those seven games. A lot of that has to do with Rodney Hood running the offense more. He actually leads the team in usage rate over those seven games while posting a tidy 58.7 true shooting percentage. One of those most unique things in the Utah offense right now is the Hood pick-and-rolls. He comes in at 85.8 percentile for PNR ball-handler scoring on the season, which many people wouldn't have saw coming. C.J. McCollum, Kevin Durant, James Harden and DeMar DeRozan are the only other non-PGs with better efficiency with at least 200 attempts in PNR, so he is elite right now — C.J. is also awesome in PNR. Hood is probably one of the better players most casual NBA fans don't know about and he's obviously carried his fantastic Summer League into the season. He's under contract for $1.4 million per season this year and next year. For fantasy, he's been hanging around top-50 value in 2016 and the return of Alec Burks shouldn't hurt him too much. He is always someone to consider in DFS and it's nice to see he doesn't have such bad starts to games anymore. Back on Dec. 9, Hood had just a 38 true shooting percentage in the first half of games, but it increased all the way to 67 in the second half. He's sorted that out and continues to perform consistently through games now.
 
The Jazz are who they are because of Favors and Rudy Gobert. The Stifle Tower is one of the best defensive bigs, but he does have a hole in his offensive game. Gobert is just 61.4 percent from the line on the year and the Suns actually did a Hack-a on Gobert in Phoenix on Saturday. He made them pay for it, going 9-of-12 from the line (75 percent) in the win. That works out to a 150.0 offensive rating, which the Jazz will take every time. Obviously he's nowhere near the problem of guys like DeAndre Jordan (41.8 percent) and Andre Drummond (35.0 percent).
 
As you might expect, Gobert and coach Quin Snyder are welcoming the Hack-a-Tower. "I practice every day," he said (via Jody Genessy of the Deseret News). "I make 10 [straight] easily every day. Again, I've just got to think it's easy." He added it just gives him points and he likes it. That's the spirit, Rudy.
 
Snyder added similar comments. "If we're going to be the type of team we want to be and he's going to be the player he wants to be, he has to shoot them and he's got to make them," he said. This is all great to hear because guys like Andre Drummond have been pulled due to missing too many free throws. After all, if a guy is only making 40 percent, then why wouldn't you foul him every time? That's an offensive rating of 80.0 on that clip — the 76ers are dead last in O-rating at 94.2 this season.
 
For fantasy, Gobert has been a stud again. He's been a first-round player in standard leagues over his last 10 games thanks to terrific shot blocking, production in steals and making 61.3 percent from the field. For what it's worth, Drummond is not even in the top 300 in that span because of his 31.2 percent from the line.
 
The other big takeaway from all this is that DFS owners basically have to avoid Utah's opponents almost any night. Yes, Karl-Anthony Towns lit them up, but KAT is probably the best rookie big man the league has seen in like 30 years.
 
Talk of the Towns
 
Speaking of Towns, let's just talk about him for a moment again. He was the focus of last week's stats article, but he's been just too good. In his last 10 games, the 20-year-old rookie averaged 21.5 points, 12.6 rebounds, 2.4 assists, 2.2 blocks and 0.6 steals on 62.1 percent from the field. How crazy is that for fantasy? If you take 3-pointers out of the equation, KAT is the top player in those 10 games. He's a fantasy cheat code and he's hitting his value in DFS almost every night now, too. KAT has eight straight double-doubles with at least one block and a true shooting percentage greater than 50 in all of those, too.
 
The Wolves pulled out an impressive win on Saturday and coach Sam Mitchell hinted that the KAT will have some extra run headed his way. When asked if Towns and Gorgui Dieng will play 40 minutes together back on Saturday, Mitchell said, "We're going to find out." That didn't happen on Monday with Towns only getting 29 minutes, but he still put up a 19-12 line in a loss to the Pelicans. This is also a terrific sign for Dieng, who has played a total of 202 minutes next to Towns in the eight games Kevin Garnett has missed. Before that? Dieng and Towns played together for just 248 minutes in the first 40 games of the season.
 
KD is not nice
 
KD has finally pulled into the No. 2 spot on the NBA's points-per-game list this season. In his last seven, he's averaged 34.4 points, 9.9 boards, 4.3 assists, 1.3 blocks, 0.9 steals and 3.3 treys on 50.3 percent from the field and 92.9 percent from the line. Here's what his shot chart looks like.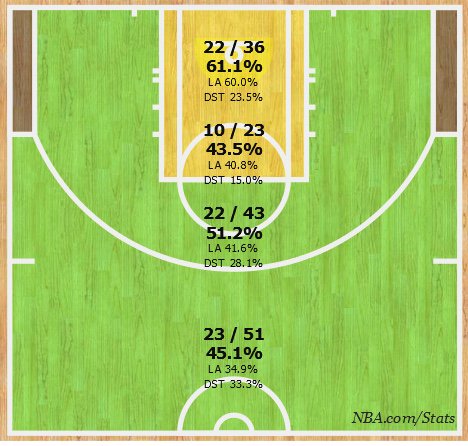 Holy jumpers. KD usually hangs around 70 percent at the rim, so a 65.7 true shooting percentage in that span could be a lot better. Teams have actually defended him quite well on jumpers, too. Here are his closet-defender numbers in that seven-game span:

Over one third of his shots have tight defense from beyond 10 feet, but he's still put up a terrific 59.8 effective field goal percentage on those. KD is also destroying defenders 4-6 feet away. His on-ball scoring is almost as great as Stephen Curry's off-ball scoring.
 
KD has always played really well off Russell Westbrook. In those seven games, Westbrook has assisted KD 4.4 times per game. Nobody else on the team has more than 0.3 assists per game to KD. Obviously, KD and Westy are fantasy superstars with KD hitting on all cylinders right now.
 
Podcast: Steve Alexander and I cover the Kangz, Jimmy Butler and several trade rumors as we head into the All-Star break.