Imagine the worst possible vacation spot. It rains every day, you get sick, you lose your wallet, the favorite sights you want to see are closed for renovation, you get a horrible room, you have annoying next-door neighbors and your return flight gets canceled so you're stuck there FOR-EV-ER.
 
Basically, that's what it's like for star players when they take a one-day, all-inclusive trip to Kawhian Island. He has been shutting down almost everyone in his path and Kawhian Island has 0.1 stars on Expedia — hey, some people are a glutton for punishment.
 
 Follow me on Twitter @MikeSGallagher for Vines, stats, analysis and more.
 
On Monday, Paul George was the latest star to have a horrible trip to Kawhian Island, making 1-of-14 from the field for seven points with seven rebounds, six assists, two steals, one 3-pointer and six turnovers — PG has 20 turnovers in his last three games, by the way. 
 
Perhaps one of the most interesting things about Kawhi is he defends the best wing and sometimes even the elite point guards -- why do we have to wait until Jan. 25 for Spurs vs. Warriors? Anyway, Leonard is one of the best defenders in pick-and-roll, which may have to do with a little bit of his team's defense. The Spurs are No. 2 in points per possession on pick-and-roll from ball handlers and a big reason is because of Kawhi. The defensive output to go with his offensive breakout makes him even more impressive.
 
According to SportVU, here is how he defends his man in the first half of games this season:

That is crazy. His man is 13.6 percent below league average overall and 12.5 percent worse on shots inside of 10 feet. Kawhi's length as an on-ball defender is probably what makes him a top-three player right now. Of course, for fantasy, we all love to see those steals. In his last 15 games, he has 2.3 steals per game and many of them are just from anticipating passes and using his incredible wingspan.
 
In DFS, starting a small forward against Kawhi is basically throwing money away. In the last five games, here are the amount of field goal makes from starting small forward with the most recent first: one (Paul George), one (Luc Mbah a Moute), one (Otto Porter), one (Gordon Hayward), two (Thabo Sefolosha). Six makes in five games. Madness. Kawhi had five field goal makes in the third quarter last night. Guys just can't get around him and this clip of Kawhi defending lightning-quick John Wall sums it up:
 
He's not fair on defense.
 
On offense, Kawhi is up to 61.4 true shooting percentage with his 25.2 true shooting percentage. His shot chart really sums up how awesome he is this season: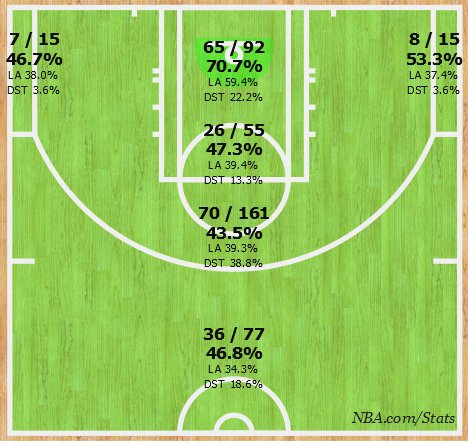 One color needed with Kawhi well above league averages everywhere. He's 11.3 percent above the league average at the rim and he's dominating on his league-leading 3-point percentages. 
 
Usually, when you see a player have a major increase in usage rate like Kawhi, it results in lower efficiency and usually more unassisted baskets. That's not the case at all with Kawhi being assisted on 61.8 percent of his buckets this year, which is up from 53.8 percent last year. His TS% is almost up five percent from 56.7 last year, too.
 
For the fantasy side of things, Kawhi passed Kevin Durant for the No. 2 player in nine-category leagues last night. He is going to be a monster for a long, long time.
 
Freed Bobby Portis?
 
We've been clamoring for it since October and it's finally here. The Bulls made an major change to their rotation on Monday bumping Nikola Mirotic to the small forward spot. Up until garbage time on Saturday night, Mirotic almost never played small forward this season and rarely did it in the preseason, too. Last year, coach Tom Thibodeau did use Mirotic at the three for about 20 percent of his minutes and it would often come in bunches at a time. He's a horrible defender on an island, so why are the Bulls doing this?
 
Well, it's to free Bobby Portis. The rookie has been making waves since Summer League and he had himself a monster preseason, too.  Back in the preseason, he had per-36 averages of 18.5 points, 15.2 boards, 1.2 blocks, 0.5 steals and 1.2 treys on 44.1 percent from the field and 81.3 percent from the line. Portis didn't even have much luck around the basket, so he probably would've been closer to 50 percent had some more close-range shots went down.
 
This season, his per-36 numbers are just as appetizing, averaging 26.6 points, 9.6 boards, 1.7 assists, 2.3 steals, 0.6 blocks and 1.1 treys on 47.7 percent from the field in his 64 minutes. He has an eye-popping 33.2 usage rate and is an absolute animal with the basketball.
 
He loves to bang in the paint and this bucket really pretty much sums up his style:
As you could expect, he has a pretty good amount of shots at the rim and he's succeeding, too. Here is his shot chart this season in his 64 minutes: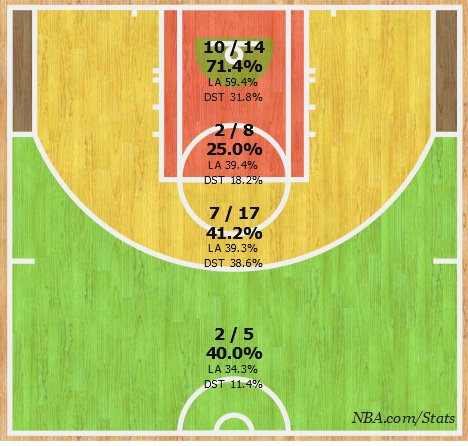 You have to like how he has 50.0 percent of his shots in the paint. He is pretty smart when it comes to his shot selection and that's been the case since Vegas. In fact, only 4.5 percent of his shots this year are with a defender within four feet of him on shots from beyond 15 feet. He should be able to flirt with 50 percent from the field.
 
So, the Free Bobby Portis movement has picked up even more steam because Joakim Noah is likely going to miss time. The former Defensive Player of the Year has a sprained shoulder and will be out for at least two weeks. With what looked like more minutes for Noah in the newish rotation, that could open up 25-30 minutes per game for the frontcourt guys. Noah played most of his minutes at center, so that would help guys like Taj Gibson and Portis more than Mirotic — of course, those guys moving to the five more helps Mirotic, too.
 
Since Bobby Portis was freed, here's a look at the lineups he's been in (via NBA Wowy):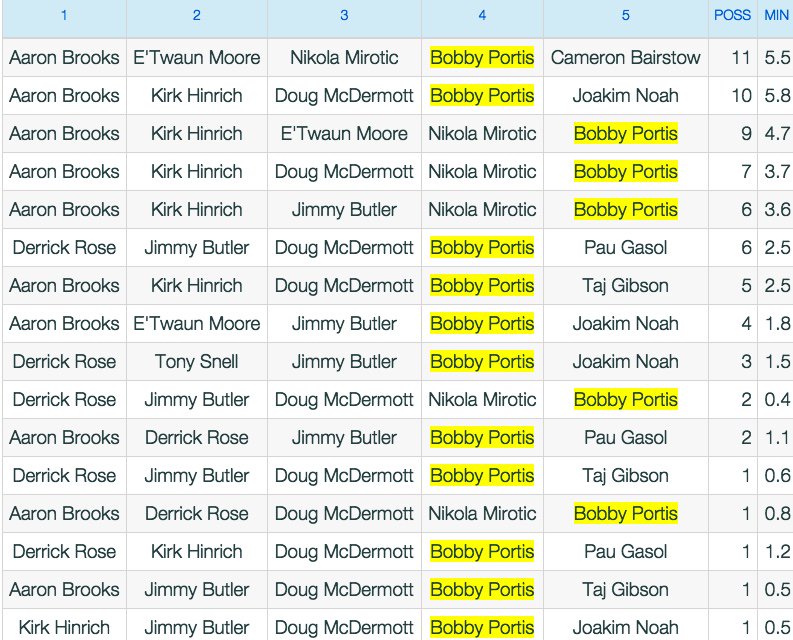 The big things here are that most of his minutes are at power forward and all of his center minutes are next to Nikola Mirotic because most of those lineups with him at PF was from Saturday. In fact, Mirotic only played a few seconds at small forward on Monday. In case you're curious on the lineup combos, here ya go: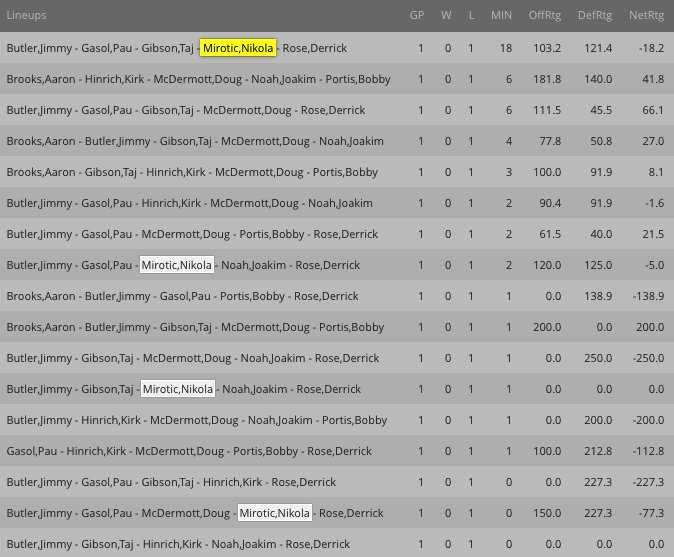 Yuck. Mirotic had a team-low minus-18.5 net rating, and this was against the Nets, too. It's only one game, but this isn't a big surprise to see the Bulls struggle in that regard.
 
If Noah is going to be out, the Bulls will probably ditch the Mirotic SF experiment to some extent. Whatever the case, we should see Portis get minutes in the upper teens to lower 20s while he's out. That would make him worth owning in most leagues based on his per-minute numbers. Although, keep in mind he has logged the vast majority of his minutes when he's not next to Jimmy Butler and Derrick Rose.
 
Ball of Klay
 
He has been ridiculous since Thanksgiving. In that span, he has a phenomenal 68.6 TS% with his 26.0 usage rate with averages of 23.9 points, 3.2 boards, 2.1 assists, 1.0 blocks, 0.6 steals and 4.5 treys on 51.9 percent from the field. Here's his shot chart in that stretch: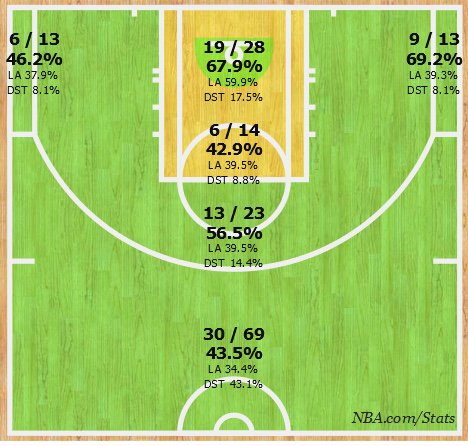 That is a ton of treys with those shots accounting for 59.4 percent of his shot total. The interesting part of Klay going off is that it's happening with Harrison Barnes (ankle) out of the lineup. That'll be something to watch going forward once Harry B is back. Still, Klay seems like he's for real after a really bad start. He is the No. 3 player in fantasy since Thanksgiving — Kawhi and Stephen Curry are two and one.