There's a fairly short list of teams that tend to mess with their rotation throughout the year. Coach Brad Stevens shifts his minutes for his bigs basically every game, coach Jeff Hornacek had six straight games when he didn't have the same lineup in back-to-back games and still hasn't figured out a consistent rotation, coach Brett Brown will play different wings most minutes, and about half of the teams will shift guys around in particular matchups or if they're trailing late in the game.
Before the past two seasons, there was really one coach renowned for making drastic changes: Scott Skiles. In the fantasy hoops world, Skiles would annoy fantasy owners because he would bench a player for a bad play or two or have a different approach for a given game. Well, this year he's still benched plenty of players for poor play and he's made a few big changes to his rotation. Unlike Stevens or Hornacek, Skiles does tend to stick to his guns to give his new rotation a chance.
The Magic aren't playing their best ball right now. They haven't had Elfrid Payton (ankle) for their last four games and they went 1-3 in those — the win was only an 83-77 victory over the lowly Nets. NBA teams shouldn't be allowed to win with 83 points.
 
While they haven't been winning games, they have seen a lot of production out of Victor Oladipo. In those four games, he averaged 18.8 points, 6.0 boards, 3.8 assists, 1.8 steals, 0.8 blocks and 3.3 treys (!) on 55.3 percent from the field and 90.9 percent from the line. He's played 37.5 minutes per game in that span.
 
Before this recent hot stretch, Oladipo was really struggling off the bench. Coach Scott Skiles tweaked his rotation on Nov. 25 to basically swap Oladipo for Channing Frye while pushing Tobias Harris from the four to the three and Evan Fournier from the three to the two. His numbers were a disaster in those 20 games, averaging 12.1 points, 3.8 boards, 4.2 assists, 1.2 steals, 0.7 blocks and 0.8 treys on 39.2 percent from the field. He had no rapport with the second unit and really wasn't in a position to succeed.
 
Here are his shot charts from the last four starts (top) and the 20 games he came off the bench: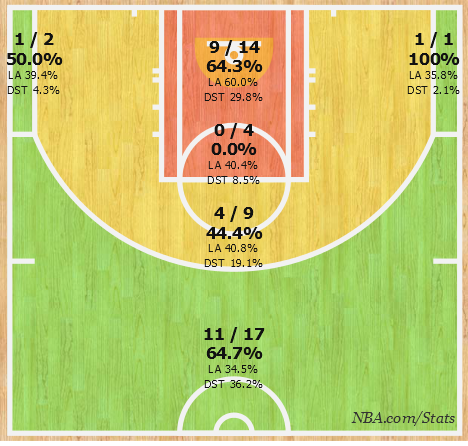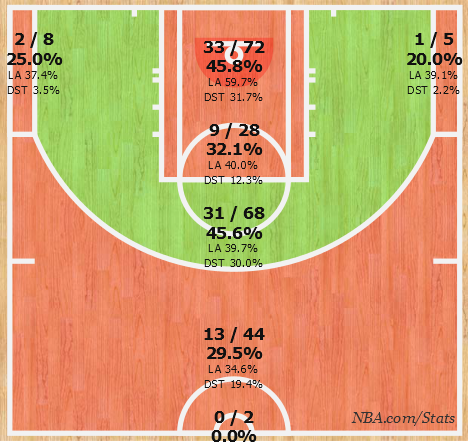 There are three things that jump out here: Oladipo is almost 20 percent better at the rim in his last four, which is huge because his performance at the rim is crucial for his production. Last year after the break, a whopping 44.0 percent of his shots came at the rim and he made 54.1 percent of those. Channing Frye is really only good at spacing the floor these days, so doesn't it make sense to put him on the floor with 'Dipo? Of course, that might all be moot with the way Frye is playing on defense. Oladipo is also not getting into the paint as much right now, but that's because he's been so hot from three lately. 
 
Secondly, Oladipo should not be taking 30 percent of his shots in the mid-range like he was doing in that 20-game cold stretch. While he has been 6.3 percent better at making those than his woeful 36.3 percent from mid-range last year, it's still not nearly as efficient as his other shots. Plus, he's not even that open on them and has only been assisted on 26.7 percent of them. It's only four games, but 10.9 distribution drop in mid-range is encouraging.
 
Finally, perhaps the most obvious change is from deep. Oladipo made a career-high six treys on Friday and made a totally unsustainable 65.0 percent from deep in his last four. There is no way in the world this is sustainable, but it's not something to ignore, right?
 
He's been very open on his treys. Among his 20 attempts in his last four, he's been open on 19 of them. Oladipo was also catching and shooting on 14 of those (70 percent). That may sound promising, but it's probably not.
 
In the 20-game run off the bench, Oladipo was open on 91.5 percent of his trey attempts and he was catching and shooting on 86.4 percent. Translation:  Oladipo's hot stretch from three is a total fluke.
 
Yes, Oladipo starting did occur on the same day Payton missed his first game of the year. However, Skiles said Oladipo was going to start that game anyway. He should be starting going forward and it should stick based on how long Skiles stuck with his old rotation switch.
 
Besides 'Dipo, the Magic first unit has been a disaster in that span. Here's a look at their 10 most used lineups in the last four: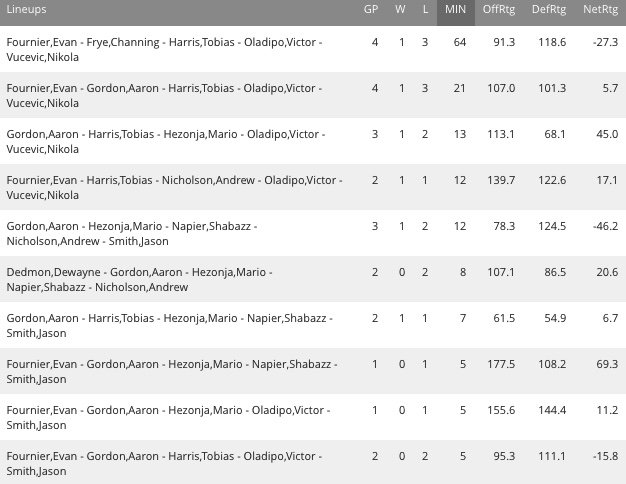 There is one massive difference jumping out here. When the starters were on the court, they had a horrible minus-27.3 net rating in 64 minutes — that's the lowest net rating in the NBA among lineups with 48 total minutes in their last four games. However, with Channing Frye out and Aaron Gordon in with the other four starters, that lineup put up a plus-5.7 net rating. 
 
The biggest problem for Gordon all season is that coach Scott Skiles did not want to play him next to Tobias Harris. When Harris was a power forward earlier in the year, Gordon would back him up there. When Harris moved to small forward on the Nov. 25 rotation change, Gordon also moved behind him there, too. Well, now they are playing next to each other for 13.5 minutes per game in their last four — they have a solid net rating of plus-5.6, too.
 
In the last four games, Gordon averaged 8.5 points, 6.5 boards, 1.0 assists, 0.5 steals, 0.3 blocks and 0.8 treys on 56.5 percent from the field and 83.3 percent from the line in 23.6 minutes. Those are not eye-popping numbers at all and it's only good for 10th-round value. Based on his per-minute numbers, Gordon should be closer to 1.0 steals and blocks, so he should be better than this.
 
The second-year forward played the final 19 minutes on Saturday and he should be maintaining his role in the mid-20s. He probably won't be moved into the starting lineup or anything because the Magic don't really have anyone to back up Tobias, but it seems pretty clear his minutes are up.
 
 
So if 'Dipo and Gordon are trending up, then who is trending down? Elfrid Payton (ankle) should be ready to go on Thursday, but his minutes might not be there as much and he's almost a lock to come off the bench. In fact, the Magic are at their best when Payton is off the court. They have a plus-1.7 net rating when Payton is on the bench this year, which is the highest among anyone on the team — Oladipo is minus-0.7 (this is OFF the court, so lower numbers are better for that player's value). If you have Payton in fantasy, you might want to be ready for him to put up some ugly numbers in the second unit. In his 109 minutes without Oladipo and Nikola Vucevic, he only has a 40.0 effective field goal percentage (via NBA Wowy), but he does assist on 40.6 percent of the team's makes while he's in there for that time. It's probably also worth mentioning the Magic have a net rating of plus-16.2 in that span, so at least it's working. Payton's fantasy value can't really be much worse at 15th round on the year, so his owners really can't sell him anyway. It's probably best just to see how it shakes out, but he's droppable in 10-team leagues.
 
It hasn't happened, but Evan Fournier could lose more minutes. Chances are the days of him playing small forward are probably trending down even more. The Magic have fared well with their Mario Hezonja and Fournier wing lineup lately, but Fournier's defense has been non-existent at times.
 
Check out his SportVU defensive numbers in his last 10:

Yikes. He's getting mauled inside of 10 feet right now. If there's one thing that will put you in Skiles' doghouse, it's bad defense. Obviously Fournier's owners shouldn't panic, but it's just something to watch. If you can sell him at like top 75 value, I'd do it.
 
One other thing I just wanted to add on the Magic is they are going slooooooooooow. In those four games, they only have a pace of 90.7, which ranks dead in the NBA during last in that span. They have 17.1 percent of points scored off turnovers, but only 9.2 percent of their points off fast-break points. That's odd. It's only four games, but it's just something to watch. They need more pace, especially because Aaron Gordon can be very good in the open floor with 'Dipo. This was cool last week. He's so fast in the open court:
 
 Boban the Destroyer
 
We gotta hit Boban Marjanovic. Among players with more than 10 minutes played this year, Boban ranks first in total rebound rate and first in offensive rebound rate. Yes, higher than Andre Drummond. He can't even really jump and basically just reaches up to pull the board down. It's crazy how much bigger he is than everyone else. Thomas Robinson is listed at 6'10", but he looks like Nate Robinson here:
 
 
As for the scoring side, his shot chart is great: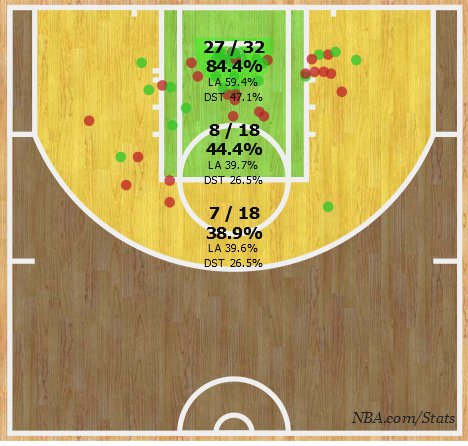 Yeah, an 84.4 percent at the rim will do just fine. Plus, he's also just below the league average for field goal percentage on mid-range shots.
 
 
For fantasy, he's still only a stash in very deep leagues, which stinks. The Spurs tend not to care about homecourt too much for the postseason, but they might care a little more because Golden State is just so good at home. Still, we'll see plenty of DNP-OLDs this year. Boban will be someone DFS owners will be using on nights players rest.
 
 
 
And now, the proudest group in the NBA. Here are the four players to block Boban so far this year: Mike Scott, Mike Muscala, Jeff Withey and Brook Lopez. Congrats.
 
 
Doctor A and I go over the top-10 players, the NBA trade deadline and take your questions: