IT is back! Last season, Thomas was one of the best players in the fourth quarter, so the Cavs could have a chance to improve their Eastern Conference-leading +6.9 net rating in the fourth. The King of the Fourth led all NBA players with his 684 points in the fourth quarter and he did so in efficient fashion with a 65.0 true shooting percentage (TS%) on a 41.2 usage rate.
One aspect that will be interesting is how the Cavs run pick-and-roll plays with IT. Last year, he was one of the best high-volume PNR players with his 93rd percentile 1.10 points per possession on PNR plus passes last season. Thomas was also terrific as a spot-up player with his 92nd percentile 1.22 points per possession on that play. You'd think he and LeBron James would be able to play off each other. If you're curious to see how IT did on the other plays last year, here ya go (via Synergy):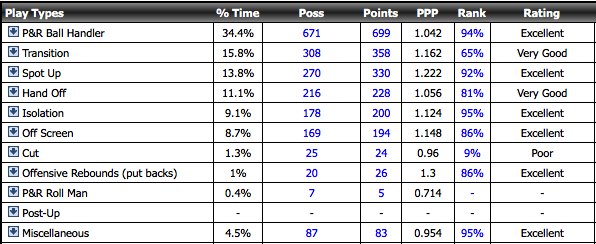 The Cavs are just 27th in frequency in which they run PNR ball handler plays, but they do check in at 65.5 percentile in the league. Plus, they're also 24th in the NBA for spot up frequency, so again it'll be interesting to see how IT's best skills get utilized properly.
The other side of this is how is IT going to take shots away from guys. Kevin Love has a 27.0 usage rate on the season, so chances are that's going to drop. Still, he did have a 25.5 usage rate last season with Kyrie Irving, so staying around 25 should be doable. Love also has an 18.4 usage rate in the fourth, so it's not like his numbers can drop much more than that.
Editor's Note: If it feels like people are talking about Bitcoin everywhere you go, it's because they are. And now you can add FanDuel to that list, who this week are hosting their Bitcoin Bowl, consisting of two separate contests where you can win real Bitcoin. Join the Bitcoin craze now!
LeBron James is a beast and he's been particularly good in the fourth, posting a 40.0 usage are and a 63.0 TS%. That's up from his 33.9 usage rate and 62.7 TS% in the fourth last year, so that may also be a fair expectation.
For fantasy, the Pizza Guy was a top-12 player in nine-category leagues last season, but he's going to have a really tough time matching that even when he's healthy. Hopefully, IT doesn't take a big hit because he doesn't have Brad Steven drawing up plays for him. Avery Bradley fell off a cliff this year, so that does create a slight cause for concern. Still, you're starting IT with confidence everywhere, but he's probably going to be more of a top 30-50 kind of player and not the MVP-caliber stud we saw last year.
Free Jarrett Allen!
Do it, Kenny! Over the last seven games, Allen averaged 8.7 points, 6.4 boards, 1.0 blocks and 0.4 steals on 49.0 percent from the field and 83.3 percent from the line. Allen is coming off his career-high 16 points on Monday and he's playing more clutch minutes these days. In particular, Allen has crushed in the third quarter over his last seven games. Per 36, he put up 26.2 points, 14.3 boards, 4.2 blocks and 0.8 treys on 75.0 percent from the field, so maybe the Nets start to use him more with their key players more.
One thing that may be holding coach Kenny Atkinson back on starting Allen is how well the second unit has played. The lineup with Allen, Caris LeVert, Joe Harris, Allen Crabbe and Quincy Acy has a +13.9 net rating on the season. Although, most of the Allen lineups aren't doing as well, so it's not like the Nets should be totally tied to it. Plus, Zeller has a -24.7 net rating over the last five games, which is the worst on the team amount players with at least 20 minutes played over that span.
Allen was also very impressive at the charity stripe in December, making 90.0 percent. His other December averages were 6.9 points, 4.9 boards, 1.2 blocks and 0.4 steals in just 18.5 minutes per game. If he can up that to around 23-26 minutes, Allen could become a difference maker in 12-team leagues.
CP Free
With James Harden (hamstring) out at least two weeks, Chris Paul is about to eat. Paul has played 196 minutes without Harden this season and he's been a monster in that time. If you break down those numbers per 36 minutes, CP3 has put up 27.7 points, 6.4 boards, 14.1 assists, 3.7 steals and 4.0 treys on a 30.6 usage rate and a 62.8 TS%.
It's not just CP3 stepping up without Harden. Also per 36 minutes, Eric Gordon scores 21.9 points and Ryan Anderson scores 21.4 points with CP3 and without Harden. With 36.3 minutes per game opening up without Harden, there will be a lot of opportunity open up.
Struck the Lotto
So the NBA lottery has become a little interesting. It's probably fair to say that the Lakers aren't going to be making the playoffs. Here's a look at the lottery picture (via Tankathon.com).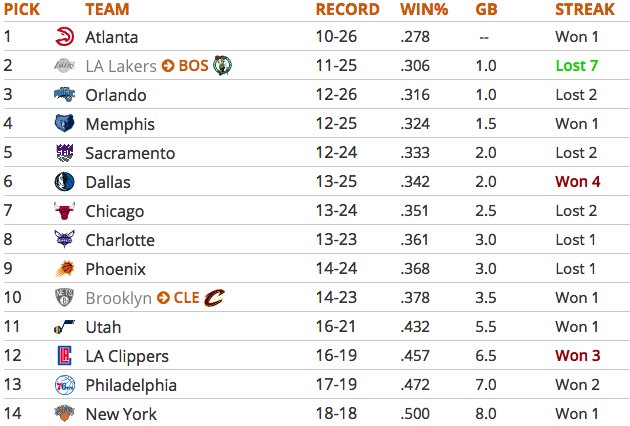 The Lakers are just 1.0 games away from the top spot and the Hawks are actually playing kind of well, and yeah Danny Ainge is looking pretty good these days. It'll be interesting to see how the Lakers handle the rest of the season with their pick protected at No. 1 in the lottery, but it's also protected 6-30 for the 76ers in the Markelle Fultz and Jayson Tatum deal. Tatum is so good.
One rookie that is starting to turn the corner is Dennis Smith Jr. In his last two games, he's averaged 20.0 points, 7.0 boards, 8.0 assists, 1.0 steals and 4.0 treys. It's only a two-game sample, but DSJ was unassisted in 76.9 percent of his makes and he had an 81.3 effective field goal percentage on his jumpers.
After a tough game against the Warriors on Wednesday, the Mavs schedule softens up with games against the Bulls, Knicks, Magic, Hornets, and Lakers. We'll see if DSJ can keep it rolling and maybe even get close to the No. 8 spot. Although, they're still six games out from the No. 8 seeded Pelicans. DSJ's patient fantasy owners should be feeling a lot better these days.