LaMarcus Aldridge has been nothing short of amazing right now. In his last seven games, Aldridge averaged 25.3 points, 10.3 boards, 1.9 assists, 1.4 blocks and 0.6 steals on 57.5 percent from the field and 97.5 percent from the line. He put up a 28.1 usage rate and a 64.3 true shooting percentage in that span.
 
He's been the No. 2 player in fantasy in those seven games (I'm sure you know who No. 1 is) and has been trending up since December. Here's a look at his shot charts in those seven games (top) compared to the before the break (bottom).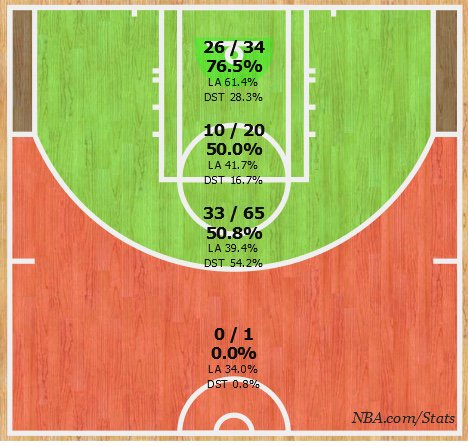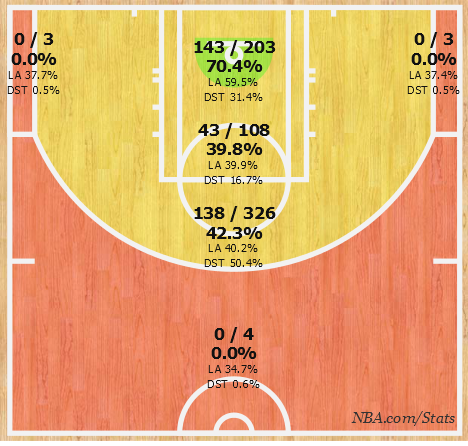 To nobody's surprise, Aldridge has been killer on mid-range with a higher volume and better performance. He also has been tremendous in the paint with a slight decrease in volume. He's actually taking less catch-and-shoot attempts right now, too.
 
One of the big differences is how open he is right now. In those seven Aldridge was wide open (defender more than six feet away) on 30 percent of his shots and open (defender 4-6 feet away) on 21.7 percent. Before the break, he was wide open on just 21.7 percent of his shots and 18.0 percent on open ones. Obviously that'll help a jump shooter.
 
Aldridge's numbers are slightly above where he should be, so he'll likely not be quite as great as he's been. His schedule isn't great against power forwards either this week with games against the Clippers, Blazers and Warriors. He figures to finish as a top 20-30 guy because he's meshed extremely well. Of course, be careful of the rest.
 
Over the Hill? 
George Hill is not having a good run right now. In his 13 games since the All-Star break, Hill averaged 9.5 points, 5.3 boards, 4.4 assists, 0.8 steals, 0.2 blocks and 1.3 treys on 33.9 percent from the field. His shot chart is pretty bad after the break (top) compared to his pre-break shot chart (bottom):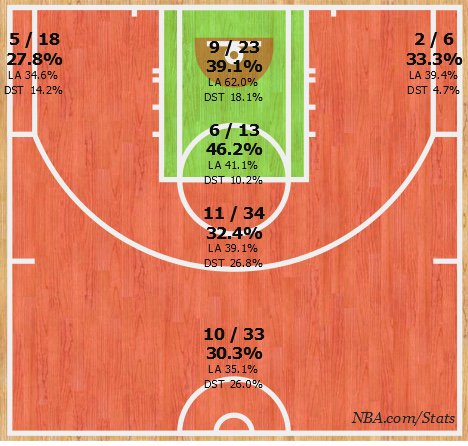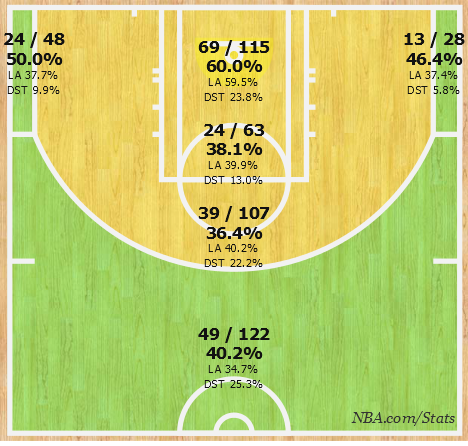 Yikes. Pretty much everything is bad these days. He is taking fewer shots at the rim and his efficiency dropped 20.9 percent from there, he's taking more mid-range shots and he's not making as many, and obviously there's a huge decrease in 3-point output. On an overall efficiency standpoint, he dropped from a 56.6 true shooting percentage and a 16.4 usage rate before the break to just a 44.6 true shooting percentage and a 15.4 usage rate.
 
Why? Well, it could be due to injuries. Hill had a toe injury over the weekend he's even questionable for tonight. He also had a shooting elbow injury and a groin issue. Hill has dealt with a few groin strains in his career, including last season when he missed 11 games in January.
 
He's been really bad in DFS and there's no way you can use him right now. In season long, he might be on thin ice. However, you're probably not going to be able to add a guy with his upside. If he does start missing games, that might change things for owners in season-long leagues.
 
Under Serge
 
Sticking with letdowns, Serge Ibaka has not been good. He is missing too many open shots and his defensive numbers have fallen off, too. Ibaka did finally have a nice game on Monday with 15 points, seven boards, three blocks and one 3-pointer in an easy win over the Blazers.
 
Even with that effective game, he still only has averages over his last eight games of 11.6 points, 6.5 boards, 0.4 assists, 1.0 blocks, 0.8 steals, 1.6 turnovers and 0.6 treys. That's not Serge Ibaka right there and he made just 40.9 percent from the field, too.
 
His shot selection suggests he's going to snap out of it because he gets some easy ones. In that eight-game run, 87.0 percent of his shots are without a dribble and he's open on most of them, too. A whopping 66.3 percent of all of his shots are open — that includes the close-range shots. On his shots outside of 10 feet, he's open on 79.7 percent of those. He's only made 41.8 percent of those shots, though.
 
The contested shots have really been the problem. On shots beyond 10 feet with a defender within four feet, Ibaka made just 1-of-14. Maybe coach Billy Donovan can get him to cut down there.
 
As bad as he's been, it's not like he's losing minutes. You still can't use him in DFS right now, but there's still hope in season-long leagues.
 
Iladelph Half Roster
 
The 76ers have some weird lineups right now. They are running out of power forwards and centers due to all the injuries. On Friday, they had a really rough day. Jahlil Okafor (knee) was ruled out for the season, Jerami Grant (concussion) had a really rough fall and is going to miss at least three games, and Robert Covington (concussion, neck) is likely out for longer than that. To make matters worse, Grant's fall caused the Covington injury because he inadvertently kicked Covington in the face. It was scary stuff.
 
Well, now the 76ers are left to pick up the pieces. Here's what they used against a Pistons team without much size besides Andre Drummond at the five. Here are the lineups from Saturday: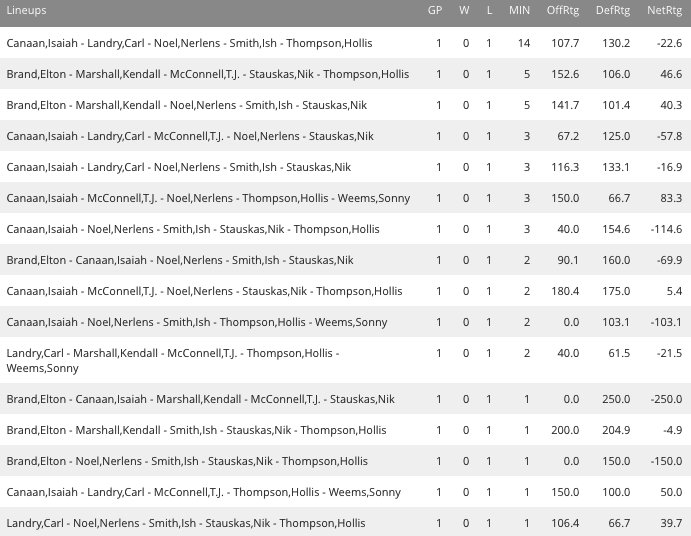 That is some crazy stuff right there and a ton of small ball. There's really little reason to analyze the net ratings here, but you can get a feel of what Brett Brown likes. He only stuck with his starters for 14 minutes and he only had three lineups with at least five minutes, too.
 
Since this is so odd with combos, how about a new wrinkle? Here's a breakdown of how the minutes were dispersed for position:
 
Ah, that's a little cleaner, huh? By position, Brown pretty much played it straight up at point guard. When Ish Smith came out, T.J. McConnell came in to back him up. McConnell and Kendall Marshall also shared some ball-handling responsibilities in their nine minutes together.
 
Shooting guard is where it starts to get weird — not the weirdest, though. Isaiah Canaan held down the fort at shooting guard while he was out there and he was good, too. Canaan had a 92.0 TS% with his 20.4 usage rate. His usage rate actually increased to 28.3 in the second half, so I would expect him to be in the upper 20s tonight against the Nets. I probably like a Canaan more than the bosses with their ships in Mario Bros. 3. There were a lot of cannons on those sky ships and especially on that tank level on the last map. OK, I'll stop.
 
Kendall Marshall also subbed in at shooting guard. He did bring the ball up at times, but he did only have a 15.1 usage rate with his three assists. He won't be a major factor unless there is another injury to Smith or McConnell. Nik Stauskas got the occasional run at shooting guard and that'll continue.
 
That's because Sauce Castillo needs to back up Hollis Thompson at the three. The two of them played together for 13 minutes, so that is kind of a good sign for Sauce's minutes. He did say he wants more shots, so he might be seeing a slight uptick in usage rate. Personally, I don't totally hate him in a tournament tonight, but obviously only on a cheap ticket.
 
Holla holla holla Hollis Thompson was a big letdown for me and lots of folks on Saturday. He scored just three points with seven rebounds, three assists and one 3-pointer. Obviously his 8.9 usage rate and a 21.4 TS% didn't get it done. I will probably holla at Hollis tonight for DFS and he should still be owned in competitive standard leagues.
 
Power forward was easily the craziest position. That makes sense because the 76ers lost 'em all, basically. It's also worth mentioning this game was on the second half of a back-to-back set, so there's a decent chance we see more out of Carl Landry. He should have some decent value in points leagues and in DFS while Jerami Grant is sidelined. Hollis Thompson saw a lot of run at the stretch four with a lot of it late in the game. Sonny Weems actually played all eight minutes next to Thompson, too. Weems wasn't impressive, so maybe he doesn't get run — that's good for Hollis and Carl. Oh and Sauce at the four? Sweet and sour sauce.
 
Nerlens Noel is the starting center, so I slotted all of his minutes there even though he behaved as a power forward at times. He should see better output tonight and the loss of Okafor bodes well for his ceiling in fantasy on the year and on a nightly basis. It was also encouraging to see some Landry at the five to help his ceiling. Oh and Elton Brand is still ballin'!
 
So to sum this all up, Hollis should bounce back, Canaan's high usage rate in the second half is a good sign, Landry should be busy, Marshall is the backup shooting guard, Sauce is the backup three and could have some sneaky/risky value tonight and Brand is in the rotation. The 76ers rarely went with the Ish-Noel pick-and-roll on Saturday, so expect more of that too. Happy hunting.
 
Just a couple quick surprising lineup notes I noticed while writing this:
 
Man, the Blazers are not having a good month. Among lineups with at least 40 minutes in March, the Blazers starters are dead last in net rating. Of course, getting smoked twice will mess that up. They're fine.
 
 
You probably would be even more shocked on to see what the second-worst lineup combo is. It's the Cavs combo of Kyrie Irving, J.R. Smith, LeBron James, Kevin Love and Timofey Mozgov. It's still surprising to see Mozzy start.
 
 
The best lineup with at least 40 minutes in March? The Rockets lineup of Patrick Beverley, James Harden, Corey Brewer, Trevor Ariza, and Dwight Howard  leapfrogged the Jazz last night thanks to blowout out the Grizzlies last night. They have a plus-27.4 net rating, so chances are we see more small ball.
 
Steve Alexander and I took your questions for this edition. Also a lot of stuff from Monday's action, too.