So it turns out the Hassan Whiteside benching thing we've been talking about has been getting worse and worse. It's starting to feel like every game he's not going to play in the fourth. That's probably because he's basically the last option among the rotation players to close games. Since we entered 2018, Whiteside ranks ninth on the team in fourth-quarter minutes. Ninth! In the other quarters, he ranks third in the first quarter, eighth in the second and third in the third quarter, so clearly it's by design he gets most of his run in his first stints of each half. He's started in 17 of those 18 games and just looking at the lineup combos in the fourth for 2018, it's clear coach Erik Spoelstra isn't looking to his max-man big late.
Here's a look at the lineup combos used in the fourth during 2018: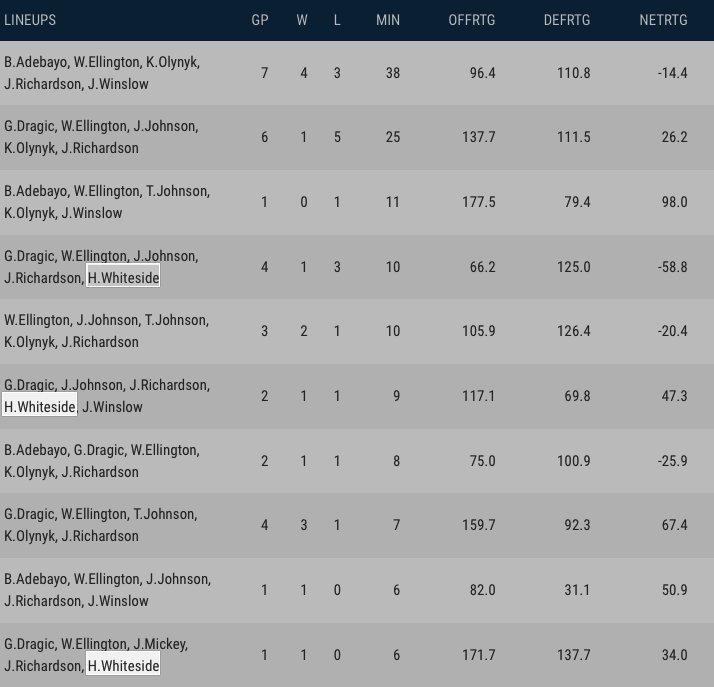 Not good. Besides the Whiteside trend, Kelly Olynyk being in four of the top five most-used lineups in the fourth is interesting. Although, Olynyk did strain his shoulder last night and it does sound like he could miss some time. More on that later.
The good news is Whiteside is looking at it optimistically. "I played my average minutes, you know. I average, what, 22 minutes, 23 minutes? So that's pretty much how it's been," said Whiteside (via Sun Sentinel), "Coach went with the team that he wanted to get the win with and it's Coach's decision. I can't do nothing about that." Even though he was benched again, don't forget he still had 19 points and 14 boards in a loss to the Magic. Basically, who cares if he doesn't close as long as he posts a stat line like that?
All this stuff said, a lot can change with Olynyk's shoulder injury. Last night, Olynyk said a doctor is going to come today, and he said the team would let him see how it reacts in the next two days (via Sun Sentinel). Plus, Olynyk did have a left shoulder strain in February 2017, but at least a positive on this is that Olynyk's shoulder surgery in 2016 was to his right one. 
Update: The Heat are saying Olynyk is day-to-day and he doesn't have an MRI scheduled, so it sounds like worst case he'll be ready for after the break. Best case, he's playing on Wednesday.
So while we wait on KO to clear up, that means the jury is still kind of out on Whiteside and perhaps Jordan Mickey, who started the second half for KO on Monday. If Olynyk is going to be more day-to-day, Whiteside will probably only top out as like a top-30 guy, which is still fine. He's pretty good per minute. If KO is out, that will give Whiteside his first-round upside back. I'd only add Mickey in very deep leagues because we know Coach Spo will mix it up.
Regardless of the Olynyk injury, the star of the frontcourt show has been Bam Adebayo lately. In January, he saw a nice spike in his minutes to 20.1 while most of the team was fairly healthy. However, the stats were not there with averages of 6.7 points, 5.3 boards, 2.5 dimes and 0.6 steals. 
The diluted stat lines of January have flipped on February. Going off a small three-game sample in February, Adebayo averaged 12.3 points, 9.3 boards, 1.0 blocks and 0.3 steals. If Olynyk is going to be out, that means Bam would likely be locked in to minutes in the upper 20s — and yes you need to add him in fantasy until we get news on KO. It's also somewhat interesting that Bam didn't go off the night Whiteside didn't play on Saturday, which shows how his value is tied more to Olynyk than Whiteside.
We've sort of seen an increase in Bam's minutes 15 games ago when he played 33 minutes against the Raptors after just playing seven minutes the game before. The Heat have been a good team when he's on the court with his second-ranked +4.6 net rating in those 347 minutes, while Miami is subpar without Bam at a -6.1 to rank third (Josh Richardson -9.3, Olynyk -7.1). In other words, giving Bam more run is a good idea based on how the team has performed with him out there.
Just as I finished writing this column, coach Erik Spoelstra said he plans to play Whiteside with Bam more often, which makes sense. The Bam-Whiteside combo has been used for just 36 minutes, so it's kind of hard to draw any conclusions based off that -0.2 net rating. This is obviously more good news for Bam while it isn't good news for James Johnson, who hasn't looked right since his ankle injury -- he's had a couple good games, though.
Buck Town
Well, the Bucks are suddenly thin at guard. Malcolm Brogdon is expected to miss around two months with a quad tendon tear, and now Matthew Dellavedova is going to miss about 2-3 weeks due to a Grade 3 ankle sprain, per ESPN's Chris Haynes. Most teams would be in trouble, but the Bucks are going to be OK because of how they have three play-makers in Giannis Antetokounmpo, Eric Bledsoe and Khris Middleton. That trio has played together for 212 minutes this season without Delly, Brogdon, Gary Payton II and Rashad Vaughn out there — Vaughn isn't a point guard, but thought I'd throw that in there that the Nets got him for nothing. In other words, this isn't foreign territory for them at all.
Besides the big three of the Bucks, the guy that figures to pick up the most run would be Tony Snell. Of that aforementioned 212-minute sample, Snell was out there for 193 minutes. Of course, Jabari Parker has not been on the court in this instance, which will obviously be happening now. 
Fantasy wise, you're probably not going to be trusting Snell too much unless Parker is not playing on a back-to-back set or something like that. Parker becomes more attractive fantasy play, but it feels like the Bucks are going to have to make another trade. They're also fairly hot with wins in six of their last seven games.
Top Lineup Takeaways 
A lot has changed recently and perhaps the two hottest teams right now are the Wizards and Jazz. They're doing it with their starting units with both sets of starters completely dominating. Here are the NBA's top lineups in 2018 with more than 48 minutes: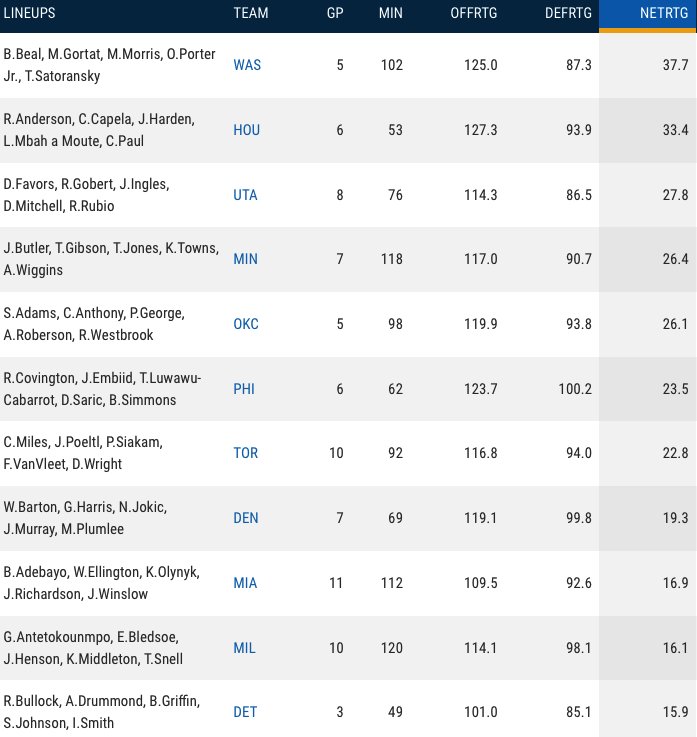 Who needs John Wall when you have Tomas Satoransky?  The 26-year-old guard hasn't exactly been smashing on the stat sheet since Wall went down again, averaging 9.8 points, 3.2 boards, 5.8 assists, 1.6 steals and 1.2 treys on 53.3 percent from the field and 100 percent from the line (2.2 attempts per game). For fantasy, he should be fairly valuable for the next six weeks or so. One other quick Wizards note is Kelly Oubre finally had a good game on the stat sheet with 15 points, seven boards, two assists, one steal, one block and one 3-pointer on Monday. I'd expect him to heat up.
The timing of the Jazz getting hot is one of the more interesting stories in the NBA. It was not all good just two weeks ago with several reports saying the Jazz could sell off anyone not named Rudy Gobert and Donovan Mitchell. It sounded like Rodney Hood was as good as gone, but he's coming off a 30-point game on Monday with a 100 eFG% in that road win at New Orleans. Also Ricky Rubio did his mid-January flip switch again! Deja vu!  If the Jazz offense stays hot and they keep the team together, pretty much every Jazz fantasy player will be valuable. Also, Royce O'Neale has been outstanding. I rather like him as a deep-league add.
Another big thing that jumps out here is Tyus Jones playing with the starters. Coach Tom Thibodeau probably wouldn't pull the trigger on starting him over Jeff Teague, but maybe he starts to close more games. I'd still call Jones more of a stash, but he does have enough standalone value in 16-team leagues to hold to see what happens. Hey, maybe the Wolves get weird at the deadline.
The Raptors have the best second unit in basketball, and their second unit is probably better than some starters. We saw the second unit close on Sunday against the Grizzlies in an easy win. Fantasy wise, I still kind of believe in Delon Wright, and Fred VanVleet is gaining steam as a pickup.
The Pistons are really good right now. They've won all three games with Blake and you have to be impressed with his instant rapport with Andre Drummond. This was great last night.
Sweet Blake-Drummond oop pic.twitter.com/n02gTGFOPT

— Michael Gallagher (@MikeSGallagher) February 6, 2018
Blake is going to be a stud, Reggie Bullock should flirt wit top 75-100 value, Drummond is going to be a double-double beast, and maybe Reggie Jackson can produce once he comes back.
So we've had some good feedback on more frequent pods, so I busted out a quicker one from the Monday action.