Losing a superstar on a team is bad and you would think the Pelicans were toast after DeMarcus Cousins went down with a torn Achilles. Well, it turns out that the Pelicans have two superstars in one body with Anthony Davis basically absorbing Boogie's powers like Mega Man. Over the last six games, Davis has basically been producing stats that two stars would post, averaging a whopping 41.5 points, 15.0 boards, 2.0 assists, 3.2 blocks, 3.2 steals and 1.5 treys on 54.2 percent from the field and 82.2 percent from the line in those six. The Pelicans were able to win all of those games and they've been able to climb to No. 5 in the standings. Let's take a deeper dive in how AD is so incredible these days.
AD's output is based a lot of pure volume. Over that six-game span, he had a 34.2 usage rate in 40.5 minutes per game. The Pelicans also picked up their pace at 108.8 possessions per 48 minutes while he was on the floor and AD was fairly efficient with his 62.8 true shooting percentage (TS%).
Here's a look at his shot chart over the last six: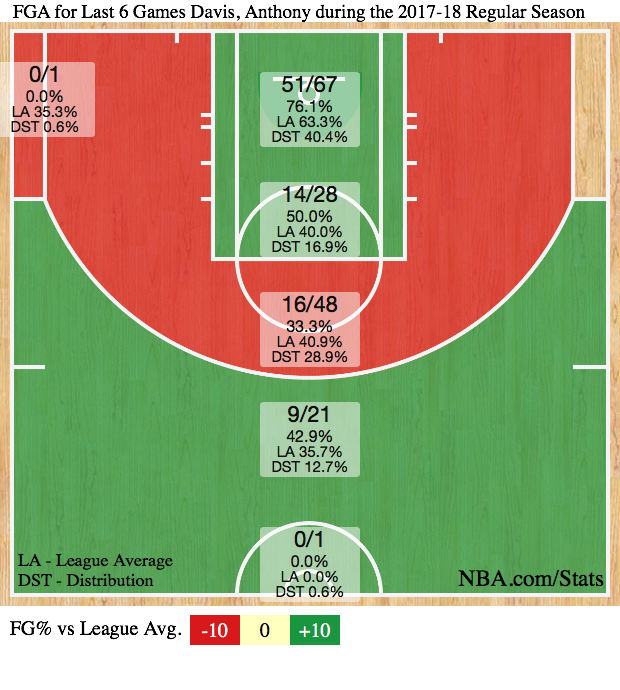 That is just dominating inside and he's getting to the line 12.2 times per game to get 10 points per night there, too. He's also getting 11.2 shots per game within three feet and he's 12.8 percent above league average on making those, so getting to the line and the close-range shots account for 162 of his 249 points (65.1 percent). That is 27.0 points per game alone. Crazy.
As for his shot types, it's probably what you would expect.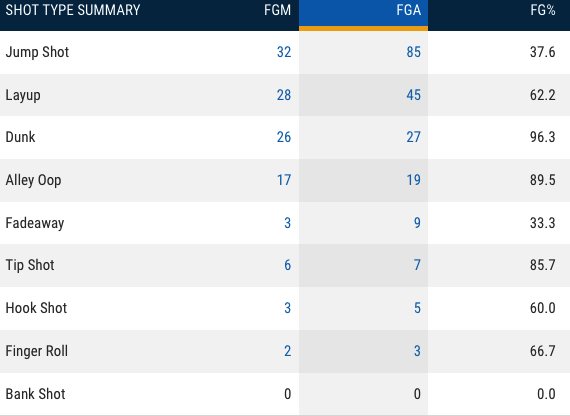 He only has a 42.9 eFG% on his jumpers with nine treys, so it's not like he's lighting it up there. He also hasn't been that great on layups, but it's all about the volume again with the dunks and layups. Plus, he's only been blocked twice on these 166 shot attempts (both layups against T.J. Warren and John Henson).
For fantasy, the difference-making aspect to his value has been the defensive stats with 3.2 blocks and 3.2 steals per game. He's been an equal opportunity shot blocker with seven blocks beyond three feet and eight blocks against perimeter players. Since at least 1983, AD's six-game streak with more than 25 points with a double-double and at least two blocks is tied for the longest such streak ever with Shaquille O'Neal (twice in 1999) and Hakeem Olajuwon in 1994. He's tied for the longest streak with more than 25 points, 10-plus boards and at least one steal in at least six straight games, (Russell Westbrook, Michael Jordan).
Editor's Note: Looking for an edge in your fantasy leagues? The NBA Season Pass provides weekly projections, rankings, the popular Pickups of the Day column, exclusive columns and customizable stat options. It's the extra tool that can take your fantasy basketball teams to the next level.
As mentioned above, AD has basically been two superstars and that has certainly been the case in fantasy. In fact, he's been two times better than anyone else in this monster stretch. Per Basketball Monster's nine-category value, AD has produce 2.44 points of value in nine-cat leagues, which is more than double the No. 2 man Karl-Anthony Towns' 1.19 in that stretch. In the six-game span, he's first in points, first in minutes, first in blocks, second in steals, second in weighed FG% output, and third in boards. Basically, if you had AD on your team for the last two weeks, you must have crushed.
So obviously it raises the question of what to expect going forward. He's not going to be this good, but his volume and shot distribution suggest he has a great chance of being the league's top scorer the rest of the way. The Pelicans also have the eighth-toughest schedule going forward, so they have some work to do to stay in the hunt. The third-seeded Wolves and the No. 9 Clippers are all within just 4.0 games of one another, so one bad losing streak could be devastating for any of those teams.
If you're an AD fantasy owner, there's not much new here. You'll be rooting for the Pelicans to stay in the playoff race because that would make him much less likely to be shut down. If he's good the rest of the way, you may earn a fantasy title.
Quick Observations 
Is Taurean Prince finally here? On Jan. 31, Prince hit rock bottom with a zero-point goose egg after he had just three points in the previous game on Jan. 29. Since then, he's clicked quite a bit in February, averaging 14.8 points, 3.1 boards, 2.3 assists, 1.3 steals and 1.9 treys on 38.0 percent from the field and 86.1 percent from the line. He's still not able to hit shot consistently, but things have really opened up with Ersan Ilyasova and Marco Belinelli out of town. Maybe he can carry mid-round value the rest of the way now that he has a clear runway for playing time.
Everybody eats? Well, the Wizards have been eating off Tomas Satoransky's passes. In fact, all of the other five starters have been efficient on Sato's passes. Markieff Morris has a 58.7 eFG% off Sato passes this month, Bradley Beal has a 52.4 eFG%, Marcin Gortat has a 52.9 eFG% and Otto Porter has a 48.5 eFG%. Sato ranks first on the team with his +9.6 net rating this month and Sato has been a top-25 player this month in nine-category fantasy leagues, too. The Wizards are doing just fine without John Wall.
Shoutout to the Suns and Grizzlies for both being on a 10-game losing streak. Much like the Western Conference playoff standings, the tank ranks are getting pretty tight. Check it out (via Tankathon):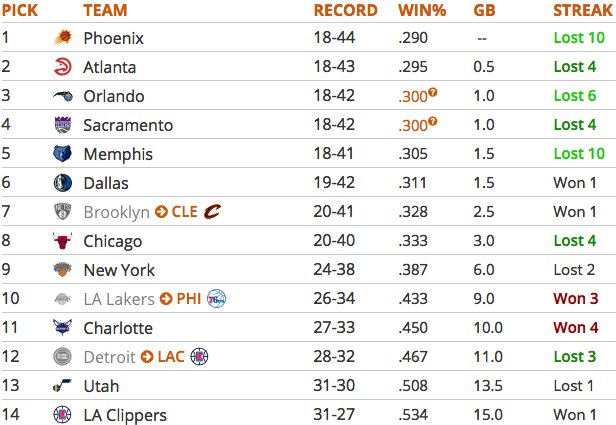 That's some expert tanking in the top six and the Bulls are on the rise. Even with the Suns losing, Devin Booker has been on a roll since he returned from injury, averaging 31.3 points, 6.3 boards, 4.3 assists, 0.5 blocks and 4.0 treys in 38.4 minutes per game. Booker wants to play while he's healthy, so he should be productive as long as he's active.
By the way, the Suns and Grizzlies will put their streaks on the line when Phoenix takes on the Grizzlies in Memphis on Wednesday. For all the lottery balls!
James Harden has MVP locked up, right? His usage rate is a ridiculous 36.3 right now and he's been very efficient with a 62.4 TS%. No player ever has hit those two marks in NBA history and it's not even close. Among the eight times a scoring qualifier had a 36 usage rate for a season, nobody else even cleared 57.5 TS% (Dwyane Wade was at 57.4 TS% in 2008-09). The Rockets have a 13-game winning streak and they have the 12th-toughest schedule going forward. It should be a fun finish for the top seed in the west, and fantasy owners of the Warriors and Rockets players are going to love it. Hopefully, we don't see too much rest despite how the Warriors have the second-easiest remaining schedule.