If you're considered as the best perimeter defender in the NBA, it might be tough for your offensive impact to match what you do on the defensive end. Well, Kawhi Leonard's offense may have caught up to his defense, and it may have even surpassed it. In his two games against the Grizzlies, Leonard averaged 34.5 points, 7.0 boards, 3.5 assists, 1.0 steals and 0.5 treys in just 36.2 minutes per game. Yes, his points-per-game output almost passes his minutes, and his scoring did top his 33.0 usage rate in those two. How? It's all about efficiency. Here's his shot chart in the postseason: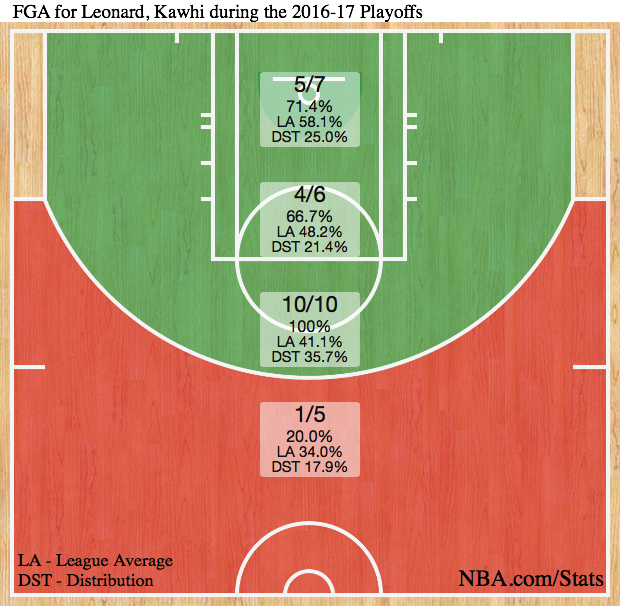 That's good for an 85.6 true shooting percentage, doing so with just one 3-pointer. Additionally, there's one part of his scoring that doesn't show up on here: free throws. Kawhi is 28-of-28 from the line in this series, so that helped his outstanding 73.2 effective field goal percentage (eFG%) jump up to his absurd 85.6 TS% (eFG% doesn't factor in free throws, TS% does). In Game 2, Kawhi became just the third player since at least 1964 to take more than 18 free throws in a game and make all of them (Dirk Nowitzki in 2011 took 24, Paul Pierce in 2003 took 21), making all 19 in the 96-82 win.
Another marvelous factor on that efficiency is how Leonard is scoring. Usually, when you see that kind of TS% on that kind of volume, it's from either lights-out jumpers on threes or just plenty of assisted buckets. Yeah, not here. Leonard was unassisted on 85.0 percent of his shots, and he's not just doing it in typical fashion either. Instead of all the videos of his buckets, check out his shot types: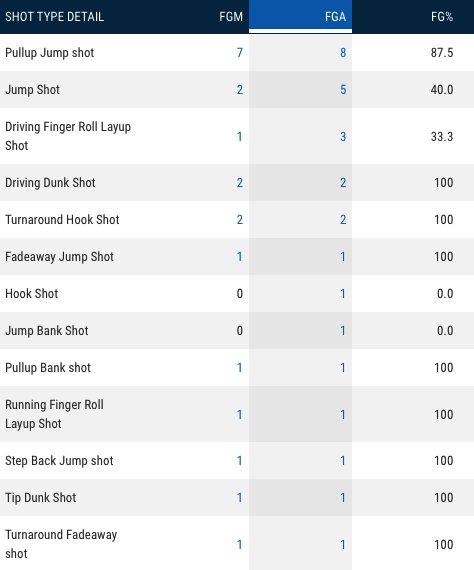 All of his assisted buckets were outside of the paint, so it's not like the shorter buckets were off cuts or his teammates getting him into good position.
Editor's Note: Get our MLB Draft Guide + Season Pass ($39.99 value) for FREE with your first deposit on FanDuel! Click here to claim now.
As ridiculous as this is, Kawhi isn't going to just dominate like this the entire postseason. A big reason why is the Grizzlies just don't have the personnel to stop him. Tony Allen (calf) didn't play in the first two games and he remains out indefinitely. So who has been defending Kawhi? Well, basically nobody, but here are his victims (via ESPN Stats):
Vince Carter 7-of-7 FGs for 22 points
James Ennis 5-of-6 FGs for 16 points
Marc Gasol 3-of-3 FGs for 10 points
Wayne Selden 2-of-3 FGs for eight points 
It's probably time to double Kawhi on basically every play, especially with how often he's getting to the line. When the Spurs are actually in close games, Kawhi is going to be dropping some monster stat lines. Like we're talking 40- or 50-point explosions.
Speaking of the Kawhi free throws, David Fizdale was not happy about the fact his team didn't get to the charity stripe often. Check out this video after the game (via Jabari Young)
Fizdale went off... #Grizzlies #Spurs pic.twitter.com/qyzLvXZETi

— Jabari Young (@JabariJYoung) April 18, 2017
TAKE THAT FOR DATA
Yeah, he's got a fine coming, but he does have a point. When you get into the paint, you definitely should get more attempts from the line. In fact, the Thunder are first in the NBA for attempts per game in the paint and they're fourth in the NBA for free throw attempts. 
That's not always the case, though. The Lakers are actually first in the NBA for attempts per game in the paint this season, but they ranked just 17th in free throw attempts. Basically, it's more about how you get your attempts than just getting them. A guy driving into the paint is more likely to get to the line than a guy on a post-up. What's more, the Bucks were first in the NBA for percentage of points in the paint, but they ranked just 20th in free throw attempts. Plus, the Bucks and Lakers are both in the bottom eight for free throw attempts off drives. Take that for data! Also, Fizdale is on his way to being the GOAT for quotes.
As bad as the Cavs defense has been right now, their halfcourt offense has been unbelievable. They are sitting at a 119.6 offensive rating in their two games to help them get to a 2-0 lead. Their 62.3 eFG% is first among the 16 playoff teams and they're doing this at just a 94.7 pace. (Side note: the Spurs are third in eFG% at 57.3 despite their 88.0 pace. Kawhi, y'all). As a reference point, the Warriors' posted a 56.3 eFG% during the season, which is tied for the best eFG% for a team ever (2015-16 Warriors also had a 56.3 eFG%). Here are the Cavs shot charts for the playoffs (top) and regular season (bottom).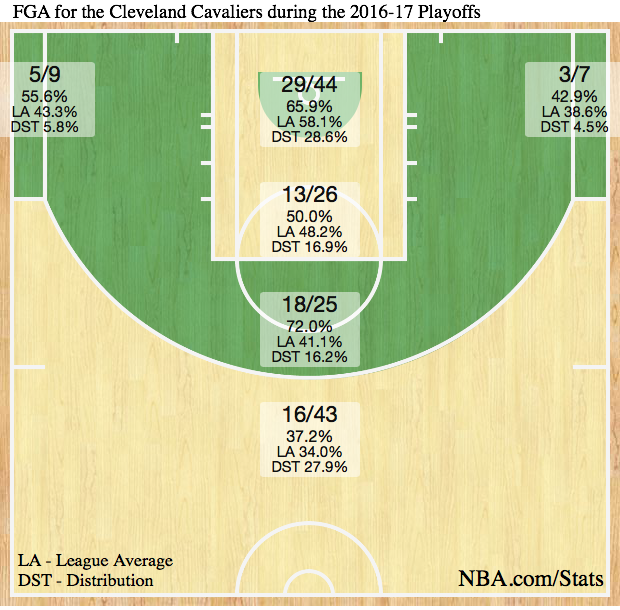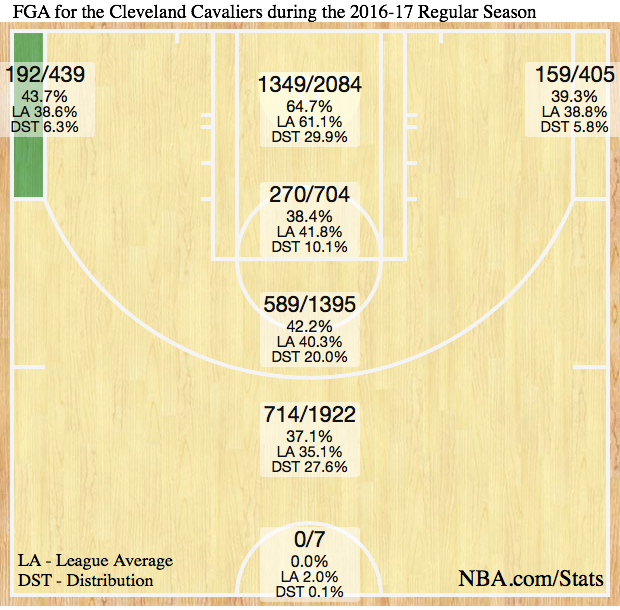 Interesting. The shot distribution didn't change too much, but they are really just lighting it up on the midrange shots. In other words, it's hard to buy into the Cavs offense carrying them this much.
Yeah, they're probably going to make short work of the Pacers, but it might be interesting in the next two rounds. The Cavs games should be worth targeting in DFS.
Sure, LeBron James is going off, but he hasn't really been the offensive star from an efficiency standpoint. Kevin Love holds an 88.7 true shooting percentage in the postseason on his 19.4 usage rate. Here is his shot chart.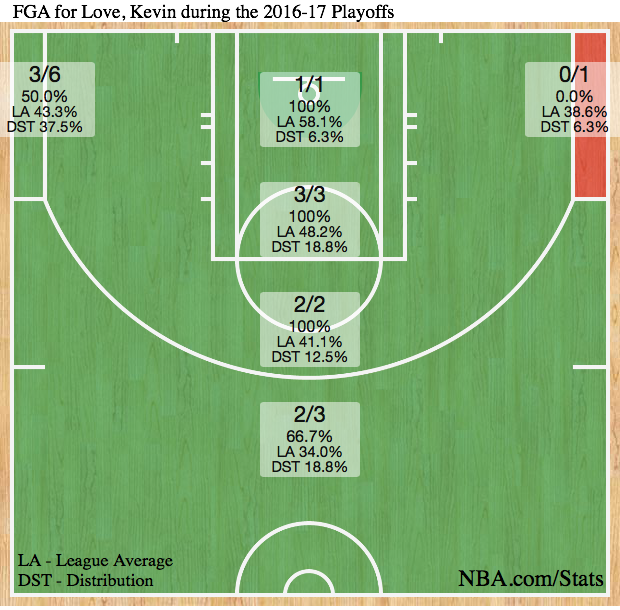 While he has been more efficient than Kawhi, Love is not doing it alone. He's only been unassisted on just 18.2 percent of his makes, so it's all about him just making jumpers off passes. He was assisted on all of his threes, but Love does get some credit for having his free throw makes account for 38.6 percent of his scoring in these two games.
One other thing of note on Love is how the Cavs are not really running him out there as a five man. In his 70 minutes during the playoffs, he's been the lone big man for just three minutes (Channing Frye, Tristan Thompson). Maybe this trend will change in the next round, but it certainly does help that Thaddeus Young isn't exactly an adept scorer.
Love is almost certainly going to cool off, but opponents have to honor his shooting, especially in the corners.