If you're like me, you like trade season more than Elmer Fudd enjoys rabbit season or duck season. Trade season kicked off on Sunday with the Nuggets acquiring Mason Plumlee and a 2018 second-round pick from the Blazers in exchange for Jusuf Nurkic and a top-10 protected 2017 first-round pick. It's an interesting trade on both ends and clearly shows who is buying and who is selling. The Nuggets really want the eighth spot while the Blazers are OK grabbing a draft pick and won't have to pay Plumlee this summer. In my opinion, Plumlee probably wasn't going to be back next year anyway. So what does this all mean for the parties involved? Let's look at it player by player.
Let's start with Jusuf Nurkic. He is having a disastrous season and has been a DNP-CD for multiple stretches. He was also a DNP-CD on Saturday against the Cavs, so clearly the Nuggets don't value him much. Nurk also been really bad lately on the offensive end, too. In the 2017 portion of the season, Jusuf Nurkic is dead last in true shooting percentage among the centers with more than 11 minutes per game and a 19.0 usage rate (27 qualifiers). Here's what his shot chart looks like: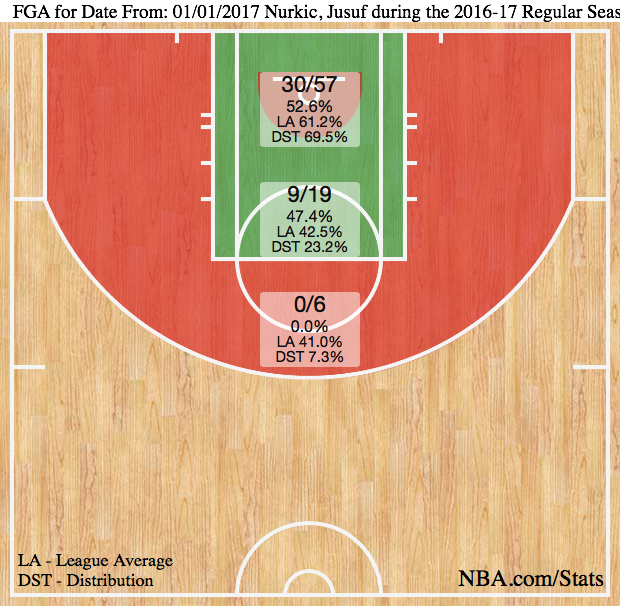 Yuck. That's not good for a team that loves to have its guards get in the paint. In fact, both C.J. McCollum and Damian Lillard are both top 13 for possessions of pick-and-roll ball handling, and they come in at 93.1 percentile on efficiency as a team. Remember that percentile because it's probably going to drop if Nurk plays next to Dame and C.J. a lot.
Quite frankly, Nurk next to C.J. and Dame is an awful fit. The Blazers rank 28th in post-up frequency, but Nurkic's 35.4 percent frequency is third in the NBA behind Al Jefferson and Jahlil Okafor — coincidence Jah is on the block? Nurkic is also one of the worst post passers in the NBA for kick-outs, as well. In fact, he's made a grand total of 1,180 passes this season and it's led to just 17 made treys. Compared to Plumlee, Nurkic also has twice as many turnovers and close to half the dimes per minute. They may be polar opposites on the passing spectrum.
The Blazers are also going to really miss Mason Plumlee as a screener. Plum is fourth in the NBA on screen assists (screens leading to baskets) and his per-48 on those stats is close to double what Nurk was doing. Sure, that's a byproduct of the offense and how the Blazers guards are better at scoring than Denver's guys, but any basketball person will tell you Plumlee is one of the best screeners in the NBA this side of Marcin Gortat -- the Polish Hammer is first in screen assists. For what it's worth, Ed Davis has more screen assists per 48 than Nurk and Boss Davis has only played 62 minutes as the center next to Dame and C.J., so it's not like Boss gets the boost from the elite guard play. There will be more on Boss later.
If you've watched Denver at all this year, you know that Nurkic is not a good fit with high-usage players because he zaps possessions with his terrible efficiency. He turns the ball over too much in the paint on top of wasting shots with misses. All this said, this is more about the Blazers picking up a draft pick and not playing Plumlee over acquiring Nurkic.
OK, so what about for fantasy? Nurkic has been a colossal let down, so any change is a good one. He's terrible in percentages and he's really only good in points, blocks and boards while he will hurt you everywhere else. One positive is the Blazers are just 23rd in rebounding percentage, so that might help Nurk get some run. He does have the shiny new mystery part of this, so I don't hate him as a pickup. Plus, some added motivation for a guy who uses the hashtag #ProveThemWrong is a positive. So yeah, go ahead and add him if you're dropping some player you won't miss too much, but I wouldn't have high hopes.
Mason Plumlee takes a massive hit here. He was in a fantastic spot and was sixth among all power forwards and centers for assists per game. He was playing 28.1 minutes per game as the starter with the vast majority of those coming in the first unit next to Dame and C.J. Now, he is going to shift to the second unit behind a guy who is a much better passer than him, Nikola Jokic. Coach Mike Malone is really starting to come around on playing Jokic more than 30 minutes, which means Plumlee could only be looking at 15-20 minutes at the center spot.
That raises the question: can Plumlee play next to Jokic? In most matchups, it doesn't make sense. Back when the Nuggets went Nurkic-Jokic, they had a woeful -15.6 net rating. Jokic without Nurkic has a +8.7 net rating on the year, so that doesn't bode well for Plumlee. Plus, nothing makes Malone more mad than giving up an open trey. Sure, the Nuggets could wind up using Plumlee next to Jokic against a team like the Grizzlies or Spurs, but he's probably a drop in fantasy now. DFS players also enjoyed the ride on the Plum Dog Express, too. One quick aside: I love the idea of Plumlee and Jamal Murray playing together.
Ed Davis is perhaps the most interesting piece to this puzzle. When he's played next to C.J. and Dame, the Blazers were a +4.2 in net rating — that tops Plumlee's +2.2 next to those guards. Davis also has a better rebounding rate than Plumlee and has a tiny usage rate at just 11.4. That low usage should allow the highly-effective guards to do even more damage. He's also shooting a career-high 67.2 percent from the line, but obviously he's not a jump shooter with just four jumper makes all year — 25.0 percent on those 16 attempts. Davis' block rate has really fallen off lately, so we would need him to bump that up to make an impact on the stat sheet. If you need some blocks in a deep fantasy league, Davis might be someone to watch. As we all know, coach Terry Stotts will play the matchups, so it won't be smooth sailing.
Speaking of matchups, Meyers Leonard was the guy as at the backup five on Thursday while Davis as a DNP-CD, but that was reversed against the Mavs on Tuesday. The Blazers have rolled with the Dame-C.J. backcourt with Leonard at the C for 56 minutes this season, but it led to only a -13.1 net rating. Not good. Worse yet, the only have a 39.8 total rebounding rate in that time. Basically, Davis looks like a much, much better fit as a possible first unit center.
Still, the loss of Plumlee makes Leonard a winner here. If you're looking for more of an offensive player in a deep league, I wouldn't mind picking up The Legend to see what happens. Coach Terry Stotts will really be looking at combinations over the break.
This move also really helps Al-Farouq Aminu, who I would add in fantasy over any of these bigs mentioned. Obviously they've rarely used ALF at the five with just 14 minutes next to Dame and C.J. with the other bigs off the court, but I still like he'll probably be screening more and have additional chances to produce. This also slightly helps Noah Vonleh, but I'd like to see him play better before thinking about adding him.
Shifting back to the Nuggets here, this move should hurt Kenneth Faried's playing time a little. In his last 13 games since he was semi-freed, Faried has played 26.2 percent of his minutes at the center spot. Sure, there were three games with Jokic out, but that time accounts for just 30.7 percent of the center minutes total. Assuming no foul trouble, I would expect Faried to log the vast majority of his minutes next to Jokic, which is a good thing for him from an efficiency standpoint. In fact, Faried is 18.8 percent better from the field when he's with Jokic compared to when he's not this season. He's shown he can turn in fantasy value with 24 minutes, so I wouldn't totally panic. Darrell Arthur also figures to lose some run while this also hurts Juancho Hernangomez, especially because the Nuggets are much less likely to trade Wilson Chandler now.
Speaking of Chandler, he's asked for a consistent role, and now it looks like he'll get more minutes at the three. He may take a smaller hit overall because he likely won't have as much offensive going through him once Danilo Gallinari (groin) comes back. 
Regarding the best player here, there is absolutely no reason to worry about Jokic. Malone called him a star over the weekend, so he will be treated as such. Enjoy the ride for one of the most fun players to watch this season. In the 2017 portion of the season, the Nuggets are first in the NBA for points per possession after a made basket — they are second in overall O-rating behind the Warriors, too. You can bet that's on Jokic.
One thing worth adding here is the Nuggets could wind up dealing Gallo. We'll see. 
It should be fun watching these two vastly different bigs adjust to their new team. We'll be talking about it plenty on the podcast tomorrow, so feel free to hit me up on Twitter @MikeSGallagher with some questions. I'll also be posting the Daily Dose for Monday morning.